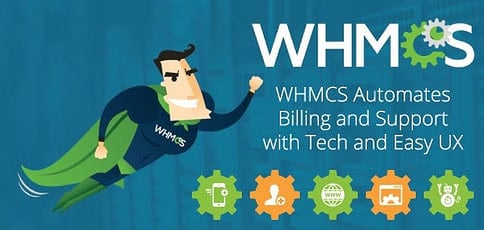 TL; DR: As a web hoster himself who recognized the flaws in the existing options at the time for web hosting billing and support platforms, Matt Pugh embarked on a mission to make something better. Such begins the story of WHMCS, who today is a market-leading company with a strong reputation in the hosting and dev communities for building industry-leading hosting automation tools. Their commitment to innovative technology and development doesn't obscure the company's devotion to producing a clean, intuitive user experience that customers can tailor to their specific needs.

Landing a job as a developer at WHMCS isn't easy, but neither is the job. Working for one of the most popular billing, support, and automation companies is a big responsibility.
WHMCS stands for Web Host Manager's Complete Solution, which is exactly what the company aspires to be — a complete solution. Prospective employees learn this early on in the four-to-six-week onboarding process.
From learning how to run all of the WHMCS test plans manually to illustrating they can run their own stack, as well as a stack developed by the team, WHMCS wants each candidate to experience all that is involved in constantly making a better product.
"We're actually cultivating a long-term sense of ownership — knowing what the product is, and how it can vary over time," WHMCS Director of Development David Neimeyer told us at HostingCon. "You start to get into the questions of, 'Why did the product change?' You do that as someone who speaks for the product, not just someone feeding numbers into it."
That attention to all aspects of the user experience is what has made WHMCS one of the best all-in-one web hosting automation systems. The company is now a worldwide leader in online recurring billing, support, and automation, with a large following among hosts. That goes back to the customization they offer.
Many companies are good at processing a customer's transaction or helping them with a complaint at the back end. Where WHMCS is different is in their ability to guide the customer through the entire experience, from checkout to payment processing to lending a helping hand at the other end of the transaction if needed.
WHMCS never wants to stray too far from their past because they began with the same mission.
Wanting to Make Something Better, Founder Developed His Own Solution
The story of WHMCS began in Britain in 2005. Founder and Owner Matt Pugh started his career in web design and hosting, and it was his attentiveness to his clients' needs that led him to develop WHMCS.
"I started, as many of our users do today, by setting up and running a small web design shop for friends, family, and local businesses. At the time, there were a handful of software solutions targeting web hosting companies, but none of them quite met my needs, so I created my own," Matt told us.
What he ended up with was a way for hosts to combine — with automation — their billing, support, and web hosting and domain provisioning into one single management tool, which was a revolutionary idea at the time.
"Back then, you had a billing system, you had a support system, and you often had other systems, too. Where we were different is that we provided an integrated solution that combined all of those things into one," Matt said. "By having a single centralized platform, everyday tasks become quicker, easier, and more efficient."
With WHMCS, for example, when a client opens a support ticket for help, the customer's hosting account and billing information is right at the finger tips of the assisting member of staff, allowing direct access to that hosting account and associated management actions. That means less time spent providing support, and that, in turn, means lower costs.
Matt knew from the start that integration and customization were key. "I wanted to create a platform that not only allowed web hosts to offer web hosting and the associated add-on products simply and easily, but in the way they wanted to," Matt said. That initial philosophy of customization has grown to an extensive list of features that WHMCS now offers.
"Initially, I didn't realize how big it would be," Matt said, "but I knew it had great potential. I knew what we were doing was something that wasn't being catered to."
During the early days, Matt worked on the project alone, but it soon gained popularity, and before long, WHMCS brought more people aboard. They partnered with cPanel in 2012, becoming the hosting platform's preferred billing solution and working on even better system integration.
Through it all, Matt still wants to be involved in building the company from the ground up.
"I am still very much involved in the development," he said. "That's where I started, and that's still where my real passion lies. I love to develop and create new things — things that help our customers do more, sell more, and make more money. After all, it's the success of our users that makes us successful."
Automatic Core/Dependency Updates and a New Marketplace
The original idea of WHMCS was to create a clean, integrated experience for the user, which involved automating as much as possible to simplify the process. They also wanted to make the platform incredibly flexible to fit the needs of any business. WHMCS has worked to achieve these goals with two recent developments: auto-updating and their own marketplace.
Auto Updater Covers Both Their Code and Your Dependencies
One of the company's big recent rollouts is their very own automatic updater that covers not only the WHMCS code but also all of its dependencies. The updater, available on WHMCS Version 7.0, makes it easy to update everything with a single click.
With all of the different services WHMCS offers, their programs still depend on other programs to run correctly, which means everything involved needs to be updated to run at maximum efficiency. WHMCS has written those update prompts into their code so that the user doesn't have to waste time tracking them down.
Since WHMCS has pulled in the Composer utility, they can use PHP to manage dependency queries, which means a 1-click update to the WHMCS software updates everything associated with it, and the platform continues working seamlessly.
David explained to us the significance of this new feature.
"We have been able to leverage PHP to not only manage our dependencies for the product we make and we ship, but we've been able to incorporate that as a way to update the application itself," he said. "That is something that nobody else with an application of our sophistication has begun to touch."
Marketplace Makes It Easier to Find, Discover, and Get Add-Ons
WHMCS has developed a way to update their code and dependencies through PHP. Other than efficient updates, what does that mean for the future?
David told us the next iterations are going to be about incorporating that functionality into the marketplace to make 1-click installs easier.
"We can leverage that groundwork to provide a high level of customization, with all the complexity under the hood, and also have a really simple user experience."
The customization that WHMCS set out to offer is already evident in their thriving marketplace. There you will find WHMCS-approved third-party applications that can maximize efficiency.
WHMCS realized that users wanted to gravitate toward selling services that supplemented hosting services, add-ons such as site builders, traffic trackers, or application licensors. All of these types of services can be found in the WHMCS Marketplace, making WHMCS an extremely flexible business tool.
"One of our big focuses is making sure that we're providing the best platform possible for add-ons. We're lucky to have so many companies working with and wanting to integrate with our platform, and the Marketplace is all about making it easier for users to connect with developers and discover those integrations," Matt said.
WHMCS also develops their own apps. The most recent offering, ImportAssist, solves a major problem companies have when switching over to WHMCS: migrating the data from their current billing applications.
ImportAssist guides a customer through the process of moving all of their data over to the WHMCS platform by allowing them to combine multiple installations into one.
With hundreds of add-on applications, WHMCS is expanding their reach but they remain focused on the simplicity of the customer experience.
Developers Responsible for Full Life Cycle of WHMCS
The hiring process at WHMCS has to be rigorous because of the responsibilities of the job.
Developers have to be able to think through the entire customer experience from every angle, digesting and troubleshooting every facet of it.
"Our philosophy is that the developer is responsible for full life-cycle development," David said, "which means that you're responsible for understanding what you're developing, why you're developing it, and who's going to benefit from the work."
That responsibility doesn't end once the product is finished. Devs are expected to participate in quality control and experience the product on a user's level, not just a mechanical level.
"Let's spend our effort talking about what we're going to provide our customer and how we're going to help them have good margins in a very tight margin industry," David said. "Let's spend our time building and delivering even more value for the customer than we did yesterday."
Advertiser Disclosure
HostingAdvice.com is a free online resource that offers valuable content and comparison services to users. To keep this resource 100% free, we receive compensation from many of the offers listed on the site. Along with key review factors, this compensation may impact how and where products appear across the site (including, for example, the order in which they appear). HostingAdvice.com does not include the entire universe of available offers. Editorial opinions expressed on the site are strictly our own and are not provided, endorsed, or approved by advertisers.
Our Editorial Review Policy
Our site is committed to publishing independent, accurate content guided by strict editorial guidelines. Before articles and reviews are published on our site, they undergo a thorough review process performed by a team of independent editors and subject-matter experts to ensure the content's accuracy, timeliness, and impartiality. Our editorial team is separate and independent of our site's advertisers, and the opinions they express on our site are their own. To read more about our team members and their editorial backgrounds, please visit our site's About page.