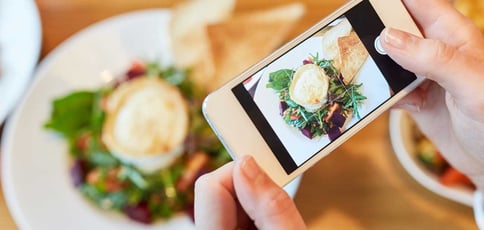 The best web hosts for food and travel blogs give readers a glimpse of exotic locations or delectable meals and excel at delivering experiences that will have readers salivating for more.
Serving up popular content requires a blog hosting plan that comes equipped with ample storage space, speed, security, and stability, along with support for a variety of publishing platforms and friendly, around-the-clock customer service. You may be an expert in the kitchen or at navigating airport terminals, but you're probably a rookie when it comes to technology and creating a vibrant and engaging website — and that's OK!
We've gathered a list of the most user-friendly blog hosting providers that will enable you to get started in just a few clicks and keystrokes. Whether you're looking to share that perfect recipe or reveal the most incredible destination, sink your teeth into these options below:
Best Overall Hosting for Food & Travel Blogs
Food bloggers enjoy four times more followers than those who write about other topics, with nearly 90% of consumers going online to look for recipes. The vast majority of those at-home chefs place a lot of trust and confidence in blogs for food information and recommendations. And, much to the blogger's pleasure, 84% of consumers indicated they make purchases after reading about a product or service on a blog — meaning the industry is rife with opportunities to explore monetization and affiliate marketing.
Much the same can be said about sharing your travel experiences. Eight times more internet users will search for excursions and experiences than for information about air travel, enabling you to showcase exciting destinations without necessarily worrying about the logistics of getting your readers there.
Whichever of the two topics you choose for starting your blog, you'll actually be looking for rather similar characteristics when searching for a strong hosting provider. Jet on over to our reviews below to learn how premium hosts can improve the WordPress experience with one-click installations, staging areas, caching, and top-grade support.
Best "Cheap" Web Hosts for Food & Travel Blogs
Sure, we'd all love to eat decadent dishes and visit lavish resorts, but many travelers are instead looking to get the biggest bang for their buck. Given that you're likely spending a sizable chunk of change on ingredients, luggage, and reservations, you probably find yourself in a similar boat when it comes to web hosting and the related technology expenditures to run your blog.
Fortunately, hosting actually represents the part of the process where you can save quite a bit of money. Affordable shared hosting plans from reputable providers come packed with all sorts of added features for bloggers, such as unlimited storage space, free domain name and email hosting, pre-configured SSL certificates, and one-click installations of popular publishing platforms.
Foodies and frequent flyers can find tons of free blog hosting sites to broadcast their posts and build a following. Although we recommend making a slight investment in a plan that comes with more customizable and reliable components, you won't break the bank. Take a look at the best web hosting plans and blogging platforms for cost-conscious writers looking to minimize costs and maximize profits.
Known for high performance at a low price
Endorsed by WordPress.org team
FREE Weebly site builder and CloudFlare CDN
FREE domain and unlimited storage
Get 63% off today (was $7.99/month)
Bluehost: Our Expert's Review
Setup time: 4 minutes
Go to full review

»
If you're looking for an affordable host, Bluehost is a solid, reputable choice; The company's low costs, coupled with its supremacy in the shared hosting arena, is what makes this provider such a valuable deal. The Bluehost name is listed toward the top of many of our reviews categories, and with good reason.
| Money Back Guarantee | Disk Space | Domain Name | Cheap Hosting Plans |
| --- | --- | --- | --- |
| 30 days | 50 GB - Unlimited | FREE (1 year) | www.bluehost.com/shared |
Unlimited everything, from storage to databases
FREE site builder & WP performance upgrades
FREE daily or weekly backups
Custom control panel and auto-installation scripts
SSH access & SSL certificates
Hostinger: Our Expert's Review
Setup time: 3 minutes
Go to full review

»
As the shared hosting market becomes increasingly saturated, unlimited storage, bandwidth, and email accounts have become surprisingly average. Hostinger, however, extends the routine, expected metrics to greater lengths — the number of websites, databases, FTP users, subdomains, and parked domains are all unrestricted for most customers.
| Money Back Guarantee | Disk Space | Domain Name | Cheap Hosting Plans |
| --- | --- | --- | --- |
| 30 days | 10 GB SSD - 30 GB SSD | FREE (1 year) | www.hostinger.com/shared |
FREE Cloudflare CDN and SSD speed boost
Optimized caching and 1-click installs
Unlimited email, domains, and databases
Advanced security and FREE HackScan
24/7 support via phone, chat & tickets
A2 Hosting: Our Expert's Review
Setup time: 4 minutes
Go to full review

»
There are plenty of excellent cPanel shared hosting providers out there, so what sets A2 Hosting apart from the rest. Not only does the company offer a ton of features, but it has custom-built its packages for enhanced performance, speed, and security — putting your priorities above pricing.
| Money Back Guarantee | Disk Space | Domain Name | Cheap Hosting Plans |
| --- | --- | --- | --- |
| 30 days | Unlimited SSD | New or Transfer | www.a2hosting.com/shared |
See other top affordable hosts »
Best "Website Builders" for Food & Travel Blogs
First impressions really matter when it comes to website design and the opinion your readers have of your content. Visitors take just 5 milliseconds (or 0.05 seconds) to form that all-important initial opinion of your site, which then affects how long they'll stay and click around. No matter how insightful or visually appealing your text and images are, users are more likely to pass on a poorly structured site.
Most blogging platforms will come with some collection of templates, but nothing does better when it comes to combining impressive designs with simple customizations quite like website builders. The platforms feature a drag-and-drop interface that enable blog owners to get pixel-perfect precision when moving around content areas.
Our highest-recommended website builders, listed below, come with hundreds of free and mobile-optimized templates — some even specializing in food or travel blogging. You can even extend the functionality of your site by adding plugins for ecommerce transactions or creating a forum to further engage readers.
No coding skills needed with drag-and-drop builder
100s of templates with niche-specific designs
Add features via the App Market and Wix Events
Easily create ecommerce functionality easily
Great way to build small sites on a budget
Wix: Our Expert's Review
Setup time: 4 minutes
Go to full review

»
Website building is where Wix shines. The thousands of templates, the intuitive editor, the industry-leading designs that cater to a variety of specific fields and use cases — all these facets represent a platform that excels at facilitating easy web design for the non-tech-savvy user.
| Money Back Guarantee | Disk Space | Domain Name | Website Builder Hosting Plans |
| --- | --- | --- | --- |
| 14 days | 500 MB - 20 GB | Transfer | www.wix.com/site-builder |
Choice of Weebly or WebsiteBuilder by iPage
Mobile-optimized and easy-to-use setup wizards
100s of professionally designed themes
FREE online store, shopping cart, and blogging
Get +75% off your first month
iPage: Our Expert's Review
Setup time: 4 minutes
Go to full review

»
Do you want your website built today. If you answered "yes," you should look no further than iPage.
| Money Back Guarantee | Disk Space | Domain Name | Website Builder Hosting Plans |
| --- | --- | --- | --- |
| 30 days | Unlimited | FREE (1 year) | www.ipage.com/site-builder |
Fotolia and Flickr image databases
Pre-built and customizable content with GridBlocks
Responsive themes with tablet and mobile editing
Generates clean, efficient, and compliant HTML
SEO, gallery, and forms plugins
BoldGrid: Our Expert's Review
Setup time: 5 minutes
Go to full review

»
After taking the BoldGrid suite of plugins for a test drive, we experienced how the company makes WordPress more accessible for beginners and much more efficient for professional developers. Because BoldGrid requires a separate hosting account and WordPress installation, it is a little more challenging for wide-eyed beginners to get started than it is for other website builders.
See other top website builders »
Best "WordPress" Hosts for Food & Travel Blogs
A successful blog is all about finding that perfect balance between writing about your passions while also creating content that people want to read. On a less obvious path, the behind-the-scenes systems and infrastructure you use to reach the masses impact your blog's overall prosperity. While there are always modern solutions like Ghost to consider, why not build your blog on the world's most popular content management system?
WordPress is the platform of choice for more than a third of all websites, and users publish more than 70 million posts each month. The open-source system is available for free to anyone who wants it, and many top hosting providers make WordPress available as either pre-installed with your plan or as a one-click installation script.
We highlighted a few hosts below that go above and beyond when it comes to optimizing their services for your WordPress hosting success. The cumbersome software can be tricky to run most effectively, so we appreciate the hosts that include high-performance solid-state drives, automatic updates, and enhanced tools like a staging area, caching plugins, or a web application firewall.
WordPress pre-installed with NGINX and PHP 7
FREE SSL certificate and unlimited bandwidth
Automatic plugin, theme, and core updates
Features a FREE drag-and-drop WP page editor
Premium themes and plugin subscriptions
InMotion: Our Expert's Review
Setup time: 5 minutes
Go to full review

»
InMotion Hosting, long known for affordable and high-performance shared hosting options, entered the WordPress space with a solid option built upon the company's reputation for great support and reliability. Costing a small premium over other budget-minded options, InMotion does include some nice features to help justify that cost difference.
Recommended by WordPress Core since 2005
FREE SSD storage and SSL certificate
FREE domain registration and email
Automatic installation and updates
63% discount for HostingAdvice readers
Bluehost: Our Expert's Review
Setup time: 5 minutes
Go to full review

»
Aimed at personal bloggers and first-time users, Bluehost's WordPress hosting packages are a great alternative to simple shared hosting. These service come at a premium, compared to Bluehost's standard shared plans, but the WordPress optimization and platform-specific resources are arguably worth the cost.
| Money Back Guarantee | Disk Space | Domain Name | WordPress Hosting Plans |
| --- | --- | --- | --- |
| 30 days | 50 GB SSD - Unlimited | FREE (1 year) | www.bluehost.com/wordpress |
FREE Cloudflare CDN and 1-click WP installs
Turbo Server, SSD speed, and optimized caching
A2-optimized plugins for performance and security
FREE SSL certificates and 24/7 support
FREE HackScan and KernelCare
A2 Hosting: Our Expert's Review
Setup time: 4 minutes
Go to full review

»
As experts in performance optimization, A2 Hosting is a top choice for powering resource-heavy WordPress websites. The company offers shared or managed plans for the ultra-popular content management system, with the benefits extending to Joomla, Drupal, and other platforms.
See other top WordPress hosts »
Best "Joomla" Hosts for Food & Travel Blogs
Following on the heels of WordPress, Joomla ranks as the second-most popular content management system and typically falls between WordPress and Drupal when it comes to ease of use, scalability, and functionality. The free software is again available for free to all site owners via a one-click installation script or manual download.
Brands like eBay and IKEA, Harvard University, and Linux all use Joomla to operate websites, confirming that the platform is up to the task of showcasing your favorite meals and trips without relying on your ability to code. Unlike WordPress, Joomla comes with built-in SEO tools, including caching and automatic image optimization features, that bloggers will embrace.
The best Joomla hosting providers often take an active role in the platform's open-source community, providing expert-grade support and familiarity for their customers. Users will see many of the same features, including staging areas, automatic updates, and performance upgrades, with the added benefit of advertising credits and enhanced security. Take a look at our top-rated Joomla hosts below:
Official hosting partner of the Joomla project
FREE Joomla site transfer or setup with 1-click install
Amazing speed and security features
Complementary staging area for your Joomla site
Auto-updates to the Joomla Core and plugins
SiteGround: Our Expert's Review
Setup time: 6 minutes
Go to full review

»
SiteGround's Joomla web hosting services cater to speed- and security-minded site owners. The team gets you up and running quickly, then monitors your site 24/7 to prevent downtime.
| Money Back Guarantee | Disk Space | Domain Name | Joomla Hosting Plans |
| --- | --- | --- | --- |
| 30 days | 10 GB SSD - 30 GB SSD | New or Transfer | www.siteground.com/joomla |
Simplified Joomla installation and configuration
24/7 US-based support with Joomla experience
Up to $200 in search engine ad credits available
Shared platform is trusted by millions of site owners
FREE SSL certificate and domain registration
Bluehost: Our Expert's Review
Setup time: 4 minutes
Go to full review

»
Bluehost offers everything you need to get a Joomla-built online store live quickly. Starting with a free domain and 1-click Joomla installation, you can easily customize a professional-looking online marketplace and get noticed in search results….
| Money Back Guarantee | Disk Space | Domain Name | Joomla Hosting Plans |
| --- | --- | --- | --- |
| 30 days | 50 GB - Unlimited | FREE (1 year) | www.bluehost.com/joomla |
1-click installs for Joomla and FREE PayPal integration
Host unlimited domains under one account
Enhanced security suite to protect your products
$200 of FREE marketing credits to promote your store
Unlimited email to communicate with customers
iPage: Our Expert's Review
Setup time: 5 minutes
Go to full review

»
A long-time leader in simple and affordable site building, iPage is a great choice for launching a Joomla-based eMarketplace. Set up Joomla quickly and be on your way to posting and profiting from products, with PayPal and your choice of shopping cart….
| Money Back Guarantee | Disk Space | Domain Name | Joomla Hosting Plans |
| --- | --- | --- | --- |
| 30 days | Unlimited | FREE (1 year) | www.ipage.com/joomla |
How Do I Choose a Host?
Honestly, picking a web hosting provider is not all that different from selecting produce at the grocery store. Evaluate your options for appearance, size, and cost. Chances are you'll find something appealing if you sift through the bin long enough. Adapted from our list of how to choose a web host, here are the top questions you should consider:
What Type of Hosting Do You Need? Most bloggers will want to start with an affordable shared hosting plan, but be ready to upgrade to cloud, VPS, or even a dedicated server as your audience grows.
How Are You Going to Make Your Site? For a blog, you'll probably want to make sure you have access to premium WordPress features or support for other blogging or website builder tools. Bonus points if the host has specialized plans and support for your platform of choice.
What Other Features Do You Need? New site owners probably need to register a custom domain name. What about setting up your email inboxes? An SSL certificate or a content delivery network?
How Much Do You Want to Spend? Everyone wants to host their blog for free, but it's just not a good idea. Find high-value hosting for $5 or less per month that comes with your own domain and free blogging tools.
Don't be afraid to do your research and read other reviews of hosting providers. You'll see a handful of providers rise to the top of most rankings. From there, it's all about choosing the features, prices, and brand experience that resonates most with you. And don't worry if you don't end up loving your first choice — you can always move your website to another host with relative ease.
What Makes a Blog Successful?
Success can mean many different things to different people. Are you looking to make money? Are you trying to promote a certain way of eating or showcase part of the world? Or do you just want to have a way to share your passions and adventures with others?
When gauging success, we tend to stick with the proverb, "Beauty is in the eye of the beholder." A blog that makes $25,000 a year can be a massive disappointment to a blogger used to making much more. A blog that attracts a few million unique visitors might not be considered a success if it struggles to monetize effectively.
Generally speaking, a successful blog meets two sets of needs: yours and those of your readers. Yours may be more based on financial or analytics stats , but you should find value in the quality and quantity of your content, as well. As for your audience, pay attention to analytics and other stats that measure engagement. Are visitors sticking around long enough to read an entire post? Are they adding comments and discussing your recipes or travel tips with others?
How Do Bloggers Get Paid?
Let's be honest — not many folks are willing to put in the hours upon hours of work required to run a vibrant food or travel blog without looking for at least a little reward. Although 90% of writers pick up blogging as a hobby, it's not impossible to eke out a comfortable side hustle to supplement your income. In fact, a six-figure income is not unheard of for bloggers who have successfully grown their audience.
Whichever topic you choose to write about, your business objective is two-fold: find ways to monetize your content, and find ways to get more and more people to view it. The more readers visiting your blog, the more people potentially clicking on ads and products. Here are the most popular ways you can make money with your blog:
Sell a product: For foodies, you may consider offering a print or digital cookbook. Travelers, how about selling some of your photos?
Display advertising: Sign up for Google AdSense or another ad network to place ads around your site. Be sure to do so in a way that doesn't negatively impact your reader experience.
Brand partnerships or affiliate marketing: Recommend your favorite kitchen gadget or suitcase, earn a commission every time a reader makes a purchase from your link. Amazon is a good place to start, and you can find plenty of other programs out there.
When in doubt, look around online to learn from other bloggers who have found success. Many writers offer transparent glimpses into how they made money with a food blog or learned tips on travel blogging. Choose the revenue streams within which you'd like to operate, and go forth!
How to Get Started & Make Money With Free Blogging Platforms
OK, time to take the plunge! You've done your research and made your plans, let's work on the mechanics of how to start your blog and build a following. First, you'll want to register a custom domain name. Fortunately, website domain costs are pretty low and usually included in the first year of web hosting. Come up with something fun and quirky you'll love for a long time.
From there, you'll want to install your favorite blogging software or content management system. Check out this article for the best hosting for CMS options if you want to verify your hosting-CMS pairing. Most hosts should make this readily apparent, but don't hesitate to reach out and ask for help. WordPress, Joomla, and other systems will walk you through the initial setup process and point you to the themes and plugins you can use to design and customize your site.
Check out these guides detailing the best WordPress themes for food blogs and travel blog designs to get you started. Before you launch, build up a base of published content and a collection of blog posts ready to go. Give yourself a few weeks of cushion — you'll want to post a few times a week, and life can get hectic.
Once you launch, expand your blog's brand to social media channels by sharing posts, asking questions, and other engagement. Set up a form for readers to subscribe to updates via email, which can then be used for email marketing purposes to further support your cause. Learn about keyword research and search engine optimization to continually build your brand and rank higher in search results. Bon appetit!
Advertiser Disclosure
HostingAdvice.com is a free online resource that offers valuable content and comparison services to users. To keep this resource 100% free, we receive compensation from many of the offers listed on the site. Along with key review factors, this compensation may impact how and where products appear across the site (including, for example, the order in which they appear). HostingAdvice.com does not include the entire universe of available offers. Editorial opinions expressed on the site are strictly our own and are not provided, endorsed, or approved by advertisers.
Our Editorial Review Policy
Our site is committed to publishing independent, accurate content guided by strict editorial guidelines. Before articles and reviews are published on our site, they undergo a thorough review process performed by a team of independent editors and subject-matter experts to ensure the content's accuracy, timeliness, and impartiality. Our editorial team is separate and independent of our site's advertisers, and the opinions they express on our site are their own. To read more about our team members and their editorial backgrounds, please visit our site's About page.