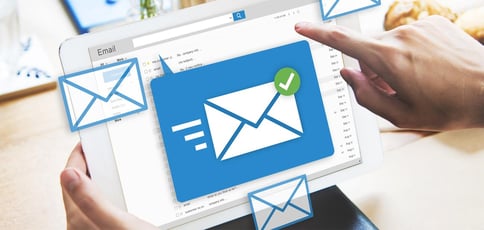 Sure, you may roll your eyes at the endless emails flooding your inbox, but did you know the best email marketing services can prevent your brand from being part of the flood? By leveraging tools like automation, triggered and targeted campaigns, and personalization, you can ensure you reach your customers with the right information at the right time.
Gone are the days of anxiously waiting to hear, "You've got mail!" or learning about the thousandth Nigerian prince who needs help recovering his father's fortune. With studies showing that email marketing brings an astounding 43:1 return on investment — meaning you earn $43 for every dollar you spend — small businesses, bloggers, nonprofit organizations, and other communicators will find tremendous value in improving their connection with their audience.
Email hosting is different from web hosting, and email marketing software is separate. Here, learn about the important features, limits, and prices that make a strong inbox impression.


Launched in 1995, when email was just an informal communication method for friends, Constant Contact has grown to become one of the most dominant email marketing platforms in the world. The company empowers small businesses to level the playing field with large competitors by providing a broad set of features that cover automation, lead generation, eCommerce, web design, and social media advertising.
Best for: Small businesses looking for an all-in-one solution that's easy to use
Important features: More than 100 mobile-optimized templates, FREE website builder, integration with search and social media ads, and eCommerce-oriented marketing automation
Cost: 60-day FREE trial or plans starting at $20 or $45 per month for up to 500 subscribers
Website: https://www.constantcontact.com
We especially appreciate the company's wide-ranging templates covering various industries and designs. Entrepreneurs can leverage Constant Contact's revamped editor to customize and segment messages, with automation tools on standby to welcome new subscribers or remind them about an abandoned shopping cart. In addition to a rich knowledge base and community forums, customers can contact the company's support teams via phone or chat.


Touting an industry-leading deliverability rate beyond 99%, GetResponse serves more than 350,000 customers a spam-free platform that emphasizes marketing automation and optimizing conversion funnels. We found the company's service incredibly easy to use, from the visual editor to the rich analytics tools that evaluate the success of your campaigns.
Best for: Mid-sized businesses and eCommerce shops looking for strong landing pages
Important features: Unlimited landing pages, automated lead and sales funnels, webinars, thousands of templates and stock photos, and more than 150 third-party integrations
Cost: 30-day FREE trial or plans that start at $15 to $99 a month for up to 1,000 subscribers; nonprofits get a 30% discount
Website: https://www.getresponse.com/
eCommerce store owners will especially appreciate GetResponse's expertly designed landing pages geared toward helping high-impact campaigns drive major returns on investment. More than 30 ready-made conversion funnels help small businesses coordinate landing pages with automated emails, transactions, and abandoned order recovery efforts to present a well-rounded and optimized user experience.


Behind a refreshing pricing format that measures email volume instead of the size of your contact list, SendinBlue delivers more than 100 million messages each day. As the first company on our list to offer a free forever plan, SendinBlue is a great budget-friendly option for those with basic email marketing needs. While the company's emphasis on simplicity leads to a somewhat underwhelming impression of its designs and features, the inclusion of text message marketing and live chat tools is a key differentiator.
Best for: Bulk email marketers with large lists looking for a cheap and affordable platform
Important features: Customer relationship management (CRM) platform with SMS marketing and live chat tools, plus transactional emails and targeted display ads
Cost: FREE up to 300 daily emails; plans starting at $25 per month for up to 40,000 monthly emails
Website: https://www.sendinblue.com
SendinBlue initially concentrated on improving transactional emails that are triggered by a user's action, such as resetting a password or making a purchase. The company takes a particularly strong approach to data security for both senders and recipients. All solutions are GDPR-compliant from the outset.


An industry veteran founded in 1998, AWeber has turned more than 20 years of experience into an email marketing platform that connects entrepreneurs and their brands with customers in ways that grow businesses. The company checks all the major boxes when it comes to features, ranging from a drag-and-drop visual editor and email automation to list management tools and analytics.
Best for: Beginners and small teams just getting started with email marketing
Important features: Automated email campaigns based on clicks and opens, team-based collaboration tools, and an RSS-to-email conversion feature
Cost: 30-day FREE trial; plans starting at $19 per month for up to 500 subscribers; nonprofits get a 25% discount
Website: https://www.aweber.com
AWeber especially excels in list management and subscriber segmentation by enabling users to gain valuable insights on their subscribers' open and click rates. The company's template designs and deliverability rates leave a bit to be desired, but above-average customer support and intuitive, streamlined interfaces make AWeber a solid choice for novice marketers.


Designed as an alternative to the oversized, expensive email software of the early 2000s, MailChimp is now one of the biggest names in email marketing — and boasts a fun mascot and corporate attitude to boot. The platform has everything you'll need to get started, all wrapped up in an easy-to-use package. The free plan is generously appointed, enabling organizations to communicate with up to 2,000 subscribers before upgrading.
Best for: Beginners, nonprofits, and bloggers looking for a cheap, easy marketing solution
Important features: Mobile app for iOS and Android, mailing address finder, printed postcards, and predicted demographics for audience analysis
Cost: FREE for up to 2,000 contacts or starting at $9.99 per month for up to 50,000 subscribers
Website: https://mailchimp.com
With email templates, a visual editor, and autoresponders, MailChimp does everything an email marketer needs to promote their brand. We found the platform's analytics and ecommerce tools a little too basic for power users, but a vast library of integrations and the ability to introduce printed mailings adds valuable functionality.


Boasting a powerful email builder that enables more than 2 million users to craft and deliver effective messages, Campaign Monitor emphasizes impressive, professionally built templates with high levels of adaptability. Nonprofit organizations will also appreciate the company's dedication to volunteerism and charitable work; in 2007, Campaign Monitor supplied more than 3,000 volunteer hours and donated more than 10,000 pounds of groceries to local food banks.
Best for: Developers and small businesses who value customization and data insights
Important features: Drag-and-drop email builder with template management, code-your-own templates, inbox previews, time zone-based sending, and a countdown timer
Cost: FREE trial for up to 5 contacts, or plans starting at $9 per month for up to 500 subscribers; per-campaign pricing is also available; nonprofits get a 15% discount
Website: https://www.campaignmonitor.com/
We love that Campaign Monitor enables users to create targeted and automated customer journeys through a campaign. The features may not dramatically stand above those of competitors, but the fine-grained control over templates — and the ability to code your own — will definitely resonate with brands. Support is limited to email for all but subscribers to the Premier plan, but we found Campaign Monitor's platform is incredibly easy to use and well documented.


As a relative newcomer to the industry, RocketResponder offers a fresh perspective on sending effective campaigns with high deliverability rates and SEO value. The traditional email marketing platform starts with a 30-day free trial but unlocks limitless email lists, subscribers, and campaigns with its paid plans.
Best for: Agencies and mid-size businesses who value SEO and need bulk emailing capacity
Important features: Unlimited sending capacity, white-label and agency plans, tons of stock images, LeadPages landing pages, and exit-intent technology
Cost: 30-day FREE trial; plans start at $20 per month for unlimited lists and contacts
Website: https://www.rocketresponder.com
Alternatively, RocketResponder offers one-of-a-kind solutions for agencies that need to manage marketing campaigns for clients, as well as a white-label option that removes all RocketResponder branding and sends emails from your own domain name — boosting your campaign's deliverability and your brand's reputation and authority.


Targeted toward creators ConvertKit empowers bloggers, YouTubers, musicians, and designers to spend less time marketing and more time dreaming and creating. The company skips custom campaign design templates to instead focus on professional-looking plain-text emails that boost your credibility and get past spam filters. Plans are slightly pricey, but a 14-day free trial will help you test ConvertKit's services and see if it's the right fit.
Best for: Bloggers and publishers with a bit more money to spend on efficient tools
Important features: Plain-text emails, visual-based automation system, automated email sequences, RSS-to-email broadcasts, live training, and weekly workshops
Cost: 14-day FREE trial; plans start at $29 per month for up to 1,000 subscribers
Website: https://convertkit.com
ConvertKit has all the streamlined features you'd expect, including landing page designs, signup forms, and analytics. Regarding automation, we especially appreciate how the platform lets users visually map out the various paths a subscriber's communications could travel. The lack of templates may be a little jarring at first, but we bet you'll appreciate how much less time you spend on marketing.


One of the most popular email marketing services you've probably never heard of, Groupmail helps more than 1 million people around the world send stylish campaigns and organize their contact lists. Instead of relying on monthly fees, email quotas, and subscriber limits, Groupmail flat out gives you its software for a one-time, upfront price.
Best for: Windows users who value security and don't want to pay monthly fees
Important features: Software available for download and upfront purchase, HTML templates and code editor, plus the ability to send directly without an SMTP server
Cost: FREE edition for sending 100 emails at a time, or buy the Personal edition for $149.95
Website: https://group-mail.com
While the Groupmail software was originally built for Windows users, the company launched its macOS platform in mid-2019. Users can create and organize unlimited groups and contacts, with all data securely stored on their own PC. The templates may look a bit stale, but you have full HTML control over the appearance of your campaigns.


Built on the belief that technology should work for you instead of the other way around, ActiveCampaign boasts an impressive and well-rounded portfolio of email marketing and related services. More than 80,000 companies worldwide rely on ActiveCampaign for everything from marketing automation to CRM, messaging, and machine learning.
Best for: Businesses and power users looking for advanced automation and CRM
Important features: Broadcast, targeted, and triggered emails, plus event tracking, lead scoring, predictive sending, win probability calculator, and a mobile app
Cost: 14-day FREE trial; annual plans starting at $9 per month for 500 contacts
Website: https://www.activecampaign.com
ActiveCampaign especially shines regarding marketing automation and optimizing your conversion funnels. The visual builder maps out audience targeting and segmentation to help you welcome new subscribers, identify your most active contacts, and pull in information from other platforms. Although the interface is rather easy to use, beginners may get overwhelmed by the complex features.

Billing itself as the first and only eCommerce customer relationship management platform, Drip aims to bring entrepreneurs and online stores closer to their customers than ever before. The platform centers around crafting personalized brand experiences by enabling users to tag, identify, and analyze each user interaction across your website and social media profiles.
Best for: eCommerce stores and advanced marketers looking to build complex automation
Important features: Unlimited email sending, 24/7 chat and email support, cross-channel marketing, lead scoring, and rich audience data
Cost: 14-day FREE trial; plans start at $49 per month for up to 2,500 contacts
Website: https://www.drip.com
As you build and perfect audience segments, you can spread your message across email, Facebook, Instagram, and even direct mail and SMS messages via third-party integrations. From there, the company's rich analytics platform is set to help you further steer and optimize your campaigns. Even better, Drip pays the same attention to its own customers with tons of training and troubleshooting materials to go along with rare, around-the-clock support via chat and email.


Nearly 700,000 startups, businesses, and freelancers use MailerLite to send 1 billion monthly emails. The company originally started in 2005 as a web design agency before pivoting to email marketing five years later, focusing on a simple platform that allows users to accomplish everything they want without any unnecessary features or complicated processes.
Best for: Bloggers and small businesses looking for an easy, affordable marketing platform
Important features: Visual editors for rich text, HTML, photos, and templates, plus
Cost: FREE up to 12,000 monthly emails, or starting at $10 per month for unlimited sending
Website: https://www.mailerlite.com
MailerLite's efficient platform strips away some of the advanced features you'll find with other marketing services on this list, but the company certainly covers all the essentials in an extremely user-friendly way. If you're missing any functionality, chances are MailerLite has an integration available for you; users can find all the top providers for eCommerce, landing pages, CRM, and signup forms.


With a sleek and modern drag-and-drop email builder, Benchmark simplifies email marketing campaigns for beginners and small business owners. The platform is geared toward beginners and comes with a generous free plan for those with lists of fewer than 2,000 subscribers or campaigns of fewer than 14,000 emails per month. The cost of the paid plans is a little steep for our taste, but you'll find some of the best customer support in the industry.
Best for: Small businesses and bloggers who want clean designs without complicated tech
Important features: Drag-and-drop email builder, built-in photo editor, triggered automation campaigns, plus more than 300 third-party integrations
Cost: FREE plan for up to 2,000 contacts and 14,000 monthly emails, or plans starting at $11.89 per month for 600 contacts
Website: https://www.benchmarkemail.com
Benchmark helps you grow your subscriber list with embeddable, popup signup forms, polls, and surveys to build engagement and personalize their experience. As you learn more about your subscribers, Benchmark enables you to target specific groups with A/B testing and other tools. Although the company's automation capabilities fall slightly behind competitors, Benchmark is regularly praised for having the best customer support in the industry.


Crafted around the idea of inbound marketing, where people want to be helped instead of interrupted by marketers or salespeople, HubSpot aims to be an all-in-one solution for connecting businesses with their customers. The comprehensive platform is primarily crafted around CRM, unlocking rich data about each of your customers that can be used to craft more personalized brand experiences.
Best for: Businesses with complex CRM, sales, and marketing needs willing to spend a little more for the right product
Important features: 2,000+ email templates, smart rules for content personalization, plus tools for blogging, automation, lead management, and landing pages; full-featured CRM, sales, and customer service programs
Cost: FREE limited plans or plans starting at $50 per month for up to 1,000 contacts
Website: https://www.hubspot.com
While larger teams and organizations will appreciate the wide-ranging programs available through HubSpot, we found the platform overwhelming. With all the tools in the company's CRM, sales, marketing, and customer service portals, we'd rather see a narrower focus centered on usability. That said, no one can argue with the depth of information HubSpot provides; valuable insights can certainly be yours if you can sift through everything.
How Much Does Email Marketing Cost?
As you can tell, email marketing prices run the gamut from completely free to hundreds, if not thousands, of dollars per month — and even then, they're not all created equal. You'll have to pay close attention to the features, subscriber limits, and sending capacities before committing to spending your time and possibly money on a platform that may not be the best fit.
Free plans range from stripped-down and restrictive sampling to full-featured experiences with advanced features. But, for those who need a premium solution, you don't necessarily have to pay sky-high prices. Solid email marketing plans can cost between $10 and $50 for modest-sized lists, while larger organizations will likely have to spend quite a bit more.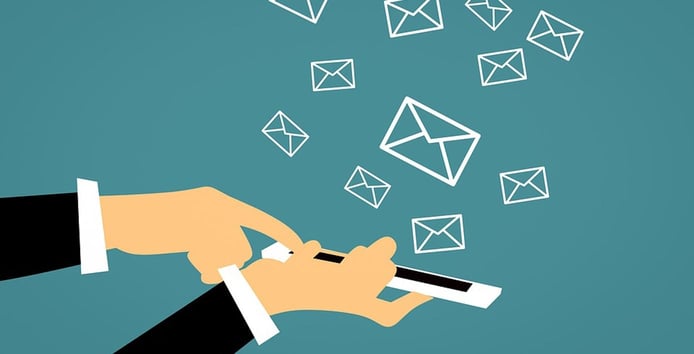 See if your potential email marketing platform offers a free trial. Spend the time (usually two weeks) playing with design templates, list managers, and the program's analytics and stats interfaces to see if the company is worth your time and money. Kick all the tires!
First, learn how to set a marketing budget to see how much you can afford to spend on email marketing. Ideally, you should spend roughly 15% of your marketing budget on email campaigns and optimizations; studies show that more than 80% of marketers are spending 20% or less.
What is the Best Free Email Marketing Service?
Although you shouldn't shy away from free trials and the extra features you get with upgrading to affordable plans, we understand if you need something free for the long haul. We've already covered the best free email hosting services, but here are the best marketing platforms and software programs from our list that help you leverage your sending power for free:
Even better, you can trust free email marketing services much more than other free solutions on the web. Whereas free web hosting tends to fall under the "if it seems too good to be true, it probably is" category, no-cost email marketing bucks the trend.
Alternative options that didn't rank as high but come with slightly higher limits include Sender, Omnisend, and SendPulse. Each platform allows users to send 15,000 emails. Omnisend doesn't enforce a subscriber limit, while the others allow up to 2,500 contacts.
Which is the Best Bulk Mailing Software?
To help prevent spam and protect user accounts, internet service providers, web hosts, and email platforms restrict the number of emails you can send per day and the number of people you can send to. SMTP servers are what take care of the entire email delivery process; overloading them can lead to the machines being blacklisted.
Of the email marketing services we reviewed above, the platforms below have the highest listed sending capacities. Remember that these and several others can go even higher after you consult with salespeople to create a custom plan.
As you're looking to send out more email messages, your prices can understandably skyrocket. Manage your costs and campaigns by ensuring you're sending the right number of emails and not overwhelming your subscribers (and servers). Periodic cleaning of your contact list to remove dead-end leads may also help.
Gauge the Effectiveness and Conversion Rates of Your Email Marketing
Given that email was invented in 1972 — predating the internet and even its predecessor, ARPANET — you may be wondering: Is email marketing still effective? Believe it or not, this roughly 50-year-old technology still has legs, particularly for small businesses and eCommerce.


According to a study from Shop.org and Forrester research, 85% of U.S. retailers considered email marketing to be one of the most impressive ways to attract new customers. Once they're on board, existing customers are 50% more likely to try new products and spend roughly 30% more.
Aside from your growing revenues and subscriber list, email marketing success can be measured through various metrics. Your conversion rate can be calculated by dividing your campaign's number of signups or purchases by the number of successfully delivered emails. More helpful, though, would be tracking how frequently your subscribers open or click on links in your messages. Mailchimp determined the average rates per industry, giving you a great sense of how you're doing compared to competitors.
When in doubt, play with your email marketing platform's A/B testing feature to see which subject lines yield the best results and which personalizations or delivery times are the most effective. Never forget your call to action (such as signing up with one of the email marketing services above to boost sales and connect with your potential customers)!
See Our Full Review of Constant Contact
Whatever type of hosting plan you're looking for, Constant Contact is a solid choice no matter the scale. Our reviewer Laura Bernheim recently took Constant Contact for a spin, and rated the popular host a 0.0 in the Best Overall Hosting category out of a perfect score of 5.0. Here's what Laura had to say about Constant Contact:
Before signing up for Constant Contact, it's a good idea to read through Laura's full review to learn about all the features Constant Contact offers. You can also compare it to other web hosts to ensure you're getting the best deal possible:
If you decide Constant Contact is the right choice, keep in mind that it takes just minutes to deploy your Constant Contact server space. And at per month, it's a bargain considering the many great features that come in any Constant Contact plan.
Advertiser Disclosure
HostingAdvice.com is a free online resource that offers valuable content and comparison services to users. To keep this resource 100% free, we receive compensation from many of the offers listed on the site. Along with key review factors, this compensation may impact how and where products appear across the site (including, for example, the order in which they appear). HostingAdvice.com does not include the entire universe of available offers. Editorial opinions expressed on the site are strictly our own and are not provided, endorsed, or approved by advertisers.
Our Editorial Review Policy
Our site is committed to publishing independent, accurate content guided by strict editorial guidelines. Before articles and reviews are published on our site, they undergo a thorough review process performed by a team of independent editors and subject-matter experts to ensure the content's accuracy, timeliness, and impartiality. Our editorial team is separate and independent of our site's advertisers, and the opinions they express on our site are their own. To read more about our team members and their editorial backgrounds, please visit our site's About page.