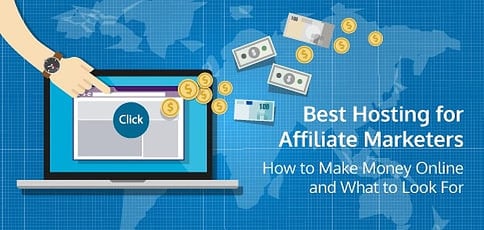 For those looking to monetize their website or blog, finding the best hosting for affiliate marketers is a key early step. You'll need a cost-efficient plan that keeps your overhead investment low while providing the speed and reliability needed to build profits.
Online entrepreneurs most commonly take years to perfect an idea, attract customers, streamline the manufacturing process, network with potential investors, and so on. Affiliate marketing, however, enables you to share others' successes — and grab some of the revenue by recommending services and earning a commission each time your reader converts to a sale.
To maximize profit, affiliate marketers need an online presence that is fast, affordable, always available, and designed to convert. We've put together a list of what we think are the best hosting plans for affiliates, along with key features to look for, ideas to help you start, and alternative ways to make money. Read on to find out which route you should take.
Best Overall Web Hosting for Affiliate Marketing
To borrow from The Office, affiliate marketing is a "win-win-win" situation: Large companies appreciate affiliate marketers who help them reach new customers, and customers welcome discovering helpful new products (and often receiving a discount). And, of course, you'll enjoy making money.
A stable web hosting relationship bodes well for long-term affiliate success. The more time marketers can spend perfecting their content and affiliate relationships, the more potential customers they can attract and subsequently refer to partners. Our favorite host, InMotion Hosting, ensures you'll spend the bare minimum amount of time setting up and troubleshooting your hosting environment.
Reliable availability, responsive support, and an abundance of computing resources are critically important to all hosting customers, and this company specifically appeals to affiliate marketers by including a free website builder, unlimited bandwidth, and tons of online marketing credits:
FREE SSD drives included with all hosting plans
Zero-downtime website transfers and migrations
FREE data backups, SSL certificate, and DDoS protection
Choice of East Coast or West Coast datacenter
Multi-language support, including PHP, Ruby, and Perl
InMotion: Our Expert's Review
Setup time: 4 minutes
Go to full review

»
Offering a wider range of services than most — including shared, dedicated, VPS, and even WordPress-specific plans — InMotion Hosting features a great combination of industry-leading hardware, always-there support, and mass scalability for all hosting...
| Money Back Guarantee | Disk Space | Domain Name | Best Overall Hosting Plans |
| --- | --- | --- | --- |
| 90 days | Unlimited | New or Transfer | www.inmotionhosting.com |
See more of our favorite overall hosts »
InMotion Hosting, in particular, represents an excellent option for getting your new business off the ground. We frequently recommend the company's various services to everyone from new business owners and first-time site owners to experienced developers and enterprise organizations. The company's popularity across the board is particularly valuable to new customers when they can cash in on discounted rates. We've gone out and found the best deal currently available:
See other InMotion Hosting coupons »
Top 3 Cheap Hosting Plans for Affiliate Marketers
Because only 9% of affiliate marketers generated more than $50,000 in revenue in 2016, minimizing your technology spend can be a good way to boost profits. As with many novice website and small business owners, affiliate marketers must balance the need for powerful, useful services with the requirement to shrink expenses.
Instead of simply looking for the best free hosting service available, startups and small businesses should opt for a reputable shared hosting provider. The most affordable and beginner-friendly server configuration, shared hosting entails splitting computing resources with hundreds, sometimes thousands, of other customers.
The best shared hosting companies, which we've reviewed and listed below, excel at providing business-friendly tools to help affiliate marketers grow their online presence — and for extremely affordable rates. Look for a plan that promises around-the-clock support, marketing tools, one-click installations of popular publishing platforms, and performance upgrades such as a content delivery network or solid-state drives. Read the reviews of the companies who have earned our highest recommendations:
Known for high performance at a low price
Endorsed by WordPress.org team
FREE Weebly site builder and CloudFlare CDN
FREE domain and unlimited storage
Get 63% off today (was $7.99/month)
Bluehost: Our Expert's Review
Setup time: 4 minutes
Go to full review

»
If you're looking for an affordable host, Bluehost is a solid, reputable choice; The company's low costs, coupled with its supremacy in the shared hosting arena, is what makes this provider such a valuable deal. The Bluehost name is listed toward the top of...
| Money Back Guarantee | Disk Space | Domain Name | Cheap Hosting Plans |
| --- | --- | --- | --- |
| 30 days | 50 GB - Unlimited | FREE (1 year) | www.bluehost.com/shared |
Unlimited everything, from bandwidth to databases
FREE site builder & WordPress performance upgrades
FREE daily or weekly backups
90+ auto-installation scripts and custom control panel
SSH access & SSL certificates
Hostinger: Our Expert's Review
Setup time: 3 minutes
Go to full review

»
As the shared hosting market becomes increasingly saturated, unlimited storage, bandwidth, and email accounts have become surprisingly average. Hostinger, however, extends the routine, expected metrics to greater lengths — the number of websites, databases,...
| Money Back Guarantee | Disk Space | Domain Name | Cheap Hosting Plans |
| --- | --- | --- | --- |
| 30 days | 10 GB SSD - 30 GB SSD | FREE (1 year) | www.hostinger.com/shared |
$0.01 for the first month, then $5 monthly after
NO annual contracts and NO sudden price increases
Unlimited storage space, data transfers, and email
New domain is $11 with 1-month plan ($1.99 otherwise)
99.9% uptime and price-lock guarantee
InterServer: Our Expert's Review
Setup time: 4 minutes
Go to full review

»
It's hard to argue with a shared hosting plan that includes unlimited storage, bandwidth, websites, and email — but shared hosting is a crowded industry that turns on name recognition, reputation, and bargain-basement prices. InterServer outperforms some of...
See more cheap hosting reviews »
Top 3 WordPress Hosting Companies for Affiliate Marketers
Once aspiring affiliates secure some server space, the next challenge is how to get your content and referrals online. Site owners with the least web experience might want to stick with a drag-and-drop site builder, but marketers with a modicum of technical aptitude and patience should explore WordPress.
Most hosting providers make the world's most popular content management system available through a one-click installation, and users will have access to a rich open-source community full of themes and plugins to help build and oversee an affiliate marketing program.
Seemingly every host offers support for WordPress-powered websites, but the best of the best tailor their infrastructure and support to maximize the platform's performance. WordPress often comes pre-installed with these plans, including those from the hosts we're highlighting below. These three hosts, in particular, offer site owners and affiliate marketers ample opportunities for WordPress success.
When examining the reviews below, take note of which hosts offer speedy page loads with ultra-fast solid-state drives and extra security with SSL certificates. Our favorite WordPress hosting plans also often come with automatic backups, a free domain name registration, and unlimited storage space:
WordPress pre-installed with NGINX and PHP 7
FREE SSL certificate and unlimited bandwidth
Optional automatic plugin, theme, and core updates
Features a FREE drag-and-drop WP page editor
Premium themes and plugin subscriptions
InMotion: Our Expert's Review
Setup time: 5 minutes
Go to full review

»
InMotion Hosting, long known for affordable and high-performance shared hosting options, entered the WordPress space with a solid option built upon the company's reputation for great support and reliability. Costing a small premium over other budget-minded...
Recommended by WordPress Core since 2005
FREE SSD storage and SSL certificate
FREE domain registration and email
Automatic installation and updates
63% discount exclusively for HostingAdvice shoppers
Bluehost: Our Expert's Review
Setup time: 5 minutes
Go to full review

»
Aimed at personal bloggers and first-time users, Bluehost's WordPress hosting packages are a great alternative to simple shared hosting. These service come at a premium, compared to Bluehost's standard shared plans, but the WordPress optimization and...
| Money Back Guarantee | Disk Space | Domain Name | WordPress Hosting Plans |
| --- | --- | --- | --- |
| 30 days | 50 GB SSD - Unlimited | FREE (1 year) | www.bluehost.com/wordpress |
FREE Cloudflare CDN and 1-click installs for WordPress
Turbo Server, SSD speed boost, and optimized caching
A2-optimized WP plugins for performance and security
SSL certificates, PayPal integration, and 24/7 support
FREE HackScan and KernelCare
A2 Hosting: Our Expert's Review
Setup time: 4 minutes
Go to full review

»
As experts in performance optimization, A2 Hosting is a top choice for powering resource-heavy WordPress websites. The company offers shared or managed plans for the ultra-popular content management system, with the benefits extending to Joomla, Drupal, and...
See more WordPress hosting reviews »
Top 3 Reseller Programs (Affiliate Marketing Alternatives)
Did you know there are other ways to make money online? If you'd like to take more ownership of the services you recommend to your readers and site visitors, many companies will allow you to re-label their web hosting services and sell them as your own. Instead of promoting the successes of other businesses, hosting resellers can build their own brand and deliver the specific products, upgrades, and support they view as the most important.
Resellers sign up for what usually amounts to a virtual private server — a large, virtualized partition of a server that is shared by only a few customers. From there, you can divvy up your hosting resources into even smaller portions you can sell to customers of your own. Although affiliate marketing is commonly described as a method to generate passive income, resellers do not have that luxury — they are responsible for maintaining and marketing sound hosting environments, billing clients, and providing customer support.
All that said, reselling web hosting accounts is a rewarding way for tech enthusiasts to make money by doing something they are passionate about. The most promising reseller programs, including the three hosts reviewed below, start with high-powered infrastructure and go on to offer resellers all the business tools needed to oversee unlimited domain name registrations, cPanel accounts, and customer management. Peruse the three tables to see which reseller program might offer you and your audience the best fit:
SSD reseller hosting with FREE cPanel/WHM access
Keep your reseller business organized with WHMCS
FREE dedicated IP and site backups
Tons of email features with IMAP and POP3 support
Manage your domains with a FREE eNom license
InMotion: Our Expert's Review
Setup time: 5 minutes
Go to full review

»
InMotion offers cPanel reseller hosting that's affordable, easy to manage, and includes free SSDs. Become a domain reseller for popular gTLDs and TLDs with a free eNom license and WHMCS to manage your accounts. The company offers 24/7 support…
Affordable reseller plans with luxury features
FREE eNom account to manage unlimited domains
Server Rewind backups and up to 2TB of data transfer
FREE SSDs, a CDN, and choice of datacenter location
99.9% uptime guarantee and 24/7 network monitoring
A2 Hosting: Our Expert's Review
Setup time: 4 minutes
Go to full review

»
A2 Hosting provides some of the most appealing reseller hosting deals on the market. Enjoy free eNom, cPanel, and WHMCS accounts to get your business started…
| Money Back Guarantee | Disk Space | Domain Name | Reseller Hosting Plans |
| --- | --- | --- | --- |
| 30 days | 30 GB SSD - 200 GB SSD | New or Transfer | www.a2hosting.com/reseller |
Start your own company with cPanel reseller hosting
Unlimited domains, emails, and MySQL databases
99.9% uptime guarantee and 400+ tutorials
All web hosting reseller plans include WHMCS
FREE ResellerClub account for domain registrations
HostGator: Our Expert's Review
Setup time: 4 minutes
Go to full review

»
HostGator offers some of the industry's best reseller hosting plans, with WHMCS included for your management purposes, as well as cPanel for your customers. You specify your reseller hosting customers' packages, disk space, and bandwidth…
| Money Back Guarantee | Disk Space | Domain Name | Reseller Hosting Plans |
| --- | --- | --- | --- |
| 45 days | 60 GB - 140 GB | New or Transfer | www.hostgator.com/reseller |
See more reseller hosting reviews »
4 Things Affiliate Marketers Should Look for When Choosing a Host
Whether you take the reseller or affiliate marketer route to building an online business, the components of a successful web hosting relationship are largely the same. Examine your needs as far as storage, support, domain names, scalability, and other factors for choosing a web host. There are plenty of metrics to research and compare when shopping for a hosting provider, but here are the four attributes that will likely have the most impact on affiliate marketing and reselling organizations.
1. Uptime Guarantees
The average small business loses more than $55,000 in revenue each year because of IT failures. For fledgling affiliate marketers, that loss can sink a brand's reputation among impatient readers who are counting on the website to provide helpful recommendations and discounts. If your audience can't see your site, they can't click on affiliate links and sign up for the products you have partnered with.
| Availability | Downtime per week | Downtime per month | Downtime per year |
| --- | --- | --- | --- |
| 95% | 8.4 hours | 36 hours | 18.25 days |
| 99% | 1.68 hours | 7.2 hours | 3.65 days |
| 99.9% | 10.1 minutes | 43.2 minutes | 8.76 hours |
| 99.99% | 1.01 minutes | 4.32 minutes | 52.6 minutes |
Even though 99% uptime sounds stellar, that rate means a website will be unavailable for more than seven hours each week. Aim higher and find a host that touts at least the industry average uptime guarantee of 99.9% — "three nines" availability reduces your site's downtime to less than 45 minutes per week.
For those who have already built a decent audience and revenue stream, consider upgrading to a VPS plan from Hostwinds. Virtual servers will give your site much more room to grow, and Hostwinds promises 99.9999% uptime — phenomenal bang for the few bucks you'll spend.
2. Performance
When it comes to page load times, speed sells and milliseconds matter. Readers and online shoppers increasingly expect a website to load in the blink of an eye — or even faster. Even though a quarter of a second, or 250 milliseconds, seems imperceptible, researchers identified that as "the magic number" for getting a competitive advantage online. Potential customers assume websites will appear in two seconds or less; if the page takes longer than three seconds, many will abandon the website altogether.
Making performance even more important is the criterion's influence over your site's positioning in search engine results. Identifying a hosting plan that puts the pedal to the metal isn't as complicated as you might think — look for hosting plans that use solid-state drives for storage, along with hosts that integrate with a content delivery network or offer tailor-made caching tools.
3. SEO Help and Marketing Credits
Think of your own online shopping habits — if you're looking for a new kitchen appliance, car, web hosting service, or mattress, chances are you're going to be looking for reviews, comparisons, and discounts online. Google users make more than 62,000 searches per second, amounting to roughly 2 trillion searches per year.
Where your website appears on the search engine results page can drastically affect how many people click to visit your site. The top Google result, for example, attracts nearly a third of all click-throughs; that rate drops to less than 18% for the second position and continues falling drastically — the link in the tenth spot will attract only 2% of the traffic.
The best web hosting providers will give your website an SEO boost with strong uptime rates, page load speeds, security measures, server locations, and SSL certificates, but the cream of the crop also give affiliate marketers a few hundred dollars of search engine marketing credits, along with SEO guides and analytics platforms. By advertising your website as a relevant resource for various keyword searches, you'll be sure to gain traction and stand out among competitors.
4. Site-Building Tools for Conversion-Based Design
Mobile-friendliness is an increasingly important factor in SEO, as well. In addition to the technical know-how that goes into crafting a strong presence for smartphones and tablets, affiliate marketing websites need to clearly and quickly funnel potential customers to affiliate partners — if visitors don't know where to click, you won't earn any commissions.
Many shared hosting providers include a free drag-and-drop website builder with pre-crafted themes built around industries, such as photography, restaurants, or fashion, but affiliate marketing can be tough to categorize. Nothing beats what-you-see-is-what-you-get usability, but be sure to check out WordPress themes for affiliate marketers, as well.
What is Affiliate Marketing? How to Start and Make Money
With the affiliate marketing industry expected to grow to more than $6.8 billion by 2020, there is plenty of profit to go around. Get started by finding a topic or range of products about which you're passionate, knowledgeable, and experienced. Beyond the emotional attachment and expertise, also dig around the industry to make sure there are opportunities to make money and the potential for ample partnerships and rich content — can you envision writing 100 blog posts about the industry?
Learn which programs and products you can promote by exploring various top affiliate networks; pay attention to how much commission you stand to earn, which companies participate, and the level of customer support. After building your website, the emphasis shifts to writing top-notch content and building an audience.
Even though jumping into the affiliate marketing world might seem daunting and a bit overwhelming, imagine how much more time, money, and sanity would be invested in creating an entirely new product or service. Count your blessings — and revenue — by taking the affiliate marketing route.
Advertiser Disclosure
HostingAdvice.com is a free online resource that offers valuable content and comparison services to users. To keep this resource 100% free, we receive compensation from many of the offers listed on the site. Along with key review factors, this compensation may impact how and where products appear across the site (including, for example, the order in which they appear). HostingAdvice.com does not include the entire universe of available offers. Editorial opinions expressed on the site are strictly our own and are not provided, endorsed, or approved by advertisers.
Our Editorial Review Policy
Our site is committed to publishing independent, accurate content guided by strict editorial guidelines. Before articles and reviews are published on our site, they undergo a thorough review process performed by a team of independent editors and subject-matter experts to ensure the content's accuracy, timeliness, and impartiality. Our editorial team is separate and independent of our site's advertisers, and the opinions they express on our site are their own. To read more about our team members and their editorial backgrounds, please visit our site's About page.