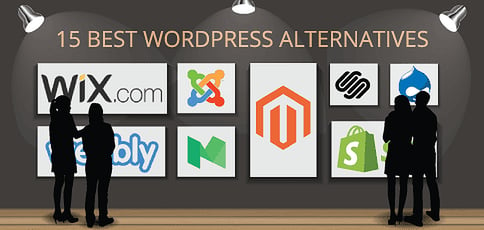 Whether you're looking to build a new website, blog, place to sell your products, or are just exploring your options, we've outlined more than a dozen WordPress alternatives for you to consider.
As much as it pains us to say it, WordPress isn't for everyone. We use the incredibly popular platform both here at HostingAdvice and for several personal sites and side projects, but many have written about the steep learning curve and security precautions that must be tackled to succeed with WordPress.
Read on to learn about the drag-and-drop website builders, blogging platforms, and ecommerce software options on standby to help you launch and grow your next website.
"Website Building" WordPress Alternatives
If you're looking for ultra-simple, drag-and-drop editing tools that show you exactly what your site will look like, WordPress probably isn't for you. The platform's visual editor comes close, but it doesn't truly give users a what-you-see-is-what-you-get, or WYSIWYG, experience.
Our friends at InMotion Hosting, however, have recently created the first true website builder for WordPress. Check out BoldGrid, which recently announced wide-scale availability through Softaculous, an incredibly popular one-click installation tool included in most hosting plans.
Although website builders can make creating your online home a breeze, new site owners will need to be aware of which builders come with hosting and which require you to sign up separately with a provider — or which give you the choice.
1. Wix
One of our favorite all-in-one website builders, Wix appeals to both novice and experienced users. The builder boasts hundreds of impressive templates organized into specific categories, industries, and use cases. On the very slight possibility you can't find exactly the look you want, Wix also provides blank wireframe layouts and even the option to start from scratch.
No coding skills needed with drag-and-drop builder
100s of templates with niche-specific designs
Add features via the App Market and Wix Events
Easily create ecommerce functionality easily
Great way to build small sites on a budget
WEBSITE BUILDER
RATING 4.9 ★★★★★ Our Review
Alexandra Anderson (HostingAdvice.com): Website building is where Wix shines. The thousands of templates, the intuitive editor, the industry-leading designs that cater to a variety of specific fields and use cases — all these facets represent a platform that excels at facilitating easy web design for the non-tech-savvy user. Go to full review »
| Money Back Guarantee | Disk Space | Domain Name | Setup Time |
| --- | --- | --- | --- |
| 14-day FREE trial | 2 GB - Unlimited | FREE (1 year) | 4 minutes |
2. WebsiteBuilder by iPage
A popular hosting service among beginners, iPage has invested heavily in providing their customers with a seamless, user-friendly site-building tool. The name might not be the most creative, but WebsiteBuilder offers hundreds of responsive templates that will work on any device. Signing up with a host, such as iPage, opens up a ton of new options and features — from around-the-clock support to unlimited storage space and free domains, just to name a few.
Choice of Weebly or WebsiteBuilder by iPage
Mobile-optimized and easy-to-use setup wizards
100s of professionally designed themes
FREE online store, shopping cart, and blogging
Get 38% off your first month
WEBSITE BUILDER
RATING 4.9 ★★★★★ Our Review
iPage: Our Expert's Review
PJ Fancher (HostingAdvice.com): Do you want your website built today. If you answered "yes," you should look no further than iPage. Go to full review »
| Money Back Guarantee | Disk Space | Domain Name | Setup Time |
| --- | --- | --- | --- |
| 30 days | Unlimited | FREE (1 year) | 4 minutes |
3. Gator by HostGator
Premium web hosting company HostGator might offer the best site builder you haven't heard of. We appreciate when hosts spend the time to develop their own tools that cater to their customers' specific needs. Gator comes with all the essentials for creating your site, including a free domain, email address, and unlimited space.
Drag-and-drop design with the Gator™ site builder
Hundreds of mobile-friendly templates
FREE hosting, domain name, and SSL certificate
Easily add a blog, store, and social media
Analytics portal helps gauge site performance
WEBSITE BUILDER
RATING 4.6 ★★★★★ Our Review
HostGator: Our Expert's Review
Ryan Frankel (HostingAdvice.com): Setting itself apart from the scores of competitors that rely on white-labeled website builder solutions, HostGator spent the time to painstakingly craft its own platform. Gator provides a frustration-free experience that pairs the simplicity of drag-and-drop design with the company's powerful and respected web hosting services. Go to full review »
| Money Back Guarantee | Disk Space | Domain Name | Setup Time |
| --- | --- | --- | --- |
| 30 days | Unlimited | FREE (1 year) | 4 minutes |
4. Weebly
A go-to resource for sheer simplicity, Weebly is available with included hosting or is often found included with many shared hosting plans. Weebly offers site owners a well-rounded package by combining a fantastic builder with excellent themes and basic eCommerce functionality.
We appreciate that you can easily use your custom domain name, but more experienced customers might find themselves outgrowing such beginner-friendly options before too long. For example, seasoned SEO veterans will likely need third-party apps to effectively drive traffic.
Direct access to the popular drag-and-drop site builder
Fully hosted, drag-and-drop site-building and marketing
Choose from 100s of customizable, professional themes
Add contact forms and take RSVPs via apps
Ecommerce-ready and SEO-friendly with built-in tools
WEBSITE BUILDER
RATING 4.8 ★★★★★ Our Review
Weebly: Our Expert's Review
Alexandra Anderson (HostingAdvice.com): Weebly is in the elite clique of drag-and-drop website builders that includes WordPress and Wix. com. Go to full review »
| Money Back Guarantee | Disk Space | Domain Name | Setup Time |
| --- | --- | --- | --- |
| 30 days | 500 MB - Unlimited | FREE (w/ paid plans) | 3 minutes |
5. Google Sites
Recently rebuilt around customer feedback, Google has re-entered the website building fray with an impressive option for the more daring site owner. Although the Google Sites builder is new, the platform integrates with all the familiar Google apps you're used to using. Who's to argue with deploying Google Analytics to track site performance?
The biggest glaring hole in Google Sites is templates: users only have six options, and they all look ridiculously similar. The platform gives users flexibility to customize their look, but beginners will have to look to third-party theme developers for inspiration or more design choices.
6. Squarespace
Squarespace offers some of the site building industry's most stunning templates — but they come at a steep price. We love the refined look of Squarespace, but budget-minded users will find many similar tools on other builders for much less.
Customers who stick with Squarespace, however, will enjoy unlimited bandwidth and storage, SSL certificates, and a free domain name. Photographers, in particular, will appreciate image importing and processing tools, as well as the included CDN for speedy site delivery.
"eCommerce" WordPress Alternatives
Out of the box, WordPress does not include any eCommerce tools. Responding to user suggestions for features to create and manage online stores, however, parent company Automattic acquired WooCommerce, the most popular WordPress eCommerce plugin behind more than 28% of all online stores.
7. Shopify
Shopify is the most hands-off eCommerce solution. Business owners won't need to sign up for a hosting plan, but they'll find fewer customization options on Shopify than on other platforms. With a goal of making selling simple, Shopify offers users hundreds of templates, built-in shopping carts, and a full marketing suite.
Site builder with FREE and premium themes
Unlimited bandwidth, storage, and products
Easy-to-use dashboard for managing orders, shipping, and payments
Tons of features, including discount codes
FREE MyShopify.com subdomain or use your own
ECOMMERCE
RATING 4.6 ★★★★★ Our Review
Shopify: Our Expert's Review
Toby Sembower (HostingAdvice.com): The great thing about Shopify is how the feature set centers around ecommerce, a focus of many shared hosting shoppers. Shopify plans are fully hosted, but most of the company's plans are significantly more costly than a majority of the shared hosts we've come across. Go to full review »
| Money Back Guarantee | Disk Space | Domain Name | Setup Time |
| --- | --- | --- | --- |
| 3-Day FREE Trial | Unlimited | FREE Subdomain | 5 minutes |
8. Volusion
As one of the pioneers of ecommerce, Volusion got its start in 1999 as an all-in-one tool to help people launch and run their online business. Now, the platform has processed more than 185 million orders worth $28 billion.
Everything you need to grow an online store
Drag-and-drop store builder and FREE themes
FREE payment processing, shipping, and inventory
Marketing with discounts, newsletters, and more
Unlimited bandwidth and tools for SEO
ECOMMERCE
RATING 4.6 ★★★★★ Our Review
Volusion: Our Expert's Review
Laura Bernheim (HostingAdvice.com): Volusion packs everything you need to build a powerful online store presence into competitive bundles. Start with a drag-and-drop editor and create categories for unlimited products. Go to full review »
| Money Back Guarantee | Disk Space | Domain Name | Setup Time |
| --- | --- | --- | --- |
| 14-Day FREE Trial | Unlimited | New or Transfer | 5 minutes |
9. Magento
Resonating with more established organizations and online storefronts, Magento offers solutions for order management, business intelligence, shipping, and monetizing social channels. Together, Magento's products handle more than $50 billion in gross merchandise volume.
Magento has open-source roots in the company's Community Edition, which scales up to enterprise and cloud versions featuring extra functionality and support. The program might be a little too complex for beginners, however, who could easily get bogged down in all the steps to customize and configure the platform.
10. PrestaShop
Like Magento and WordPress, PrestaShop is a self-hosted platform — meaning users have to install the software on their hosting account. PrestaShop gives small businesses a good deal of functionality and flexibility without being as overwhelming as Magento. The low system requirements mean PrestaShop runs efficiently and won't bog down your hosting hardware.
The free service comes with more than 2,000 professional themes, all of which are optimized for mobile devices. A streamlined dashboard provides easy access to more than 300 features, including email automation and SEO, and store owners can add plenty of free or paid modules.
"Blogging" Alternatives to WordPress
Simply having something to say is a major reason to get online and create a personal website. Whether you want to share your adventures with your buddies or wax poetic on some philosophical issue, WordPress and other platforms help writers commit their prose to pixels.
11. Medium
Created by Twitter Co-Founder Evan Williams, Medium is a relatively new publishing platform that gives writers a clutter-free space to create and share thoughts beyond Twitter's 140-character limit. The editor is distilled just to the user's words, making it drop-dead simple to share your thoughts with the world.
Bloggers aren't bogged down by themes or plugins because they simply don't exist. Amateurs and professionals alike turn to Medium for content that matters, whether you write a deeply personal essay or examine the intricacies of some worldwide issue. Writers looking for a portfolio or any other functionality won't find it here.
12. Ghost
An open-source codebase is about all that Ghost and WordPress share. The platform will appeal to pure writers with a simple experience and bridges the gap with more tech-minded users by basing its interface on Markdown, a lightweight formatting language that can be converted to HTML without the use of formatting buttons.
Funded by a Kickstarter project, Ghost includes an intuitive dashboard and ultra-simple content management portal. The program offers more features than Medium without the headaches and distractions of WordPress. Users might still miss some of the flexibility and features of a full-fledged site builder or content management system, but we love how Ghost merges the needs of both writers and designers.
13. Blogger
Interestingly, Blogger is Google's second entry on this list. While Google Sites is more geared for the total novice seeking a well-rounded site, Blogger is strictly a blogging tool. Blogger is still an immensely popular somewhat legacy product, but Google's renewed attention to the Sites platform has fueled plenty of speculation about what the tech giant plans to do with two roughly similar offerings.
For a deeper evaluation, we compared Blogger and WordPress on six key points, including security, eCommerce tools, and themes. Spoiler alert: we like WordPress more, and even give users step-by-step instructions on how to transfer Blogger sites to WordPress.
"Content Management" Alternatives to WordPress
Here's where WordPress finally gets a home game. At its core, WordPress is truly a CMS, or content management system — it's more than just a blog and definitely not a site builder. A CMS manages a wider range of content and more seamlessly integrate with plugins that add more features. We adore WordPress for everything, but we know that some other CMSs appeal to certain use cases.
14. Joomla
Another open-source platform, Joomla is the second-most-used CMS, according to BuiltWith — although WordPress is tops by quite a large margin. Users can enjoy the same rich, community-driven development as WordPress with ample themes and plugins.
Depending on who you talk to and how you want to use Joomla, the CMS can be complex and tricky to navigate — or full of robust features that appeal to larger organizations. WordPress is probably more usable for the casual blogger or site owner.
15. Drupal
Right behind Joomla in terms of popularity, Drupal is a power-packed CMS that can also be used as a framework to build your own CMS. As you might have guessed, Drupal is the most complex and challenging of the three major CMSs — but the super-sophisticated platform comes with potent security and performance that appeals to large companies and organizations dealing with sensitive information.
16. CMSMS
Once you get past The Big Three, your options get quite slim. CMS Made Simple barely registers when it comes to CMS usage and market share, but the platform delivers a straightforward and uncomplicated space to create and run a website.
Although CMSMS offers a lightweight, flexible environment, users will have to learn and understand the nuances in how the interface functions compared with the more popular options. There are different best practices and a new templating language. At the end of the day, CMSMS is fine — WordPress is just better.
Tell Us What You Love or Don't Love About WordPress
Now that you've seen all the other options, how does that change what you think about WordPress? Creating and running a website can be a very personal experience that everyone approaches differently. Although WordPress works for most, you might find more success and happiness with another platform more suited to your needs and comfort level.
The good news is that WordPress, along with most of the other platforms we've covered, are completely free to use and try. Feel free to take your time playing around with each one to see which service offers the best fit.
If you're sticking with WordPress, however, consider checking our list of top hosts for WordPress. Any worthwhile hosting company provides access and one-click installations of most of the options on this list, but some of our favorites go an extra step for WordPress — boosting performance, managing security updates, and providing dedicated support teams.
Further Reading: "15 Best WordPress Hosts for Websites, Blogs & Online Stores (June 2023)"
Hopefully, our recommendation of Wix fulfills all your web hosting needs. Starting at just $0.00 per month and rated 4.9 overall, Wix gives users plenty of bang for the buck. Among our favorite features:
No coding skills needed with drag-and-drop builder
100s of templates with niche-specific designs
Add features via the App Market and Wix Events
Easily create ecommerce functionality easily
Great way to build small sites on a budget
If you'd like recommendations similar to Wix and others in 15 Best WordPress Hosts for Websites, Blogs & Online Stores (June 2023), check out these popular guides. You'll find comparisons of Wix to other hosts on pricing, features, support and more:
And of course, if Wix is your top choice, you can get started now at just $0.00/month. Wix is easy to set up and scale, no matter the size of your next project.
Advertiser Disclosure
HostingAdvice.com is a free online resource that offers valuable content and comparison services to users. To keep this resource 100% free, we receive compensation from many of the offers listed on the site. Along with key review factors, this compensation may impact how and where products appear across the site (including, for example, the order in which they appear). HostingAdvice.com does not include the entire universe of available offers. Editorial opinions expressed on the site are strictly our own and are not provided, endorsed, or approved by advertisers.
Our Editorial Review Policy
Our site is committed to publishing independent, accurate content guided by strict editorial guidelines. Before articles and reviews are published on our site, they undergo a thorough review process performed by a team of independent editors and subject-matter experts to ensure the content's accuracy, timeliness, and impartiality. Our editorial team is separate and independent of our site's advertisers, and the opinions they express on our site are their own. To read more about our team members and their editorial backgrounds, please visit our site's About page.