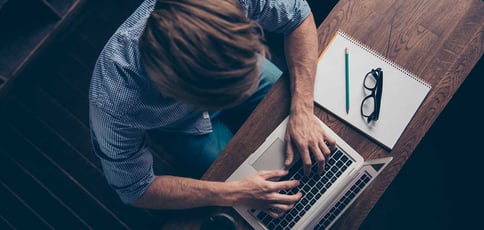 Searching for the best Ghost hosting can be a spooky endeavor, fraught with compatibility concerns and server setup. But with the popular blogging platform offering unrivaled speed, security, and simplicity, site owners will be rewarded with a hosting home their brand can haunt for the long haul.
Ghost, which we rank among the best blog software programs around, refines and refocuses the professional publishing experience. As blogging platforms like WordPress become increasingly bloated, full-fledged content management systems, Ghost boasts the writing and editing tools creatives need, built on the modern technologies developers prefer — and nothing else.
While the non-profit organization behind Ghost offers in-house and managed hosting services via Ghost(Pro) and Ghost(Valet), respectively, we've researched other Ghost hosting alternatives for those who prefer to self-host their blog and save money.
1. A2 Hosting – Best "Overall" Ghost Hosting
As a headless CMS (that is, backend only — no frontend design interface) built in Node.js, Ghost comes with somewhat hefty server requirements compared with the basic PHP-driven platforms like WordPress, Joomla, and even Drupal. Bloggers will need to find server space with Node.js and at least 1GB of memory, according to the company's recommended self-hosting specs, plus preferably NGINX and Ubuntu.
For most hosts, that means restricting Ghost users to the more-expensive VPS plans — but not A2 Hosting. The Michigan-based provider already tops our list of the best Node.js hosting providers by making the Javascript runtime environment and superior hosting environments available to all users.
Thanks to an all-SSD infrastructure that boasts website performance up to 20 times faster than competitors, A2 Hosting is a forward-thinking host eager to take on modern technologies and software for their customers. Plus, once your Ghost blog starts to outgrow the company's shared hosting space, A2 Hosting will help you migrate your site seamlessly to an upgraded VPS plan. Check out our review below to learn the most about the host:
FREE Cloudflare CDN and SSD speed boost
Optimized caching and 1-click installs
Unlimited email, domains, and databases
Advanced security and FREE HackScan
24/7 support via phone, chat & tickets
CHEAP
RATING 4.6 ★★★★★ Our Review
A2 Hosting: Our Expert's Review
Alexandra Anderson (HostingAdvice.com): There are plenty of excellent cPanel shared hosting providers out there, so what sets A2 Hosting apart from the rest. Not only does the company offer a ton of features, but it has custom-built its packages for enhanced performance, speed, and security — putting your priorities above pricing. Go to full review »
| Money Back Guarantee | Disk Space | Domain Name | Setup Time |
| --- | --- | --- | --- |
| 30 days | 100 GB SSD - Unlimited SSD | New or Transfer | 4 minutes |
2. InterServer – Best "Cheap" Ghost Hosting
Following a wildly successful Kickstarter campaign to get off the ground, Ghost's Co-Founders established the platform as a non-profit organization so that Ghost would always be beholden to its users instead of shareholders or investors. The company can never be bought or sold, ensuring that 100% of Ghost's revenues are reinvested into the product and open-source community.
That mission of making professional-grade publishing tools affordable and accessible to all is a key tenet of the open-source, free software movement — similar to InterServer, which offers rare month-to-month web hosting plans for surprisingly cheap rates. Even better, the bargain-basement price tag doesn't mean subpar features or reliability.
In fact, InterServer is another one of a select few hosting providers that makes Ghost and Node.js available to shared hosting customers. Founded by a pair of tech-savvy high school students more than 20 years ago, InterServer continues to create advanced, developer-centric hosting plans with the support and systems perfect for beginners. Read more about the company's plans here:
$0.01 first month (coupon code HOSTINGADV)
$2.50/month after. No contracts or increases
Unlimited storage space, data transfers, and email
Register or transfer domains for less than $10
99.9% uptime and price-lock guarantee
CHEAP
RATING 4.5 ★★★★★ Our Review
InterServer: Our Expert's Review
Laura Bernheim (HostingAdvice.com): It's hard to argue with a shared hosting plan that includes unlimited storage, bandwidth, websites, and email — but shared hosting is a crowded industry that turns on name recognition, reputation, and bargain-basement prices. InterServer outperforms some of our higher-rated hosts, but we understand that many first-time site owners are laser-focused on finding the lowest costs. Go to full review »
| Money Back Guarantee | Disk Space | Domain Name | Setup Time |
| --- | --- | --- | --- |
| 30 days | Unlimited SSD | New or Transfer | 4 minutes |
3. Liquid Web – Best "Managed" Ghost Hosting
Unlike WordPress and other blogging platforms with their one-click installation scripts, setting up a self-hosted Ghost blog involves gaining SSH access to your server through a terminal and manually installing the software and necessary components like MySQL, Node.js, and the Ghost-CLI.
Given the advanced and tedious nature of Ghost setup, the company offers a fully-managed Platform-as-a-Service in Ghost(Pr0) and installation and support service called Ghost(Valet). Both options run the same complete codebase and include monthly software updates and managed backups, whether your blog is hosted with Ghost or elsewhere.
If you're looking for comparable managed support without adding another expense, consider self-hosting your Ghost blog with Liquid Web. The company offers unparalleled service when it comes to setting up, maintaining, optimizing, and securing the exact hosting environment you desire. As a result, Liquid Web is our top choice for dedicated servers — but we have zero hesitation in recommending one of the industry's most trusted and loved brands for its Ghost-friendly VPS or cloud hosting packages, as well.
High-speed hosting that's faster than AWS, Rackspace, and Digital Ocean
FREE backups, CDN, and DDoS protection
Up to 16 processors with all-SSD storage
Choice between cPanel, Plesk, or InterWorx
Real-time monitoring and 100% uptime guarantee
VPS
RATING 4.5 ★★★★★ Our Review
Liquid Web: Our Expert's Review
Alexandra Anderson (HostingAdvice.com): It's no secret by now that Liquid Web is known for best-in-class technology and reliability that exceeds expectations. The company's cloud VPS environments embody that reputation to its fullest — including managed WordPress and WooCommerce products. Go to full review »
| Setup Time | Disk Space | CPU | RAM |
| --- | --- | --- | --- |
| 7 minutes | 40 GB SSD - 200 GB SSD | 2 - 8 cores | 2 GB - 16 GB |
4. Hostwinds
Ghost Co-Founders had to scrap plans to include a vibrant statistics dashboard with the blogging platform early on, transparently apologizing to users by saying they had simply bitten off more than they could chew. Instead of developing an integrated platform that aggregated third-party analytics, Ghost instead suggested other technologies users could use in addition to alternative third-party applications.
We love that transparent freedom of technology, much like how Hostwinds enables VPS customers to use custom ISO snapshots to customize their server. The company got its start in 2010, just three years before the release of Ghost, and is built on always-there support and state-of-the-art technologies. Hostwinds even went so far as to create its proprietary Windshield security hardening service and Windspeed performance optimization tools.
Hostwinds's modern approach to hosting pairs well with Ghost's inventive attitude about publishing. In addition to custom ISOs, the company promises 99.9999% uptime, 1Gbps ports, real-time monitoring, and nightly backups. Customers can choose from managed or unmanaged solutions and have a full library of application scripts to choose from.
Managed or unmanaged, in Windows or Linux
Cloud hosting with hourly or monthly billing
Instant upgrades without downtime
FREE around-the-clock monitoring
Automatic nightly backups available
VPS
RATING 4.8 ★★★★★ Our Review
Hostwinds: Our Expert's Review
Laura Bernheim (HostingAdvice.com): Does any hosting provider have more virtual private server packages than Hostwinds. The company offers 10 configurations — and that's just for managed Linux server partitions. Go to full review »
| Setup Time | Disk Space | CPU | RAM |
| --- | --- | --- | --- |
| 6 minutes | 30 GB SSD - 750 GB SSD | 1 - 16 cores | 1 - 96 GB |
5. InMotion Hosting
As one of the leaders of the WordPress user interface group, Ghost Co-Founder John O'Nolan could see how the platform was drifting away from its initial goal of blogging to serve more and more purposes. Instead of contributing to the bloat, John chose to devote the best aspects of early WordPress to a blogging-only program. Naturally, Ghost was quickly tabbed as potentially "the next WordPress."
So, then, why not host your Ghost blog with a tried-and-true WordPress hosting provider that also lends its expertise and finely tuned infrastructure to Node.js and Ghost environments? For that, we recommend our top-rated WordPress host, InMotion Hosting.
While the trustworthy host certainly has expertise in optimizing PHP-based environments, InMotion Hosting was among the first to push forward all-SSD servers and a cutting-edge smart routing network to provide a lightning-quick, ultra-reliable web hosting experience. The well-appointed cloud hosting plans may be a bit cheaper, but you'll appreciate the extra firepower that comes with InMotion Hosting's managed VPS packages.
HostingAdvice readers get 67% off the first term
FREE site migrations and 2 hours of Launch Assist
2 - 3 dedicated IP address options
FREE cPanel/WHM licenses included
Highly available servers with real-time redundancy
VPS
RATING 4.6 ★★★★★ Our Review
InMotion: Our Expert's Review
PJ Fancher (HostingAdvice.com): Boasting market-leading VPS hardware, slick management software, and free SSD drives and backups, InMotion Hosting competes to win when it comes to managed VPS hosting packages. The host initiates its VPS customer relationship with free website migrations and up to two hours of launch assistance from an experienced sysadmin. Go to full review »
| Setup Time | Disk Space | CPU | RAM |
| --- | --- | --- | --- |
| 6 minutes | 90 GB SSD - 360 GB NVMe SSD | 2 - 8 cores | 4 GB - 16 GB |
6. BlueHost
Speaking of WordPress, any list would be remiss if I didn't include one of the hosts recommended by the WordPress team itself. Bluehost is one of the standard-bearers when it comes to exploring new technologies and creating user-friendly ways to empower users to leverage them — seriously, you'd be hard-pressed to find a hosting provider that's more supportive of open-source projects than Bluehost.
Sure, much of that expertise swirls around WordPress, but the company also supports Node.js and Ghost on the same reliable VPS and dedicated server infrastructure trusted by millions around the world. Recently upgraded to SSD storage, Bluehost offers increased power, flexibility, and control over your environment.
Each VPS plan is generously appointed with the memory, storage, and bandwidth resources required to start and scale a blog with Ghost. Bluehost relies on OpenStack and KVM for its virtualization and guarantees your computing resources will be instantly available, always accessible, and instantly scalable through an enhanced control panel. Check out our review to learn more about the beginner-friendly host's higher-tier plans:
Seamless migration from any Bluehost shared hosting plan
Root access and easy multi-server management
Ample RAID-1 storage and tons of bandwidth
Each plan gets at least 3 dedicated IP addresses
cPanel and WHM with root access
VPS
RATING 4.7 ★★★★★ Our Review
Bluehost: Our Expert's Review
Ryan Frankel (HostingAdvice.com): We love recommending Bluehost for its lifetime customer growth potential, meaning you can start with shared hosting and seamlessly scale to VPS hosting plans and beyond. The price versus performance is pretty unbeatable in the virtual hosting space, and Bluehost's engineering team will kick off the customer relationship by instantly provisioning your server. Go to full review »
| Setup Time | Disk Space | CPU | RAM |
| --- | --- | --- | --- |
| 6 minutes | 30 GB SSD - 120 GB SSD | 2 - 4 cores | 2 GB - 8 GB |
7. HostGator
As a headless CMS that concentrates solely on writing, editing, publishing, and organizing your blog's content, Ghost integrates with any frontend or static website framework. Because your site design is completely interchangeable and optional, your options are endless. Ghost ships with a JavaScript theme layer out of the box, or you can check out the platform's marketplace for third-party themes and plugins.
HostGator is no stranger to sleek and modern designs, having launched the popular Gator website builder in early 2019. Beyond a drag-and-drop site builder and high-tech shared hosting plans, however, HostGator is another trusted option to scale your site on VPS, cloud, and dedicated server plans.
In fact, we've tabbed HostGator our favorite host to grow with. Customers can choose managed or unmanaged server environments with full root access and custom configurations — perfect for running Node.js and Ghost. The flexible software options, coupled with advanced functionality and powerful hardware, make HostGator a great hosting option for websites of all sizes.
Full root access with fully or semi-managed options
Redundant network with multiple layers of security
FREE website, domain, MySQL, and script transfer
RAID-10 storage for data protection
Get up to 75% off when you sign up
VPS
RATING 4.3 ★★★★★ Our Review
HostGator: Our Expert's Review
Ryan Frankel (HostingAdvice.com): HostGator has built a great reputation in the industry for its shared web hosting options. The company's VPS hosting solution, with optional cPanel support, provide a nice and easy introduction to those who are new to VPS hosting and know their needs require more than a typical shared plan. Go to full review »
| Setup Time | Disk Space | CPU | RAM |
| --- | --- | --- | --- |
| 7 minutes | 120 GB SSD - 240 GB SSD | 2 - 4 cores | 2 - 8 GB |
What is Ghost?
Of more than 1.7 billion websites currently in existence, roughly 600 million sites have blogs to deliver important information to readers. While most blogging platforms either languish in outdated obscurity or morph into a large content management system that tries to do everything for everybody, Ghost cut against the grain.
Long story short, Ghost is a blog publishing tool that focuses solely on the behind-the-scenes management and oversight of writers' posts and other content. The service breaks the mold of PHP-driven CMS by using the super-fast Node.js runtime environment, leading to 19-times-faster performance over WordPress.
The open-source publishing platform is free to download and use, though you will need a fairly substantial hosting plan. Once it's configured, the Ghost backend prides itself on a superb writing experience that features Markdown support, full-screen editing, and straightforward publishing workflows.
Ghost differs from many open-source projects in that it's led by a designer, not a developer. As a result, the publishing platform is exceedingly minimalistic and easy to use even though it relies on concepts like APIs and Markdown that may be tough for newbies to grasp in other situations.
Is Ghost a CMS?
By concentrating on users' writing, editing, and publishing experience, Ghost counts itself as a headless CMS, otherwise known as a content management system. Headless architecture represents the next evolution of the CMS as traditional platforms like WordPress slowly age into oblivion over the next several years.
The headless component of the CMS equation is a major component of what makes Ghost stand out from the crowd. According to ContentStack, headless CMS adoption rates are doubling year over year, with 63% of those using the system saying they love it. Essentially, Ghost is a CMS without a template.
Users can select any design technology, static site generator, or other frontend framework to power the presentation layer of their Ghost blog; you can develop your site in Javascript, Python, Swift, Java, or any other language that can perform API requests to retrieve data.
In addition to a familiar and intuitive interface for creating your posts, Ghost also excels in content organization and publishing. For starters, Ghost features robust tagging functionality for fine-grain control over the organization and availability of your content. The platform's dynamic routing capability enables users to structure their content, categories, sections, and other formats in any way they want. From there, users can leverage a JSON API to specify what post data to get, set, and display to customize the reader experience.
Is Ghost Better Than WordPress?
More than you may expect, a Ghost vs. WordPress comparison is a little like apples and oranges. Sure, both are free and open-source content management systems, but Ghost solely offers blogging tools while WordPress looks broadly at helping site owners address and design their entire site.
| Ghost | Feature | WordPress |
| --- | --- | --- |
| Hosted and self-hosted | Hosting | Hosted and self-hosted |
| Free plus hosting | Cost | Free plus hosting |
| Javascript | Progamming Language | PHP |
| Markdown | Editor | HTML & WYSIWYG |
| Built-in | SEO Tools? | Needs plugin |
| Built-in | Social & Email Sharing? | Needs plugin |
| Built-in | Forms and buttons? | Needs plugin |
| Low availability | Themes & Plugins? | Massive marketplace |
| Subscriptions only | Ecommerce? | No restrictions |
| No | Landing Pages? | Yes |
Long story short, you should use WordPress when you're looking for a full business website or online store and need a little more help with design and customization. You might have a tighter budget and less experience with hosting, as well.
On the other hand, you should use Ghost if you're a fan of writing in Markdown and like writing in an uncluttered environment. Ghost is also for you if you don't want the distractions of extra features and prefer not to have to mess with plugins for stuff like SEO, forms, and social sharing.
Tips for How to Set Up Your Self-Hosted Ghost Blog
If you're looking for a project and you're not scared of getting your hands a little dirty, self-hosting a Ghost blog can be a rewarding way to get intimately familiar with your server and publishing platform. Skip past Ghost(Pro) and Ghost(Valet) — and even the pre-configured Docker container or DigitalOcean droplet — and sign up for one of the hosting plans we highlighted above.
From here, we recommend finding an in-depth setup guide for installing Ghost on Ubuntu to make sure all your bases are covered. In the meantime, though, here are the basic steps to give you a sense of what you're in for:
Log in to your server as a root user (create the user if needed)
Update your packages and install MySQL, NGINX, and Node.js
Install Ghost-CLI and Ghost
During setup, Ghost will ask you for your blog URL, database information, and if you want automatic setup for MySQL, NGINX, and SSL certificate.
Ghost will also set up the systemd process manager, and launch Ghost
There you go! You can also follow a similar process to install Ghost locally on your Windows or macOS computer to experiment or get familiar with the platform before investing in server space. Let us know what you think of this newcomer to the CMS industry!
Further Reading: "7 Best Ghost Hosting Platforms for Your Blog (Oct. 2023)"
Hopefully, our recommendation of A2 Hosting fulfills all your web hosting needs. Starting at just $2.99 per month and rated 4.6 overall, A2 Hosting gives users plenty of bang for the buck. Among our favorite features:
FREE Cloudflare CDN and SSD speed boost
Optimized caching and 1-click installs
Unlimited email, domains, and databases
Advanced security and FREE HackScan
24/7 support via phone, chat & tickets
If you'd like recommendations similar to A2 Hosting and others in 7 Best Ghost Hosting Platforms for Your Blog (Oct. 2023), check out these popular guides. You'll find comparisons of A2 Hosting to other hosts on pricing, features, support and more:
And of course, if A2 Hosting is your top choice, you can get started now at just $2.99/month. A2 Hosting is easy to set up and scale, no matter the size of your next project.
Advertiser Disclosure
HostingAdvice.com is a free online resource that offers valuable content and comparison services to users. To keep this resource 100% free, we receive compensation from many of the offers listed on the site. Along with key review factors, this compensation may impact how and where products appear across the site (including, for example, the order in which they appear). HostingAdvice.com does not include the entire universe of available offers. Editorial opinions expressed on the site are strictly our own and are not provided, endorsed, or approved by advertisers.
Our Editorial Review Policy
Our site is committed to publishing independent, accurate content guided by strict editorial guidelines. Before articles and reviews are published on our site, they undergo a thorough review process performed by a team of independent editors and subject-matter experts to ensure the content's accuracy, timeliness, and impartiality. Our editorial team is separate and independent of our site's advertisers, and the opinions they express on our site are their own. To read more about our team members and their editorial backgrounds, please visit our site's About page.