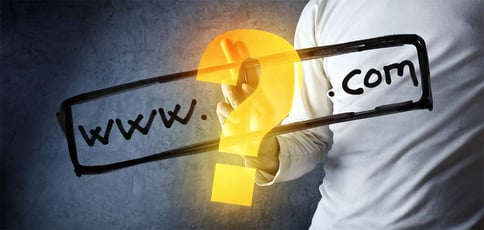 Website domain cost is just one of many factors that go into budgeting how much to spend building an online presence. There's web hosting, design templates, and perhaps even some add-on tools that help with ecommerce, marketing, performance, security, or general productivity.
But where do you start? Since you can't have a website without a domain name, that's where we'll focus our efforts. Domain name registrations typically cost around $10 to $15 per year — but you can easily get them for free. With nearly 360 million domains registered around the world, we're here to help you make the best decisions for your wallet and web presence.
In this article, we'll highlight a handful of hosts that cover the costs of your website domain for the first year, along with companies with the most reasonable rates for domain names — plus, don't forget about a list of hidden fees and potential pitfalls you can easily avoid.
How to Get a Free Domain Name for Your Website
There are many domain name dos and don'ts when it comes to registering a URL for a website: Keep it short, relevant, memorable, and include relevant keywords, if possible; but be sure to stay away from numbers, hyphens, or abbreviations. Instead of using a domain name generator, however, take your time to brainstorm options and weigh what's available.
Typically when creating a website, anything offered for free is usually either a scam or something that just flat out doesn't work. However, scoring a free domain name registration really couldn't be easier, safer, or more beneficial.
As one of the few free web hosting options that we wholeheartedly support, several highly reputable web hosting companies will give new customers a free domain registration — no strings attached. You'll likely have to pay for the domain if you choose to cancel your hosting account early, but choosing the right provider goes a long way in preventing that headache. Here are some of our favorites:
FREE domain registration and transfer
Unlimited disk space, domains, and databases
$200 toward Google AdWords and Bing advertising
Unlimited bandwidth and email addresses
FREE online store and website builder
DOMAIN
RATING 4.6 ★★★★★ Our Review
iPage: Our Expert's Review
PJ Fancher (HostingAdvice.com): With iPage domain hosting, users get a free domain name registration or a free domain transfer, and can host unlimited domains. The company offers unlimited bandwidth and emails, plus $200 in advertising credits to help get your website launched as quickly and as successfully as possible. Go to full review »
| Money Back Guarantee | Disk Space | Domain Name | Setup Time |
| --- | --- | --- | --- |
| 30 days | Unlimited | FREE (1 year) | 5 minutes |
FREE domain registration and site-building tools
Unlimited domains, emails, and bandwidth
Up to $200 in offers with Google, Bing, and Yahoo!
Top-ranked WordPress host with tons of perks
24/7 customer support and online tutorials
DOMAIN
RATING 4.7 ★★★★★ Our Review
Bluehost: Our Expert's Review
Ryan Frankel (HostingAdvice.com): Bluehost offers all the freebies you need to get started with domain hosting. The company includes a free domain or transfer, plus unlimited bandwidth and storage. Go to full review »
| Money Back Guarantee | Disk Space | Domain Name | Setup Time |
| --- | --- | --- | --- |
| 30 days | 10 GB SSD - 100 GB SSD | FREE (1 year) | 5 minutes |
World's largest domain registrar with 17+ million domains under management
FREE domain included with annual plans
Manage your domains via cPanel or Plesk
FREE email hosting at your domain
99.9% website uptime guaranteed
DOMAIN
RATING 4.5 ★★★★★ Our Review
GoDaddy: Our Expert's Review
Ryan Frankel (HostingAdvice.com): We'd be remiss not to include GoDaddy on this list of the top domain name hosting providers. Perhaps the most well-known name in the domain space, GoDaddy is widely recognized as the world's top registration services company, and the low-cost hosting is tough to beat. Go to full review »
| Money Back Guarantee | Disk Space | Domain Name | Setup Time |
| --- | --- | --- | --- |
| 30 days | 25 GB - Unlimited | FREE (1 year) | 4 minutes |
FREE domain name and seamless site transfer
Includes 1-click installer with over 310 apps
FREE SSDs for shared business hosting plans
Easy installs for WordPress, Joomla, and others
FREE backups and SSL certificate
DOMAIN
RATING 4.4 ★★★★★ Our Review
InMotion: Our Expert's Review
PJ Fancher (HostingAdvice.com): Looking for leading-edge technology and fully reliable support. InMotion may be the host for you. Go to full review »
| Money Back Guarantee | Disk Space | Domain Name | Setup Time |
| --- | --- | --- | --- |
| 90 days | 100 GB SSD - Unlimited | FREE (1 year) | 5 minutes |
See other top domain hosting options »
Website Domain Costs: $1.99 to $15 Per Year
Just because a trustworthy domain registrar doesn't give you a domain name for free doesn't mean you should remove the host from consideration. In fact, hosts like the three we list below can occasionally come up with better deals and discounts.
For instance, InterServer only charges a penny for web hosting and has slashed its domain registration costs all the way to $1.99. When it comes time to renew, these hosts charge the equivalent of roughly $1 per month for your domain.
The other hosts in this section come with slightly higher monthly hosting costs but provide top-notch, upgraded technologies and performance that make for a worthy investment. Click on the reviews below to learn about these hosts' first-class hosting services.
$0.01 first month (coupon code HOSTINGADV)
$2.50/month after. No contracts or increases
Unlimited storage space, data transfers, and email
Register or transfer domains for less than $10
99.9% uptime and price-lock guarantee
CHEAP
RATING 4.5 ★★★★★ Our Review
InterServer: Our Expert's Review
Laura Bernheim (HostingAdvice.com): It's hard to argue with a shared hosting plan that includes unlimited storage, bandwidth, websites, and email — but shared hosting is a crowded industry that turns on name recognition, reputation, and bargain-basement prices. InterServer outperforms some of our higher-rated hosts, but we understand that many first-time site owners are laser-focused on finding the lowest costs. Go to full review »
| Money Back Guarantee | Disk Space | Domain Name | Setup Time |
| --- | --- | --- | --- |
| 30 days | Unlimited SSD | New or Transfer | 4 minutes |
FREE Cloudflare CDN and SSD speed boost
Optimized caching and 1-click installs
Unlimited email, domains, and databases
Advanced security and FREE HackScan
24/7 support via phone, chat & tickets
CHEAP
RATING 4.6 ★★★★★ Our Review
A2 Hosting: Our Expert's Review
Alexandra Anderson (HostingAdvice.com): There are plenty of excellent cPanel shared hosting providers out there, so what sets A2 Hosting apart from the rest. Not only does the company offer a ton of features, but it has custom-built its packages for enhanced performance, speed, and security — putting your priorities above pricing. Go to full review »
| Money Back Guarantee | Disk Space | Domain Name | Setup Time |
| --- | --- | --- | --- |
| 30 days | 100 GB SSD - Unlimited SSD | New or Transfer | 4 minutes |
FREE website transfer service to get started
99.9% uptime guarantee and unlimited traffic
User-friendly WordPress installation
24/7 support featuring custom systems
4 caching options plus staging and Git
CHEAP
RATING 4.6 ★★★★★ Our Review
SiteGround: Our Expert's Review
Alexandra Anderson (HostingAdvice.com): Providing hosting with the perfect balance of technological innovation and superior customer support, SiteGround offers a range of affordable hosting services to meet your needs. In addition to the expected cheap web hosting perks — a free website builder and unlimited bandwidth — the company specializes in custom-built tools to deliver strong and positive user experiences. Go to full review »
| Money Back Guarantee | Disk Space | Domain Name | Setup Time |
| --- | --- | --- | --- |
| 30 days | 10 GB SSD - 40 GB SSD | New or Transfer | 6 minutes |
See other affordable web hosting options »
How Much Does a Website Cost?
As we alluded to at the beginning of the article, a domain name is just one piece of the large website hosting pie. Building a website — whether it's a blog, professional portfolio, online store, or helping a small business grow — is a multi-faceted endeavor that can be as cost-efficient or as costly as you want to make it. Here are the basic components you'll need to consider when determining how much to pay for web hosting:
Web hosting: Assuming you're looking for beginner-friendly hosting, you'll want to start with cheap web hosting or the best website builders that come with tons of extra perks and features. Fortunately, these options regularly cost less than $5 per month.
Domain name: With most hosts, domain registrations are free for the first year. If you cancel your hosting account early, want to register additional domains, or are ready to renew, be prepared to spend between $10 and $20.
Design and development: Those seeking to save money will find solace here. WordPress, site builders, and many other platforms are free and come with no-cost templates. You may want to spend between $20 and $100 for a premium theme, but that price pales in comparison to hiring a developer or designer to create your site, which can cost hundreds or thousands of dollars.
Content: The text, graphics, and images needed to make your website stand out can also make or break your budget. You can easily do the work yourself, or you may need to buy stock images or hire a freelance copywriter, graphic designer, and photographer.
Other features: The list above will let you publish your site, but some other add-ons can improve your experience. Costs can vary for a content delivery network, domain privacy, enhanced security protections, and productivity software like G Suite and Microsoft Office 365, but you may want to allocate an extra $100 or so in your budget as wiggle room.
Some of these items, such as themes and content, are one-time-only purchases that will last until you feel the need to change them. Others, like your domain, hosting, and any add-ons, will likely either renew annually or every few years.
Keep in mind that you may have taken advantage of promotional discounts when you signed up for web hosting or registered your domain. Your costs will likely go up a little after your first year, but they'll remain steady long after that.
How Do You Purchase a Website Domain?
Staking your claim on a website domain name may sound intimidating or complicated, but thankfully the best domain hosting providers make the process super easy.
Buying a domain name entails registering the address you want, along with your contact information, with the international organization in charge of keeping track of website addresses. Thankfully, you can have a domain registrar (which is usually your hosting provider) contact the Internet Corporation for Assigned Names and Numbers (ICANN) on your behalf.
When signing up for hosting, the provider will probably ask if you want to register a domain name. Enter the address you desire, and the registrar will let you know if it's available. From there, it's as simple as online shopping: Decide which domain (or multiple domains!) you want, add them to your cart, and submit your payment information when you're ready to check out.
Can You Buy a Domain Name Forever?
Technically speaking, you don't really buy a domain name; you're actually leasing it. The registry, or organization that oversees a particular top-level domain (.COM, .ORG, .NET, .EDU.EDU, etc.), and registrar (likely your web hosting company) work out the specific terms of how much a TLD should cost, who can register them, and for how long.
According to ICANN, registrars are allowed to offer domain registrations and renewals in increments between one and 10 years, so long as the total unexpired time never exceeds 10 years. Most commonly, you'll see options for fewer than five years.
As long as you (and your successors) re-up your domain each time, though, you can own your domain forever. Many hosts offer a way to automatically renew your domain registration without any work from you, which is a great way to make sure you don't accidentally lose control of your website.
Site owners often assume the length of domain ownership has an impact on how well a site ranks in search results, but Google officials are on the record as saying it does not affect SEO. Generally speaking, more established sites have spent more time gaining authority and other SEO perks.
An expiring domain can be absolutely devastating to a business or website owner. Be sure to keep your payment information and billing address up to date, and enable automatic renewals if possible. Just in case, your registrar should alert you about the pending end of your registration period. If it still expires, hope is not entirely lost.
Once your domain registration runs out, it enters a 30-day renewal grace period where you can sign back up without accruing extra fees. Your site will be replaced by a temporary page saying the domain has expired. After the grace period, there is another 30-day stretch where the registrar holds onto the domain. During this time, the registrar may choose to put the domain up for auction. You can still get your domain back, but you'll likely have to pay some hefty fees in addition to the renewal cost. Finally, if the domain is still not renewed, it re-enters the marketplace under a redemption period, meaning it cannot be changed or deleted for thirty days. Of course, there are extra fees associated with getting a domain out of this status.
Long story short: don't let your domain registration expire.
What is the Average Cost for a Domain Name?
As we've covered throughout the article, domains typically cost $10 to $15 a year, but you can usually get your first year covered for free. Even if a registrar doesn't give you the name for free, you may see a massive discount instead. Because of that, the average cost of a domain name is extremely reasonable for most site owners.
That being said, short and relevant domain names can demand a sky-high price. Companies will regularly spend thousands to secure the right name that echoes the brand and authority required to succeed in a competitive industry; theoretically, they invest more in hopes of getting higher returns. Here are some of the most expensive domains as of October 2019:
| Domain | Price | Sale |
| --- | --- | --- |
| Voice.com | $30 million | 2019 |
| 360.com | $17 million | 2015 |
| Insure.com | $16 million | 2009 |
| Sex.com | $13 million | 2010 |
| Fund.com | $12 million | 2008 |
You'll notice .COM domains are the most common domains — and often among the more expensive options. However, ICANN has approved hundreds of new gTLDs for you to choose from, ranging from .SITE to .NINJA and beyond. Many of these newer options are cheaper than the standard gTLDs, and the market for new top-level domains has seen some recent growth, but the success and long-term staying power of the quirky domains is not as tested or as assured quite yet.
Other than the domain name registration itself, keep in mind you may want to spend a little extra to protect your information. Domain privacy protection keeps your name, address, phone number, and other sensitive personal information out of the WHOIS database, which until recently was publicly searchable.
Next Step: Pair Email Hosting With Your Custom Domain Name
Aside from giving potential clients and customers a memorable way to find out more information about your business, one of the major perks of owning a domain name is the ability to create a professional-looking email address.
Generally speaking, consumers view business emails coming from a custom domain name as more trustworthy, according to a study from the world's largest host and domain registrar GoDaddy. Some 75% of online shoppers think having an email address that matches the company's website is a very important factor. In fact, consumers said that having a professional email address was three times more important than having an active and authoritative social media presence.
Take a look at our guide to setting up a business email in just three easy steps — one of which you'll already have completed! Email hosting is almost always included for free with most web hosting plans, just like your domain name registration. All you need to do is get it set up.
From there, your domain-based email accounts are primed to help your business grow. Studies show that email marketing returns $43 for every $1 spent, making it a remarkably successful way to attract and connect with a larger audience. We recently tested the best email marketing services, ranging from the free-forever plans to the bulk-mailing behemoths powering large enterprise organizations.
Further Reading: "How Much Does a Website Domain Cost? Pay $0 With Hosting! (Oct. 2023)"
Hopefully, our recommendation of iPage fulfills all your web hosting needs. Starting at just $4.99 per month and rated 4.6 overall, iPage gives users plenty of bang for the buck. Among our favorite features:
FREE domain registration and transfer
Unlimited disk space, domains, and databases
$200 toward Google AdWords and Bing advertising
Unlimited bandwidth and email addresses
FREE online store and website builder
If you'd like recommendations similar to iPage and others in How Much Does a Website Domain Cost? Pay $0 With Hosting! (Oct. 2023), check out these popular guides. You'll find comparisons of iPage to other hosts on pricing, features, support and more:
And of course, if iPage is your top choice, you can get started now at just $4.99/month. iPage is easy to set up and scale, no matter the size of your next project.
Advertiser Disclosure
HostingAdvice.com is a free online resource that offers valuable content and comparison services to users. To keep this resource 100% free, we receive compensation from many of the offers listed on the site. Along with key review factors, this compensation may impact how and where products appear across the site (including, for example, the order in which they appear). HostingAdvice.com does not include the entire universe of available offers. Editorial opinions expressed on the site are strictly our own and are not provided, endorsed, or approved by advertisers.
Our Editorial Review Policy
Our site is committed to publishing independent, accurate content guided by strict editorial guidelines. Before articles and reviews are published on our site, they undergo a thorough review process performed by a team of independent editors and subject-matter experts to ensure the content's accuracy, timeliness, and impartiality. Our editorial team is separate and independent of our site's advertisers, and the opinions they express on our site are their own. To read more about our team members and their editorial backgrounds, please visit our site's About page.