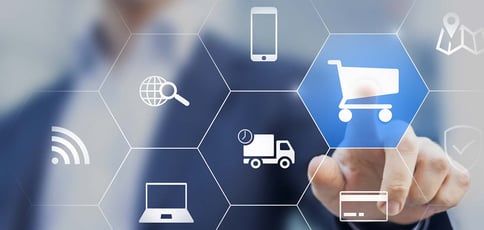 Because running an online store demands so many digital tools and resources, finding the best VPS hosting for ecommerce is a critical step in ensuring your business success.
Sure, a user-friendly and affordable shared hosting plan is great to help you open the doors — but VPS hosting provides much-needed boosts to performance, security, and reliability. You'll enjoy a larger pool of resources without the massive costs and complexities of setting up a dedicated server.
Almost half of all worldwide purchases happen online now, according to Google, so make sure your online retail store stands out from the crowd. Our reviews below will help guide you to the right VPS hosting provider for your store's needs and budget.
1. Hostwinds – Best VPS Host for Ecommerce
With affordable rates and always-there customer support, Hostwinds ecommerce hosting promises to take your online business to the next level.
The advanced cloud technology behind Hostwinds' servers guarantees 99.9999% uptime, which translates into less than 32 seconds of unexpected service interruptions per year.
The web host's flexible services come with instant scalability in Windows or Linux configurations. Most importantly, Hostwinds's optimized server stacks make deployment a breeze — the ecommerce host even has setups for WordPress (and WooCommerce), Joomla, Drupal, CPV Lab, and PrestaShop.
Managed or unmanaged, in Windows or Linux
Cloud hosting with hourly or monthly billing
Instant upgrades without downtime
FREE around-the-clock monitoring
Automatic nightly backups available
VPS
RATING 4.8 ★★★★★ Our Review
Hostwinds: Our Expert's Review
Laura Bernheim (HostingAdvice.com): Does any hosting provider have more virtual private server packages than Hostwinds. The company offers 10 configurations — and that's just for managed Linux server partitions. Go to full review »
| Setup Time | Disk Space | CPU | RAM |
| --- | --- | --- | --- |
| 6 minutes | 30 GB SSD – 750 GB SSD | 1 – 16 cores | 1 – 96 GB |
Hostwinds also understands the importance of security in running online businesses by providing PCI compliance and a customizable enterprise-grade firewall. Entrepreneurs can rest assured knowing their business and customer data will be well protected.
Key Features:
SSDs for improved speed and performance
Free website transfers from your previous web host
Custom control panel (with cPanel, Plesk, and others also available)
Nightly backups and a redundant network for data protection
Real-time proactive server monitoring with fully managed services
Pre-configured server images optimized for ecommerce applications
As you set up your server, Hostwinds includes a library of hundreds of optimized ecommerce application installation scripts. The company supports more than 30 shopping carts and ecommerce platforms.
Despite offering all-around excellent customer service, however, Hostwinds does not offer phone support. If you need to contact a Hostwinds team member, you will need to submit a ticket or use the live chat feature.
2. InMotion Hosting – Fastest Ecommere VPS Hosting
As a pioneer of VPS technology, InMotion Hosting continues to deliver cutting-edge services and veteran expertise. The company is a high-quality provider at every level, but InMotion Hosting really demonstrates its value in the VPS ranks.
Offering cloud-based availability and scalability, InMotion Hosting also equips servers with UltraStack, a special blend of advanced layered caching and compression built for speed. Plus, don't forget about the host's signature 90-day money-back guarantee.
HostingAdvice readers get 67% off the first term
FREE site migrations and 2 hours of Launch Assist
2 – 3 dedicated IP address options
FREE cPanel/WHM licenses included
Highly available servers with real-time redundancy
VPS
RATING 4.6 ★★★★★ Our Review
InMotion: Our Expert's Review
PJ Fancher (HostingAdvice.com): Boasting market-leading VPS hardware, slick management software, and free SSD drives and backups, InMotion Hosting competes to win when it comes to managed VPS hosting packages. The host initiates its VPS customer relationship with free website migrations and up to two hours of launch assistance from an experienced sysadmin. Go to full review »
| Setup Time | Disk Space | CPU | RAM |
| --- | --- | --- | --- |
| 6 minutes | 90 GB SSD – 360 GB NVMe SSD | 2 – 8 cores | 4 GB – 16 GB |
Unmanaged servers come with minimal overhead, giving customers complete freedom to configure their own technology stack as needed.
InMotion Hosting even includes an Ansible control node to help with deployments. The open-source automation framework is a perk exclusive to InMotion Hosting.
Key Features:
High-availability servers with automatic hardware and data failover
Dedicated IP address and modern DDoS protection from Correro
Quick deployments, built-in redundancy, and cloud-based scalability
Enterprise-grade hardware with 20x faster SSD storage
Live-state and scheduled snapshots available on all plans
Free SSL certificates plus website transfer and server setup
Managed VPS customers enjoy the usual security patches and cPanel/WHM updates, along with automatic PCI compliance — critical for your ecommerce site.
One of our favorite components of higher-tier plans from InMotion Hosting is Launch Assist, which gives new customers a few hours of one-on-one time with one of the company's engineers to help perfectly configure and optimize your VPS environment.
Business owners might also want to explore InMotion's optimized offerings for WooCommerce, Magento, and PrestaShop. Store software and updates are automatically installed, and plans come with built-in SEO tools.
3. InterServer – Best for Small Business
InterServer combines affordability with highly flexible technologies in a way that fits the needs of both inexperienced store owners and those with more complex requirements of their ecommerce host.
The company's cloud-powered VPS environments come with the familiarity of CentOS and DirectAdmin (though Windows and other operating systems or control panels are available). InterServer automatically includes managed support with all but the smallest configurations.
$0.01 for the first month using code HOSTINGADV
Then $6 monthly with no contracts, no changes
Latest of PHP, MySQL, Perl, Python, and Ruby
7 operating system options for Linux or Windows
Full root access and choice of datacenter
VPS
RATING 4.8 ★★★★★ Our Review
InterServer: Our Expert's Review
Laura Bernheim (HostingAdvice.com): InterServer's on-site datacenter and hands-on involvement with configuring and provisioning virtual private servers give customers a level of flexibility not seen with many other hosting providers. InterServer rations VPS and cloud resources through slices. Go to full review »
| Setup Time | Disk Space | CPU | RAM |
| --- | --- | --- | --- |
| 6 minutes | 30 GB SSD – 480 GB SSD | 1 – 16 CPUs | 2 – 32 GB |
We appreciate InterServer's security-first approach to its VPS hosting service, which is especially important for ecommerce websites dealing with sensitive business and personal data.
Each virtual machine container is secured in a jail environment, meaning no one else on the network will be able to access your files or workloads.
Key Features:
Several operating system choices, including Windows, CentOS, Ubuntu, and Debian
Self-healing hardware with AI-powered monitoring and failovers
Managed remote backup service powered by Acronis
Support for DirectAdmin, Webuzo, cPanel, and Plesk control panels
Root access to dedicated resources from cloud-based SSD infrastructure
Special blend of KVM, Virtuozzo, and Hyper-V virtualization
All VPS environments come equipped with Webuzo installation scripts that cover a wide variety of developer needs. In addition to various programming languages and frameworks, ecommerce users will find Magento, WooCommerce, PrestaShop, and more than 40 other apps.
In addition to SSD storage, InterServer further protects customers' data with redundant RAID-10 arrays. You can also add the InterServer remote backup service that provides incremental or full system images of multiple devices.
The company's full-service support team — which often includes the InterServer co-founders — is available at all hours via phone, chat, and email.
4. Kamatera – Cheapest Ecommerce Cloud Hosting
Featuring developer-friendly cloud computing environments, Kamatera is an excellent choice for ecommerce businesses, app creators, and Software-as-a-Service (SaaS) providers. The complex environments feature an incredible amount of flexibility and scalability.
Perhaps most importantly, though, Kamatera gives new customers a 30-day free trial to get accustomed to the cloud VPS platform. Web hosting environments deploy in seconds, and you can manage them through a simple console or API.
Cloud VPS that's more flexible and affordable
Load balancer, firewall, and managed services
Premium Intel CPUs with 300% more power
Choose between monthly or hourly billing
Sign up today for a 30-day FREE trial
VPS
RATING 4.9 ★★★★★ Our Review
Kamatera: Our Expert's Review
Laura Bernheim (HostingAdvice.com): Backed by cutting-edge cloud computing technology, Kamatera adds instant and limitless scalability to the VPS hosting marketplace. Each cloud or virtual server is equipped with blazing-fast SSD storage and Intel Xeon Platinum CPUs. Go to full review »
| Setup Time | Disk Space | CPU | RAM |
| --- | --- | --- | --- |
| 5 minutes | 20 GB SSD – 4 TB SSD | 1 – 104 cores | 1 GB – 525 GB |
Kamatera enables users to fully customize their cloud VPS environment by selecting the preferred disk space, memory, bandwidth, and overall computing capacity.
The web host provides several operating systems to choose from, including Windows, FreeBSD, and several flavors of CentOS, Ubuntu, and openSUSE.
Key Features:
Datacenters located in the U.S., U.K., Netherlands, Israel, and Hong Kong
Easy-to-use management console and API plus optional control panels
Custom configurations with dozens of operating systems
Optional daily external backups or fully managed services
Intel Xeon Platinum processors with up to 300% more power than predecessors
Easily add block storage, load balancers, firewall, or private network
From there, entrepreneurs can add extra perks like managed services, backups, and IP addresses. Advanced users can even configure a load balancer, firewall, or additional block storage.
Because of the more complex cloud VPS environments, beginners will likely need to invest in a fully managed cloud VPS hosting service.
Kamatera does offer personalized 24/7 customer support, however, unlike other major cloud providers, including Amazon Web Services, Microsoft Azure, or Google Cloud Platform.
Overall, Kamatera represents great value for online businesses by providing premium cloud hosting services at surprisingly affordable rates. If you expect your ecommerce store to grow, don't be afraid to invest in Kamatera.
5. Hostinger – Cheapest VPS Hosting for Ecommerce
Hostinger offers low-cost VPS environments equipped with an impressive array of premium features, including Intel Xeon processors, solid-state drives, and up to 128 GB of RAM per host server.
Primarily known as a budget-friendly shared web hosting provider, Hostinger earns high marks for flexible VPS solutions that boast a wide range of compatible software.
Preconfigured server templates match one of the five available Linux operating systems with eight control panels (going without is also an option).
Cloud-based SSD storage for speed and reliability
Double your RAM with burst periods
FREE dedicated IPv4 and IPv6 addresses
Custom control panel for reboots and OS installs
HostingAdvice readers enjoy more than 50% off
VPS
RATING 4.6 ★★★★★ Our Review
Hostinger: Our Expert's Review
Laura Bernheim (HostingAdvice.com): Hostinger's laser focus on providing affordable hosting solutions shines brightest with the company's VPS packages. The company provides six different virtual server plans, including one that costs less than $5. Go to full review »
| Setup Time | Disk Space | CPU | RAM |
| --- | --- | --- | --- |
| 6 minutes | 20 GB SSD – 250 GB SSD | 1 – 8 cores | 1 GB – 16 GB |
You can easily manage and control your server through Hostinger's proprietary management portal, which enables users to reboot, trace server stats, install software, and add or remove computing resources.
Key Features:
Dedicated IP addresses with IPv4 and IPv6 support
Cloud-based hosting platform using OVZ virtualization
Dedicated support team available around the clock through chat
Double RAID data protection and ultra-simple backups and restores
100 Mb/s network for impressively quick page loads
Free SSL certificate, which builds consumer trust for your ecommerce site
Customers using unmanaged VPS services can still contact Hostinger's support team 24/7 and access a developer-friendly autoinstaller to install operating systems and deploy optimized technology stacks for everything from WordPress to Minecraft.
On the ecommerce front, Hostinger continues the trend of flexible customized solutions with packages tailored for Magento, WooCommerce, and PrestaShop.
Rest assured you will be able to find the computing resources and software optimizations that match your budget!
6. Cloudways – Most Scalable Cloud VPS
Ushering online stores into modern cloud environments, Cloudways unlocks the impressive speed and scalability needed to reach global customers.
The company connects customers to fully managed cloud VPS infrastructure from powerhouse providers like Digital Ocean, Amazon Web Services, Google Cloud Provider, Linode, and others.
These services can be notoriously difficult to configure and maintain, particularly for non-developers. With the team of Cloudways experts by your side, however, you can concentrate on running your business instead of running software and security updates.
Customizable alternative to traditional VPS hosting
Choice of 5 popular cloud providers
Scale server resources up and down as needed
24/7 monitoring and auto-healing servers
Get 25% OFF first 3 months with promo code HOSTINGADVICE
VPS
RATING 4.8 ★★★★★ Our Review
Cloudways: Our Expert's Review
Alexandra Anderson (HostingAdvice.com): Choosing a virtual private server (VPS) typically means purchasing a slice of a dedicated server. VPS customers enjoy more customization options than shared hosting users without incurring the price tag of a dedicated machine. Go to full review »
| Setup Time | Disk Space | CPU | RAM |
| --- | --- | --- | --- |
| 8 minutes | 20 GB SSD – 4 TB SSD | 1 – 96 cores | 1 GB – 384 GB |
Cloud instances are available to deploy in just a few minutes, enabling store owners to start selling right away.
Key Features:
Hosting made easy on AWS, Google Cloud, Vultr, Digital Ocean, and Linode
Three tiers of managed services with enhanced response times
Affordable pay-as-you-go cloud pricing model
Instant scalability with one-click server cloning
Cloud environments tailored to WooCommerce and Magento stores
User-friendly account management platform that's great for beginners
Cloudways even offers specialized configurations for Magento and WooCommerce stores that further optimize speed and security for the specific platforms.
The Cloudways management portal enables entrepreneurs to easily clone websites and servers in just one click, enabling your store to quickly expand its reach to the 60-plus geographic regions served by Cloudways datacenters.
In addition to online chat and online ticketing for support, three tiers of service level agreements ensure your business will receive a prompt response if anything goes awry.
7. Liquid Web – Best Managed VPS Hosting
Boasting speeds faster than Amazon Web Services and Rackspace, Liquid Web is an ideal ecommerce solution for established businesses looking for a long-term hosting partner.
The web host doesn't mess around with shared hosting, instead choosing to focus on highly scalable and reliable cloud, VPS, and dedicated hosting. In fact, all Liquid Web VPS environments come with a 100% network and uptime guarantee.
High-speed hosting that's faster than AWS, Rackspace, and Digital Ocean
FREE backups, CDN, and DDoS protection
Up to 16 processors with all-SSD storage
Choice between cPanel, Plesk, or InterWorx
Real-time monitoring and 100% uptime guarantee
VPS
RATING 4.5 ★★★★★ Our Review
Liquid Web: Our Expert's Review
Alexandra Anderson (HostingAdvice.com): It's no secret by now that Liquid Web is known for best-in-class technology and reliability that exceeds expectations. The company's cloud VPS environments embody that reputation to its fullest — including managed WordPress and WooCommerce products. Go to full review »
| Setup Time | Disk Space | CPU | RAM |
| --- | --- | --- | --- |
| 7 minutes | 40 GB SSD – 200 GB SSD | 2 – 8 cores | 2 GB – 16 GB |
Although Liquid Web offers unmanaged and core-managed servers, customers primarily turn to Liquid Web for managed hosting from a team the company dubs The Most Helpful Humans in Hosting.
Key Features:
Unlimited sites with InterWorx control panel (cPanel and Plesk are also available)
Integrated firewall, local backups, and DDoS protection
Multiple Linux and Windows operating systems available
Dedicated support team that promises prompt responses and hardware replacements
Gigabit bandwidth and CloudFlare content delivery network
White-glove migration services and privately owned and operated datacenters
Support is available around the clock via phone, chat, and email. Liquid Web guarantees a response to helpdesk tickets within an hour and will answer calls and chats within a minute.
With Liquid Web, you'll have root access, local backups, and a dedicated IP address. PCI compliance scans are available, as is optimized web hosting for WooCommerce, Magento, PrestaShop, OpenCart, and X-Cart.
To be fair, LiquidWeb is certainly not the cheapest web hosting service provider. Considering the premium infrastructure and ultra-attentive support, however, established brands should have zero qualms about investing in such a high-quality VPS host.
8. Bluehost
One of the most famous web hosting companies in the industry, Bluehost offers a variety of customer-friendly hosting options. The company's VPS portfolio culminates in a plan that includes four CPU cores, 120GB of SSD storage, 8GB of RAM, and two dedicated IP addresses.
Bluehost is especially known for supporting open-source platforms — especially WordPress. But the company also contributes to OpenStack and KVM, which help power Bluehost's VPS services.
Seamless migration from any Bluehost shared hosting plan
Root access and easy multi-server management
Ample RAID-1 storage and tons of bandwidth
Each plan gets at least 3 dedicated IP addresses
cPanel and WHM with root access
VPS
RATING 4.7 ★★★★★ Our Review
Bluehost: Our Expert's Review
Ryan Frankel (HostingAdvice.com): We love recommending Bluehost for its lifetime customer growth potential, meaning you can start with shared hosting and seamlessly scale to VPS hosting plans and beyond. The price versus performance is pretty unbeatable in the virtual hosting space, and Bluehost's engineering team will kick off the customer relationship by instantly provisioning your server. Go to full review »
| Setup Time | Disk Space | CPU | RAM |
| --- | --- | --- | --- |
| 6 minutes | 30 GB SSD – 120 GB SSD | 2 – 4 cores | 2 GB – 8 GB |
Bluehost is probably best suited for those without much interest in customizing their server. Although you get root access via cPanel or SSH, you won't be able to change some key server components like your operating system.
Key Features:
Efficient multi-server management lets you oversee multiple environments at once
Enhanced cPanel interface gives you root access and dynamic resources
Optional SiteLock security plus domain privacy and protection
Create passwords for various functions to control user access
Free domain registration and 30-day money-back guarantee
Custom database manager enables you to edit directly on the server
On the bright side, Bluehost equips each virtual environment with modern versions of CentOS and cPanel. The company's team will take care of server updates and security patches, freeing you up to focus on your business.
WordPress enthusiasts may also want to explore Bluehost's managed WordPress offering, WP Pro. In addition to premium hardware, the service comes with a marketing dashboard, advanced security, and staging environment.
For new companies, Bluehost offers a more cost-effective managed WordPress hosting service than premium brands like WP Engine.
If you need more assistance with your WooCommerce store, Bluehost also has a web hosting plan for that. WooCommerce, Jetpack, and the Storefront theme are all installed during checkout, and the team will help you add products, customize features, and configure plugins.
9. A2 Hosting
A2 Hosting is known for its easy-to-use and high-powered services, featuring Turbo servers that promise page loads up to 20 times faster than standard hosting plans.
With A2 Hosting, speed comes first — ideal for an ecommerce site where an extra second of loading can have a disastrous effect on sales. All VPS plans are equipped with RAID-10 SSD or NVMe storage and 10 Gb/s network access.
Turbo server & cache options for faster page loads
Well-built plans starting with 4GB RAM
FREE CDN plus auto-installs with Softaculous
Multilingual support and up to unlimited databases
Enhanced security with and daily kernel updates
VPS
RATING 4.8 ★★★★★ Our Review
A2 Hosting: Our Expert's Review
Alexandra Anderson (HostingAdvice.com): While A2 Hosting's turbocharged shared hosting platform gives site owners ample room to grow, the company's tech prowess is on full display with its portfolio of VPS options. Ranging from unmanaged, bare-metal environments to stress-free, fully managed space, A2 Hosting is sure to have the perfect option for your expanding online presence. Go to full review »
| Setup Time | Disk Space | CPU | RAM |
| --- | --- | --- | --- |
| 7 minutes | 150 GB SSD – 450 GB SSD | 1 – 8 cores | 1 GB – 32 GB |
A2 Hosting VPS options come in unmanaged or managed varieties, depending on your budget and level of comfort with server maintenance.
Customers get total administrative access and their choice of operating system with basic support from the company's 24/7 phone and chat systems on unmanaged servers.
Key Features:
OPcache and Memcached included for faster PHP and MySQL processing
Webuzo software autoinstaller for WordPress, NGINX, Node.js, and other programs
Full root access with boot, reboot and shutdown controls
24/7 network and security monitoring with a 99.9% uptime guarantee
Free SSL certificate and site migration for managed VPS customers
100% carbon neutral hosting plus additional eco-friendly practices
Managed VPS hosting support covers security configuration, operating system patches, and general troubleshooting assistance.
A2 Hosting will even help you connect a free New Relic account to get a comprehensive view of resource usage and application performance.
A2 Hosting hardens its infrastructure with its Perpetual Security program, which includes daily automatic updates, reinforced DDoS protection, firewall, and virus scanning.
Those with an ecommerce website will appreciate A2 Hosting offering premium SSL certificates and PayPal merchant accounts, along with a one-click setup for PrestaShop, WooCommerce, or CubeCart.
10. HostGator
With more than two decades in business, HostGator enjoys a strong reputation in the industry and hosts more than 2 million websites on its platform. We've even named HostGator as our most trusted host to grow with.
The provider's VPS packages add even more flexibility by enabling site owners to instantly scale as needed. Simply use the HostGator management portal to add more RAM, CPU, or disk space.
Full root access with fully or semi-managed options
Redundant network with multiple layers of security
FREE website, domain, MySQL, and script transfer
RAID-10 storage for data protection
Get up to 75% off when you sign up
VPS
RATING 4.3 ★★★★★ Our Review
HostGator: Our Expert's Review
Ryan Frankel (HostingAdvice.com): HostGator has built a great reputation in the industry for its shared web hosting options. The company's VPS hosting solution, with optional cPanel support, provide a nice and easy introduction to those who are new to VPS hosting and know their needs require more than a typical shared plan. Go to full review »
| Setup Time | Disk Space | CPU | RAM |
| --- | --- | --- | --- |
| 7 minutes | 120 GB SSD – 240 GB SSD | 2 – 4 cores | 2 – 8 GB |
As of April 2021, HostGator upgraded its VPS platform to KVM virtualization (moving away from Virtuozzo). The move provides more control, updated features, and opens the door to use more current operating systems in the future.
HostGator currently only offers CentOS by default. Those desiring a different system need to file a request with the support team.
Key Features:
Instant account activation and 24/7 support via phone, chat, and email
Two dedicated IP addresses included with every VPS plan
Root access and Softaculous script installer with optional control panel
Free SSL certificate and free migration of your website and domain registration
Weekly offsite backups, plus manual and scheduled snapshots
Network availability guarantee, access to premium support
Your choice of operating system matters quite a bit, since VPS accounts with cPanel (an added expense) receive fully managed support.
Those who use an operating system such as Ubuntu, which doesn't support cPanel, will experience limited support that only covers hardware failure and major issues.
On the bright side, HostGator is one of the rare providers that includes a free domain registration with VPS hosting, along with an extended 45-day money-back guarantee.
We always appreciate when a host offers unmetered bandwidth and unlimited domains. HostGator raises the bar further by removing restrictions on email addresses, databases, and SFTP users.
11. GoDaddy
GoDaddy has one of the cheapest VPS hosting plans in the industry and represents an affordable web hosting option for entrepreneurs with a small store taking their first steps into VPS hosting.
For just $5 per month, you can easily start your ecommerce business with a globally recognized web host and domain registrar. Choose between self-managed and fully managed environments — both of which promise unlimited traffic and a 99.9% uptime guarantee.
Designed to handle traffic with Linux or Windows
Admin access via root access, cPanel, and Plesk
High-speed SSDs and 99.9% uptime guarantee
Unlimited bandwidth and lots of processing power
Fully or semi-managed servers with optional control panel
VPS
RATING 4.2 ★★★★★ Our Review
GoDaddy: Our Expert's Review
Ryan Frankel (HostingAdvice.com): If you're looking to grow and scale your website, GoDaddy has you covered. Developers and web enthusiasts will be pleased to hear that GoDaddy offers root access, making it easy to install PHP modules, applications, stacks, and various customizations to fine-tune your virtual server for peak performance via the command line or remote desktop. Go to full review »
| Setup Time | Disk Space | CPU | RAM |
| --- | --- | --- | --- |
| 7 minutes | 20 GB – 400 GB NVMe SSD | 1 – 8 cores | 1 – 16 GB |
Store owners can pursue multiple ecommerce paths with GoDaddy. Self-managed servers give you full root access, while the more expensive fully managed hosting service includes server setup, site migration, package management, and many other perks.
Key Features:
Windows or Linux support with optional cPanel or Plesk
Additional security available, featuring daily malware scans
Automated weekly backups plus on-demand snapshots and recovery
KVM and Virtuozzo virtualization, plus high-performance SSDs
Uptime and performance monitoring with alerts every one or five minutes
One-click installations of Magento, OpenCart, and PrestaShop
Both options come with standard phone support and an extensive knowledge base with community forums.
But if running your own VPS sounds a bit daunting, you may want to make the switch to managed services — you'll have access to a dedicated services team that can handle custom configuration requests.
In addition to the well-appointed VPS plans, the host offers exceptional deals on an online store builder and WooCommerce hosting. The latter features the inclusion of more than 75 premium WooCommerce themes and extensions, valued at around $6,000.
All in all, we appreciate all the ways GoDaddy aims to serve its customers. But keep an eye on your costs, as add-on services and renewal prices can get expensive rather quickly.
12. SiteGround
Innovative solutions and attentive support are the first things that come to mind when we think of SiteGround. Although the web hosting provider receives especially high marks for WordPress solutions, SiteGround also offers one of the best ecommerce hosting platforms in the industry.
Instead of maintaining its own datacenters, SiteGround provides customers with top-of-the-line infrastructure from Google Cloud Platform — meaning your ecommerce website will operate with blazing-fast speed, instant global scalability, and cloud-backed stability.
Fully managed cloud hosting with ultra-fast performance and scalability
FREE Cloudflare CDN and daily backups
SuperCacher, Git, and 1-click CMS installs
cPanel, SSH access, and private DNS setup
Dedicated IP address and iptables firewall
VPS
RATING 4.2 ★★★★★ Our Review
SiteGround: Our Expert's Review
Alexandra Anderson (HostingAdvice.com): When it comes to VPS hosting, SiteGround does things a little differently. Instead of managing a typical virtual private server network, the company created its very own cloud platform built from the ground up. Go to full review »
| Setup Time | Disk Space | CPU | RAM |
| --- | --- | --- | --- |
| 6 minutes | 40 GB SSD – 160 GB SSD | 4 – 16 cores | 8 – 20 GB |
Although SiteGround blends the lines more so than competitors in regard to the shared, cloud, VPS, and dedicated hosting labels, we've found the company's services fit perfectly in the VPS space.
Key Features:
SuperCacher technology featuring static and dynamic NGINX caching
Free SSL certificate, daily backups, and content delivery network
WordPress website building wizard and automatic managed updates
Environmentally friendly datacenters with 100% renewable energy match
WordPress and WooCommerce plugin for hassle-free migrations
Unlimited databases and unmetered traffic, plus SSD persistent storage
With SiteGround, you'll get the immense scalability and high-performance computing power of cloud VPS environments without overly complicated configurations and maintenance.
The company is known for developing custom solutions to address customer pain points and covers everything from website transfers to caching.
The SG Optimized plugin, for example, automatically handles image optimization, CSS and HTML minification, and the option to lazy load WooCommerce products for faster page loads.
The hosting provider also offers a fully managed WooCommerce experience where the open-source ecommerce platform comes preinstalled alongside the popular and flexible Storefront theme.
Rest assured the SiteGround team is always at the ready when it comes to support — regardless of your ecommerce or developer experience.
The host's proprietary systems automatically route support requests to the fastest channel. Responses generally occur within 15 minutes, with 90% of issues resolved at first contact.
What is VPS Hosting?
As the middle child of the web hosting family, VPS hosting is often overlooked and not quite always understood. The abbreviation stands for virtual private server, and the configuration shares characteristics with its hosting siblings: shared and dedicated servers.
Definition: VPS hosting gives small businesses a larger slice of server resources without the prohibitive cost and maintenance associated with running an entire server.
At its most basic, a VPS is essentially a server running within a server. Virtualization software essentially divvies up a server's resources across a handful of separate, isolated hosting environments.
With a shared hosting plan, the cheapest hosting service, one physical server handles hundreds or even thousands of clients' websites. A VPS, however, is usually one of only a handful of environments on a server.
At the other end of the spectrum, dedicated web hosting can be quite expensive. You'll get an entire server all to yourself and enjoy total control over all configurations — no noisy neighbors to worry about.
Thanks to virtualization, VPS environments enjoy administrative access and dedicated server resources (plus some degree of scalability).
Why Should I Use VPS Hosting for My Ecommerce Site?
Starting an ecommerce business can be an expensive endeavour, so the affordable prices of shared hosting naturally seem like an advantage. However, most online businesses with big goals are better suited for VPS hosting.
Many of the benefits of upgrading to VPS hosting revolve around having an isolated environment — you don't have to compete for resources or be dragged down by irresponsible site owners.
For instance, you can enjoy a separate SSL certificate or IP address. Falling victim to a cyberattack or sending spam emails on a shared server can lead to blacklisting, which blocks services and dramatically affects all other sites that share the address.
Here are some other reasons you should opt for VPS hosting:
Greater control: Use exactly the software applications and plugins you want.
Speed: Know exactly how much bandwidth, memory, and processing power you have at your disposal.
Security: Customize your firewall, install application-specific protections, and use a stronger SSL certificate.
Better support: Receive faster and more helpful responses, along with personalized managed services.
Together, these advantages also typically translate into higher conversion rates and search engine rankings. The highest ecommerce conversion rates happen on pages that load in just two seconds or less, according to digital marketing agency Portent.
How Do I Choose the Best VPS Hosting for Ecommerce?
Much like beauty is in the eye of the beholder, the best VPS hosting plan for ecommerce depends on a wide number of factors. Beyond your store's computing requirements, what about the technical aspects of setting up and running a VPS?
Right off the bat, evaluate your level of comfort and availability with managing a more complicated hosting service. That will immediately narrow your pool of options to web hosting providers with the level of support you need.
These are the factors we consider when shopping for VPS web hosting:
Managed services: Having someone else take care of the nitty-gritty details of your server is great, but the luxury service can be expensive. Does your budget support this?
Affordability: The lowest prices come with the fewest resources and perks. Where is the financial sweet spot?
Computing resources: Compare storage space, CPU allotment, memory, bandwidth, and other metrics. Which VPS host offers the most?
Quality of technology: The numbers only tell part of the story. Which hosts use solid-state drives, RAID-10 storage, or the newest processors?
Server management: Some VPS plans only come with root access to the command line. Would you prefer a more intuitive control panel?
PCI compliance: If you'll be processing payments or storing customers' personal information, you'll need to be extra careful. Does your host take care of compliance? Or do they recommend integrating with a third-party service?
Naturally, you'll also want to check the support for particular technologies, including operating systems and web servers.
Check for other perks like a free site transfer, onboarding consultation, automatic backups, and uptime guarantees before finalizing your decision.
Don't forget, you'll need PCI compliance if you plan to store, process, or transmit payment information.
How Much Does VPS Hosting Cost?
As you may expect, VPS hosting generally costs more than most shared services and less than most dedicated servers.
You can generally expect to spend between $4 and $20 per month for a basic VPS plan.
Naturally, adding more computing resources makes a web hosting service more expensive. You'll generally see similar processing and storage capacities at each price point, so it's more about the support, software, and other features you need.
You'll pay roughly $15 per month more if you decide to add a commercial control panel like cPanel or Plesk, but you can easily find reputable and open-source web panels for free.
If your chosen hosting provider doesn't give you a free domain registration, you can expect to spend another $10 to $15. You'll need to either sign up for a long-term registration or renew each year.
The main distinguishing factor with VPS prices is the level of support you expect to receive. The cheapest plans on our list of recommendations are for unmanaged hosting environments with root access.
Alternatively, an account with fully managed support will cost significantly more — especially with a VPS host like Liquid Web or SiteGround that is known for an ultra-attentive focus on customers.
What is the Cheapest Ecommerce Platform?
We get it, running an online business is an expensive endeavor. Inventory, employees, marketing, and a brick-and-mortar storefront can chew through a budget in no time.
Although VPS hosting adds yet another expense, the ecommerce software you use to display merchandise, process payments, and coordinate shipping doesn't have to.
Yes, you read that correctly — the cheapest ecommerce platforms are FREE.
And we're not talking about some horribly outdated and ugly online store software. Millions of stores around the world rely on these platforms to sell countless products.
WooCommerce


The go-to online store creator for WordPress enthusiasts, the WooCommerce plugin is fully customizable and extendable. Given how many hosts are already primed with one-click WordPress installation scripts, adding WooCommerce hosting is ultra simple.
Some hosts offer managed WordPress services on VPS infrastructure and will even install WooCommerce during the checkout process.
Even better, check out SiteGround, Bluehost, WP Engine, and Liquid Web — the four premium companies each crafted impressive WooCommerce hosting plans designed to help entrepreneurs sell more online.
PrestaShop


Offering a powerful blend of ecommerce solutions and drag-and-drop design, PrestaShop represents a beginner-friendly option for starting an online business.
The open-source platform, built on the powerful Symfony framework, comes with more than 5,000 modules and themes for creating your store. If you get stuck, more than 200 certified experts and agencies worldwide can help.
You won't see the same streamlined installations like you do with WooCommerce hosting, but the best PrestaShop hosting is every bit as simple and effective.
Magento


The most complex — yet scalable — open-source ecommerce platform on this mini list, Magento is equipped to handle the demands of established companies needing an efficient way to process transactions.
While beginners may struggle with Magento ecommerce, the platform is perfect for developers and enterprise-level businesses. Be sure to sign up for Magento 2 hosting services as the more modern version is much faster and more mobile friendly, among other benefits.
Adobe acquired Magento in 2018 and rebranded the platform's commercial cloud product as Adobe Commerce. The open-source platform remains available for download and installation, but not without a strong pitch for upgrading to the enterprise-grade (read: expensive) platform.
What Are Alternatives to VPS Hosting for Ecommerce?
All the ecommerce options we've discussed so far are referred to as self-hosted solutions. That means, quite simply, that you are in charge of the web hosting services. You oversee the technology that powers your store, can make adjustments, and can access your code files.
Hosted ecommerce, however, means that your online business is hosted for you. Another company takes care of the technology, supplies the ecommerce platform, and simply lets you focus on your business. You don't have as much control, but you don't have as many headaches.
If you're not sure signing up with the best VPS hosting for ecommerce is the correct route for your business, try a hosted ecommerce website builder instead.
These four are our favorites and regularly get high reviews across the industry. Even better, you can start using each of them with a FREE 14-day trial — no credit card required.
These companies won't operate quite the same as the other options we've covered but represent the simplest way to start and scale a store.
Ultimately, be sure to pick the hosting plan that works best for your online store now. You can keep your goals in mind, but don't jump into VPS hosting unless you know you have the sales and traffic to back it up.
Recap: Boost Your Sales With The Best Ecommerce VPS Hosting
Let's be real — the vast majority of ecommerce hosting providers offer speed, reliability, scalability, and 24/7 support.
So how do you know where to trust your online business? How do you tell the options apart?
Unless you're willing to give each host we mentioned a try, stick to our reviews. Our team tests each platform we recommend, looking for distinguishing factors and potential pain points.
Here's what we recommend for various categories:
As you can tell, the best VPS hosting for ecommerce varies depending on the needs of each business and entrepreneur. A large business looking for Magento hosting, for instance, won't match up with a crafter looking to take his or her first steps online.
Be sure to take a critical look at your online store's computing requirements and customer base. Match those demands with a VPS hosting plan that most aligns with your current needs and budget.
As your business grows, so will your hosting service. Ecommerce grew by 44% in 2020 to account for more than 20% of all retail sales, so VPS hosting represents a perfectly scalable solution to serving a growing audience.
Advertiser Disclosure
HostingAdvice.com is a free online resource that offers valuable content and comparison services to users. To keep this resource 100% free, we receive compensation from many of the offers listed on the site. Along with key review factors, this compensation may impact how and where products appear across the site (including, for example, the order in which they appear). HostingAdvice.com does not include the entire universe of available offers. Editorial opinions expressed on the site are strictly our own and are not provided, endorsed, or approved by advertisers.
Our Editorial Review Policy
Our site is committed to publishing independent, accurate content guided by strict editorial guidelines. Before articles and reviews are published on our site, they undergo a thorough review process performed by a team of independent editors and subject-matter experts to ensure the content's accuracy, timeliness, and impartiality. Our editorial team is separate and independent of our site's advertisers, and the opinions they express on our site are their own. To read more about our team members and their editorial backgrounds, please visit our site's About page.