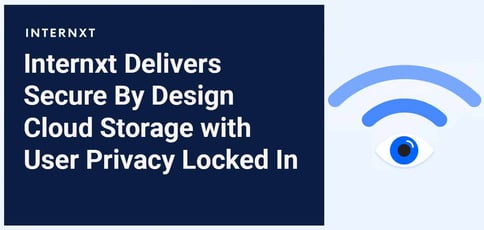 TL; DR: User privacy has emerged as a more apparent and growing problem for users across the globe in recent years. As more companies look to leverage user information for their profit, companies like Internxt are fighting for a more ethical internet for all. The Internxt team believes users should have the right to privacy while navigating the web. Its cloud storage solutions offer secure syncing, backup, and transfers that protect user data with authorization control placed completely in the users' hands. Its recently released Send feature uses zero-knowledge architecture to maximize security and is available in-browser for everyone at no cost.
With the rise of big data, user information has become a gold mine. Companies have dedicated teams and infrastructure for harvesting and selling user data so other businesses can use it for marketing and advertising purposes. And the data aren't just little details. Companies can have information on the make and model of a user's device, search history, and even current location. Facebook is one of the many application providers that profit from private user information, making a whopping $900 per user each year.
The state of digital privacy has left many users feeling alarmed, while others have grown indifferent to the lack of user privacy on the web. According to LegalJobs.io, 79% of users worldwide believe they have lost total control of their online personal data, with 64% accepting privacy risks for convenience.
But this doesn't have to be the norm. User information doesn't always have to be up for grabs to whatever company can pay most for it. Internxt combats user privacy issues with its secure-by-design cloud storage offerings, protecting user data from external parties.

"Nobody can touch your data from start to finish, not even us," said Joe Tobin, Head of Content. "Even if you lose your password, there's not much we can do to help save that. Everything is completely within your control. We have no access. Nobody has any access except for the people you authorize."
User privacy is the foundation of Internxt's business model. The Internxt team ensures privacy by default and leaves total data control and distribution in the user's hands. With Internxt, customers can share and store files and pictures on the cloud without worrying about others seeing their data, even on free plans. More than 1 million users trust Internxt as their cloud storage provider.
Providing Users Peace of Mind with Ethical Solutions
In 2020, Fran Villalba created Internxt with user privacy in mind. The Internxt team believed in a more ethical Internet experience with user privacy at its core. With so many big-name brands purchasing user information from tech giants, the future of privacy looked bleak. But many companies, including Internxt, have emerged as advocates for user privacy. One way Internxt has taken up this duty is by educating consumers.
"We're trying to reach out to customers on forums and other things like that to get our name out there and be advocates for privacy that we say we are because we are trying to back up all of our claims," said Joe.
Internxt sets out to provide an alternative to Google and Dropbox that is rooted in ultimate user privacy for all customers, even free plan users. Communicating to customers the need for user privacy has been a priority for the team. The Internxt website has a page dedicated to informing users about its privacy practices with insights on the protocols and technologies it uses.
Joe told us that tech companies and professionals are Internxt's primary audience because they best understand the need to protect sensitive information. Internxt offers a straightforward cloud storage solution that doesn't focus on the number of features but delivers top-notch security and privacy. Joe said more people are beginning to realize the importance of user privacy and have prioritized the peace of mind that comes with it.
"The marketing and the writing I'm doing is educating about privacy. Once we explain privacy to customers, they understand what Google is doing with their data and that it's selling it for money to make money off them while they get nothing. Everyone begins to see the need for it," said Joe.
Transparency is also a fundamental pillar for Internxt's operations, proving it to be an ethical alternative even in the sense of an open-source platform. "We're big on the open-source thing. And I'm proud of that because someone can go in and review our source code for any discrepancies. They can know for a fact that we're not doing anything with their data," said Joe.
Accelerating File Sharing with Internxt Send Offering
Internxt offers a straightforward encrypted sharing and storage experience for users. Its solutions are user-friendly and entirely secure from end to end. The cloud storage company delivers three tailored solutions: Internxt Drive, Internxt Photos, and Internxt Send. These offerings are all backed by military-grade encryption and file sharding for maximum privacy.
"I think the ability to know when you send something out there that nobody else is seeing takes a lot of load off, depending on what you're sharing. So that's a big thing," said Joe.
Users can rest assured that Internxt's zero-knowledge technology will protect all their files during syncing, backing up, and sharing. Internxt also accelerates the file-sharing process with its recently released solution, Send. What makes Send unique is that users can leverage it straight out of their browser without signing up for an Internxt account. It's also free.

"You can share encrypted files up to a certain size and send them off to anybody with the link. It's free to use, and you can use that on desktop. You don't necessarily need the app to do so," said Joe.
Send was originally a feature on the Internxt app. Although it remains on the app, Internxt made it a service on its own to make it more accessible. With Send, users can send up to 100 files simultaneously as long as the file limit is 5GB. Send allows users to share files by email or link without worrying about security or speed. Links expire after 15 days. Internxt also offers other free resources, including a virus checker and a password string checker, that people can use in conjunction with its services.
Improving Efficiency with an Internal Audit and Growing Company Culture
Internxt has prioritized efficiency throughout its development journey. Since launching in 2020, the company has grown its remote staff to 30 team members who work all over Europe but remain super connected through annual travel trips and a passion for user privacy. The team also released its Send feature in a quick turnaround time of a few months. Joe told us the Internxt team is always looking for ways to improve the quality of its operations and products.
"Right now, it's been about making our products more efficient. We all use them ourselves. We're also taking in tons of feedback, encouraging reviews, and reaching out to people we know who use the product. And then we're fixing it as we go," said Joe.
Internxt also recently underwent an independent security audit. It had another company analyze its operations for discrepancies and examine other areas for improvement. Joe said the goal is to make Internxt's processes as smooth and safe as possible for the team and its customers.
As for what's next, the Internxt team plans to develop an encrypted email service and password manager to add to its list of features. But improving user privacy and educating the public about it will always remain at the top of the list for the cloud storage company.
"There are a lot of reasons to feel for your privacy online. But there are a lot of good companies, ours included, doing some good work trying to take back the internet. We have a list of them on our website. Be careful what you put online because people use it in ways you can't imagine. So taking the individual initiative to secure your privacy is important," said Joe.