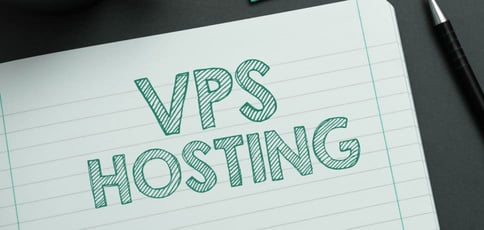 Budget is an essential piece of the web hosting puzzle. Choosing between one web host and another can often come down to the dollar signs on the page. Many users purchase VPS hosting because it is a happy middle for budget and performance capabilities. It's an excellent option if you need more control over your website's hosting environment than what shared hosting has to offer, but you don't want to pay the high prices associated with dedicated hosting.
But not every VPS hosting plan is created equal. Web hosts typically offer managed and unmanaged VPS hosting in either Windows or Linux configurations. Managed VPS hosting can be quite expensive because the web host takes care of the server management for the user. So if you're looking for cheap VPS hosting, unmanaged VPS hosting may be the way to go.
Unmanaged VPS hosting is best for those with technical know-how and don't require as much support from their web host. It gives you complete control over your dedicated server's operating system, applications, and security.
Now that we've established the basics of unmanaged VPS hosting let's take a look at some of the cheapest options available and their features.
$2/month with no hidden fees
Try it FREE via 30-day money-back guarantee
Full root access and API
10GB to 240GB SSD, Linux or Windows
No throttling or traffic restrictions, ever
VPS
RATING 4.9 ★★★★★ Our Review
1&1 IONOS: Our Expert's Review
Alexandra Anderson (HostingAdvice.com): For an all-star player in the game of web hosting flexibility, look no further than the low-cost options from 1&1 IONOS. The company's vServers are a powerful VPS option that includes dedicated resources and unlimited traffic. Go to full review »
| Setup Time | Disk Space | CPU | RAM |
| --- | --- | --- | --- |
| 6 minutes | 80 GB SSD – 240 GB SSD | 1 – 8 cores | 512 MB – 24 GB |
IONOS is known for its incredible, budget-friendly hosting plans. From shared hosting to dedicated servers, IONOS ensures you'll get the best bang for your buck. Its cheapest VPS managed plan starts at just $2.00/month, making it one of the most affordable options on this list. It includes a Plesk control panel, unlimited traffic, and fast NVMe storage with all its plans. But it's worth noting that IONOS does not offer as many customization options as some of the other providers on this list.
Turbo server & cache options for faster page loads
Well-built plans starting with 4GB RAM
FREE CDN plus auto-installs with Softaculous
Multilingual support and up to unlimited databases
Enhanced security with and daily kernel updates
VPS
RATING 4.8 ★★★★★ Our Review
A2 Hosting: Our Expert's Review
Alexandra Anderson (HostingAdvice.com): While A2 Hosting's turbocharged shared hosting platform gives site owners ample room to grow, the company's tech prowess is on full display with its portfolio of VPS options. Ranging from unmanaged, bare-metal environments to stress-free, fully managed space, A2 Hosting is sure to have the perfect option for your expanding online presence. Go to full review »
| Setup Time | Disk Space | CPU | RAM |
| --- | --- | --- | --- |
| 7 minutes | 150 GB SSD – 450 GB SSD | 1 – 8 cores | 1 GB – 32 GB |
A2 Hosting is a popular web hosting provider that understands the need for speed. With unmanaged VPS hosting plans starting at $2.99/month, A2 Hosting delivers fast and developer-friendly server environments. Users can leverage command line management to configure their servers and receive full root access. It also offers a variety of hardware configurations and software options, giving you plenty of control over your hosting environment.
Cloud-based SSD storage for speed and reliability
Double your RAM with burst periods
FREE dedicated IPv4 and IPv6 addresses
Custom control panel for reboots and OS installs
HostingAdvice readers enjoy more than 50% off
VPS
RATING 4.6 ★★★★★ Our Review
Hostinger: Our Expert's Review
Laura Bernheim (HostingAdvice.com): Hostinger's laser focus on providing affordable hosting solutions shines brightest with the company's VPS packages. The company provides six different virtual server plans, including one that costs less than $5. Go to full review »
| Setup Time | Disk Space | CPU | RAM |
| --- | --- | --- | --- |
| 6 minutes | 20 GB SSD – 250 GB SSD | 1 – 8 cores | 1 GB – 16 GB |
Hostinger offers top-notch affordability with unmatched performance. The hosting company excels in providing features that enhance the user experience without hiking up the price. Its cheapest plan is $3.99/month and includes weekly backups, a dedicated IP address, and an AI-powered firewall. Hostinger also offers a user-friendly control panel and 24/7 customer support, making it an excellent option for those who don't have much technical experience using a VPS server.
Cloud VPS that's more flexible and affordable
Load balancer, firewall, and managed services
Premium Intel CPUs with 300% more power
Choose between monthly or hourly billing
Sign up today for a 30-day FREE trial
VPS
RATING 4.9 ★★★★★ Our Review
Kamatera: Our Expert's Review
Laura Bernheim (HostingAdvice.com): Backed by cutting-edge cloud computing technology, Kamatera adds instant and limitless scalability to the VPS hosting marketplace. Each cloud or virtual server is equipped with blazing-fast SSD storage and Intel Xeon Platinum CPUs. Go to full review »
| Setup Time | Disk Space | CPU | RAM |
| --- | --- | --- | --- |
| 5 minutes | 20 GB SSD – 4 TB SSD | 1 – 104 cores | 1 GB – 525 GB |
If you're unsure about unmanaged hosting, Kamatera makes for a great launching pad as it offers 30-day free trials. It also has some of the most affordable VPS hosting options on the market, with prices starting at just $4.00/month for its cheapest plan. A highlight of its server plans is that users can instantly scale resources up or down within minutes. Kamatera's servers are also highly customizable, with a wide range of hardware configurations available. Kamatera allows users to flourish online, with performant server technology, an easy-to-use control panel, and exceptional pricing.
Managed or unmanaged, in Windows or Linux
Cloud hosting with hourly or monthly billing
Instant upgrades without downtime
FREE around-the-clock monitoring
Automatic nightly backups available
VPS
RATING 4.8 ★★★★★ Our Review
Hostwinds: Our Expert's Review
Laura Bernheim (HostingAdvice.com): Does any hosting provider have more virtual private server packages than Hostwinds. The company offers 10 configurations — and that's just for managed Linux server partitions. Go to full review »
| Setup Time | Disk Space | CPU | RAM |
| --- | --- | --- | --- |
| 6 minutes | 30 GB SSD – 750 GB SSD | 1 – 16 cores | 1 – 96 GB |
Hostwinds provides users with a full suite of services to power their unmanaged VPS environment. Users can enjoy everything from enterprise-grade firewalls and snapshots to instant scalability and 99.99% uptime. Its cheapest plan is $4.99/month and includes various customization options. Hostwinds also offers exceptional security with real-time monitoring and nightly backups.
What Is the Difference Between Managed and Unmanaged Hosting?
A VPS's management option plays a massive role in its pricing. It also dictates user experience. So understanding the differences between managed, unmanaged, and semi-managed plans before purchasing one helps the success of your web hosting journey.

Another feature that impacts pricing is server configuration. Web hosts primarily offer Linux and Windows virtual private servers. Linux is the cheaper option and accommodates multiple operating systems. Windows is more expensive and includes Windows software. You can check out this in-depth guide here for more information on their differences.
Now that we got those essential features squared away, we'll go through the definitions of each management type and how their characteristics affect pricing.
Fully Managed Hosting:
Fully managed hosting is when a VPS provider takes care of all the technical aspects of your server, including software updates, security patches, and server maintenance. Web hosts usually include 24/7 access to customer support and a team of experts who can help you troubleshoot issues. This type of hosting is more expensive because of the added support and services provided by the web hosting service.
Unmanaged Hosting:
Unmanaged hosting, on the other hand, is when you are responsible for all the technical aspects of your server. This type of hosting is perfect for those who have deep technical knowledge and want more control over their server's configuration. You are also responsible for any technical issues that arise. Unmanaged hosting is the more affordable option since the user has to take care of all the technical details and server maintenance and doesn't receive support from the web hosting provider.
Semi-managed Hosting:
Semi-managed hosting is a combination of managed and unmanaged hosting. With these plans, the web host takes care of some technical aspects of your server, such as software updates and security patches, while you are responsible for other aspects, such as server maintenance. This type of hosting is less expensive than fully managed hosting but still provides some support and services from the web host.
What Are the Downsides of an Unmanaged VPS?
While unmanaged VPS hosting is more affordable than managed hosting, it does have its downsides. Unmanaged VPS hosting fits the needs of a primarily niche audience because it requires specific skills and knowledge to run. You will need to know how to configure your server's settings and requirements, and understand how to effectively maintain a server to leverage unmanaged hosting.

Unmanaged hosting also requires more time and effort. If you're running a business, juggling operational tasks and the technical aspects of server management at the same time may be challenging. Handling a server's continuous security surveillance, software updates, and configurations can be time-consuming and may take away from other aspects of your business.
What Is the Difference Between Cloud Hosting and a VPS?
Cloud hosting and VPS hosting are two different types of hosting that offer similar benefits. They are both similar in providing better scalability and flexibility than shared hosting but at a better price than dedicated hosting. But to understand their differences, let's start at the beginning with their infrastructure makeup.
Cloud hosting has a more distributed nature than other hosting forms. Cloud providers use a network of servers that link together to power users' hosting environments. VPS hosting, on the other hand, leverages a single virtual server to house multiple individualized hosting environments. Its virtualization technology separates the server to give each user dedicated resources.

Because the cloud uses multiple servers, its scalability is more limitless than that of a VPS. Users can scale up or down at any time with cloud computing, but VPS hosting has more limited scalability because it uses one server. But a VPS does have better resource allocation than a cloud since users receive dedicated resources in contrast with the cloud's resource pooling.
While both cloud hosting and VPS hosting offer similar benefits, cloud hosting is typically more expensive than VPS hosting. Cloud hosting is best for businesses that require high scalability and flexibility, while VPS hosting is best for businesses that need more control over their hosting environment and resources.
Can I Get VPS Hosting for Free?
Free offerings don't always come with great benefits. Unfortunately, this statement can also apply to web hosting. Various free VPS hosting options exist, but they typically come with limitations, including low performance and little reliability. Free web hosts usually have to sacrifice quality add-ons to cover costs. So it won't be easy to find a free plan with all the bells and whistles.
Additionally, free VPS hosting providers may not offer as much support and services as do paid hosting providers. Customer support is usually the first feature cut from the list for free web hosts, which can make navigating obstacles harder.

If you're looking for a free plan, consider a free trial. It will allow you to test out and experience a hosting environment first-hand and grasp what features will be the most important for your web journey. Many hosting providers offer free trials or money-back guarantees, so we promise you won't have to dig too far down your research rabbit hole to find a quality hosting provider.
Choosing the Best Unmanaged VPS Plan for You
Choosing the best unmanaged VPS plan for your project depends on your needs and technical expertise. If you're a business owner with several tasks on your hands, an unmanaged hosting plan will probably be challenging to manage as it takes a lot of time and effort. You will also have to ensure that you have the background knowledge to handle all the technical aspects of a server.
Every host also provides different combinations of features, resources, and services with its plans. One host may prioritize more customization and instant scaling, while another may focus on backups and security. So researching those elements can help you with your search.
Finally, you should consider the level of customer support provided by the hosting provider. While unmanaged hosting requires less support than managed hosting, choosing a provider that offers reliable and responsive customer support is still important in case you run into any issues.
Further Reading: "5 Cheapest Unmanaged VPS Hosting Plans (Oct. 2023)"
Hopefully, our recommendation of 1&1 IONOS fulfills all your web hosting needs. Starting at just $2.00 per month and rated 4.9 overall, 1&1 IONOS gives users plenty of bang for the buck. Among our favorite features:
$2/month with no hidden fees
Try it FREE via 30-day money-back guarantee
Full root access and API
10GB to 240GB SSD, Linux or Windows
No throttling or traffic restrictions, ever
If you'd like recommendations similar to 1&1 IONOS and others in 5 Cheapest Unmanaged VPS Hosting Plans (Oct. 2023), check out these popular guides. You'll find comparisons of 1&1 IONOS to other hosts on pricing, features, support and more:
And of course, if 1&1 IONOS is your top choice, you can get started now at just $2.00/month. 1&1 IONOS is easy to set up and scale, no matter the size of your next project.
Advertiser Disclosure
HostingAdvice.com is a free online resource that offers valuable content and comparison services to users. To keep this resource 100% free, we receive compensation from many of the offers listed on the site. Along with key review factors, this compensation may impact how and where products appear across the site (including, for example, the order in which they appear). HostingAdvice.com does not include the entire universe of available offers. Editorial opinions expressed on the site are strictly our own and are not provided, endorsed, or approved by advertisers.
Our Editorial Review Policy
Our site is committed to publishing independent, accurate content guided by strict editorial guidelines. Before articles and reviews are published on our site, they undergo a thorough review process performed by a team of independent editors and subject-matter experts to ensure the content's accuracy, timeliness, and impartiality. Our editorial team is separate and independent of our site's advertisers, and the opinions they express on our site are their own. To read more about our team members and their editorial backgrounds, please visit our site's About page.