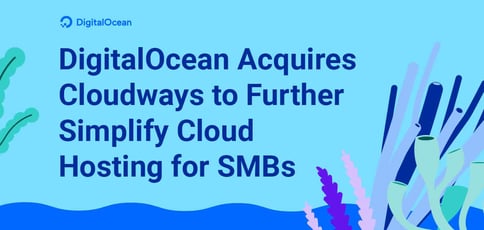 TL; DR: DigitalOcean acquires Cloudways to deliver an optimal and tailored hosting experience to SMBs and developers. Many businesses have difficulty handling server management, taking crucial time away from their high-value tasks. Users can leverage the Cloudways platform to power a hosting environment built on simplicity, flexibility, and support. DigitalOcean has solutions for any user, whether they want to manage their network independently or need assistance.
Cloud hosting offers many benefits that users can't find anywhere else. Its scalability and flexibility, among other features, allow businesses to have an unparalleled hosting experience rooted in freedom and control. Many companies also see a positive impact and boost in operational efficiency after adopting cloud computing.
Although cloud hosting delivers solutions that can't be beaten, it's not all sunshine and rainbows. Cloud migration can be a daunting task, especially for less experienced users. The biggest challenges businesses face are finding the assistance and staff needed to adopt the cloud, integrate it into their operations, and manage it.
These challenges are something DigitalOcean looks to eliminate for SMBs and developers with its acquisition of Cloudways.

"We've partnered with Cloudways for the last eight years, and in that time, they have fully proven themselves to be champions for small businesses with simplicity and customer-centricity at their core," said Megan Wood, Chief Strategy Officer at DigitalOcean. "This was vital for us as we continue to be laser-focused on helping small businesses succeed and scale in ways that hyperscalers can't."
Since 2014, DigitalOcean has worked with Cloudways to deliver integrated features and solutions to make cloud hosting simpler for users. Cloudways' focus on small businesses allows it to meet and answer needs specific to that audience. This focus made it a prime addition to DigitalOcean's product portfolio. Megan told us that DigitalOcean was always impressed with the business that Cloudways built throughout the years.
"While they've always been a part of our DigitalOcean family, we're really excited to have made it official and brought them into the fold," said Megan.
Inheriting Cloudways' Approach to Customer-Centricity and Simplicity
Every business has different needs. That is why a customer-centric approach is essential to DigitalOcean's business model. It has become even more so with the addition of Cloudways.
"Ultimately, our business is focused on SMB cloud needs. It's clear that some SMBs want to manage their own infrastructure, and others want or need someone to do that for them. Cloudways was able to fill a gap in our product portfolio," said Megan.
Cloudways' SaaS and hosting offerings are built to meet SMB needs, and with its resources, DigitalOcean can further expand its reach to SMBs. This acquisition allows DigitalOcean to optimize how it serves SMBs, developers, agencies, and bloggers. Cloudways brings a new level of simplicity to cloud hosting while freeing up developers by giving them more choice within their development life cycle.

Many businesses and developers don't have the resources or knowledge to fully manage their hosting infrastructure. And if they do, they may have difficulty juggling their high-value tasks with server administration work.
"It takes away time from creating, so the addition of Cloudways will help offload those complexities and time, particularly for entrepreneurs creating eCommerce sites, digital agencies, and builders using WordPress," said Megan.
Instead of wasting time on server management, companies and developers can focus on growing their businesses by leveraging DigitalOcean's cloud services. Cloudways delivers a simplified approach to onboarding and day-to-day hosting management, which can help streamline workflows. It also provides a flexible hosting platform with superior customer support and user experience at an affordable cost, setting up customers for operational success.
Fostering a Global Community of Developers Set on Current Trends
The Cloudways acquisition will enhance DigitalOcean's offerings for small-to-midsize businesses and beyond. But DigitalOcean's commitment to the developer community is nothing new. Its motto is "simpler cloud, happier devs, better results" after all.
DigitalOcean sets out to help developers build applications with less complexity by managing infrastructure for them. The cloud hosting provider supports a global community of developers with tutorials, videos, and content on development topics. Developers can also share their knowledge, skills, and resources in the DigitalOcean Q&A section.
Raman Sharma, VP of Product and Programs Marketing at DigitalOcean, told us more about the current trends affecting the developer community. One trend growing rapidly among developers is open-source collaboration.
"Open-Source is a big theme. Developers prefer open-source tools and open-source-based services more than closed ones. We also see a lot more developers actively contributing to open-source — some to learn but some also to create an online reputation for themselves," said Raman.
Developers are sharing more than ever and connecting globally through open-source platforms. They are also making a move to use more than one vendor for their solutions. Gone are the days of sticking to single-vendor relationships. Developers no longer depend on one vendor to source their solutions.
"There is high acceptance for picking "best of breed" solutions — Cloud A for Compute, Provider B for Database, Vendor C for monitoring, SaaS D for security, and so on. Most developers are building multicloud solutions even without realizing it," said Raman.
Developers and businesses can find increased improvement in quality, flexibility, and even costs by opting for a multivendor relationship strategy. Raman also said the business community is now leaning toward full-stack developers, especially among small tech-forward SMBs. Most developers must have a comprehensive understanding of development duties, including the frontend, backend, DevOps, and so on. Raman also shared his thoughts on the developer debate between control and productivity.
"The debate between "control" and "productivity" still rages but is pointless. We see developers at all points of the spectrum — people who want to manage everything themselves and also people who want the tech vendors to handle the heavy lifting of infra management. It comes down to the technical appetite and preference of the teams involved," said Raman.
What's Next: Creating Cloud Solutions Accessible for Multiple Use Cases
Flexibility is the backbone of cloud computing, and DigitalOcean ensures cloud users get the most out of their flexible experience by simplifying their hosting environment for easier workflows. This way, developers and businesses can spend less time managing infrastructure and more time pushing out products, solutions, and software.
DigitalOcean accomplishes its mission to streamline development by creating cloud solutions that can optimize performance, stability, and the customer's journey. But, most importantly, the hosting provider develops resources to meet a wide range of needs for various use cases.
"We're going to continue to build tools for all kinds of users — people who come in with an infra-first mindset as well as those who want to focus on just writing application logic," said Raman.
Raman also told us that DigitalOcean is ensuring that its products are friendly to multicloud configurations. It looks to Increase its accessibility to open-source applications and platforms as well.
"We will continue to focus on open-source tech — Linux, MySQL, PostgreSQL, Kubernetes, and now even WordPress with Cloudways as part of DigitalOcean," said Raman.