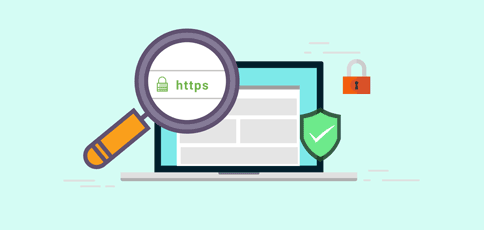 If you're looking for extra protection for your website without breaking the bank, finding the best free hosting with SSL certificates included will be your best bet. Site encryption is a significant piece of the security puzzle for every website, and SSL certificates play an imperative role.
SSL stands for secure socket layer. SSL encryption provides website security by protecting sensitive data in transmission. It helps fight against hackers. The SSL site encryption prevents hackers positioned between two communication endpoints from diverting data elsewhere.
Protecting confidential information is a crucial aspect of maintaining customer trust. SSL certificates allow users to do just that. The certificate is a small computer file that gives users a cryptographic key to their organization's details. With it, website owners can provide secure connections to a web browser on a server.
Every user should consider free SSL certificates when purchasing a web hosting plan. Depending on your budget, the price for hosting will vary. But it's good to know most hosting providers include complimentary SSL encryption in their packages, so it's not too difficult to acquire. You may only need to pay for an SSL certificate as an add-on feature when you sign up for free hosting.
Best Web Hosting with Free SSL Certificate
Although free may always seem like the best option, it's not always so, especially when it comes to hosting and security. A low-cost hosting alternative tends to deliver better benefits than a free plan.
Users can find various budget-friendly hosting providers on the web. Free hosting plans are usually more limited in value than cheap hosting, no matter your budget. Cheap hosting comes in all forms, including shared or WordPress-optimized, and provides various features without the heavy price tag. Budget-friendly web hosts usually offer tiered plans starting from as low as a dollar. All of these plans also come with a free SSL certificate.
Hostinger Shared Hosting Plans Start at $1.99 / Month
Hostinger provides website creators with the tools to develop a solid online presence. From a free site builder to a custom control panel, users can leverage Hostinger's multitude of features to run a high-performing website.
All plans include a free SSL certificate for HTTPS security. Publishers can save money with its affordable options and still receive a quality hosting experience with the security to match, making it one of the best cheap web hosting providers on the market.
Unlimited everything, from storage to databases
FREE site builder & WP performance upgrades
FREE daily or weekly backups
Custom control panel and auto-installation scripts
SSH access & unlimited FREE SSL certificates
CHEAP
RATING 4.9 ★★★★★ Our Review
Hostinger: Our Expert's Review
Laura Bernheim (HostingAdvice.com): As the shared hosting market becomes increasingly saturated, unlimited storage, bandwidth, and email accounts have become surprisingly average. Hostinger, however, extends the routine, expected metrics to greater lengths — the number of websites, databases, FTP users, subdomains, and parked domains are all unrestricted for most customers. Go to full review »
| Money Back Guarantee | Disk Space | Domain Name | Setup Time |
| --- | --- | --- | --- |
| 30 days | 50 GB SSD – 200 GB SSD | FREE (1 year) | 3 minutes |
1&1 IONOS WordPress Hosting Plans Start at $1.00 / Month
If you're looking to keep your budget expenses to a minimum, 1&1 IONOS will give you a great bang for your buck. Its WordPress hosting plans deliver all the essentials to manage a blog or an eCommerce site at an affordable price for the first year with the hosting platform.
The hosting platform is ideal for optimizing a WordPress site. Publishers can use its value-add features to create a marketable brand for themselves without spending much per month. Its unlimited option for databases, websites, and storage allows users to access capabilities they wouldn't find elsewhere. 1&1 Ionos also offers a free Wildcard SSL certificate, a free domain for a year, an email account, and 24/7 customer support through live chat.
Just $1/month for 12 months
Free domain registration and up to 500 email accounts
Setup wizard helps with installation, suggests themes, and installs plugins
FREE automatic WP updates and DDoS protection
SSD drives, NGINX, and guaranteed RAM for page load speed
WORDPRESS
RATING 4.8 ★★★★★ Our Review
1&1 IONOS: Our Expert's Review
Alexandra Anderson (HostingAdvice.com): You're not alone if you're looking for fine-tuned optimizations and security enhancements specifically tailored around WordPress. Hundreds of hosts are clamoring to offer the best services for the world's most popular content management system, and 1&1 IONOS is among the select group leading the way. Go to full review »
| Money Back Guarantee | Disk Space | Domain Name | Setup Time |
| --- | --- | --- | --- |
| 30 days | 25 GB SSD – 75 GB SSD | FREE (1 year) | 5 minutes |
InMotion Hosting Dedicated Server Plans Start at $69.99 / Month
Although dedicated hosting can be pricey, InMotion Hosting delivers a cost-effective hosting package that covers all needs. Users can choose between managed hosting with cPanel, which is more expensive, or bare-metal hosting plans. InMotion Hosting offers discounts on different plans depending on the monthly subscription time frame.
Users can expect to receive reliable, fast, and secure hosting with dependable servers and powerful features. InMotion Hosting provides free SSL certificates, 1Gbps unlimited bandwidth, dedicated IPs, SSD storage, and malware scanning for all its plans. If you're unsatisfied with its hosting experience, it also offers a 30-day money-back guarantee.
Bare-metal or managed servers available
1-on-1 time with a server administrator
99.99% uptime via Smart Routing™ technology
Tier 1 network with redundant bandwidth
SSH root access and DDoS protection on all servers
Upgrade for cPanel, migration, and auto backups
DEDICATED
RATING 4.8 ★★★★★ Our Review
InMotion: Our Expert's Review
PJ Fancher (HostingAdvice.com): InMotion Hosting offers amazingly fast and reliable dedicated hosting on market-leading hardware — making it an easy choice for anyone seeking a premium dedicated server host. From free SSDs to a fanatical support team, InMotion has all the bases covered for both small-scale and large-scale operations. Go to full review »
| Setup Time | Disk Space | CPU | RAM |
| --- | --- | --- | --- |
| 7 minutes | 1 TB SSD – 4 TB SSD | 4 – 8 cores, 8 – 16 threads | 16 GB DDR3 – 128 GB DDR4 |
If you don't see a web hosting service that catches your eye just yet, you can explore other options such as A2 Hosting which includes a free SSL certificate on its WordPress hosting plan or HostGator, which includes free SSL on its shared hosting plan.
Best Free Web Hosting with SSL Certificate Included
If you're looking for the best free web hosting, we recommend checking out free trials before settling on a plan. Many hosting companies offer multi-day free trials, which can be a cost-effective way to get a feel for hosting without rushing into a commitment.
Free trials give users plenty of time to weigh their priorities and determine if the hosting provider is a good fit, especially if they're new to hosting. Users can select from various hosting platforms, from popular website builders, such as Wix, to major web hosts, such as Kamatera, to create their web presence.
Free Website Builder with SSL Included: Wix
Wix allows users to maintain all their web hosting needs in one place. Users can leverage Wix's 14-day money-back guarantee to create and design a unique website without the pay commitment. The web hosting service provides access to its proprietary site builder and a shared hosting plan for a low cost after your free trial ends.
If you're looking to test the waters with website ownership, Wix can be a great place to start. It supplies publishers with all the tools to build a web presence and simplifies the process by providing tons of templates, unlimited pages, and customer support for free. Other notable features include a free custom domain for a year, SSD storage, and an SSL certificate.
Start designing for FREE
FREE domain with most plans
Drag-and-drop templates, specific to industry
Exhaustive knowledgebase of articles
Huge app market available
CHEAP
RATING 4.8 ★★★★★ Our Review
Alexandra Anderson (HostingAdvice.com): Wix is known as a web-leading site builder service that's one of the most affordable — because getting started is absolutely free and about as easy as processes get. You can log in via Facebook or your Gmail account and be editing your new web property within minutes. Go to full review »
| Money Back Guarantee | Disk Space | Domain Name | Setup Time |
| --- | --- | --- | --- |
| 14-day FREE trial | 2 GB – Unlimited | FREE (1 year) | 4 minutes |
Free VPS Hosting with SSL Included: Kamatera
Kamatera offers VPS hosting with a ton of perks. It allows users to sign up for a free 30-day trial with no strings attached. Kamatera's free, no-commitment account allows publishers to access its user-friendly cloud management portal to set up their cloud servers.
Kamatera is a great hosting choice for those looking for customization and flexibility. You can build your server with features according to your liking, including choosing the amount of SSD storage, RAM, and vCPU you need.
Customize your cloud environment for FREE
Work with a dedicated account manager
Dozens of Windows & Linux OS choices
Complimentary live chat support open 24/7
Launch in less than 60 seconds
CHEAP
RATING 4.9 ★★★★★ Our Review
Kamatera: Our Expert's Review
Laura Bernheim (HostingAdvice.com): That's right, Kamatera gives new customers FREE access to high-quality VPS hosting for 30 days. Upgrade your bargain-basement shared hosting to a cloud server configured to your exact specifications for no cost. Go to full review »
| Money Back Guarantee | Disk Space | Domain Name | Setup Time |
| --- | --- | --- | --- |
| 30-day FREE trial | 20 GB SSD – 4 TB SSD | New or Transfer | 3 minutes |
Other Free Web Hosting Services
If you're set on free hosting, you can find a number of hosts that provide it. Free hosting is best used for personal websites or hobbies because you may have to sacrifice on performance and reliability for the price. You can still get a hosting experience but it will be lacking certain aspects such as unlimited bandwidth and free domain names.
The following free web hosting providers include SSL encryption:
Before opting for a free web hosting provider, make sure to weigh your options and determine which web hosts have the best features for you.
TLS Certificate vs. SSL Certificate — What is the Difference?
Website security is an essential piece of the maintenance and success of any site. With vulnerabilities growing on the web, website owners need the right tools to protect their organization and, most importantly — their data. One way they can do so is through SSL and TLS certificates. You're wondering what's the difference between the two, but technically, they are more similar than they are different.
SSL means secure socket layer, while TLS means transport layer security. Although TLS and SSL certificates don't share the same name, they provide the same use advantage. TLS encryption is essentially the modern equivalent of SSL certificates. Although many web hosts list their certificates as SSL, they mainly offer TLS encryption these days.
The hosting industry shifted toward TLS certificates in 1999 to avoid legal issues with the original SSL creator, Netscape. This way, companies could develop the protocol as an open standard, accessible to everyone.
Users can leverage these two network protocols for end-to-end data security. The TLS and SSL certificates are responsible for maintaining data privacy as information transmits between two endpoints — a web server and a web browser. This data encryption allows website owners to protect their visitors' information without complexity or much maintenance.
Which SSL Certificate is Best?
Only three types of SSL certificates exist. All three serve the same purpose but vary in the validation standards. The three types include extended validation, organization validation, and domain validation certificates.
Companies can only receive extended validation SSL certificates after the Certificate Authority has verified the exclusive right of the organization to use the domain specified. The Certificate Authority is the entity that validates identities and issues SSL certificates.
In the case of extended validation, the Certificate Authority will also check for:
The legal, physical, and operational existence of the organization
Consistency between the organization's identity and official records
Proper authorization by the organization of the issuance of the EV SSL certificate
Organization and domain validation SSL certificates require the same minimum standard of checking the organization's right to the domain name. Where they differ is the additional verification components. The domain validation certificate doesn't require further steps, but the organization SSL certificate does require some but not all.
Ultimately, users can trust all three certificates to provide the security you need for endpoint communication between browser and server.
What is "Free SSL" with Hosting?
Free SSL certificates are an essential part of web hosting services. They help validate domains and the identity of the user behind the website. This way, SSL helps secure site traffic and users build trust with your customers or web followers.
SSL encryption is also simple to install, making it a go-to security resource for website owners. Some web hosts, including WP Engine, offer one-click installation. With other web hosts, you may have to input your domain name and certification details to install. You'll know the SSL certificate works when you see your web addresses start with "https://" instead of just "http://."

Users can also leverage other types of SSL certificates to fit their needs. Cloudflare, for instance, provides advanced SSL certificates to allow users more flexibility with their domain validation. This Cloudflare SSL certificate gives customers access to multiple customizations, including several renewal period options, Cloudflare branding removal, and preferred validation methods.
Some web hosting providers also have Wildcard SSL certificates included in their plans. These certificates benefit users with multiple subdomains because they allow you to encrypt multiple subdomain names linked to a base domain name with one certificate.
Does Web Hosting Come With SSL?
Most web hosting companies typically include complimentary SSL certificates in their plans. Exceptions may exist for web hosts or website builders that provide a free web hosting service. They may offer the SSL certificate as an add-on purchase to keep their expenses low.
If you opt for a free web hosting service that doesn't include free SSL encryption, you can obtain a Let's Encrypt SSL certificate at no charge. Let's Encrypt is a free, automated, and open certificate authority run by the nonprofit Internet Security Research Group.
Users must go through two steps to obtain a free SSL certificate from Let's Encrypt. First, Let's Encrypt must validate the domain and the identity behind the web server. Then, it can issue the SSL certificate for that domain.
Let's Encrypt services are an excellent option for those looking to forgo additional expenses and a free web hosting plan. Let's Encrypt delivers the same HTTPS security that any other SSL provider offers. But if you want more in your hosting experience, many budget-friendly hosting providers also provide complimentary SSL encryption.
Your Choice of Web Hosting Provider Directly Impacts Your Website Security
Security issues can arise from several sources in website management. Whether you opt for a shared hosting plan or dedicated hosting, security is of the utmost importance. Vulnerabilities in plugins and themes or software can heavily affect your website performance and make it susceptible to hackers. Although many security issues can be unpredictable, users can avoid some issues by choosing a web hosting provider with strong protective measures.
A web host can directly affect website security, depending on the security offerings it provides. Hosting providers can deliver a variety of features to help secure your website, including anything from firewall protection to SSL encryption. By comparing feature lists of different hosting providers, you can determine which one has the best options for protection.
A comprehensive set of security features should include a combination of the following:
Domain security can shield your personal information from hackers and prevent them from stealing your domain or credit card credentials.
Firewall protection filters through incoming requests to your website to prevent unauthorized access to your site.
Backups are an essential contingency component. Automatically restore and recover your data if lost or deleted.
An SSL certificate secures your website traffic and safeguards endpoint communication.
DDoS mitigation will protect your website from unexpected attacks and block them from causing downtime issues.
Site scanning can help protect your website from malware and other malicious threats.
Wisely choosing a web host is imperative to the security of your website, especially if you're considering cheap or free web hosting. Check for certifications and whether compliance standards have been met. You can also research their security practices and history by looking at customer reviews. This way, you can avoid scams and unmet expectations.
Further Reading: "5 Best: Free Hosting with SSL Certificate Included (Oct. 2023)"
Hopefully, our recommendation of Hostinger fulfills all your web hosting needs. Starting at just $1.99 per month and rated 4.9 overall, Hostinger gives users plenty of bang for the buck. Among our favorite features:
Unlimited everything, from storage to databases
FREE site builder & WP performance upgrades
FREE daily or weekly backups
Custom control panel and auto-installation scripts
SSH access & unlimited FREE SSL certificates
If you'd like recommendations similar to Hostinger and others in 5 Best: Free Hosting with SSL Certificate Included (Oct. 2023), check out these popular guides. You'll find comparisons of Hostinger to other hosts on pricing, features, support and more:
And of course, if Hostinger is your top choice, you can get started now at just $1.99/month. Hostinger is easy to set up and scale, no matter the size of your next project.
Advertiser Disclosure
HostingAdvice.com is a free online resource that offers valuable content and comparison services to users. To keep this resource 100% free, we receive compensation from many of the offers listed on the site. Along with key review factors, this compensation may impact how and where products appear across the site (including, for example, the order in which they appear). HostingAdvice.com does not include the entire universe of available offers. Editorial opinions expressed on the site are strictly our own and are not provided, endorsed, or approved by advertisers.
Our Editorial Review Policy
Our site is committed to publishing independent, accurate content guided by strict editorial guidelines. Before articles and reviews are published on our site, they undergo a thorough review process performed by a team of independent editors and subject-matter experts to ensure the content's accuracy, timeliness, and impartiality. Our editorial team is separate and independent of our site's advertisers, and the opinions they express on our site are their own. To read more about our team members and their editorial backgrounds, please visit our site's About page.