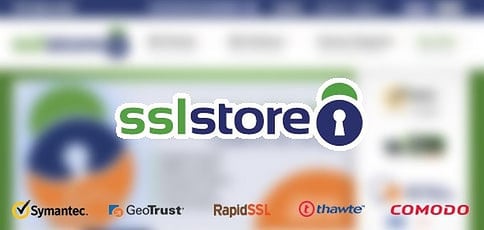 Website security is no place to fool around, and our SSL Store review aims to show how the company can give site owners total peace of mind.
There is no doubt that the world of security and SSL/TLS certificates is complicated. To make matters worse, it can seem impossible to get quality guidance and information. Those looking to secure sites for eCommerce or visitor security often find it important to trust who we purchase these certificates from. In addition, since a lot of our businesses are dependent on our websites, it is also crucial to have 24/7 access to support when we need it.
Fortunately, The SSL Store™ has an amazing breadth of products to choose from that will suit virtually any SSL customer, small or large. Let's take a look at the company's services and support, compared with 2020's best web hosting with free SSL certificates.
Best Web Hosting Options With FREE SSL Certificate
Although the SSL Store is a fantastic option for security connoisseurs, it doesn't get much simpler than having a certificate automatically configured and renewed with your web hosting each year.
For those with super-simple needs and very little experience, consider one of these hosting providers below. These companies excel when it comes to customer support and hands-free security, with easily configurable SSL certificates included in your plan for no additional cost.
Known for performance at a low price
Endorsed by WordPress.org team
FREE Weebly site builder
FREE Cloudflare CDN
Get 63% off today (was $7.99/month)
Bluehost: Our Expert's Review
Setup time: 4 minutes
Go to full review

»
If you're looking for an affordable host, Bluehost is a solid, reputable choice; The company's low costs, coupled with its supremacy in the shared hosting arena, is what makes this provider such a valuable deal. The Bluehost name is listed toward the top of...
| Money Back Guarantee | Disk Space | Domain Name | Cheap Hosting Plans |
| --- | --- | --- | --- |
| 30 days | 50 GB - Unlimited | FREE (1 year) | www.bluehost.com/shared |
Unlimited everything, from bandwidth to databases
FREE site builder & WordPress performance upgrades
FREE daily or weekly backups
90+ auto-installation scripts and custom control panel
SSH access & SSL certificates
Hostinger: Our Expert's Review
Setup time: 3 minutes
Go to full review

»
As the shared hosting market becomes increasingly saturated, unlimited storage, bandwidth, and email accounts have become surprisingly average. Hostinger, however, extends the routine, expected metrics to greater lengths — the number of websites, databases,...
| Money Back Guarantee | Disk Space | Domain Name | Cheap Hosting Plans |
| --- | --- | --- | --- |
| 30 days | 10 GB SSD - 30 GB SSD | FREE (1 year) | www.hostinger.com/shared |
$0.01 for the first month, then $5 monthly after
NO annual contracts and NO sudden price increases
Unlimited storage space, data transfers, and email
New domain is $11 with 1-month plan ($1.99 otherwise)
99.9% uptime and price-lock guarantee
InterServer: Our Expert's Review
Setup time: 4 minutes
Go to full review

»
It's hard to argue with a shared hosting plan that includes unlimited storage, bandwidth, websites, and email — but shared hosting is a crowded industry that turns on name recognition, reputation, and bargain-basement prices. InterServer outperforms some of...
See other secure web hosting options »
Our SSL Store Review (2020): Support, Experience & Reselling
Real People to Contact via Phone, Email, and Chat
One huge advantage of The SSL Store™ is that they have real people to talk to and answer your questions. They are available for customer support 24/7, and their sales team can be reached directly via phone or live chat.
For fun, I started a chat randomly with them asking about a fake API I was creating. I went on to ask about the differences between all of the SSL options and which was best for my application. Jim A. was extremely helpful and guided me toward the best options for me.
It is really nice knowing that there are companies like this in the SSL space that are focused on customer service, not just trying to oversell products to those of us not as well-versed in this area.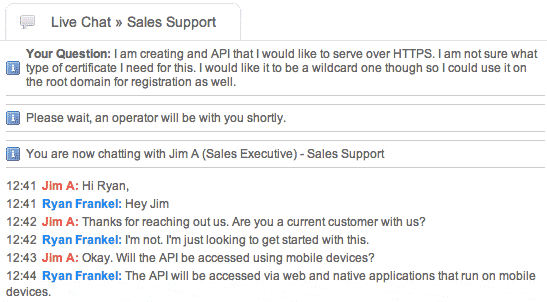 Worldwide Experience with Years in the Industry
The SSL Store™ currently operates in 112 countries with a staff of over 50 employees. They handle a range of customers, from end users like brick-and-mortar stores trying to get their eCommerce sites established, to web hosts that want to resell to their customers.
In addition, they deal with some of the largest SSL brands that exist — companies like Symantec, GeoTrust, Comodo, Thawte, RapidSSL, and Certum. This awesome array of choices allows you to get exactly the features you want and be able to shop based on pricing that your budget can afford. They also give discounts if you are purchasing an SSL Certificate for more then one year.
A Trusted Reseller Program
Having one of the largest reseller programs in the SSL space is another sign that points to the expertise and stability of The SSL Store™. If the web hosting industry trusts their servers and customers with The SSL Store™, it gives me a warm, fuzzy feeling that I can believe their promises of great customer experience and straight-forward service.
Conclusion
If you are going to use a company for SSL Certificates, you might as well use one that is well trusted and focuses solely on SSL. Their experience and dedication to customer support is second to none, and they guarantee to provide you with the exact types of security you need.
Your customers and website users will thank you, and so will your web developers.