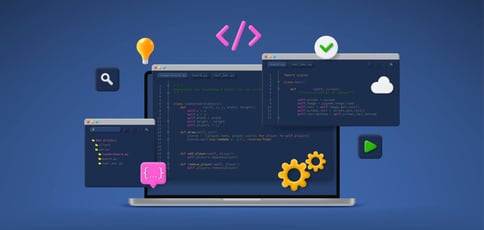 The average mobile app's retention rate starts at 25.6%, and by day 30, the number of people using an app dwindles to 4.3%. It's a well-known fact about the mobile app industry: you'll lose the majority of your original users. You can still, however, run a successful app with those numbers.
People stop using apps for various app-related problems, including memory hogging, technical problems, and too many ads. Your goal — besides making the most useful app possible — is to mitigate memory and technical issues. The app should load quickly, respond to user requests, and not clutter a user's device.
That means you should only choose the best hosting for web and mobile apps. The ideal host offers speed, security, and scalability through options like VPS, dedicated, and cloud hosting. Keep reading for a comprehensive look at hosts with optimal experiences for mobile app hosting.
Best VPS and Cloud Hosting for Web and Mobile Apps
VPS (virtual private server) hosting simulates the efficiency of a dedicated server without the expense and resource allocation. Cloud hosting offers similar features but often with unique scalability tools and access to a network of servers.
Both work wonders for mobile and web app hosting, considering they provide superior security and performance over a shared hosting plan. Although many VPS and cloud hosting options exist, here are a few that work particularly well for hosting apps.
Ultimate scalability with limitless customizations
Create and deploy servers in 60 seconds
Easily add load balancers and firewalls
Stellar 99.95% uptime guarantee
Sign up today for a 30-day FREE trial
CLOUD
RATING 4.9 ★★★★★ Our Review
Kamatera: Our Expert's Review
Laura Bernheim (HostingAdvice.com): Starting with more than 60 operating system images to choose from, Kamatera is a strong option for developers who know exactly what environment works best for their project. Customize your cloud server as needed and deploy in less than a minute. Go to full review »
| Setup Time | Disk Space | CPU | RAM |
| --- | --- | --- | --- |
| 5 minutes | 20 GB SSD – 4 TB SSD | 1 – 104 cores | 1 GB – 525 GB |
Kamatera cloud offerings provide the ideal environment for web app and mobile app developers with SSD storage and high-traffic servers. You receive unlimited scaling from this web hosting service, and its flexible pricing ensures app hosting remains reasonably priced based on the resources used.
You can choose from cloud servers located all around the globe, all of which feature the latest processing hardware for excellent performance and stability.
The NVMe SSDs from Kamatera ensure fast response times for all mobile apps. App developers can choose from a global list of datacenters, and you can select your operating system; options include Ubuntu, Windows, FreeBSD, and many more. Kamatera even provides pre-configured services for apps such as MySQL, Node.js, and LEMP Nginx.
Auto scaling with premium Intel processors
Customized operating systems (Linux or Windows)
Deploy Linux instances in less than 1 minute
SSD infrastrucutre optimized for your software
Transparent costs and by-the-minute billing
CLOUD
RATING 4.8 ★★★★★ Our Review
1&1 IONOS: Our Expert's Review
Alexandra Anderson (HostingAdvice.com): Boasting 99. 998% platform availability, the popular cloud hosting services from 1&1 IONOS deploy more than 2,500 virtual machines each week. Go to full review »
| Setup Time | Disk Space | CPU | RAM |
| --- | --- | --- | --- |
| 6 minutes | 80 GB SSD – 240 GB SSD | 1 – 24 cores | 512 MB.- 48 GB |
Deploying an app with IONOS comes easy, considering you receive an app-centric hosting interface with integrated tools such as Mantis (for bug tracking), OpenVPN (for managing your app server), and Docker (to build an app using the framework).
Although shared hosting from IONOS looks appealing, we recommend IONOS's cloud hosting solution for the best app performance. Its cloud hosting offers live scaling and US-based datacenters with unlimited bandwidth.
You also gain access to load balancing and fully virtualized processors for the highest possible reliability. IONOS makes app hosting affordable, and you only pay for the active time of your hosting instance. You can even build your own cloud server with CPU, RAM, and SSD customization for complete control of the resources used and the price paid per hour or minute.
Turbo server & cache options for faster page loads
Well-built plans starting with 4GB RAM
FREE CDN plus auto-installs with Softaculous
Multilingual support and up to unlimited databases
Enhanced security with and daily kernel updates
VPS
RATING 4.8 ★★★★★ Our Review
A2 Hosting: Our Expert's Review
Alexandra Anderson (HostingAdvice.com): While A2 Hosting's turbocharged shared hosting platform gives site owners ample room to grow, the company's tech prowess is on full display with its portfolio of VPS options. Ranging from unmanaged, bare-metal environments to stress-free, fully managed space, A2 Hosting is sure to have the perfect option for your expanding online presence. Go to full review »
| Setup Time | Disk Space | CPU | RAM |
| --- | --- | --- | --- |
| 7 minutes | 150 GB SSD – 450 GB SSD | 1 – 8 cores | 1 GB – 32 GB |
Perhaps known most for its website hosting, A2 Hosting's VPS category delivers virtualized and dedicated servers for hosting apps of all sizes. The web hosting company offers managed hosting and unmanaged VPS configurations. Its managed plans simplify the mobile app hosting experience with a sleek cPanel control center and a CloudLinux operating system.
You also get free add-ons, including a free SSL certificate, free domain, and quick app transfers to the A2 Hosting servers. The unmanaged VPS hosting helps more hands-on app developers establish root access and boost their cores, transfer speeds, SSD storage, and RAM.
Unmanaged VPS hosting from A2 Hosting allows you to choose your operating system, in case you'd rather opt for a Windows VPS or Ubuntu environment, for example.
Overall, A2 Hosting has exactly what you need to produce a fast mobile app in a developer-friendly environment. Build Node.js applications, add web app files with FTP, and configure anything from Cloudflare to CentOS with its VPS offerings. You even get a website builder for other projects.
Best Dedicated Hosting for Web and Mobile Apps
Dedicated hosting presents a step up from cloud and VPS hosting because it provides dedicated resources for launching and managing mobile or web apps. Your organization rents or leases an entire server and doesn't share resources with any other entity.
That provides the ultimate level of security for your app and control of bandwidth levels, CPU, and RAM. Dedicated hosting makes your app scalable, secure, and speedy, and it is the best hosting for web and mobile apps since it's future-proof.
Explore server deals to find the best rates
High powered modern AMD and Intel processors
Unlimited traffic and 1 Gbit/s network connectivity
8-minute deployment with full API control
Auto backups, DDoS protection, and RAID-1 storage
DEDICATED
RATING 4.9 ★★★★★ Our Review
1&1 IONOS: Our Expert's Review
Alexandra Anderson (HostingAdvice.com): If you need blazing-fast speed, optimum uptime, top-notch flexibility, and full control over the fate of your website the dedicated servers from 1&1 IONOS have you covered. The company offers an assortment of entry-level, performance-focused, and business-class server options. Go to full review »
| Setup Time | Disk Space | CPU | RAM |
| --- | --- | --- | --- |
| 7 minutes | 480 GB SSD – 2 TB HDD | 4 – 32 cores, 8 – 64 threads | 16 GB – 256 GB |
IONOS dedicated hosting comes in several forms. App developers can choose between Intel Xeon and AMD processors, both of which are built into dedicated enterprise hardware. You configure every aspect of the server, from its CPU to the RAM. Granular storage control comes in handy, too, considering you're not limited to whatever storage you get with a particular pricing plan.
Another reason to consider IONOS dedicated hosting for your mobile app is its powerful API and cloud integration. App developers receive convenient API control and a customizable infrastructure for virtual machines that connect with your dedicated server. All of this comes together to support unlimited traffic as your mobile or web app grows in popularity.
For security, IONOS dedicated servers include advanced firewalls, backups, and US-only datacenters to meet the highest standards possible. Pair that with a robust knowledge base and 24/7 customer support (through phone, email, and live chat), and IONOS looks rather promising.
Bare-metal or managed servers available
1-on-1 time with a server administrator
99.99% uptime via Smart Routing™ technology
Tier 1 network with redundant bandwidth
SSH root access and DDoS protection on all servers
Upgrade for cPanel, migration, and auto backups
DEDICATED
RATING 4.8 ★★★★★ Our Review
InMotion: Our Expert's Review
PJ Fancher (HostingAdvice.com): InMotion Hosting offers amazingly fast and reliable dedicated hosting on market-leading hardware — making it an easy choice for anyone seeking a premium dedicated server host. From free SSDs to a fanatical support team, InMotion has all the bases covered for both small-scale and large-scale operations. Go to full review »
| Setup Time | Disk Space | CPU | RAM |
| --- | --- | --- | --- |
| 7 minutes | 1 TB SSD – 4 TB SSD | 4 – 8 cores, 8 – 16 threads | 16 GB DDR3 – 128 GB DDR4 |
InMotion offers many hosting solutions, including cloud, VPS, and managed WordPress hosting. Yet, its true power lies in its dedicated servers; these customizable, enterprise-level servers make InMotion some of the best hosting for web and mobile apps.
InMotion dedicated offerings include options for cPanel and bare metal interfaces, and every dedicated server user gets a managed hosting experience. The server prices remain affordable with InMotion, and its hardware leads the industry with Intel Xeon servers and NVMe SSDs.
The InMotion security suite protects your app files from malware and hacks. You also receive DDoS protection and automatic backups. Maintain full control of RAM, SSD storage, and the version of the Intel Xeon server. Some dedicated hosting plans from InMotion let you choose a server location. Otherwise, most servers (and the customer support) remain in the US.
Linux or Windows with choice of 3 control panels
100% network and power uptime guarantees
Custom configurations and instant provisioning
Auto-migrations, backups, and real-time monitoring
Block/object storage and load balancer add-ons
DEDICATED
RATING 4.8 ★★★★★ Our Review
Liquid Web: Our Expert's Review
Alexandra Anderson (HostingAdvice.com): Liquid Web's strong suit is managed dedicated server hosting. The company owns and operates five state-of-the-art datacenters in the US and Europe works tirelessly to build and maintain custom solutions for added performance and security. Go to full review »
| Setup Time | Disk Space | CPU | RAM |
| --- | --- | --- | --- |
| 8 minutes | 250 GB – 500 GB SSD (+ 1 TB HDD) | 4 – 12 cores | 16 GB – 32 GB |
Liquid Web provides powerful web app and mobile app hosting for seamless digital operations. Notably, Liquid Web takes care of updating, patching, and securing your dedicated servers for peak performance. You can choose between Linux and Windows servers, both of which offer 100% network and power uptime, since Liquid Web manages its own core datacenters.
The dedicated servers allow for hassle-free migrations and real-time monitoring and protection. Liquid Web uses enterprise-level Intel Xeon servers situated in the US. EU-based app makers have the option to use its servers in the Netherlands.
Along with cyber backups, SSDs, and additional options for complex app infrastructures, Liquid Web offers an appealing place to host your web or mobile app.
Best Backend Hosting for Web and Mobile Apps
Backend hosting refers to hosting server-side app files away from frontend files. This hosting links your app to the servers and databases, processing data whenever it is requested. We recommend backend hosting for apps with significant data processing or storage requirements.
You can also use a backend hosting service for increased security or to manage API integrations with additional calculations. Many backend app hosts also offer a feature to build apps with frameworks.
7. Back4App
The Back4App web hosting company offers server space for storing relational data and calculations on a cloud interface. The service helps you build mobile apps that use real-time data processing. You can send and receive relational data in record time, all without security issues. Run server-side logic in a smooth environment and control the flow of that logic with built-in APIs (such as REST and GraphQL) and SDKs.

App developers can use dedicated and enterprise hosting plans (and predictable month-to-month pricing). Once launched, you can instantly connect the front and backends of your mobile app.
iOS SDK, Android SDK, .NET SDK, and many others support data storage. You can call cloud functions with Flutter SDK and JavaScript SDK or even create cloud functions with the command line interface. Back4App offers scalability, security, and flexibility for those who need it.
8. Heroku
Heroku manages a wide range of hosting and data services, many of which cater to app makers with backend hosting needs. For example, you can tap into the Heroku Postgres, Redis, or Apache Kafka solutions for superior data management. Heroku supports Node.js, Ruby, Python, and a long list of other languages through its real-time data transfer interface.

We recommend looking into Heroku for your app routing needs or if you're keen on processing requests and data separately from your standard mobile app hosting. The genius behind Heroku involves its "quick start" button for creating a new app and deploying it to a pipeline — or using Heroku to pull GIT files.
The backend hosting at Heroku supports both web apps and mobile apps, whether you're using the hosting to manage webhooks or run production checks. One of the main reasons we like Heroku for backend app management is how it simplifies debugging and handling error codes. The interface feels welcoming, which is rare for the backend hosting industry.
9. Firebase
Whether you want to host a Node.js or Express backend for your mobile app, Firebase provides the necessary infrastructure. Firebase, by Google, offers an app development platform for game and app creators.

The platform helps you build with extensions and authentication options, release your app to the public, and monitor user engagement. Features include cloud messaging, A/B testing, remote configuration, and performance monitoring.
Firebase is an all-in-one app development platform, but one of its primary advantages comes in the form of hosting. Its production-grade hosting expedites the deployment and fast delivery of web apps of all sizes. It streamlines backend app management with local directory control, a GitHub integration, and a content delivery network.
What is Web and Mobile App Hosting?
Web and mobile app hosting provides the servers necessary for storing files to develop and publish apps online. Hosting companies, including Kamatera, IONOS, and InMotion, offer web and mobile app hosting so organizations don't have to purchase and manage servers themselves. App hosting, although similar to traditional web hosting, offers unique interfaces for mobile app development, management, and distribution.
Web and mobile app hosting features typically include:
Integrations with app staging and development tools
App distribution options
Services for push notifications
Due to their mobile nature and heavy use, apps often require increased hosting resources to run smoothly. That's why mobile and web app hosting generally runs on VPS (virtual private server), dedicated, or cloud hosting configurations. That helps apps maintain faster loading speeds, stronger security, and improved stability.
How Do I Host a Mobile App and Website?
You must first find a reliable web hosting provider with support for mobile and web apps. The best hosting for web and mobile apps offers plenty of storage and unlimited bandwidth. Stick to VPS, dedicated, or cloud hosting plans instead of shared hosting.
Web apps and websites require you to upload site files via FTP (file transfer protocol) or through a one-click content or file management system. After that, you associate the web app or website with a domain name for online accessibility.
Mobile apps have a similar upload process (through one-click uploads or with FTP). A mobile app, however, links to app store pages (such as the Apple App Store and Google Play). The app files remain on the host's servers. The frontend version of the app is uploaded to the app store for users to download on their mobile devices.
Which Type of Hosting Is Best for Web Applications?
A web application usually requires less server space and RAM than a mobile app. Web applications function and look similar to apps, but they load on mobile browsers, so they act as a regular mobile website. Therefore, the best type of hosting depends on the web application's file size, traffic expectations, and security requirements.

We recommend VPS, dedicated, or cloud hosting for mobile apps because of their superior performance. File-heavy, high-traffic web apps should also consider these hosting options. Unlike mobile apps, though, smaller web apps can function well on a shared hosting plan.
Do I Need Hosting for Mobile Apps?
Yes. You must host mobile apps for users to access them. Mobile apps download to user devices, but that doesn't mean the tasks mobile apps complete happen offline. In fact, most mobile apps perform a wide range of tasks that require a connection to the hosting server.

Each time a user interacts with the mobile app, it may connect to the server to retrieve and send information. For example, push notifications come from the server and won't function without hosting. Other actions that need responses from the server include content updates, transaction processing, and retrieving user data.
Hosting Your Web or Mobile Application With Ease
Mobile apps and web apps rely on hosting services. That may mean signing up for an app-specific web hosting service with VPS, dedicated, or cloud hosting.
No matter what you choose, we recommend opting for one of the suggested providers in this article. Kamatera, IONOS, and A2 Hosting have ideal VPS and cloud hosting solutions, while Liquid Web, IONOS, and A2 Hosting cater to app developers who need dedicated servers. If you'd prefer backend hosting, consider Back4App, Firebase, or Heroku.
Remember, mobile and web apps demand a unique approach from your web hosting provider. So, the shared web host you use for your website may lack the resources and integrations needed to successfully manage an app.
See Our Full Review of Kamatera
Whatever type of hosting plan you're looking for, Kamatera is a solid choice no matter the scale. Our reviewer Laura Bernheim recently took Kamatera for a spin, and rated the popular host a 4.9 in the Cloud Hosting category out of a perfect score of 5.0. Here's what Laura had to say about Kamatera:
Offering an astounding 30-day free trial of its cloud computing and storage hosting plans, Kamatera is a great choice for developers who value performance and scalability. Beginning site owners may be a bit overwhelmed at first, but the web host's managed cloud services and always-there support team will help you through any issues.
Before signing up for Kamatera, it's a good idea to read through Laura's full review to learn about all the features Kamatera offers. You can also compare it to other web hosts to ensure you're getting the best deal possible:
If you decide Kamatera is the right choice, keep in mind that it takes just minutes to deploy your Kamatera server space. And at $4.00 per month, it's a bargain considering the many great features that come in any Kamatera plan.
Advertiser Disclosure
HostingAdvice.com is a free online resource that offers valuable content and comparison services to users. To keep this resource 100% free, we receive compensation from many of the offers listed on the site. Along with key review factors, this compensation may impact how and where products appear across the site (including, for example, the order in which they appear). HostingAdvice.com does not include the entire universe of available offers. Editorial opinions expressed on the site are strictly our own and are not provided, endorsed, or approved by advertisers.
Our Editorial Review Policy
Our site is committed to publishing independent, accurate content guided by strict editorial guidelines. Before articles and reviews are published on our site, they undergo a thorough review process performed by a team of independent editors and subject-matter experts to ensure the content's accuracy, timeliness, and impartiality. Our editorial team is separate and independent of our site's advertisers, and the opinions they express on our site are their own. To read more about our team members and their editorial backgrounds, please visit our site's About page.