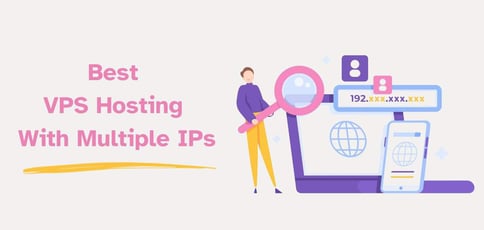 A Virtual Private Server (VPS) with multiple IP addresses can benefit businesses and individuals for different reasons. I've used it to host multiple websites, optimize for SEO, and provide better security for some websites and applications I've built.
You may have a different reason than those I've outlined above. No matter the reason, there's no questioning the benefits of having several IP addresses on your VPS hosting platform.
The biggest challenge is finding the best VPS hosting with multiple IPs. And from my 10 years of experience dealing with VPSes, I know what works for me might not work for someone else. That's why I've reviewed nine of the best to ensure everyone finds a hosting solution that suits their needs.
Let's get right into it.
The Best Multi-IP Address Virtual Private Servers
Most virtual private servers come with at least one dedicated IP address, but there are some powerful, feature-rich hosts that offer several (or more than one hundred!) IPs. The following plans come with multiple IP addresses out-of-the-box or let you purchase additional addresses at checkout.
Cloud VPS that's more flexible and affordable
Load balancer, firewall, and managed services
Premium Intel CPUs with 300% more power
Choose between monthly or hourly billing
Sign up today for a 30-day FREE trial
VPS
RATING 4.9 ★★★★★ Our Review
Kamatera: Our Expert's Review
Laura Bernheim (HostingAdvice.com): Backed by cutting-edge cloud computing technology, Kamatera adds instant and limitless scalability to the VPS hosting marketplace. Each cloud or virtual server is equipped with blazing-fast SSD storage and Intel Xeon Platinum CPUs. Go to full review »
| Setup Time | Disk Space | CPU | RAM |
| --- | --- | --- | --- |
| 5 minutes | 20 GB SSD – 4 TB SSD | 1 – 104 cores | 1 GB – 525 GB |
Kamatera is a top provider of cloud-based virtual private servers. This hosting provider won't give you just one IP address to use on its cloud server – you can choose up to four!
That gives you a lot of legroom to accomplish your goals. Whether you want to install multiple SSL certificates, isolate your applications, or set up geolocation for SEO, having numerous IP addresses makes it possible.
Turbo server & cache options for faster page loads
Well-built plans starting with 4GB RAM
FREE CDN plus auto-installs with Softaculous
Multilingual support and up to unlimited databases
Enhanced security with and daily kernel updates
VPS
RATING 4.8 ★★★★★ Our Review
A2 Hosting: Our Expert's Review
Alexandra Anderson (HostingAdvice.com): While A2 Hosting's turbocharged shared hosting platform gives site owners ample room to grow, the company's tech prowess is on full display with its portfolio of VPS options. Ranging from unmanaged, bare-metal environments to stress-free, fully managed space, A2 Hosting is sure to have the perfect option for your expanding online presence. Go to full review »
| Setup Time | Disk Space | CPU | RAM |
| --- | --- | --- | --- |
| 7 minutes | 150 GB SSD – 450 GB SSD | 1 – 8 cores | 1 GB – 32 GB |
A2 Hosting has a stellar reputation in the developer community for its fast speeds and security. When you sign up for a VPS hosting plan with A2, you'll get two dedicated IP addresses by default. But that's not the end of the deal.
There's always room for more if you need it. This Turbo-charged host lets you add more IP addresses at checkout.
Managed or unmanaged, in Windows or Linux
Cloud hosting with hourly or monthly billing
Instant upgrades without downtime
FREE around-the-clock monitoring
Automatic nightly backups available
VPS
RATING 4.8 ★★★★★ Our Review
Hostwinds: Our Expert's Review
Laura Bernheim (HostingAdvice.com): Does any hosting provider have more virtual private server packages than Hostwinds. The company offers 10 configurations — and that's just for managed Linux server partitions. Go to full review »
| Setup Time | Disk Space | CPU | RAM |
| --- | --- | --- | --- |
| 6 minutes | 30 GB SSD – 750 GB SSD | 1 – 16 cores | 1 – 96 GB |
Hostwinds will give you one dedicated IP address by default when you sign up for a VPS hosting package. But if you need more, you can update your shopping cart at checkout or add them later from the control panel.
That said, it is worth noting that this host only offers IP addresses in blocks of eight, all the way to 128. That's overkill if you only need to add one or two more IP addresses, so I'd only recommend this host for agencies, reseller hosting providers, and other users who need many IP addresses.
$0.01 for the first month using code HOSTINGADV
Then $6 monthly with no contracts, no changes
Latest of PHP, MySQL, Perl, Python, and Ruby
7 operating system options for Linux or Windows
Full root access and choice of datacenter
VPS
RATING 4.8 ★★★★★ Our Review
InterServer: Our Expert's Review
Laura Bernheim (HostingAdvice.com): InterServer's on-site datacenter and hands-on involvement with configuring and provisioning virtual private servers give customers a level of flexibility not seen with many other hosting providers. InterServer rations VPS and cloud resources through slices. Go to full review »
| Setup Time | Disk Space | CPU | RAM |
| --- | --- | --- | --- |
| 6 minutes | 30 GB SSD – 480 GB SSD | 1 – 16 CPUs | 2 – 32 GB |
Like Hostwinds, InterServer will throw in a free dedicated IP address when you sign up for a VPS hosting plan. Other hosts I've reviewed will let you add more IP addresses before checkout. But InterSever is quite different.
Instead of adding the IP addresses before finalizing the purchase, you can do so through its control panel. This makes it easy to customize your server after purchase. Note that the additional address comes at a small monthly fee.
Seamless migration from any Bluehost shared hosting plan
Root access and easy multi-server management
Ample RAID-1 storage and tons of bandwidth
Each plan gets at least 3 dedicated IP addresses
cPanel and WHM with root access
VPS
RATING 4.7 ★★★★★ Our Review
Bluehost: Our Expert's Review
Ryan Frankel (HostingAdvice.com): We love recommending Bluehost for its lifetime customer growth potential, meaning you can start with shared hosting and seamlessly scale to VPS hosting plans and beyond. The price versus performance is pretty unbeatable in the virtual hosting space, and Bluehost's engineering team will kick off the customer relationship by instantly provisioning your server. Go to full review »
| Setup Time | Disk Space | CPU | RAM |
| --- | --- | --- | --- |
| 6 minutes | 30 GB SSD – 120 GB SSD | 2 – 4 cores | 2 GB – 8 GB |
With Bluehost, each VPS plan comes with three dedicated IPs. If that's not enough, you can always add more directly from the control panel.
This managed VPS hosting service works best with WordPress websites (it's a WordPress-endorsed host). But it's not only restricted to WordPress hosting; its managed dedicated server supports all other content management systems, including Drupal and Joomla.
HostingAdvice readers get 67% off the first term
FREE site migrations and 2 hours of Launch Assist
2 – 3 dedicated IP address options
FREE cPanel/WHM licenses included
Highly available servers with real-time redundancy
VPS
RATING 4.6 ★★★★★ Our Review
InMotion: Our Expert's Review
PJ Fancher (HostingAdvice.com): Boasting market-leading VPS hardware, slick management software, and free SSD drives and backups, InMotion Hosting competes to win when it comes to managed VPS hosting packages. The host initiates its VPS customer relationship with free website migrations and up to two hours of launch assistance from an experienced sysadmin. Go to full review »
| Setup Time | Disk Space | CPU | RAM |
| --- | --- | --- | --- |
| 6 minutes | 90 GB SSD – 360 GB NVMe SSD | 2 – 8 cores | 4 GB – 16 GB |
InMotion Hosting blazed the path for NVMe SSD drives in hosting, championing lightning-fast speed — even for shared servers. The most basic VPS plan from InMotion Hosting comes with two dedicated IPs. The higher the hosting plan, the more dedicated IP addresses you'll get.
For context, when you sign up, you can choose between two (the default option), three, five, and 10 IP addresses. The right choice for you will depend on your unique needs.
High-speed hosting that's faster than AWS, Rackspace, and Digital Ocean
FREE backups, CDN, and DDoS protection
Up to 16 processors with all-SSD storage
Choice between cPanel, Plesk, or InterWorx
Real-time monitoring and 100% uptime guarantee
VPS
RATING 4.5 ★★★★★ Our Review
Liquid Web: Our Expert's Review
Alexandra Anderson (HostingAdvice.com): It's no secret by now that Liquid Web is known for best-in-class technology and reliability that exceeds expectations. The company's cloud VPS environments embody that reputation to its fullest — including managed WordPress and WooCommerce products. Go to full review »
| Setup Time | Disk Space | CPU | RAM |
| --- | --- | --- | --- |
| 7 minutes | 40 GB SSD – 200 GB SSD | 2 – 8 cores | 2 GB – 16 GB |
Liquid Web's VPS plans start at a slightly higher cost than most, but we think the features you get are worth the price. Liquid Web's virtual private servers have one dedicated IP address by default, but the host lets you easily add more through your hosting control panel.
However, you should know Liquid Web limits the number of IPs you can add to your virtual server to seven. It will also charge you an extra fee for each IP you add.
Full root access with fully or semi-managed options
Redundant network with multiple layers of security
FREE website, domain, MySQL, and script transfer
RAID-10 storage for data protection
Get up to 75% off when you sign up
VPS
RATING 4.3 ★★★★★ Our Review
HostGator: Our Expert's Review
Ryan Frankel (HostingAdvice.com): HostGator has built a great reputation in the industry for its shared web hosting options. The company's VPS hosting solution, with optional cPanel support, provide a nice and easy introduction to those who are new to VPS hosting and know their needs require more than a typical shared plan. Go to full review »
| Setup Time | Disk Space | CPU | RAM |
| --- | --- | --- | --- |
| 7 minutes | 120 GB SSD – 240 GB SSD | 2 – 4 cores | 2 – 8 GB |
Each HostGator VPS has two dedicated IP addresses by default. One of these two IP addresses is a shared IP address.
Most hosting companies let you add IP addresses through your control panel at checkout, but HostGator has an old-school way of doing things. If you want to add another IP address to your hosting plan, you'll need to contact HostGator customer service via phone or chat.
Designed to handle traffic with Linux or Windows
Admin access via root access, cPanel, and Plesk
High-speed SSDs and 99.9% uptime guarantee
Unlimited bandwidth and lots of processing power
Fully or semi-managed servers with optional control panel
VPS
RATING 4.2 ★★★★★ Our Review
GoDaddy: Our Expert's Review
Ryan Frankel (HostingAdvice.com): If you're looking to grow and scale your website, GoDaddy has you covered. Developers and web enthusiasts will be pleased to hear that GoDaddy offers root access, making it easy to install PHP modules, applications, stacks, and various customizations to fine-tune your virtual server for peak performance via the command line or remote desktop. Go to full review »
| Setup Time | Disk Space | CPU | RAM |
| --- | --- | --- | --- |
| 7 minutes | 20 GB – 400 GB NVMe SSD | 1 – 8 cores | 1 – 16 GB |
GoDaddy has an "upon request" system for adding additional IP addresses. But you'll get one IP address upon signing up.
This Linux and Windows VPS provider limits the number of IPs you can add depending on the type of VPS hosting plan you select. The base plan allows you to add only one IP address, while the most advanced option can accommodate up to three requests.
What Is a Virtual Private Server?
As the name implies, a Virtual Private Server, or what people commonly refer to as a VPS, is a hosting environment that works like a dedicated server within a shared hosting infrastructure.
A VPS divides a physical server into multiple virtual servers, each working independently with its own dedicated resources, such as CPU, RAM, storage, and an operating system.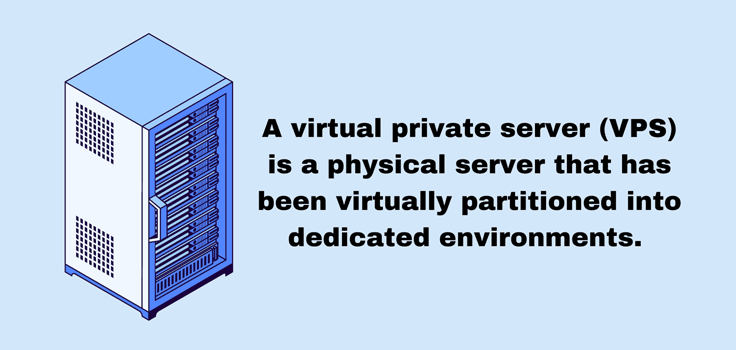 This server isolation system has many benefits. I've pointed out the most common below.
Provides root or administrator access to the VPS environment, allowing users to install, configure, and manage software on the server per their wishes
Easily scalable, which allows users to adjust their resource allocation (CPU, RAM, storage) as their website or application grows
Helps save costs as it is more affordable than dedicated server hosting (although it offers many of the same benefits)
Delivers better performance compared to shared hosting
Isolation reduces the risk of security breaches, making VPS server hosting more secure than shared hosting
Offers higher uptime guarantees than shared hosting
Generally, VPS hosting is what most people opt for when they can't afford (or don't need) dedicated hosting. It offers similar characteristics but with less control over the resources.
What Is an IP Address?
The term "IP address" is most commonly used in web hosting lingo and computer networking. For starters, it stands for Internet Protocol Address. It's a unique number assigned to each device connected to a computer network.
This address facilitates communication between devices in a network. It also helps send data packets to their intended destination across the internet. Think of your home address as an example of an IP address and the United States Postal Service as the communication channel (network) between you and the data packet (your mail).

These addresses usually fall under two categories: private IP addresses and public IP addresses. Private IP addresses work in private networks, such as a home or business network, and are not directly accessible from the public internet.
Public IP addresses, on the other hand, identify devices connected to the public internet. Your internet service provider, such as T-Mobile, Verizon, A&T, you name it, provides the public IP address to you, the user.
Can a VPS Have Multiple IPs?
Yes, a VPS can have multiple IP addresses for many different reasons. I've used different IP addresses to simulate network configurations and scenarios during development and troubleshooting, especially when working with data and security systems.
I also have a reseller hosting business as a side hustle. Each client gets a new IP address when I sell a hosting package. If this sounds like a business you may be interested in, you can read more about reseller hosting providers here. I've even used Forex VPS with multiple IPs for Forex trading.
That's the gist of how I use VPSes with multiple IPs. Other people may need this for load balancing, network segmentation, or even hosting mail servers to increase deliverability and boost security. The possibilities are endless.
Can I Host Multiple Websites on One VPS?
Yes, that's very possible. In fact, that's what most VPS service providers do.

It's uncommon for a standard VPS user to need multiple IP addresses. In the same way, it's not common for a person to need more than one mailing address unless they have one for personal use and one for business.
That's why you'll notice that most VPS hosts only provide between one to three IP addresses per account. The same providers will allow you to add multiple addresses at a small cost. Some, like Hostwinds, will let you add up to 128 dedicated IPs.
Maximize the Benefits of Multiple IP Addresses With the Right VPS Host
When all is said and done, having multiple IP addresses on your server has many benefits. You only need to know where to find the best VPS hosting provider.
Take a moment to think about your hosting needs. How long will you need the IP address? Is it for a temporary reason, such as software and application testing, or something long-term like website deployment?
Your answer to this question will make the difference between choosing a host that offers one to two IPs or one that lets you fill up your shopping cart with more.
See Our Full Review of Kamatera
Whatever type of hosting plan you're looking for, Kamatera is a solid choice no matter the scale. Our reviewer Laura Bernheim recently took Kamatera for a spin, and rated the popular host a 4.9 in the VPS Hosting category out of a perfect score of 5.0. Here's what Laura had to say about Kamatera:
Offering an astounding 30-day free trial of its cloud computing and storage hosting plans, Kamatera is a great choice for developers who value performance and scalability. Beginning site owners may be a bit overwhelmed at first, but the web host's managed cloud services and always-there support team will help you through any issues.
Before signing up for Kamatera, it's a good idea to read through Laura's full review to learn about all the features Kamatera offers. You can also compare it to other web hosts to ensure you're getting the best deal possible:
If you decide Kamatera is the right choice, keep in mind that it takes just minutes to deploy your Kamatera server space. And at $4.00 per month, it's a bargain considering the many great features that come in any Kamatera plan.
Advertiser Disclosure
HostingAdvice.com is a free online resource that offers valuable content and comparison services to users. To keep this resource 100% free, we receive compensation from many of the offers listed on the site. Along with key review factors, this compensation may impact how and where products appear across the site (including, for example, the order in which they appear). HostingAdvice.com does not include the entire universe of available offers. Editorial opinions expressed on the site are strictly our own and are not provided, endorsed, or approved by advertisers.
Our Editorial Review Policy
Our site is committed to publishing independent, accurate content guided by strict editorial guidelines. Before articles and reviews are published on our site, they undergo a thorough review process performed by a team of independent editors and subject-matter experts to ensure the content's accuracy, timeliness, and impartiality. Our editorial team is separate and independent of our site's advertisers, and the opinions they express on our site are their own. To read more about our team members and their editorial backgrounds, please visit our site's About page.