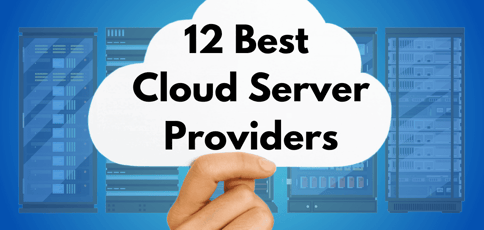 In the ever-evolving landscape of digital infrastructure, the realm of cloud server providers stands as a testament to innovation and reliability. Almost every web hosting company worth its salt now has a cloud hosting plan in its arsenal, delivering a new set of largely unmatched capabilities.
In their quest to find scalable and secure solutions for data and applications, businesses and individuals are pouncing on the opportunity to have highly flexible, scalable, and affordable hosting. With monthly rates under $9 for basic cloud hosting, that makes a lot of sense.
And while we can identify plenty of fascinating cloud-related stats, the competition continues to intensify. Amid this battle for supremacy, a few cloud server providers have emerged as true industry leaders, offering trusted and dependable services that shape the way we host and manage websites.
Join us as we delve deeper into the best cloud server providers and their unique offerings in the dynamic world of cloud hosting.
1. Kamatera
As an all-cloud hosting provider, Kamatera is primarily geared toward app developers and organizations that want power and versatility. Its cloud servers are the epitome of scalability, as you have the freedom to configure every aspect of your server, from CPU to IP address.
What's more, you can try it for free for 30 days as long as your customizations stay under $100 per month. The cloud service is built on an all-SSD infrastructure, ensuring top-notch performance.
Ultimate scalability with limitless customizations
Create and deploy servers in 60 seconds
Easily add load balancers and firewalls
Stellar 99.95% uptime guarantee
Sign up today for a 30-day FREE trial
CLOUD
RATING 4.9 ★★★★★ Our Review
Kamatera: Our Expert's Review
Laura Bernheim (HostingAdvice.com): Starting with more than 60 operating system images to choose from, Kamatera is a strong option for developers who know exactly what environment works best for their project. Customize your cloud server as needed and deploy in less than a minute. Go to full review »
| Setup Time | Disk Space | CPU | RAM |
| --- | --- | --- | --- |
| 5 minutes | 20 GB SSD – 4 TB SSD | 1 – 104 cores | 1 GB – 525 GB |
More about Kamatera:
Launch in less than 60 seconds
All servers are based on the latest models of Intel Xeon Gold/Ice Lake processors, 2.7GHz+
Customized managed cloud solutions
It's worth noting that Kamatera provides both monthly and hourly billing options, with low rates for overage on storage or traffic, making it a flexible and cost-effective option. As a cherry on top of the cloud cake, the web host offers a managed cloud service, a tailor-made solution that can start with a single server setup and scale up to thousands — depending on your needs.
2. IONOS
IONOS is an excellent choice for small and medium-sized businesses. The host supplies the cloud in managed or unmanaged versions, with a personal consultant to help with every aspect of the service, regardless of the level you select.
Its pay-as-you-go billing model means you only fork out the cash for what you need, which includes configuring your CPU vCores, RAM, and SSD storage. Each server is fully virtualized with VMware, adding to an already high level of reliability.
Auto scaling with premium Intel processors
Customized operating systems (Linux or Windows)
Deploy Linux instances in less than 1 minute
SSD infrastrucutre optimized for your software
Transparent costs and by-the-minute billing
CLOUD
RATING 4.8 ★★★★★ Our Review
1&1 IONOS: Our Expert's Review
Alexandra Anderson (HostingAdvice.com): Boasting 99. 998% platform availability, the popular cloud hosting services from 1&1 IONOS deploy more than 2,500 virtual machines each week. Go to full review »
| Setup Time | Disk Space | CPU | RAM |
| --- | --- | --- | --- |
| 6 minutes | 80 GB SSD – 240 GB SSD | 1 – 24 cores | 512 MB.- 48 GB |
More about IONOS:
Low introductory prices
Deploy in 55 seconds or less
Auto-scaling with Intel Xeon processors
IONOS cloud servers come with unlimited traffic, free load balancing, full root access, and numerous security features such as firewalls, intrusion detection systems, and DDoS protection. Users also have a variety of add-ons at their disposal, including additional block storage, secure backups, and a load balancer.
For larger organizations that need even more performance and server resources, it offers Compute Engine, a so-called public cloud that furnishes infrastructure-as-a-service (IaaS) and platform-as-a-service (PaaS).
3. HostGator
If you're looking for an optimal balance between performance and price, HostGator hits the sweet spot. Thanks to low-density servers and multiple caching layers, the hosting provider can supply super-fast load speeds and instant resource management for those times when traffic goes through the roof. The host offers ample options and controls for server management, plus you get much-needed flexibility to add various privacy, security, and productivity add-ons as you see fit.
2x as fast and 4x the computing resources
Tons of storage with the scalability of the cloud
Low-density servers and multiple caching layers
Unlimited domains and MySQL databases
Upgrades available for security, backups, productivity, and domain privacy
CLOUD
RATING 4.8 ★★★★★ Our Review
HostGator: Our Expert's Review
Ryan Frankel (HostingAdvice.com): For those ready to expand beyond shared hosting, HostGator offers a fully featured step into the cloud. With scalable, high-powered resources, customers can easily monitor resources and caching from an intuitive dashboard. Go to full review »
| Setup Time | Disk Space | CPU | RAM |
| --- | --- | --- | --- |
| 7 minutes | 120 GB SSD – 240 GB SSD | 2 – 4 cores | 2 – 8 GB |
More about HostGator:
Fully redundant network
One-click installs for over 75 open-source scripts
$200 in search engine marketing credits
HostGator provides no shortage of free features and tools with each hosting plan, starting with unlimited disk and bandwidth, a website builder and website building tools, domain transfers, and unlimited MySQL databases.
Cloud hosting subscribers receive a free domain, provided they sign up for at least 12 months, while SiteLock is available for an extra charge. With a 30-day money-back guarantee, you get enough time to try out HostGator and ensure its hosting can serve your needs.
4. DreamHost
Those seeking a reliable and affordable cloud hosting provider will be pleased with what DreamHost has to offer. The company's cloud computing service, called DreamCompute, takes center stage, as you can custom create a server and scale compute resources to your liking. For example, you can run a DreamHost Cloud server for as long as you need and only get charged up to 600 hours in a month.
Options for cloud computing & object storage
Launch cloud servers in 30 seconds or less
Servers engineered around OpenStack & Ceph
S3-compatible and redundant object storage
Support for MongoDB, Redis, Ruby & Node.js
CLOUD
RATING 4.7 ★★★★★ Our Review
DreamHost: Our Expert's Review
Laura Bernheim (HostingAdvice.com): For cloud storage needs, DreamObjects offers a fully scalable solution for app developers and anyone with big data. DreamObjects is compatible with Amazon S3 and OpenStack Swift APIs and integrates with WordPress to automate several functions. Go to full review »
| Money Back Guarantee | Disk Space | Domain Name | Setup Time |
| --- | --- | --- | --- |
| N/A | 30 GB – 240 GB SSD | New or Transfer | 6 minutes |
More about DreamHost:
Launch cloud servers in 30 seconds or less
Full root and full control
Industry-leading 97-day money-back guarantee
All accounts come with 100GB of block storage and free bandwidth. For cloud storage needs, DreamObjects offers a fully scalable yet inexpensive solution for app developers and businesses that frequently handle mountains of data.
Those with a knack for creating servers can do so automatically with OpenStack-compatible API requests via command line tools and programming libraries in many languages, including MongoDB, Redis or Node.js, Ruby, and Python.
5. Cloudways
When a company has cloud in its name, users expect it to excel at cloud hosting, and Cloudways delivers. You can pick from a selection of cloud providers that include Google Cloud, DigitalOcean, Linode, Vultr, and Amazon Web Services, then configure server resources any way you want. Throw in the pay-as-you-go pricing and a managed cloud hosting option (in case the level of customization is too much hassle), and you'll be hard-pressed to find a better alternative.
Managed cloud hosting with 24/7/365 monitoring
Choose from 5 popular cloud providers
Auto-healing cloud servers with FREE backups
3-day free trial with no credit card required
Host unlimited apps with no contract lock-in
CLOUD
RATING 4.6 ★★★★★ Our Review
Cloudways: Our Expert's Review
Alexandra Anderson (HostingAdvice.com): If you can't beat the cloud provider behemoths, offer their infrastructure as a service. Cloudways gives customers their choice of cloud platform: AWS, Google, Linode, Digital Ocean, or Vultr. Go to full review »
| Setup Time | Disk Space | CPU | RAM |
| --- | --- | --- | --- |
| 8 minutes | 20 GB SSD – 4 TB SSD | 1 – 96 cores | 1 GB – 384 GB |
More about Cloudways:
3-day free trial with no credit card required
Auto-healing cloud servers with free backups
No contract lock-in
A thoroughly optimized stack with built-in advanced cache, Cloudflare, and PHP 7.3-ready servers ensures that website performance is always at its best. You can host unlimited websites (e.g. WordPress, PHP), and every Cloudways account comes with enterprise-grade features for better security. These cover DDoS and bot protection, web application firewalls, app isolation, and other advanced safeguards against hackers and threats.
6. Hostwinds
Hostwinds cloud servers have everything a savvy developer or a site owner needs from cloud hosting, including customization and one-click installation options. Users of Linux cloud servers get root access, while Windows cloud servers provide full administrator access to configure it however you want. The cloud server platform is scalable in real-time, so you can build custom web server runtime environments that can adequately scale with the growth of your web traffic.
Choose your OS or application configuration
Hourly or monthly billing for convenience
Optional upgrades for cPanel, backups, and more
Managed services, SSDs, and HDDs available
Block and object storage, plus enterprise firewall
CLOUD
RATING 4.6 ★★★★★ Our Review
Hostwinds: Our Expert's Review
Laura Bernheim (HostingAdvice.com): Hostwinds provides supremely scalable and customizable options for the savvy developer or site owner. Customers can customize their cloud environment or choose pre-built configurations optimized to run apps like WordPress, Drupal, and others. Go to full review »
| Setup Time | Disk Space | CPU | RAM |
| --- | --- | --- | --- |
| 6 minutes | 30 GB SSD – 750 GB SSD | 1 – 16 cores | 1 – 96 GB |
More about Hostwinds:
Redundant network
24/7 cloud server monitoring
Optional upgrades for cPanel, backups, and more
Hostwinds has a wide selection of operating systems and cloud apps, such as Debian, Fedora, Ubuntu, Drupal, Joomla, and WordPress, among others. A custom-built cloud control panel helps users easily manage multiple servers and configure them to their traffic distribution. To top it all off, hourly billing allows you to pay for the resources at the rate you use them.
7. InMotion Hosting
InMotion Hosting brings optimized infrastructure, superb management, and ultimate usability to the cloud hosting table. It offers a fully managed cloud VPS platform designed to meet the needs of any size business. Automatic failover and hardware redundancy are in place to maintain uptime in case of emergency, and you get DDoS protection and backups for free.
Fault-tolerant SSD storage and up to 8GB of RAM
FREE control panel with choice of Linux OS
Full root access or managed servers available
FREE live-state or scheduled snapshots
FREE Ansible control mode for automation
CLOUD
RATING 4.5 ★★★★★ Our Review
InMotion: Our Expert's Review
PJ Fancher (HostingAdvice.com): With leading-edge cloud technology, InMotion offers free site transfer, setup, and SSD drives for the ultimate cloud solution offerings. They include free data backups and offer unmanaged or fully managed servers to help you scale your site with cloud-based hosting. Go to full review »
| Setup Time | Disk Space | CPU | RAM |
| --- | --- | --- | --- |
| 6 minutes | 90 GB SSD – 360 GB NVMe SSD | 2 – 8 cores | 4 GB – 16 GB |
More about InMotion:
Enterprise-grade fiber optics
Fault-tolerant SSD storage and up to 8 gigabytes of RAM
Free live-state or scheduled snapshots
That's not to say you can't tinker around on your own, as numerous configuration and customization options open up when you use root access on your choice of Linux OS, including Alma, CentOS, Ubuntu, or Debian.
InMotion Hosting also offers a choice of datacenter location, free site transfer, setup, data backups, and SSD drives. Customers can access and install hundreds of applications with one click, including eCommerce solutions, CMSs, and scripts.
8. Hostinger
It doesn't take much to get you started with Hostinger, as its proprietary and intuitive hPanel facilitates a quick setup. From there, you enjoy a mix of the best shared hosting features and a VPS in one easy-to-use package. Hostinger offers three managed cloud hosting flavors (corresponding to the web host's VPS hosting plans). All run on an isolated online cloud server and support up to 300 websites.
User-friendly hosting powered by Google Cloud
Isolated resources and integrated CloudFlare
Built on CloudLinux with LVE containers
Automated, daily backups and integrated caching
Instant setup with intuitive custom control panel
CLOUD
RATING 4.4 ★★★★★ Our Review
Hostinger: Our Expert's Review
Laura Bernheim (HostingAdvice.com): Hostinger offers something for everyone. From two cloud hosting plans that leverage the company's global datacenter presence to a premium service powered by Google Cloud Platform, you're sure to find what you need. Go to full review »
| Setup Time | Disk Space | CPU | RAM |
| --- | --- | --- | --- |
| 6 minutes | 20 GB SSD – 250 GB SSD | 2 – 6 cores | 3 – 12 GB |
More about Hostinger:
Affordable and user-friendly cloud service provider
SSD drives with RAID 10 arrays
Auto-deploy from GitHub or other repositories
You also receive freebies such as domain name registration, SSL certificate for every domain, and monthly CDN integration. Each plan also has unlimited bandwidth, a dedicated IP address, and managed WordPress service. Its comprehensive security suite includes DDoS protection, Cloudflare DNS firewall, and a malware scanner. Automated daily backups ensure that your files and databases are safe and sound.
9. SiteGround
Taking a different approach, SiteGround created its cloud platform built from the ground up, featuring thousands of containers. Four managed service cloud plans with an incorporated auto-scale option automatically add more resources during unexpected traffic spikes to avoid traffic loss and downtime.
In addition, you can create a custom cloud server for more attuned specs by boosting the CPU to up to 33 cores, RAM to up to 130GB, and SSD storage to up to 1TB (though you can't go lower than the initial Jump Start plan).
Scalable, speedy, and fully managed
FREE Cloudflare CDN and choice of 3 datacenters
Google Cloud partners for top-tier performance
cPanel/WHM, SSH access, and private DNS
24/7 VIP support and a dedicated IP
CLOUD
RATING 4.4 ★★★★★ Our Review
SiteGround: Our Expert's Review
Alexandra Anderson (HostingAdvice.com): SiteGround brings industry-leading performance and security to the cloud hosting space. The company offers supreme scalability and a fully managed support system, including an expert technical support staff and three datacenter locations for the enterprise client that demands the utmost reliability. Go to full review »
| Setup Time | Disk Space | CPU | RAM |
| --- | --- | --- | --- |
| 6 minutes | 40 GB SSD – 160 GB SSD | 4 – 16 cores | 8 – 20 GB |
More about SiteGround:
cPanel/WHM, SSH access, and private DNS
Dedicated IP address and iptables firewall
24/7 expert support with no wait on the phone or chat
A single cloud instance can be provisioned and running in mere seconds, supported by the host's other in-house tech, including daily backups, downtime prevention mechanism, and a four-layer SuperCacher for optimum load times. All servers are Linux-based (Fedora 31) and configured to work with both Apache and Nginx.
You can rely on SiteGround to deliver a steady performance at any time with its globally distributed infrastructure spread across the globe and powered by Google Cloud.
10. InterServer
InterServer offers something uncharacteristic in the hosting world: A choice of control panels between DirectAdmin, cPanel, and Plesk, through which you can install close to 450 cloud apps with a single click. The company's cloud VPS platform will particularly delight dev teams and independent programmers with its scalable option for web hardware that can be deftly configured for script and database requirements.
Choose Linux or Windows cloud hosting
Up to 16 cores and 16TB of data transfer
Plenty of RAM and redundant cloud storage
FREE control panel and several OS options
Pay $.01 the first month with HOSTINGADV coupon code
CLOUD
RATING 4.3 ★★★★★ Our Review
InterServer: Our Expert's Review
Laura Bernheim (HostingAdvice.com): InterServer's on-site datacenter and hands-on involvement with configuring and provisioning cloud servers give customers a level of flexibility not seen with many other hosting providers. InterServer rations its VPS and cloud resources through slices. Go to full review »
| Setup Time | Disk Space | CPU | RAM |
| --- | --- | --- | --- |
| 6 minutes | 30 GB SSD – 480 GB SSD | 1 – 16 CPUs | 2 – 32 GB |
More about InterServer:
Up to 16 cores and 16TB of data transfer
Dedicated server run through KVM virtualization
Self-healing hardware
InterServer rations VPS and cloud resources through slices, with one slice equal to one core CPU, 1GB of memory, 25GB of disk space, and 25GB of bandwidth. If you purchase four slices or more, you receive managed support. The host maintains data consistency and redundancy with Raid 10 storage arrays, and it offers several OS options to pick from. InterServer doesn't offer a money-back guarantee, but since all billing is month to month, you can cancel the service at any time.
11. Liquid Web
It's difficult to outclass Liquid Web when it comes to the sheer number of cloud hosting options. The web host offers a VMware-powered private cloud with built-in failover and private networking, dedicated cloud servers with instant provisioning, and a managed hosting platform with built-in auto-scaling (courtesy of its acquisition of Cloud Sites from Rackspace). It also provides a fairly standard mix of cloud and VPS options (as is the case with most providers).
HostingAdvice fans get 75% OFF
Cloudflare CDN, DDoS protection, and backups
Performance-boosting SSDs and cloud flexibility
Rock-solid reliability with 100% uptime guarantees
24/7 Heroic Support

®

via phone, chat, and email
CLOUD
RATING 4.1 ★★★★★ Our Review
Liquid Web: Our Expert's Review
Alexandra Anderson (HostingAdvice.com): Liquid Web balances managed services and hardware power with cloud flexibility — a brilliant solution in cloud hosting. The company's packages include instant provisioning, CloudFlare CDN, built-in backups, and, of course, the reliability of the Heroic Support team. Go to full review »
| Setup Time | Disk Space | CPU | RAM |
| --- | --- | --- | --- |
| 7 minutes | 40 GB SSD – 200 GB SSD | 2 – 8 cores | 2 GB – 16 GB |
More about Liquid Web:
A redundant network
Linux or Windows options with cPanel, InterWorx, or Plesk
100% uptime guarantee
The service will cost you a pretty penny compared to most other web hosts, but you get your money's worth thanks to the enterprise-grade infrastructure and expert firewall management, storage capacities, databases, and DNS settings.
It's also worth noting that Liquid Web has a best-effort customer support policy, which means the company will try to help in any way possible, even if it requires work outside of traditional services.
12. AccuWebHosting
From a shared scalable cloud solution to its AccuWeb.Cloud managed hosting, AccuWebHosting masterfully combines some of the must-haves of hosting: performance, stability, and affordability.
It offers three plans each for Windows and Linux hosting services, plus configurations for apps such as WordPress, Node.JS, Joomla, Adobe Commerce (formerly Magento), and ASP.NET, among others. The hosting provider also has a global server presence, with datacenter locations on five continents.
High redundancy means 100% uptime guarantee
Powered by Intel Dual Xeon E5 and E7 servers
Auto-scaling easily handles abrupt traffic increases
24/7/365 support available via email and live chat
FREE account transfer, emails, and daily backups
CLOUD
RATING 4.1 ★★★★★ Our Review
AccuWebHosting: Our Expert's Review
Laura Bernheim (HostingAdvice.com): AccuWebHosting seamlessly combines the performance and stability of cloud hosting with the affordability of shared servers. Site owners can take their online presence to the next level by auto-scaling…. Go to full review »
| Money Back Guarantee | Disk Space | Domain Name | Setup Time |
| --- | --- | --- | --- |
| 7 days | 40 GB – 125 GB | New or Transfer | 6 minutes |
More about AccuWeb:
Powered by Intel Dual Xeon E5 and E7 servers
Auto-scaling
100% uptime guarantee
Softaculous comes with the Linux cloud hosting plan while Web App Gallery comes with the Windows plan, and both feature one-click installers for more than 100 applications. The fully redundant cloud network features blazing-fast LiteSpeed web servers that deliver on all accounts, together with a free backup service, 500GB of initial bandwidth per month, and multi-layer DDoS protection.
If you're worried about how much AccuWebHosting will cost, you can use its nifty cost calculator for a better understanding.
What Is Cloud Hosting?
As weird as it sounds, cloud hosting is essentially a method of configuring servers, rather than a tangible entity like shared hosting, for example.
The most straightforward explanation would be that in the realm of cloud computing, servers take the form of virtual machines. Unlike traditional physical servers, these cloud-hosted servers operate within a network of multiple interconnected units. All of these servers are online, but none of your data resides on a single hard drive.

Rather, your data is duplicated and distributed throughout the network, thus ensuring better performance and stability than single-server hosting services. In the event of server or hardware failures, other devices are readily available to step in and manage the workload. Since they are independent of specific software, cloud servers are a reliable option, particularly when you require on-demand resources.
Pros of Cloud Hosting
Cloud hosting offers many benefits, including:
Scalability: Cloud servers offer incredible scaling potential that allows for virtually unlimited expansion.
On-demand resources: You can request resources on the fly and pay for them by the hour, thanks to flexible pricing structures.
High availability: Cloud servers are virtualized, so data transfers to another machine without downtime when a hardware failure happens.
Greater protection: If one cloud server is overwhelmed, you'll simply switch to another.
Because it is reliable, flexible, and scalable, cloud hosting is a popular choice for businesses of all sizes.
Cons of Cloud Hosting
There is not much in terms of downsides of cloud hosting, but here are two:
Cost: Price is always a consideration, and cloud hosting is typically more expensive than other types of hosting, such as shared and VPS hosting.
Management: Cloud servers tend to be more complex to manage than other types of servers. You need to be careful to ensure you don't overspend on resources.
It's important to note that the majority of limitations can be counterbalanced through a strategic blend of public and private cloud environments or by selecting a managed hosting service that mitigates most of these concerns.
7 Cheapest Cloud Hosting Costs and Plans >>
Which Cloud Server Is the Fastest?
This is a tough question to answer since the speed of a cloud server can vary depending on several factors, most notably:
Specific server configuration: Choice of CPU, storage, and amount of memory are major factors. A faster CPU, a higher amount of memory, and a faster storage type, such as NVMe SSD, will result in faster data access.
Network connection: This is the speed at which the server can communicate with other devices, so the faster the network connection, the faster data transfers will be.
Location of the cloud server: Proximity matters as the closer the cloud server is to your users, the less latency between them and the server, leading to faster performance.
As you can see, there is no one-size-fits-all answer. Different cloud providers offer various server types and configurations, so to pinpoint the fastest cloud server for your particular use case, factor in the workload or application you plan to run, along with any specific performance requirements.
It's always a good idea to conduct performance testing and benchmarks to assess which cloud provider and server configuration best meet your needs.
Which Cloud Server Is the Cheapest?
For this question, we have a definitive answer: Kamatera. Topping our list of the best cloud server providers, the web host is also the best when it comes to affordability, as its plans start at less than $5.
Ultimate scalability with limitless customizations
Create and deploy servers in 60 seconds
Easily add load balancers and firewalls
Stellar 99.95% uptime guarantee
Sign up today for a 30-day FREE trial
CLOUD
RATING 4.9 ★★★★★ Our Review
Kamatera: Our Expert's Review
Laura Bernheim (HostingAdvice.com): Starting with more than 60 operating system images to choose from, Kamatera is a strong option for developers who know exactly what environment works best for their project. Customize your cloud server as needed and deploy in less than a minute. Go to full review »
| Setup Time | Disk Space | CPU | RAM |
| --- | --- | --- | --- |
| 5 minutes | 20 GB SSD – 4 TB SSD | 1 – 104 cores | 1 GB – 525 GB |
You can start with Kamatera for free with the company's generous 30-day free trial. As a bonus, you'll get a $100 credit when creating a new account to spend on the server configuration you need. Regardless of the size of your next project, you'll have no trouble setting up Kamatera and scale as you go.
Kamatera also offers free cloud hosting in the form of a free trial. Here's how it works: you sign up with a credit card, get a taste of what the provider offers for 30 days (an industry standard), and then pay for anything you use from there on.
And remember, if something seems to be too good to be true, it probably is. You'll be better off looking for information on cheap cloud hosting providers.
What Servers Do Cloud Providers Use?
The public cloud is the prevailing choice for deploying cloud servers, as it involves third-party providers owning and overseeing the server infrastructure. Customers can then access computing services on demand. For example, Cloudways gives customers a choice of cloud platform between Amazon Web Services, Google, Linode, DigitalOcean, or Vultr.

On the other hand, the private cloud provides a more secure option by hosting cloud servers privately, ensuring they are not shared with other individuals or organizations.
Hybrid cloud servers incorporate features from both public and private cloud servers, enabling data and app sharing between the two environments.
Then, you have dedicated cloud servers. In some instances, cloud providers supply physical cloud servers. These are commonly known as bare-metal servers, which basically dedicate a cloud provider's physical server to a single user.
What Is the #1 Cloud Service Provider?
In a multi-billion dollar industry that continues to grow, numerous companies vie for a continually expanding share of the cloud market.

Here are the top three cloud service providers, based on the data:
Amazon Web Services (32% Market Share): The pioneer and long-standing king in the industry, AWS has consistently maintained this position since 2006. It certainly helps that it boasts the most extensive product portfolio, from computing and storage to databases and IoT.
Microsoft Azure (22% Market Share): Microsoft Azure holds the second-largest piece of the cloud pie due to its emphasis on high-quality, enterprise-scale projects. While AWS is typically regarded as the largest cloud platform, Azure is recognized for its swiftness and agility, largely the reason it's a popular cloud choice for C# programmers.
Google Cloud Platform (11% Market Share): The youngest of the trio, Google Cloud Platform appeals primarily to budding startups and developers seeking a fresh alternative to its corporate-minded counterparts. Given Google's vast expertise in search and analytics, GCP's forte lies in machine learning, artificial intelligence, and data analytics.
According to the International Data Corporation (IDC), spending on compute and storage infrastructure products for cloud deployments increased 14.9% year over year in the first quarter of 2023 to $21.5 billion. By some estimates, the cloud market is projected to be worth $376.36 billion by 2029.
Cloud Service Market Share Data >>
Get Cozy in the Cloud
If you don't mind spending just a bit more for cloud hosting's benefits, this should be a no-brainer. The reality of online business is that any potential downtime could end up damaging you beyond repair, whether it's in leads, sales, or reputation.
Such setbacks are possible and, to an extent, expected, but cloud hosting does its best to minimize the chance of them ever happening. Remember that this is just the continuity side of things — let's not forget the ability to instantly scale resources as you build your brand and generate more buzz around it.
Arguably the best part is that, as technology becomes increasingly user-friendly, virtually anyone can leverage cloud hosting without loads of tech experience, making it an excellent fit for any type of business.
Whichever way you slice, being on the cloud is worth it.
See Our Full Review of Kamatera
Whatever type of hosting plan you're looking for, Kamatera is a solid choice no matter the scale. Our reviewer Laura Bernheim recently took Kamatera for a spin, and rated the popular host a 4.9 in the Cloud Hosting category out of a perfect score of 5.0. Here's what Laura had to say about Kamatera:
Offering an astounding 30-day free trial of its cloud computing and storage hosting plans, Kamatera is a great choice for developers who value performance and scalability. Beginning site owners may be a bit overwhelmed at first, but the web host's managed cloud services and always-there support team will help you through any issues.
Before signing up for Kamatera, it's a good idea to read through Laura's full review to learn about all the features Kamatera offers. You can also compare it to other web hosts to ensure you're getting the best deal possible:
If you decide Kamatera is the right choice, keep in mind that it takes just minutes to deploy your Kamatera server space. And at $4.00 per month, it's a bargain considering the many great features that come in any Kamatera plan.
Advertiser Disclosure
HostingAdvice.com is a free online resource that offers valuable content and comparison services to users. To keep this resource 100% free, we receive compensation from many of the offers listed on the site. Along with key review factors, this compensation may impact how and where products appear across the site (including, for example, the order in which they appear). HostingAdvice.com does not include the entire universe of available offers. Editorial opinions expressed on the site are strictly our own and are not provided, endorsed, or approved by advertisers.
Our Editorial Review Policy
Our site is committed to publishing independent, accurate content guided by strict editorial guidelines. Before articles and reviews are published on our site, they undergo a thorough review process performed by a team of independent editors and subject-matter experts to ensure the content's accuracy, timeliness, and impartiality. Our editorial team is separate and independent of our site's advertisers, and the opinions they express on our site are their own. To read more about our team members and their editorial backgrounds, please visit our site's About page.