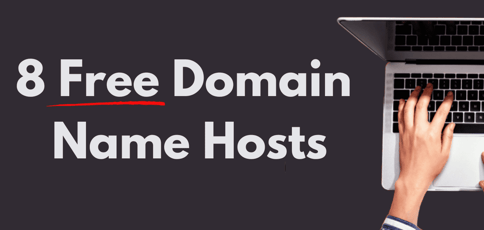 Domain names aren't free — at least not the good ones. I've researched many services that advertise so-called "free domain names," but most carry some baggage. They may have a poor selection of obscure domain extensions (.ml or .cf instead of standards like .com or .org); privacy concerns from advertisement-riddled websites, or questions about whether you actually own the domain.
We suggest you completely avoid these sketchy sites and instead get a free domain name from a reputable web hosting company. This way, you can choose a custom domain name and pay nothing for an entire year. This method also ensures access to useful domain extensions, complete domain ownership, and extra privacy protection tools. Not to mention, the domain you get free from a hosting company can plug right into the site you're already hosting on its servers. Everything remains in one place.
Best of all, countless web hosting companies offer free domain names for one year. Check out our favorites below.
1. IONOS
Every web hosting plan from IONOS comes with a free domain for one year. That includes access to a domain search tool, empowering you to find recognizable domain names — such as .com, .org, and .us — or industry and location-specific domain names, including .dev, .nyc, and .app.
On top of that, IONOS features fast and scalable web hosting that works with a wide range of external tools such as WordPress, PrestaShop, and Drupal. You can even use the free domain name with the professional email account that comes with your hosting.
Register domains for $1 (or FREE with hosting)
FREE domain privacy to protect your information
Easy setup with domain lock and 2GB email inbox
99.9% uptime, plus daily backups and recovery
FREE SSL certificate for safer data transfers
DOMAIN
RATING 4.9 ★★★★★ Our Review
1&1 IONOS: Our Expert's Review
Alexandra Anderson (HostingAdvice.com): While many popular hosts reserve free domain registrations for its higher-tie plans, 1&1 IONOS gives every customer the perk — along with free domain privacy, email inbox, and SSL certificate. Trust your site with a company that hosts more than 12 million domains on its platform. Go to full review »
| Money Back Guarantee | Disk Space | Domain Name | Setup Time |
| --- | --- | --- | --- |
| 30 days | 10 GB – Unlimited | FREE (1 year) | 4 minutes |
More about IONOS:
Daily backup and recovery features
Support for multiple MariaDB and MySQL databases
Free professional email addresses to go along with your free domain name
A free wildcard SSL certificate to protect up to 10,000 subdomains
A web host manager app for mobile control
Advanced web hosting options such as VPS (virtual private servers), WordPress hosting, and ASP.NET hosting
The free domain name gets your business started. After that, IONOS offers features to grow your website continually, with ever-increasing storage, PHP (hypertext preprocessor) memory, and RAM (random access memory).
2. Bluehost
Bluehost boasts a long list of features for those just getting started building a website, and is often recommended for startups and small businesses using WordPress. One of those features: a free domain for the first year of hosting. Some Bluehost hosting plans even provide free domain privacy and website backups for a year.
FREE domain registration and site-building tools
Unlimited domains, emails, and bandwidth
Up to $200 in offers with Google, Bing, and Yahoo!
Top-ranked WordPress host with tons of perks
24/7 customer support and online tutorials
DOMAIN
RATING 4.7 ★★★★★ Our Review
Bluehost: Our Expert's Review
Ryan Frankel (HostingAdvice.com): Bluehost offers all the freebies you need to get started with domain hosting. The company includes a free domain or transfer, plus unlimited bandwidth and storage. Go to full review »
| Money Back Guarantee | Disk Space | Domain Name | Setup Time |
| --- | --- | --- | --- |
| 30 days | 10 GB SSD – 100 GB SSD | FREE (1 year) | 5 minutes |
More about Bluehost:
Simple website scaling with plans designed to support small websites or blogs, and high-traffic websites or online stores
Free CDNs (content delivery networks) for each web hosting plan
Options to create professional email addresses with your new domain name
A collection of WordPress themes
Online store functionality on some plans, with tools for secure payments, bookings, and unlimited products
24/7 customer support
The host also offers SSL certificates, automatic malware scans, and additional plans for dedicated servers and VPS hosting. Bluehost helps make online business accessible and affordable, and it all starts with the free domain name.
3. Hostinger
The free domain name from Hostinger is part of every hosting plan it offers. That makes creating a website significantly easier, particularly when paired with Hostinger's automated website migration. You receive the free domain for one year, which is plenty of time to figure out if it's the right fit.
Lowest domain prices in the industry
FREE registration on most plans
Host up to 100 domains on most plans
Domain privacy protection safeguards your info
99.9% uptime guarantee and automatic backups
DOMAIN
RATING 4.7 ★★★★★ Our Review
Hostinger: Our Expert's Review
Laura Bernheim (HostingAdvice.com): Don't be turned off by Hostinger's remarkably low prices. The company's insanely low pricing model extends to domain name services, as well as its premium support and impressive list of features. Go to full review »
| Money Back Guarantee | Disk Space | Domain Name | Setup Time |
| --- | --- | --- | --- |
| 30 days | 50 GB SSD – 200 GB SSD | FREE (1 year) | 3 minutes |
More about Hostinger:
Managed WordPress web hosting with options for WordPress multisite, staging, and on-demand backups
A drag-and-drop site builder with AI heatmaps, eCommerce options, and hundreds of templates
Industry-leading security with malware scans, protected nameservers, and firewalls
A 30-day money-back guarantee
Advanced technology for caching, SSH (secure shell) access, GIT access, and DNS (domain name system) management
Weekly automated site backups
Unlimited free SSL
Hostinger helps you launch your website with a free domain name, business email addresses, and managed WordPress tools. After that, you can grow into more advanced hosting and even consider one of Hostinger's dedicated hosting packages.
4. GoDaddy
GoDaddy became famous for its simple domain name purchasing service, but it now offers far more. Users with a GoDaddy hosting plan can access a free domain name for one year, a drag-and-drop website builder, and a control panel made for clutter-free site management. Through the dashboard, you can handle website backups, SSL certificates, and website security. The entire DNS management area sits on the dashboard, as well, allowing you to complete domain transfers and create subdomains.
World's largest domain registrar with 17+ million domains under management
FREE domain included with annual plans
Manage your domains via cPanel or Plesk
FREE email hosting at your domain
99.9% website uptime guaranteed
DOMAIN
RATING 4.5 ★★★★★ Our Review
GoDaddy: Our Expert's Review
Ryan Frankel (HostingAdvice.com): We'd be remiss not to include GoDaddy on this list of the top domain name hosting providers. Perhaps the most well-known name in the domain space, GoDaddy is widely recognized as the world's top registration services company, and the low-cost hosting is tough to beat. Go to full review »
| Money Back Guarantee | Disk Space | Domain Name | Setup Time |
| --- | --- | --- | --- |
| 30 days | 25 GB – Unlimited | FREE (1 year) | 4 minutes |
More about GoDaddy:
Free domain privacy to keep your WHOIS information confidential
"Payable" domains for accepting payments from clients through a link on your domain
Access to thousands of domain extensions such as .today and .live — and traditional options, including .co and .com
Free SSL certificates with all hosting plans
Speedy servers, optimized for a 99.9% uptime
Healthy storage and multiple databases for web hosting
Free email mailboxes for the first year of hosting
Network security that handles malware and DDoS protection
Automated daily backup and restore options
A one-click WordPress installation button
GoDaddy takes privacy and affordability seriously. Very few domain name registrars and web hosts provide domain privacy for free, and you get an array of other free tools to complement your domain name and overall brand.
5. InMotion Hosting
InMotion Hosting sells affordable domain names and web hosting separately, but when you opt for a hosting account, it adds the domain name for free. Choose from thousands of domain extensions ranging from .com and .biz to .org and .info. Link that new domain name to the website hosted with InMotion, and use it along with one of the several business email addresses you receive.
FREE domain name and seamless site transfer
Includes 1-click installer with over 310 apps
FREE SSDs for shared business hosting plans
Easy installs for WordPress, Joomla, and others
FREE backups and SSL certificate
DOMAIN
RATING 4.4 ★★★★★ Our Review
InMotion: Our Expert's Review
PJ Fancher (HostingAdvice.com): Looking for leading-edge technology and fully reliable support. InMotion may be the host for you. Go to full review »
| Money Back Guarantee | Disk Space | Domain Name | Setup Time |
| --- | --- | --- | --- |
| 90 days | 100 GB SSD – Unlimited | FREE (1 year) | 5 minutes |
More about InMotion:
Choose the location of your datacenter
A security suite filled with protection essentials such as automated backups, a free SSL, malware detection, and DDoS protection
A complete website builder with pre-built themes and a no-code interface
GIT version control
Support for programming languages such as Python, Ruby, and Node.JS
Comprehensive guides on domain name transfers and management
WordPress hosting optimization
InMotion offers a wide range of web hosting solutions (dedicated, cloud VPS, OpenMetal Cloud IaaS, Minecraft server hosting), but we suggest starting with shared hosting to see if you enjoy the experience. If not, take advantage of InMotion's 90-day money-back guarantee.
6. HostGator
HostGator offers a free domain name to all new customers, and you can receive a free site transfer. In addition, HostGator provides one-click installations for various apps and builders, including WordPress. You can register a domain name through the HostGator website as long as you sign up for its web hosting services. Consider sticking with an old reliable domain (.us and .org) or consider a unique top-level domain, such as .tech, .website, or .space.
FREE domain included on all shared, cloud, and WordPress hosting plans
Manage hosting and domains from one dashboard
FREE domain locking and auto-renewals
Easy transfers with helpful 24/7 support
Unmetered bandwidth, storage, and databases
DOMAIN
RATING 4.3 ★★★★★ Our Review
HostGator: Our Expert's Review
Ryan Frankel (HostingAdvice.com): Always getting high marks across the board, HostGator is an easy choice for a trustworthy domain registrar. HostGator makes the registration process easy while still helping you expand your online presence with more technical solutions. Go to full review »
| Money Back Guarantee | Disk Space | Domain Name | Setup Time |
| --- | --- | --- | --- |
| 30 days | Unlimited | FREE (1 year) | 4 minutes |
More about HostGator:
Intuitive DNS management with dedicated IPs and custom routing
Domain name features include domain locking, auto-renewal, and email forwarding
Unlimited email addresses with every hosting plan
SSD storage for all websites
Free domain transfers and one-click WordPress installations
Advanced options to use a CDN and transfer MySQL databases
HostGator provides flexibility and convenience and provides all the tools you need to launch an online presence on its dashboard. The free domain name starts the process, and then you can dive into the visual website builder — with advanced tools — to establish a professional website.
7. DreamHost
DreamHost strives to provide fast and secure web hosting so users and search engines trust you. Besides the speed and security of its hosting, you also receive a free domain name for a year.
FREE domain name registration with hosting
Full DNS management from a custom control panel
FREE domain privacy protection for life
ICANN accredited and approved by WordPress
100% SSD infrastructure is up to twice as fast
DOMAIN
RATING 4.2 ★★★★★ Our Review
DreamHost: Our Expert's Review
Laura Bernheim (HostingAdvice.com): Choose from among more than 350 domain extensions, which DreamHost highlights based on trends, sales, and newness. Every domain name comes with flexible autorenewals, locking and forwarding options, along with simplified DNS management tools and custom nameservers. Go to full review »
| Money Back Guarantee | Disk Space | Domain Name | Setup Time |
| --- | --- | --- | --- |
| 97 days | Unlimited | FREE (1 year) | 4 minutes |
More about DreamHost:
Built-in visual website builder with pre-made templates
WordPress included – with no need to install it yourself
Option to pay for an email inbox with addresses or to get it for free in some hosting plans
Free SSL certificate for security
Speedy SSD storage on all plans
Automated WordPress migrations
Unmetered bandwidth and visits per month
Free domain privacy
Advanced access to portals for WP-CLI, shell, and SFTP
You may want to give DreamHost a try because of its easy-on-the-wallet pricing and bonuses, such as the free SSL and site builder. If you decide you'd prefer another hosting experience, DreamHost offers a 97-day money-back guarantee.
8. Hostwinds
Hostwinds offers a simplified pricing structure, and most of its hosting plans have the same features. The only change: how many domain names you receive for free. Other than that, users have unlimited bandwidth and disk space on a solid state drive to ensure speedy storage. Although Hostwinds starts off more expensive than others on this list, its plans include enough features to make up for it.
Unlimited SSD storage, databases, and email
FREE site migration with cPanel and Softaculous
Instant upgrades without downtime
FREE around-the-clock monitoring
Automatic nightly backups available
DOMAIN
RATING 4.3 ★★★★★ Our Review
Hostwinds: Our Expert's Review
Laura Bernheim (HostingAdvice.com): A recurring theme in the Hostwinds product lineup, the company offers multiple configurations to ensure every customer's needs are perfectly met. Between the SSDs and LiteSpeed web servers, Hostwinds ekes out 500% faster performance compared with typical shared hosting plans. Go to full review »
| Money Back Guarantee | Disk Space | Domain Name | Setup Time |
| --- | --- | --- | --- |
| 3 days | Unlimited SSD | New or Transfer | 6 minutes |
More about Hostwinds:
Multiple free domain names with higher-tiered hosting plans
Drag-and-drop website builder powered by Weebly
Unlimited FTP (file transfer protocol) accounts
An instant website setup with Softaculous auto-installation
Nightly website and database backups
Website monitoring for uptime issues and security threats
24/7 customer support
Other domain benefits from Hostwinds include unlimited sub-domains and email accounts to use with your custom domain. The free domain name is just one way Hostwinds can help your business, so we highly recommend that you check it out.
What Is a Domain Name?
A domain name serves as the internet address for a website. Site owners can purchase domain names from domain name registrars and hosting companies. A domain name includes what's called a domain extension, or top-level domain, which consists of the "dot" and everything after it, such as .com, .org, or .gov.

Once purchased, the owner can use a domain name as their website address and within their business email addresses.
How Do I Get a Free Domain?
You can get a free domain name in many ways, but not without a trade-off. The best way to obtain a free domain name is by signing up for web hosting that includes a free domain for one year. Some website builders, including Wix and Squarespace, offer free domains as well.
Several web hosts and domain name registrars also offer free domain names when you pay for their email services. The last, and least promising, way of getting a free domain name is through a service such as Freenom or Freedomain.one. These services only offer undesirable domain name extensions, and the companies typically own the domain name, not you.
Can I Get a Free Domain for Life?
Not without paying for another service. Some domain providers, including Freenom, give out free domains, but Freenom technically owns the domain name — and it only offers a limited selection of domain name extensions.


Most hosting companies provide free domains for up to one year. IONOS has a "domain for life" deal when you pay for one of its email plans.
Does Google Sites Give You a Free Domain?
No. You can complete a free transfer of any domain name to a website built on Google Sites, but you must purchase it elsewhere, outside of Google Workspace.
Google Sites lacks functionality to search for or buy domain names, but it provides a domain ownership verification and transfer tool. Google Sites is a decent free tool for building a website, but lacks many of the features that other platforms have. WordPress and Wix are better options.
My Final Take on Free Domain Names and How to Get Them
Skip the free domain names from sites with questionable motives; instead, opt for a reputable hosting service that provides free domain registration with hosting. After all, you'll eventually need a web host to make that domain name useful.
There's no shortage of quality, affordable web hosting companies that offer a free domain name for your first year of service. You can't go wrong with IONOS, Hostinger, GoDaddy, or Bluehost. Sign up for a hosting package today to get a free domain name and all the website building essentials.
See Our Full Review of 1&1 IONOS
Whatever type of hosting plan you're looking for, 1&1 IONOS is a solid choice no matter the scale. Our reviewer Alexandra Anderson recently took 1&1 IONOS for a spin, and rated the popular host a 4.9 in the Domain Hosting category out of a perfect score of 5.0. Here's what Alexandra had to say about 1&1 IONOS:
A leading web host across the board, 1&1 IONOS offers solutions to meet the needs of all customers. Following a 2018 rebrand, the company focused its priorities on customer support and transparent pricing. Thanks to dedicated personal consultants, numerous site builder options, and a variety of cloud offerings, customers can trust 1&1 IONOS for the long haul.
Before signing up for 1&1 IONOS, it's a good idea to read through Alexandra's full review to learn about all the features 1&1 IONOS offers. You can also compare it to other web hosts to ensure you're getting the best deal possible:
If you decide 1&1 IONOS is the right choice, keep in mind that it takes just minutes to deploy your 1&1 IONOS server space. And at $1.00 per month, it's a bargain considering the many great features that come in any 1&1 IONOS plan.
Advertiser Disclosure
HostingAdvice.com is a free online resource that offers valuable content and comparison services to users. To keep this resource 100% free, we receive compensation from many of the offers listed on the site. Along with key review factors, this compensation may impact how and where products appear across the site (including, for example, the order in which they appear). HostingAdvice.com does not include the entire universe of available offers. Editorial opinions expressed on the site are strictly our own and are not provided, endorsed, or approved by advertisers.
Our Editorial Review Policy
Our site is committed to publishing independent, accurate content guided by strict editorial guidelines. Before articles and reviews are published on our site, they undergo a thorough review process performed by a team of independent editors and subject-matter experts to ensure the content's accuracy, timeliness, and impartiality. Our editorial team is separate and independent of our site's advertisers, and the opinions they express on our site are their own. To read more about our team members and their editorial backgrounds, please visit our site's About page.