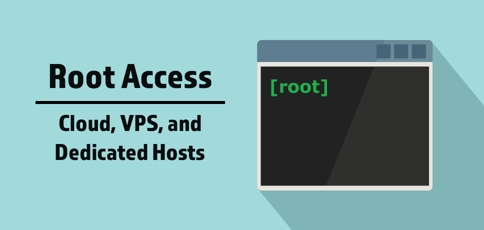 You've probably heard of or read about web hosting services that give users "more control" over their servers. Half of the time, they're referring to root access. Root access is helpful to individuals who need to customize their servers beyond the default settings.
Imagine you're customizing a virtual machine to host your latest AI-based mobile budgeting app. You need root access to create the environment you want without running into trouble with permissions. Root access also lets you download software and optimize your network security, so you can keep your user's spending habits safe from hackers. No one wants their midnight runs to Taco Bell to become public knowledge because of a data breach.
While the best hosting with root access provides more control, that's not the only benefit. Read on to learn more.
Cheap Hosting with Root Access: Cloud and VPS Plans
In the world of web hosting, most servers usually come installed with the features you need to host your website or application. But with root access, you can customize the server to suit your unique needs. In other words, you'll have administrative access and control over the server.
That said, here are my personal favorites:
Ultimate scalability with limitless customizations
Create and deploy servers in 60 seconds
Easily add load balancers and firewalls
Stellar 99.95% uptime guarantee
Sign up today for a 30-day FREE trial
CLOUD
RATING 4.9 ★★★★★ Our Review
Kamatera: Our Expert's Review
Laura Bernheim (HostingAdvice.com): Starting with more than 60 operating system images to choose from, Kamatera is a strong option for developers who know exactly what environment works best for their project. Customize your cloud server as needed and deploy in less than a minute. Go to full review »
| Setup Time | Disk Space | CPU | RAM |
| --- | --- | --- | --- |
| 5 minutes | 20 GB SSD – 4 TB SSD | 1 – 104 cores | 1 GB – 525 GB |
Auto scaling with premium Intel processors
Customized operating systems (Linux or Windows)
Deploy Linux instances in less than 1 minute
SSD infrastrucutre optimized for your software
Transparent costs and by-the-minute billing
CLOUD
RATING 4.8 ★★★★★ Our Review
1&1 IONOS: Our Expert's Review
Alexandra Anderson (HostingAdvice.com): Boasting 99. 998% platform availability, the popular cloud hosting services from 1&1 IONOS deploy more than 2,500 virtual machines each week. Go to full review »
| Setup Time | Disk Space | CPU | RAM |
| --- | --- | --- | --- |
| 6 minutes | 80 GB SSD – 240 GB SSD | 1 – 24 cores | 512 MB.- 48 GB |
Managed or unmanaged, in Windows or Linux
Cloud hosting with hourly or monthly billing
Instant upgrades without downtime
FREE around-the-clock monitoring
Automatic nightly backups available
VPS
RATING 4.8 ★★★★★ Our Review
Hostwinds: Our Expert's Review
Laura Bernheim (HostingAdvice.com): Does any hosting provider have more virtual private server packages than Hostwinds. The company offers 10 configurations — and that's just for managed Linux server partitions. Go to full review »
| Setup Time | Disk Space | CPU | RAM |
| --- | --- | --- | --- |
| 6 minutes | 30 GB SSD – 750 GB SSD | 1 – 16 cores | 1 – 96 GB |
Seamless migration from any Bluehost shared hosting plan
Root access and easy multi-server management
Ample RAID-1 storage and tons of bandwidth
Each plan gets at least 3 dedicated IP addresses
cPanel and WHM with root access
VPS
RATING 4.7 ★★★★★ Our Review
Bluehost: Our Expert's Review
Ryan Frankel (HostingAdvice.com): We love recommending Bluehost for its lifetime customer growth potential, meaning you can start with shared hosting and seamlessly scale to VPS hosting plans and beyond. The price versus performance is pretty unbeatable in the virtual hosting space, and Bluehost's engineering team will kick off the customer relationship by instantly provisioning your server. Go to full review »
| Setup Time | Disk Space | CPU | RAM |
| --- | --- | --- | --- |
| 6 minutes | 30 GB SSD – 120 GB SSD | 2 – 4 cores | 2 GB – 8 GB |
Cloud-based SSD storage for speed and reliability
Double your RAM with burst periods
FREE dedicated IPv4 and IPv6 addresses
Custom control panel for reboots and OS installs
HostingAdvice readers enjoy more than 50% off
VPS
RATING 4.6 ★★★★★ Our Review
Hostinger: Our Expert's Review
Laura Bernheim (HostingAdvice.com): Hostinger's laser focus on providing affordable hosting solutions shines brightest with the company's VPS packages. The company provides six different virtual server plans, including one that costs less than $5. Go to full review »
| Setup Time | Disk Space | CPU | RAM |
| --- | --- | --- | --- |
| 6 minutes | 20 GB SSD – 250 GB SSD | 1 – 8 cores | 1 GB – 16 GB |
So why is root access important to you, the administrator? Why would you want admin access to a server if you can just let the web host set up everything for you?
It's the same reason you'll want to decorate your office space after renting it.
I've used root access for different reasons, and it has always worked out great. I remember there was this one time I needed to install Snort, an intrusion detection system to monitor traffic going in and out of a server belonging to one of the tech startups I used to work for. We had received a lot of malicious attacks ahead of Black Friday, and we needed something to neutralize the attacks and send genuine human traffic our way.
That's the level of control root access offers.
The possibilities are endless when you have root access. From managing CPU and RAM usage and optimizing the server's performance to setting up firewalls, this level of access basically turns the server into your own playground.
I almost forgot to mention that Cloud and Virtual Private Server (VPS) hosting are more affordable than dedicated servers. But there comes a time when having a dedicated server with root access makes perfect sense. Let's discuss a few of these scenarios.
Dedicated Server Hosting with Root Access
To begin with, both cloud, VPS, and dedicated servers offer more access than most hosting options, including shared hosting. But the level of access varies. To understand why you may need a dedicated server with root access, I'll quickly go over the different levels of access cloud, VPS, and dedicated servers provide.
A cloud VPS host offers the lowest level of root access because this hosting service is usually scalable and flexible and has resources distributed across multiple virtual servers. As a result, providers of this type of hosting often limit root access to ensure the stability and security of their cloud environment. In other words, users have limited access to the underlying infrastructure.
VPS hosting gives users access to a virtual server partitioned from a physical server but shares the same physical resources. This might seem like a good option, but it will limit your access to the hosting provider's software configuration and server restrictions.
Dedicated hosting wins the battle of control by a mile. It offers the highest level of access, given that users rent an entire physical server for their exclusive use. This is the kind of hosting I'll recommend if you want to make any changes you desire without having to constantly worry about the hosting provider's restrictions. In short, there are no restrictions with dedicated servers.
The hosting company dedicates the entire server to you, just as the name implies.
I would really recommend this option if you're running a growing business or enterprise and you need a high level of customization and control over your server environment. That's because you'll have full administrative control over your dedicated server.
Bare-metal or managed servers available
1-on-1 time with a server administrator
99.99% uptime via Smart Routing™ technology
Tier 1 network with redundant bandwidth
SSH root access and DDoS protection on all servers
Upgrade for cPanel, migration, and auto backups
DEDICATED
RATING 4.8 ★★★★★ Our Review
InMotion: Our Expert's Review
PJ Fancher (HostingAdvice.com): InMotion Hosting offers amazingly fast and reliable dedicated hosting on market-leading hardware — making it an easy choice for anyone seeking a premium dedicated server host. From free SSDs to a fanatical support team, InMotion has all the bases covered for both small-scale and large-scale operations. Go to full review »
| Setup Time | Disk Space | CPU | RAM |
| --- | --- | --- | --- |
| 7 minutes | 1 TB SSD – 4 TB SSD | 4 – 8 cores, 8 – 16 threads | 16 GB DDR3 – 128 GB DDR4 |
Linux or Windows with choice of 3 control panels
100% network and power uptime guarantees
Custom configurations and instant provisioning
Auto-migrations, backups, and real-time monitoring
Block/object storage and load balancer add-ons
DEDICATED
RATING 4.8 ★★★★★ Our Review
Liquid Web: Our Expert's Review
Alexandra Anderson (HostingAdvice.com): Liquid Web's strong suit is managed dedicated server hosting. The company owns and operates five state-of-the-art datacenters in the US and Europe works tirelessly to build and maintain custom solutions for added performance and security. Go to full review »
| Setup Time | Disk Space | CPU | RAM |
| --- | --- | --- | --- |
| 8 minutes | 250 GB – 500 GB SSD (+ 1 TB HDD) | 4 – 12 cores | 16 GB – 32 GB |
Linux or Windows servers available
HDD or SSD storage plus unmetered bandwidth
Fully redundant network and datacenter
SSH access and support for multiple languages
Managed or semi-managed solutions
DEDICATED
RATING 4.6 ★★★★★ Our Review
HostGator: Our Expert's Review
Ryan Frankel (HostingAdvice.com): Founded in 2002, HostGator is one of the largest web hosts with a long lineage of dedicated server hosting. With updated hardware, including Intel Xeon Quad-core processors and a boatload of RAM, HostGator balances performance, quality web hosting service, and competitive pricing. Go to full review »
| Setup Time | Disk Space | CPU | RAM |
| --- | --- | --- | --- |
| 6 minutes | 512 GB SSD – 2 TB HDD | 4 – 8 cores, 8 – 16 threads | 8 GB – 30 GB |
Instant provisioning for all Bluehost server plans
Minimum 3 dedicated IP addresses
Modern hardware, built and maintained in house
24/7 expedited support from a dedicated team
Sign up to save 37% on your first term
DEDICATED
RATING 4.5 ★★★★★ Our Review
Bluehost: Our Expert's Review
Ryan Frankel (HostingAdvice.com): Built on modern technology, with a minimum of four CPU cores per dedicated server, Bluehost offers reliable and flexible dedicated hosting options at an extremely reasonable price. We continually praise the company's shared hosting options for having fantastic hardware and a great management console, and the brand's dedicated server offerings are no different. Go to full review »
| Setup Time | Disk Space | CPU | RAM |
| --- | --- | --- | --- |
| 8 minutes | 500 GB – 1 TB (RAID-1) | 4 cores, 4 – 8 threads | 4 GB – 16 GB |
Do you own a business or work in an industry with unique software requirements or high compliance standards? Root access can ensure you're on the right side of the law.
I'm talking about strict standards, including the following:
European Union's General Data Protection Regulation (GDPR)
Health Insurance Portability and Accountability Act (HIPAA)
Sarbanes-Oxley Act of 2002 (SOX)
Payment Card Industry Data Security Standard (PCI DSS)
California Consumer Privacy Act (CCPA)
And many others.
You shouldn't have to worry about meeting such strict compliance requirements if you have root access; you can simply install and configure the software you need to stay compliant.
Finally, most of these big companies you see running the show usually have dedicated IT departments. So instead of wasting precious time going through a hosting provider's support team to customize or troubleshoot their servers, they handle everything internally. That's how they manage to make big bucks even during tough economic times — they know how to keep their systems running with minimal downtime.
The bottom line is that when you think of root access, think of more control and greater power.
And if you'd like to try out some great dedicated servers, any of these four should kick-start your journey.
If you need to learn more about dedicated hosting, we've covered that in detail in this article.
What Is Root Access?
Root access is just the 'technese' description of the level of administrative access a user has on a server. It offers full administrative privileges, allowing users to access and modify any file or setting on the server.
Does Shared Hosting Allow Root Access?
Not really, and that's because shared hosting stacks up multiple websites on the same server with a limited amount of resources. In this kind of setting, the hosting provider typically manages the server.

When one user has root access, it means they can do anything they wish to with the entire server, including manage other websites and their data. That could also create serious security concerns no web host wants to deal with.
What Is the Difference Between Unmanaged and Managed VPS Hosting?
The level of support is what differentiates these two types of hosting.
Unmanaged VPS hosting will give you full root access to the virtual server, but you'll also need to manage and maintain the server yourself. On the other hand, managed hosting will give you a higher level of support from the hosting provider so you can focus on your own applications and content rather than worrying about server management tasks.
Take managed WordPress hosting as an example. The managed plan comes with key WordPress features and functionalities already installed.
Do I Need a VPS or a Dedicated Server?
You won't find any straightforward answer to this question because it all narrows down to your specific hosting needs and budget. That said, I can tell you what you should consider when choosing between a VPS server and a dedicated server.
If you have a high-traffic website or application that requires a lot of processing power, memory, or storage, I would recommend a dedicated server. Why so? As I mentioned earlier, the server provides you with exclusive access to all of its resources, whereas a VPS hosting plan shares resources with other virtual servers on the same physical server.

A VPS plan would come in handy if you expect your website or application to grow rapidly, as it is easier to scale up your resources as your needs increase. On the other hand, you may need to purchase and set up a new physical server to accommodate your growing needs with a dedicated server.
Before I go even further, this article can help you choose the best VPS hosting provider.
In terms of pricing, you'll spend less on a VPS hosting service, whether it's a Windows VPS or a Linux VPS, than you would on a dedicated server, and you should know why by now. But that's not the path you want to take if you lack the technical expertise to manage and maintain a VPS. Rather, managed VPS plans or dedicated servers with technical customer support featuring phone, email, and live chat, would be the best option.
Key Takeaways
Root access is all about control, which comes with different levels.
For starters, don't even think of a shared hosting plan as an option if you want control. But you may consider it for a basic website or blog that requires minimal maintenance and customization.
Cloud hosting will give root access but is a little more controlled to maintain the stability and security of the cloud environment.
Finally, a VPS offers more control than cloud hosting, but nothing comes even an inch close to a dedicated server, the ultimate king of control.
Further Reading: "9 Best: Hosting With Root Access (June 2023)"
Hopefully, our recommendation of Kamatera fulfills all your web hosting needs. Starting at just $4.00 per month and rated 4.9 overall, Kamatera gives users plenty of bang for the buck. Among our favorite features:
Ultimate scalability with limitless customizations
Create and deploy servers in 60 seconds
Easily add load balancers and firewalls
Stellar 99.95% uptime guarantee
Sign up today for a 30-day FREE trial
If you'd like recommendations similar to Kamatera and others in 9 Best: Hosting With Root Access (June 2023), check out these popular guides. You'll find comparisons of Kamatera to other hosts on pricing, features, support and more:
And of course, if Kamatera is your top choice, you can get started now at just $4.00/month. Kamatera is easy to set up and scale, no matter the size of your next project.
Advertiser Disclosure
HostingAdvice.com is a free online resource that offers valuable content and comparison services to users. To keep this resource 100% free, we receive compensation from many of the offers listed on the site. Along with key review factors, this compensation may impact how and where products appear across the site (including, for example, the order in which they appear). HostingAdvice.com does not include the entire universe of available offers. Editorial opinions expressed on the site are strictly our own and are not provided, endorsed, or approved by advertisers.
Our Editorial Review Policy
Our site is committed to publishing independent, accurate content guided by strict editorial guidelines. Before articles and reviews are published on our site, they undergo a thorough review process performed by a team of independent editors and subject-matter experts to ensure the content's accuracy, timeliness, and impartiality. Our editorial team is separate and independent of our site's advertisers, and the opinions they express on our site are their own. To read more about our team members and their editorial backgrounds, please visit our site's About page.