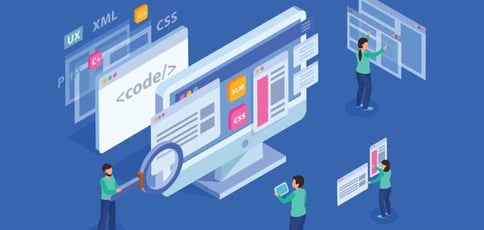 You've heard of shared hosting, VPS hosting, and dedicated server hosting — but what is WordPress hosting? Unlike other types of plans that are named after the server that's used, WordPress hosting refers to the special features and specifications that make a hosting plan perfect for your WordPress website.
The best WordPress host knows the ins and outs of the world's most popular content management system. Technically, you can host WordPress on any type of plan, but you're better off choosing a WordPress hosting provider that knows its stuff.
Below, we'll take a look at some of our favorite WordPress hosting options that will give your WordPress site what it needs to succeed.
The Best WordPress Hosting Providers
We've personally tested the best WordPress web hosting providers on the market and are happy to report our recommendations. These hosts stand out because they offer a stellar WordPress user experience with oodles of free add-ons, impressive uptime, and robust hardware.
Best WordPress Hosting for eCommerce
WordPress is a popular choice for building an online store. Its flexibility and hundreds of eCommerce plugins allow you to easily turn a simple website into an online business.
But having an eCommerce site means you need special tools, analytics, and plugins to ensure your business runs smoothly. Bluehost is our favorite choice for business owners that need an all-in-one hosting option.
With Bluehost, users can get a WordPress hosting plan built specifically for the WooCommerce plugin. The host tosses in unlimited products, Jetpack daily backups, and automatic updates.
Recommended by WordPress.org since 2005
Automatic WordPress updates and initial install
FREE WordPress themes in the Bluehost Marketplace
24/7 support via live chat, phone, and email
Get exclusive discounts on WordPress plans
WORDPRESS
RATING 4.9 ★★★★★ Our Review
Bluehost: Our Expert's Review
Ryan Frankel (HostingAdvice.com): Bluehost's WordPress hosting packages are aimed at first-time site owners and personal bloggers. These services come at a premium compared to the standard Bluehost web hosting (basic shared hosting) plans, but the WordPress optimization and platform-specific resources are arguably worth the cost. Go to full review »
| Money Back Guarantee | Disk Space | Domain Name | Setup Time |
| --- | --- | --- | --- |
| 30 days | 50 GB SSD – 100 GB SSD | FREE (1 year) | 7 minutes |
Best WordPress Hosting for Small Businesses
Small business owners have a lot on their plates from inventory management to payroll and taxes. The last thing a small business wants to worry about is website downtime.
SiteGround positions its WordPress hosting plan customers for success by offering tons of essentials for the best managed hosting experience. The web host includes a free custom email address, daily backups, and an SSL certificate.
Plus, the host provides free WordPress installations and 24/7 customer support with no wait times.
Officially endorsed by WordPress.org
FREE migration plugin or automated installation
Pre-installed Git, 3 caching levels, and FREE CDN
FREE WP setup wizard, staging, and auto-updates
Fast, 24/7 support via custom chat system
WORDPRESS
RATING 4.9 ★★★★★ Our Review
SiteGround: Our Expert's Review
Alexandra Anderson (HostingAdvice.com): Want a hassle-free, WordPress-optimized hosting service. SiteGround has thought of everything you need to get your site up and running. Go to full review »
| Money Back Guarantee | Disk Space | Domain Name | Setup Time |
| --- | --- | --- | --- |
| 30 days | 10 GB SSD – 40 GB SSD | FREE (1 year) | 6 minutes |
Best WordPress Hosting for Students
Hostinger is an excellent managed WordPress host for students who are new to hosting and need an affordable WordPress plan. Hostinger doesn't hold back on performance and support when it comes to shared WordPress hosting. Users receive pre-installed WordPress plugins to optimize website performance and monitoring.
The host makes it easy to start fresh with a new site or migrate an existing one. Students are primed for success with a free domain name for one year and a custom email account.
1-click WP install, PHP 7+, HTTP/2, and NGINX
All-in-one security protections from BitNinja
WordPress optimizations boost performance
No price markup for WordPress services
Daily backups and FREE SSL certificate
WORDPRESS
RATING 4.9 ★★★★★ Our Review
Hostinger: Our Expert's Review
Laura Bernheim (HostingAdvice.com): As much as we love WordPress, one of our biggest pet peeves is when hosting providers exploit the popularity of the world's most-used content management system by offering so-called WordPress hosting that, in reality, is exactly the same as the host's shared server plans. Fortunately, Hostinger's ultra-fast infrastructure and easy access to SSL certificates and backups sets up the company to outperform the vast majority of the violators of our admittedly made-up rule. Go to full review »
| Money Back Guarantee | Disk Space | Domain Name | Setup Time |
| --- | --- | --- | --- |
| 30 days | 50 GB SSD – 200 GB SSD | FREE (1 year) | 4 minutes |
Best WordPress Hosting for Bloggers
WordPress and blogging go together like peanut butter and jelly. If WordPress is your CMS of choice, you'll need an affordable hosting plan to help you make the most of it.
Dreamhost, one of three providers endorsed by the experts at WordPress, makes a great partner on your blogging journey. Users get lightning-fast SSD storage, unlimited traffic, and free automatic site migration.
The host offers a range of shared plans that provide different resources and features. But if you scale beyond the scope of a shared WordPress hosting plan, you can upgrade to a VPS or dedicated WordPress hosting plan.
WordPress hosting for up to unlimited sites
FREE WordPress website migration
Fully managed hosting with DreamPress plan
NEW WordPress website builder tool
1 of 3 providers endorsed by WordPress.org
WORDPRESS
RATING 4.9 ★★★★★ Our Review
DreamHost: Our Expert's Review
Laura Bernheim (HostingAdvice.com): One of only three hosting providers recommended by the WordPress Core team, DreamHost has actively contributed to the WordPress community for more than a decade. The company's platform is optimized for the incredibly popular content management system, and plans include easy setup, automated updates and backups, unlimited bandwidth, and 24/7 specialized support. Go to full review »
| Money Back Guarantee | Disk Space | Domain Name | Setup Time |
| --- | --- | --- | --- |
| 97 days | unlimited | FREE (1 year) | 4 minutes |
Other WordPress Hosting Options
If none of the above hosts have caught your eye, check out some of our other favorite providers. These web hosts offer a range of managed hosting solutions. You're sure to find a WordPress hosting service that will suit the goals and scope of your site.
Up to 12x faster WordPress hosting
FREE SSL certificate and SSD storage
Automatic WordPress plugin, theme, and core updates
Features a FREE drag-and-drop WP page editor
Premium themes and plugin subscriptions
WORDPRESS
RATING 4.9 ★★★★★ Our Review
InMotion: Our Expert's Review
PJ Fancher (HostingAdvice.com): InMotion Hosting, long known for affordable and high-performance shared hosting options, entered the WordPress space with a solid option built upon the company's reputation for great support and reliability. Build on an all-SSD infrastructure, InMotion's inherently quick speeds make the infrastructure a perfect fit for delivering rapid WordPress page loads. Go to full review »
| Money Back Guarantee | Disk Space | Domain Name | Setup Time |
| --- | --- | --- | --- |
| 90 days | 100 GB – Unlimited NVMe SSD | FREE (1 year) | 5 minutes |
Speedy WP-optimized hosting delivered by Nexcess
FREE Object Cache Pro, image compression, and CDN
Unlimited page views and no overage charges
Automatic plugin updates and performance monitoring
FREE premium plugins and advanced PHP support
WORDPRESS
RATING 4.6 ★★★★★ Our Review
Liquid Web: Our Expert's Review
Alexandra Anderson (HostingAdvice.com): Among the latest additions to the company's product portfolio, Liquid Web's managed WordPress and WooCommerce hosting solutions is delivered by the WordPress specialists at Nexcess. The fully managed support rids site owners of the responsibility of maintaining core installs and updates, as well as monitoring the server infrastructure. Go to full review »
| Money Back Guarantee | Disk Space | Domain Name | Setup Time |
| --- | --- | --- | --- |
| 30 days | 15 GB – 800 GB | New or Transfer | 5 minutes |
20% OFF your first payment for our readers
FREE Genesis Framework & StudioPress themes
Fast, scalable, and secure WordPress
FREE SSL certificate and CDN ready
Upgrade for geotargeting and edge security
WORDPRESS
RATING 4.8 ★★★★★ Our Review
WP Engine: Our Expert's Review
Ryan Frankel (HostingAdvice.com): With prices much higher than many WordPress users are accustomed to seeing, we understand that WP Engine may not be for everybody. But for those developers, designers, agencies, and growing businesses passionate about website performance, stability, and cutting-edge WordPress features, WP Engine will be a godsend. Go to full review »
| Money Back Guarantee | Disk Space | Domain Name | Setup Time |
| --- | --- | --- | --- |
| 60 days | 10 GB – 30 GB | New or Transfer | 6 minutes |
High-touch managed WordPress hosting
FREE speed boost via built-in CDN and custom FlyCache technology
One-click sandbox environment for staging
In-house WP expertise and support available 24/7
FREE security scans and malware removal
WORDPRESS
RATING 4.7 ★★★★★ Our Review
Flywheel: Our Expert's Review
Laura Bernheim (HostingAdvice.com): It seems rather obvious (and repetitive) to say that a web host that solely hosts WordPress sites excels at hosting WordPress — but it's true. In addition to revamped infrastructure optimized for the world-famous content management system, Flywheel offers several proprietary, one-of-a-kind services that extend WordPress hosting beyond traditional norms. Go to full review »
| Money Back Guarantee | Disk Space | Domain Name | Setup Time |
| --- | --- | --- | --- |
| 60 days | 5 GB – 50 GB | N/A | 4 minutes |
WordPress Hosting vs. Web Hosting
Web hosting is a service companies provide to businesses, organizations, and individuals to create their websites. Businesses, organizations or individuals purchase space on a hosting company's server, and that server provides internet users access to your website. Of course, there's a lot more to it when you dive into the technical details, but that's the gist.
There are several hosting plan types on the market. Let's go over those:
Shared hosting: A shared hosting plan is the lowest rung on the hosting ladder. With a shared plan, you get affordable access to a hosting company's server that you share with other websites. This hosting solution is ideal for small websites or beginners.
Shared hosting costs roughly $3-$6 per month and includes many freebies, such as an SSL certificate, domain name, and custom email addresses.
VPS hosting: VPS hosting, also called virtual private server hosting, is the next step on the ladder. A VPS gives you greater resources, security, and control over your hosting experience for a slightly higher cost than a shared hosting plan.
The cheapest VPS hosting plans start at roughly $5-$10 per month but can go upward of $20 for premium plans.
The technology that powers a virtual private server is called a hypervisor. The hypervisor creates virtual partitions on a physical server that create several isolated environments. This setup allows you to install your own operating systems and applications on your VPS without affecting your neighboring servers.

Dedicated server hosting: Hosting your website on a dedicated server gives you the most storage and performance you can get with a physical machine.
Although this hosting type is the most expensive, you get what you pay for in terms of performance, speed, and security. For roughly $80 to $120 per month, you can rent a dedicated server housed in a datacenter anywhere in the world.
A quality dedicated web host should include 24/7 server monitoring, advanced DDoS protection, and your choice of the operating system.
Cloud hosting: Cloud hosting is often considered the best for reliability and scalability. When you choose a cloud server, your website is hosted by an entire network of virtual servers that are geographically dispersed.
This infrastructure offers superior reliability because, if one of the cloud servers in the network goes down, the others seamlessly reroute your website's traffic.
Cloud hosting is set up on a convenient pay-as-you-go pricing model, attracting small businesses and enterprise organizations.

WordPress Hosting: WordPress hosting is a form of web hosting with unique features that optimize your experience. Each hosting provider will offer different add-ons, but you can typically expect one-click installations, free WordPress themes, and performance-boosting optimizations.
WordPress hosting usually comes in two flavors: managed WordPress Hosting or unmanaged WordPress hosting. With a managed host, your provider handles the server's setup and maintenance. On an unmanaged plan, you must perform these duties yourself. But the root access you get on an unmanaged plan gives you greater customization and control over your server environment.
You'll find plenty of shared, VPS, and cloud-based WordPress hosting packages. These are the most common for small to midsize organizations. But large enterprises may opt for dedicated WordPress hosting because of the additional performance and security it has to offer.
What is WordPress?
WordPress is a content management system that allows site owners to build custom sites in a fraction of the time it would take to code from scratch. New users can start by signing up with a hosting plan and activating WordPress through their control panel.
Once WordPress is activated, you can browse through thousands of design templates to choose the perfect look for your site. The CMS has an intuitive dashboard that lets you install plugins, change your WordPress theme, and create new pages and posts.

The CMS is built on an open-source PHP framework, meaning it's easy to customize. If you have experience coding, you can even create your own custom themes in the WordPress backend.
With all of the custom design features and functions, it's no surprise more than 40% of the internet is powered by the software.
How Much Does WordPress Hosting Cost?
Managed WordPress hosting on a shared plan is very affordable for most website owners. You can purchase a small monthly plan for as little as $5.
An inexpensive plan will include enough storage and bandwidth for a low-traffic site and plenty of perks to simplify site management. You can expect add-ons such as a free SSL certificate, a free custom domain name, marketing tools, and an analytics dashboard to help monitor your web traffic.

If you need even more functionality from your WordPress plan, you can go with a premium host that offers a large amount of storage and bandwidth. These types of plans will go above and beyond to help you monitor your server and ensure your website's success.
A premium WordPress web hosting plan typically costs $20 or more monthly. With these factors in mind, your budget may determine which is the best hosting option for you.
Can a Beginner Use WordPress?
One reason WordPress is the world's most popular content management system is that it's easy to use. Although new users may experience an initial learning curve, once you've built a few pages, it becomes second nature.
WordPress gives business owners, bloggers, and dreamers the ability to create a site with zero coding experience. And the thousands of WordPress plugins and themes available make it easy to add functionality.
How Do I Install WordPress?
Installing WordPress is surprisingly easy. Here are two beginner-friendly ways to get started:
Choose a hosting provider that comes with WordPress pre-installed. Some of our favorite hosts that do this are [Dreamhost jump page] and [SiteGround jump page].
Use one-click installation with your web hosting provider: If you choose a host that offers one-click installation software for WordPress, all you have to do is sign into your web hosting control panel and activate it. That's it.
Tech-savvy users can install WordPress on their local machines, but we recommend leaving that to the pros.
Do I Need WordPress Hosting?
It's true that you can host a WordPress site on any hosting plan. However, to make the most of your experience, we strongly encourage you to choose a WordPress hosting provider that's positioned to take your website to the next level.
Not only will a WordPress hosting company ensure your site's uptime and speed, but it will provide you with all of the advantages you need to boost performance and user experience.
Whether you need a managed WordPress hosting plan on a shared server, or a fully-customizable plan on a dedicated server, choosing a host that is prepared to offer the features and support you need is essential for success.
See Our Full Review of Bluehost
Whatever type of hosting plan you're looking for, Bluehost is a solid choice no matter the scale. Our reviewer Ryan Frankel recently took Bluehost for a spin, and rated the popular host a 4.9 in the WordPress Hosting category out of a perfect score of 5.0. Here's what Ryan had to say about Bluehost:
Bluehost has a rock-solid reputation in the shared and WordPress hosting communities, and the host is a long-time favorite of mine. Today, Bluehost powers more than 2 million websites, and the team touts years of experience. With well-maintained servers, competitive pricing, and excellent customer support, Bluehost is hardly a pick you'll regret.
Before signing up for Bluehost, it's a good idea to read through Ryan's full review to learn about all the features Bluehost offers. You can also compare it to other web hosts to ensure you're getting the best deal possible:
If you decide Bluehost is the right choice, keep in mind that it takes just minutes to deploy your Bluehost server space. And at $2.95 per month, it's a bargain considering the many great features that come in any Bluehost plan.
Advertiser Disclosure
HostingAdvice.com is a free online resource that offers valuable content and comparison services to users. To keep this resource 100% free, we receive compensation from many of the offers listed on the site. Along with key review factors, this compensation may impact how and where products appear across the site (including, for example, the order in which they appear). HostingAdvice.com does not include the entire universe of available offers. Editorial opinions expressed on the site are strictly our own and are not provided, endorsed, or approved by advertisers.
Our Editorial Review Policy
Our site is committed to publishing independent, accurate content guided by strict editorial guidelines. Before articles and reviews are published on our site, they undergo a thorough review process performed by a team of independent editors and subject-matter experts to ensure the content's accuracy, timeliness, and impartiality. Our editorial team is separate and independent of our site's advertisers, and the opinions they express on our site are their own. To read more about our team members and their editorial backgrounds, please visit our site's About page.