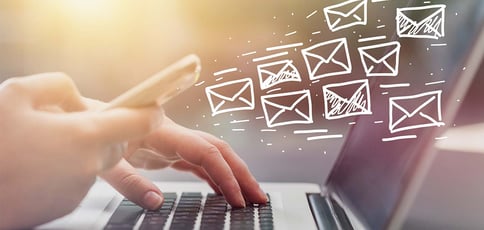 Whether you're getting a new venture off the ground or rebranding your organization, learning how to set up a business email address is one of the most critical early steps your organization will take in building a professional communications platform.
You'll need to answer customer requests, communicate with vendors, and present impressive marketing messages to effectively share your brand and products with your audience. In addition to the professionalism associated with a custom domain name, business email accounts must be able to pass successfully through spam filters and transmit information securely.
Thankfully, email hosting is often integrated with your web hosting account, making setup even easier. We're here to distill the process to just three steps — no matter if you want to use your host's free email features or integrate with Gmail or Outlook — and recommend the products and providers that will make sure your messages make it through.
Step 1 — Get a Professional Domain and Hosting
First impressions matter. You wouldn't walk into a job interview wearing your pajamas, right? The same theory holds for your email address. A memorable domain name builds credibility and supports your website branding. Even better, a free domain and email hosting are often included with most web hosting plans.
If you already have a website, check with your hosting provider about your email options. Chances are, you have several unused inboxes ready to be configured with just a few clicks. Alternatively, consider upgrading to high-powered G Suite or Office 365 packages that combine email-sending power with other productivity and collaboration tools like calendars, spreadsheets, and presentations. If you're starting from scratch, either take a look at our list of the best domain registrars or keep reading for more options.
A2 Hosting — Best for Free Business Email
Finding hosts that offer unlimited storage, bandwidth, and email isn't as hard as it used to be. Finding an unlimited hosting provider that provides massive resources with the utmost care and quality, however, can be much more difficult. And that's where A2 Hosting comes in.
Not only does the company blow the doors off with supremely fast and innovative web hosting services, but A2 Hosting includes unlimited email addresses and other features for free. In addition to robust and no-cost spam protection, we also appreciate how customers can choose among three popular pre-installed webmail clients.
FREE software for webmail, newsletters, contact forms, list management, and spam filtering
Unlimited inboxes, forwarding, and autoresponders
Secure POP3, IMAP, and SMTP messaging
Unlimited storage and transfer with FREE SSL
Get more than 75% off today (was $7.99/month)
EMAIL
RATING 4.9 ★★★★★ Our Review
A2 Hosting: Our Expert's Review
Alexandra Anderson (HostingAdvice.com): Combining the internet's most popular and secure email technologies with high-speed and reliable infrastructure, A2 Hosting ensures your messages are delivered on time. As a recipient, you'll appreciate the company's multiple spam filtering programs, along with autoresponders and forwarding. Go to full review »
| Money Back Guarantee | Disk Space | Domain Name | Setup Time |
| --- | --- | --- | --- |
| 30 days | 100 GB SSD - Unlimited SSD | New or Transfer | 4 minutes |
See other top business email hosts »
InMotion Hosting — Best for Gmail
Although a handful of hosts will offer G Suite directly as part of a premium add-on (for example, iPage sells the service for an additional $6 per month), we're actually giving the nod for this category to another popular provider, InMotion Hosting.
In addition to saving customers a tiny bit of money, we especially appreciate the support and guidance the company offers when Gmail users are connecting their email account to their domain name. InMotion Hosting provides a Gmail setup wizard that assists people in changing MX records and other technical configurations.
FREE domain registration or no-downtime transfer
Unlimited SPAM Safe™ email with IMAP
1-click app installer and FREE marketing tools
Business-class hardware and eCommerce-ready
SSD storage plus FREE backups and SSL security
EMAIL
RATING 4.5 ★★★★★ Our Review
InMotion: Our Expert's Review
PJ Fancher (HostingAdvice.com): For business-class email hosting, look no further than InMotion Hosting. They offer a free domain name, SSD drive, and secure IMAP email, plus Google app integration with a three-step wizard. Go to full review »
| Money Back Guarantee | Disk Space | Domain Name | Setup Time |
| --- | --- | --- | --- |
| 90 days | 100 GB SSD - Unlimited | FREE (1 year) | 5 minutes |
See other top business email hosts »
Bluehost — Best for Outlook
If webmail or G Suite isn't quite what you're looking for, the always-trusty Microsoft Office suite of software programs is available through cloud delivery, just like Gmail. Even better, you don't need to search for the best Windows hosting providers or worry about compatibility.
When comparing Gmail and Outlook, you'll find the services are closely matched in terms of price and functionality. Outlook, however, is especially useful for larger businesses that need more inboxes and email sorting functionality, as well as desktop installations of popular productivity tools like Word, PowerPoint, and Excel.
Our favorite here, Bluehost, is also one of the best all-around providers you'll find anywhere. Although the company is especially known for WordPress and beginner-friendly hosting, it also helps customers send branded, professional email messages via Office 365. Bluehost offers a 30-day free trial of an Office 365 mailbox, giving you ample time to make sure Outlook is the right option for you.
FREE domain and unlimited emails
Secure email with 3 webmail solutions
$200 in advertising credits with Google and Bing
Google app integration available
FREE Office 365 mailbox for your first 30 days
EMAIL
RATING 4.8 ★★★★★ Our Review
Bluehost: Our Expert's Review
Ryan Frankel (HostingAdvice.com): For email hosting with security and tons of available features, Bluehost is one of our favorites. The company includes a free domain name for a year, POP3 and IMAP security for unlimited emails, plus email forwarding and three web-based email solutions. Go to full review »
| Money Back Guarantee | Disk Space | Domain Name | Setup Time |
| --- | --- | --- | --- |
| 30 days | 10 GB SSD - 100 GB SSD | FREE (1 year) | 5 minutes |
See other top business email hosts »
Step 2 — Set Up Email Addresses and Inboxes
Once you gather all the ingredients, now it's time to start cooking. Most hosts will walk customers through the email configuration process from the account management portal with incredibly easy-to-use tools backed up by 24/7 customer support and knowledge base articles.
We especially appreciate the providers that offer hosting with a free cPanel interface, long considered the gold standard of time-saving, beginner-friendly server management. We'll illustrate email setup through cPanel, as it mirrors the process for everyone.
Once you're in cPanel, scroll until you find the area reserved for email-related tasks. Click on the icon for email accounts, then the button to create a new email address. Here, you'll create a username and password, distribute storage space, and ask cPanel to send the account a welcome email with instructions on how to configure the address for email clients (meaning the software you'll use to read, write, and send messages).
Step 3 — Connect to Email Clients and Devices
Now you have an inbox — what about actually getting to see the messages you're receiving in a convenient way? If you chose to receive the welcome message explaining how to configure assorted mail clients and devices, you should be good to go just by following those clear instructions.
Otherwise, the email accounts management area of cPanel will direct you to the pertinent information you need to get your web browser, iPhone, Windows laptop, or any other device able to retrieve and display your emails. Simply click on the Connect Devices button by the address you'd like to configure, and select which device or operating system you need. (Assuming the option is available to you, always choose the more secure SSL/TLS option.) The script mail will automatically set up clients with the appropriate information like username, password, and the server's port number and IP address.
Within cPanel or your host's account management portal, you can often navigate to a number of webmail clients that are also provided free of charge. Think of open-source webmail programs, such as Roundcube, Zimbra, and Rainloop, as alternatives to Gmail or Hotmail — they simply let you access your mail through a web browser. We'll go into greater detail about how to configure MX records to receive your email on commercial platforms like Gmail and Outlook in the next few sections.
How Do You Set Up a Business Gmail Account?
First off, check to see if your domain hosting provider has a hands-free upgrade to start using G Suite or helpful how-to guides in the knowledge base; every host's backend is slightly different. Otherwise, Google has its own setup wizard to help business owners verify the domain name they wish to use.
Sign up for your G Suite account and set up as many accounts as you wish. Google will supply a unique HTML code snippet you'll need to copy and paste into your website's header (that means getting to the code in your chosen site builder, content management system, or file manager). If your website isn't ready yet, you can also get a CNAME or TXT record. You can copy and paste this by going into your cPanel or account management portal and finding the DNS Zone Editor in the domains area.
After letting Google know that step has been accomplished, you'll return to the DNS Zone Editor to add an MX record, or mail exchange record, to let the almighty domain and email gods know which server gets the pleasure of receiving and storing your messages. Again, you'll confirm the step with Google, perhaps wait a few hours, and be all good to go!
How Do You Set Up a Business Email in Outlook?
Office 365 setup largely follows the same path as G Suite, and the platform also comes with an extraordinarily helpful setup wizard. From the Office 365 admin center, follow the setup link to the domain area. Office 365 will supply you TXT or MX records to add to your DNS information with your hosting provider — the platform does not give you a code snippet to insert into your site.
Back in the Office 365 administration area, click the button to verify that the DNS records have been updated. Once the changes are confirmed, you will be asked to set up your online services by making additional edits. Unless you are hosting with GoDaddy, you'll need to manage your DNS records manually.
After choosing Exchange for email services, you'll receive three more DNS records. Go back to your DNS zone editor and create all three; if you already have an MX record, replace it with the new information from Office 365. Once those are updated, you're ready to add your custom email address; you can do this by going to the Users area of the dashboard and entering your information. Now you're all set! You can access your inbox in Outlook using the login credentials you supplied.
What is the Best Email Address to Use for Business?
Despite the encroachments and advancements of chat, video conferencing, and other electronic communication methods, email remains the most widely accepted and used ways to coordinate with colleagues and customers in a business setting. Business emails account for 139.4 billion emails sent and received each day, according to a study from technology market research firm Radicati Group, with people individually interacting with 121 messages a day on average.
With email serving as such an important medium for your organization, you'll want to make sure you use a professional tone when setting up the accounts and naming conventions. Just as you would when coming up with a domain name or brand, you'll want to prioritize email addresses that are short and inform your audience as to who they are writing.
For yourself or employees, specify what combination of names or initials are to be used and enforce the consistency — no cAnDyGRL123@yourdomain.com. Also, don't forget accounts that may be accessed by several people or an entire department; even if they're not, creating a support@yourdomain.com, billing@yourdomain.com, or media@yourdomain.com implies your organization is well-staffed and thriving.
What are the Best Email Accounts?
Asking for the best business email platform is a bit like asking what's the best kind of shoes — everyone has a certain style or need for support. Generally speaking, we measure email hosting on three criteria: security, protocols, and productivity tools.
Security: Does your email account come with a robust spam filtering service? What about automatic virus or malware scans? Look for the same 99.9% uptime guarantee (or better) you expect for reliable web hosting, along with added email security features like content or image control and data encryption.
Protocols: SMTP, IMAP, POP3… ever wonder what those letters mean? Basically, each set of letters are computer protocols for transmitting message data. SMTP stands for Simple Mail Transfer Protocol and directs how your message moves across networks. The other two deal with how you access those received emails: POP3, or Post Office Protocol 3, deletes messages on the server once they are downloaded to a recipient's device, while Internet Message Access Protocol, IMAP, keeps the data on the mail server and enables users to access the messages from multiple devices. Most reputable business email hosts should support both delivery methods, but you definitely want to make sure before signing up.
Productivity tools: With commercial platforms like G Suite and Office 365, email is just part of the picture. For businesses especially, these programs are especially useful for keeping track of contacts, calendars, and collaboration on various documents, spreadsheets, and publications.
What's Next: Build Your Business by Exploring Email Marketing
Now that the email portion of your business's online communications platform is finally all set up, look for ways to leverage the new feature. Sure, email helps you coordinate various tasks internally, but why not find and attract new customers?
Email marketing is one of the most cost-effective strategies your business can use. The channel shows an average return on investment of $38 for every $1 spent, with 20% of companies reporting a 70:1 ROI. Your organization can use email to solve current customer issues, reach out to those who may have abandoned a cart on your site, or inform loyal consumers about upcoming sales or product releases.
Need help getting started? Check out some of these user-friendly email marketing platforms that can help you design, test, and send large batches of emails:
MailChimp
Constant Contact
Be sure to know the dos and don'ts of email marketing so you don't have any negative effects to your brand. Subject lines and calls-to-action are critical, but be sure to provide a clear path to enable recipients to unsubscribe if they choose. Best of all, email marketing gives entrepreneurs a chance to experiment and tinker to see what works best for the brand — email is all about getting the right information to the right people, as quickly and reliably as possible.
See Our Full Review of A2 Hosting
Whatever type of hosting plan you're looking for, A2 Hosting is a solid choice no matter the scale. Our reviewer Alexandra Anderson recently took A2 Hosting for a spin, and rated the popular host a 4.9 in the Email Hosting category out of a perfect score of 5.0. Here's what Alexandra had to say about A2 Hosting:
With an emphasis on performance and an eye for detail, A2 Hosting largely avoids the typical shortcomings of many web hosts out there. The independently owned company balances high-powered infrastructure and developer tools with equally responsive customer support teams, giving experienced customers a highly optimized hosting experience.
Before signing up for A2 Hosting, it's a good idea to read through Alexandra's full review to learn about all the features A2 Hosting offers. You can also compare it to other web hosts to ensure you're getting the best deal possible:
If you decide A2 Hosting is the right choice, keep in mind that it takes just minutes to deploy your A2 Hosting server space. And at $2.99 per month, it's a bargain considering the many great features that come in any A2 Hosting plan.
Advertiser Disclosure
HostingAdvice.com is a free online resource that offers valuable content and comparison services to users. To keep this resource 100% free, we receive compensation from many of the offers listed on the site. Along with key review factors, this compensation may impact how and where products appear across the site (including, for example, the order in which they appear). HostingAdvice.com does not include the entire universe of available offers. Editorial opinions expressed on the site are strictly our own and are not provided, endorsed, or approved by advertisers.
Our Editorial Review Policy
Our site is committed to publishing independent, accurate content guided by strict editorial guidelines. Before articles and reviews are published on our site, they undergo a thorough review process performed by a team of independent editors and subject-matter experts to ensure the content's accuracy, timeliness, and impartiality. Our editorial team is separate and independent of our site's advertisers, and the opinions they express on our site are their own. To read more about our team members and their editorial backgrounds, please visit our site's About page.