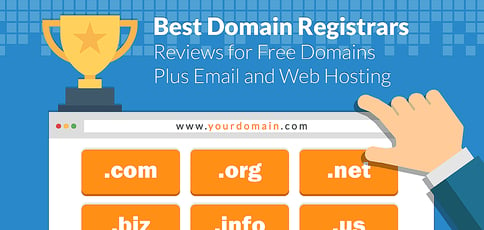 Given the late nights, stress, excitement, and joy a new online venture will bring you, registering a domain name with one of the best domain registrars around can feel remarkably similar to naming your first child. You want the moniker to be unique and interesting, yet aspirational, intuitive, and representative of what your baby — uh, website — will strive to uphold for the rest of his or her life.
Unlike naming your son or daughter, however, picking a domain name to house your online brand comes at a cost. You'll need to budget for registration fees, annual renewals, and optional upgrades for enhanced privacy and security. Domain name registrars charge varying rates for these services — but frequently bundle domains with web and email hosting plans. We dove into the deep pool of providers and ranked our favorite deals from the most trustworthy companies.
Who is the Best Domain Name Registrar?
For those who just want to cut to the chase, this is a pretty easy question to answer. With more than 18 million customers and 77 million domains under management, GoDaddy is the clear world leader when it comes to domain names.
In addition to unbeatable prices, GoDaddy offers a full portfolio of domain tools: bulk domain search, brokerage services, transfers, privacy, value appraisals, auctions, and more programs geared toward investors. GoDaddy enables customers to select from nearly 400 top-level domains and bolster the domain-driven brand identity with robust hosting and email services. Check out our GoDaddy review for more information:
World's largest domain registrar with 17+ million domains under management
FREE domain included with annual plans
Manage your domains via cPanel or Plesk
FREE email hosting at your domain
99.9% website uptime guaranteed
DOMAIN
RATING 4.5 ★★★★★ Our Review
GoDaddy: Our Expert's Review
Ryan Frankel (HostingAdvice.com): We'd be remiss not to include GoDaddy on this list of the top domain name hosting providers. Perhaps the most well-known name in the domain space, GoDaddy is widely recognized as the world's top registration services company, and the low-cost hosting is tough to beat. Go to full review »
| Money Back Guarantee | Disk Space | Domain Name | Setup Time |
| --- | --- | --- | --- |
| 30 days | 25 GB - Unlimited | FREE (1 year) | 4 minutes |
Best Free Domain Registrations With Web Hosting
Sure, a shiny new name tag is a great first step for your online brand. But, chances are, if you need a new domain name, you're probably also going to need the hosting services that enable you to create and upload a website for your visitors to see. Imagine your domain name as a recently purchased empty lot — sure, there's an address to send people to, but what will they see when they get there? Web hosting represents the contractors, landscapers, construction crews, and utility companies that help you build a warm and welcoming website home.
Fortunately, the vast majority of web hosting providers will give new customers the first year of a domain registration for free with an annual commitment to house your website on their servers. The perk is so common across the industry that seasoned site owners regularly forget they're getting something for free. However, be aware that if you choose to cancel your hosting plan before the first year is over, your domain registration fee will come out of your refund, as you'll get to keep the domain name.
Take a look at our favorite and most affordable web-hosting-and-domain combinations below, including a special mention for DreamHost, which sweetens the deal by including domain privacy services for free.
Register domains for $1 (or FREE with hosting)
FREE domain privacy to protect your information
Easy setup with domain lock and 2GB email inbox
99.9% uptime, plus daily backups and recovery
FREE SSL certificate for safer data transfers
DOMAIN
RATING 4.9 ★★★★★ Our Review
1&1 IONOS: Our Expert's Review
Alexandra Anderson (HostingAdvice.com): While many popular hosts reserve free domain registrations for its higher-tie plans, 1&1 IONOS gives every customer the perk — along with free domain privacy, email inbox, and SSL certificate. Trust your site with a company that hosts more than 12 million domains on its platform. Go to full review »
| Money Back Guarantee | Disk Space | Domain Name | Setup Time |
| --- | --- | --- | --- |
| 30 days | 10 GB - Unlimited | FREE (1 year) | 4 minutes |
FREE domain registration and site-building tools
Unlimited domains, emails, and bandwidth
Up to $200 in offers with Google, Bing, and Yahoo!
Top-ranked WordPress host with tons of perks
24/7 customer support and online tutorials
DOMAIN
RATING 4.7 ★★★★★ Our Review
Bluehost: Our Expert's Review
Ryan Frankel (HostingAdvice.com): Bluehost offers all the freebies you need to get started with domain hosting. The company includes a free domain or transfer, plus unlimited bandwidth and storage. Go to full review »
| Money Back Guarantee | Disk Space | Domain Name | Setup Time |
| --- | --- | --- | --- |
| 30 days | 10 GB SSD - 100 GB SSD | FREE (1 year) | 5 minutes |
Lowest domain prices in the industry
FREE registration on most plans
Host up to 100 domains on most plans
Domain privacy protection safeguards your info
99.9% uptime guarantee and automatic backups
DOMAIN
RATING 4.7 ★★★★★ Our Review
Hostinger: Our Expert's Review
Laura Bernheim (HostingAdvice.com): Don't be turned off by Hostinger's remarkably low prices. The company's insanely low pricing model extends to domain name services, as well as its premium support and impressive list of features. Go to full review »
| Money Back Guarantee | Disk Space | Domain Name | Setup Time |
| --- | --- | --- | --- |
| 30 days | 50 GB SSD - 200 GB SSD | FREE (1 year) | 3 minutes |
Best Domain Name Registrars With Email Services
Did you know domain names aren't just for websites? While everyone is plenty comfortable with the ubiquitous Gmail, Hotmail, or Yahoo email addresses, brands looking to make their mark can boost their professionalism by adopting a custom email address that leverages the recognition of your new domain name (yourname@company.com).
Most web hosting providers include some basic form of email services with their plans, but they can tend to be somewhat watered down in terms of functionality, features, and security. We typically prefer integrating with G Suite or Microsoft Office 365, which entails slightly more investment, but the hosts listed below do an excellent job of providing email services that meet the challenging needs of growing brands.
When shopping for the trifecta of a domain name, web hosting, and email services, take notice of the plans that offer unlimited inboxes and storage, spam filters, autoresponders, forwarding, and webmail options. We've reviewed the top three email hosts here:
FREE software for webmail, newsletters, contact forms, list management, and spam filtering
Unlimited inboxes, forwarding, and autoresponders
Secure POP3, IMAP, and SMTP messaging
Unlimited storage and transfer with FREE SSL
Get more than 75% off today (was $7.99/month)
EMAIL
RATING 4.9 ★★★★★ Our Review
A2 Hosting: Our Expert's Review
Alexandra Anderson (HostingAdvice.com): Combining the internet's most popular and secure email technologies with high-speed and reliable infrastructure, A2 Hosting ensures your messages are delivered on time. As a recipient, you'll appreciate the company's multiple spam filtering programs, along with autoresponders and forwarding. Go to full review »
| Money Back Guarantee | Disk Space | Domain Name | Setup Time |
| --- | --- | --- | --- |
| 30 days | 100 GB SSD - Unlimited SSD | New or Transfer | 4 minutes |
Easily import contacts, messages, and calendars
FREE domain name with annual plan
1-click integrations with 50+ productivity tools
Collaborate with polls, shared to-do lists
Less than $1 per mailbox per month!
Get started on Hostinger now.
EMAIL
RATING 4.8 ★★★★★ Our Review
Hostinger: Our Expert's Review
Laura Bernheim (HostingAdvice.com): Showing major value, Hostinger email plans come complete with all the collaboration and productivity tools you'd expect from higher-priced hosts. We especially love the easy integrations with platforms like Twitter, Google Drive, and others. Go to full review »
| Money Back Guarantee | Disk Space | Domain Name | Setup Time |
| --- | --- | --- | --- |
| 30 days | 50 GB SSD - 200 GB SSD | FREE (1 year) | 3 minutes |
FREE domain and unlimited emails
Secure email with 3 webmail solutions
$200 in advertising credits with Google and Bing
Google app integration available
FREE Office 365 mailbox for your first 30 days
EMAIL
RATING 4.8 ★★★★★ Our Review
Bluehost: Our Expert's Review
Ryan Frankel (HostingAdvice.com): For email hosting with security and tons of available features, Bluehost is one of our favorites. The company includes a free domain name for a year, POP3 and IMAP security for unlimited emails, plus email forwarding and three web-based email solutions. Go to full review »
| Money Back Guarantee | Disk Space | Domain Name | Setup Time |
| --- | --- | --- | --- |
| 30 days | 10 GB SSD - 100 GB SSD | FREE (1 year) | 5 minutes |
Best Domain Name Registrars by Price
With nearly 2 billion websites online across the internet, there's no shortage of domain name registrations to oversee. You may already be set up with a web hosting provider you love, but perhaps one of these companies can entice you away. Instead of undertaking a massive site transfer, how about registering a domain name à la carte?
Building a robust stable of domain names is especially helpful for businesses that should protect their reputation by gathering up similar domain names, such as the .NET or .ORG top-level domains, or even covering your bases when a visitor misspells your domain name. You can then have the secondary domains redirect to your primary site to capture all the traffic and eyeballs possible.
When buying additional domain names, test out the customer support, privacy features, and user interfaces of these registrars before committing to a long-term plan. We ranked our favorite registrars by the first-year cost of a regular .COM domain and include the costs for renewals and privacy protection.
Champions of web hosting affordability, InterServer only asks new customers for a penny to get started. The company, founded by high school friends more than 20 years ago, operates on month-to-month contracts that don't lock customers into lengthy or unhappy hosting experiences. Because the company owns and operates its own datacenter, InterServer boasts plenty of on-site tech experience to help you troubleshoot any issues that may arise.
InterServer leads the way in many of our hosting reviews, given how the company strikes the perfect balance between low prices and high value. The deals extend beyond the basic hosting service and domain registration, as well — the company's prices for renewals and domain privacy services are among the lowest on our list.
Renewals: $11.00 per year
Domain privacy: $5.00 per year
$0.01 first month (coupon code HOSTINGADV)
$2.50/month after. No contracts or increases
Unlimited storage space, data transfers, and email
Register or transfer domains for less than $10
99.9% uptime and price-lock guarantee
DOMAIN
RATING 4.5 ★★★★★ Our Review
InterServer: Our Expert's Review
Laura Bernheim (HostingAdvice.com): It's hard to argue with a shared hosting plan that includes unlimited storage, bandwidth, websites, and email — but shared hosting is a crowded industry that turns on name recognition, reputation, and bargain-basement prices. InterServer outperforms some of our higher-rated hosts, but we understand that many first-time site owners are laser-focused on finding the lowest costs. Go to full review »
| Money Back Guarantee | Disk Space | Domain Name | Setup Time |
| --- | --- | --- | --- |
| 30 days | Unlimited SSD | New or Transfer | 4 minutes |
This chart shows just how dominating the GoDaddy brand is when it comes to domain name registrations. The company was one of the first registrars to enter the market in the late 1990s when Network Solutions loosened its stranglehold, and GoDaddy hasn't looked back — building a mainstream following behind Super Bowl ads and celebrity endorsements.
The full-service host has plenty of web hosting services available to pair with your domain, from a beginner-friendly website builder to professional-grade managed WordPress hosting built for developers and agencies. In addition to web security, marketing, and productivity solutions, GoDaddy's wide domain services portfolio similarly appeals to both first-time registrants and experienced domainers. For more information, click on our review of the company below:
Renewals: $14.99 per year
Domain privacy: $9.99 per year
Regularly receiving top marks from customers, Namecheap takes a personalized approach to simplifying the registration, hosting, and management of domain names. The company, which got its start in 2000, manages more than 10 million domain names and gives customers free WhoisGuard protection that keeps personal information out of ICANN's domain registration databases. Privacy is added to a customer's cart for eligible domain purchases, enabled by default, and automatically renewed — meaning you don't have to lift a finger to enjoy the added protection.
In addition to multiple levels of DNS services and a marketplace for premium domains, Namecheap offers Comodo PositiveSSL certificates for $1.99 for the first year. Because of Namecheap's emphasis on usability and affordability, the company continues to gain momentum and customer satisfaction in a very competitive industry.
Renewals: $12.98 per year
Domain privacy: Included for FREE
A supremely fun and personal domain registrar, Name.com is straightforward and simple when it comes to domain registrations, transfers, and adding extra services like web hosting, email, or G Suite. The Denver-based accredited registrar regularly informs visitors of active promo codes and discounts, ensuring new customers get the best deal available.
With each domain purchase, Name.com includes free URL and forwarding, as well as two-step verification, and DNS management. A neat partnership with BL.INK enables site owners to create branded, condensed URLs similar to those created by Bitly. By using words instead of collections of random letters and numbers, your links are much more clickable and attractive to your audience.
Renewals: $12.99 per year
Domain privacy: $4.99 per year
Backed by the power of one of the world's most influential web hosting brands, Domain.com is part of the Endurance International Group family. While sister companies like Bluehost and HostGator concentrate on web hosting services, Domain.com has been helping customers reserve their domain name for nearly two decades.
Domain.com customers can choose from all the popular TLDs, as well as more than two dozen country code TLDs. Each registration comes with a free SSL certificate from Let's Encrypt, automatic email forwarding, DNS management, and protection from unauthorized transfers. The company also provides easy access to professional web design, shared and VPS hosting, and productivity software from Office 365 and G Suite.
Renewals: $9.99 per year
Domain privacy: $8.99 per year
14. Google — $12.00
Google is the newest registrar on our list — but also the most recognizable. The search engine magnate began offering domain registration services in January 2015 and somehow still remains in the beta testing stage. As you would expect, Google brings the same simplicity and familiarity to domains as it does to its full portfolio of online interactivity and productivity. New registrations come with free privacy, which is quickly becoming our favorite must-have option.
Google lets new domain owners quickly pair their new name with website builders like Blogger, Shopify, Squarespace, Weebly, and Wix, as well as the ever-popular combo of WordPress and Bluehost. Support is available via chat, phone, and email — but only from 6 a.m. to 9 p.m. PST on weekdays. However, the seamless integration of your Google domain with added G Suite services and custom email is more than worth the inconvenience.
Renewals: $12.00 per year
Domain privacy: Included for FREE
15. Enom — $13.95
A legend in the domain reseller industry, eNom has been around since 1997 and is largely considered the world's second-largest domain name registrar — particularly after being acquired by Candian registrar Tucows. Enom manages more than 15 million domain names for roughly 40,000 resellers. The company offers the traditional registration and security features you've come to expect for personal or small business domain names, but the Enom portfolio grows to cover the needs of enterprise companies and domain investors.
The reseller division of Enom enables entrepreneurial folks to make money by selling domains and tools for email, security, and privacy. Resellers can set their own margins and get started with a plug-and-play online storefront, white-label portal, control panel, affiliate program, or by using the company's API.
Renewals: $13.95 per year
Domain privacy: $8.00 per year
What is a Domain Registrar and What Should You Look For?
Now for some more context for those of you who are new to the scene and need a little more information. Starting with the basics, domain names are user-friendly ways for humans to tell computers where to find a particular website. Registrars are companies that enable you to purchase and stake ownership of particular domain names.
The vast majority of domain name registrars (and the only ones you should really do business with) are accredited by ICANN, the Internet Corporation for Assigned Names and Numbers. The nonprofit organization oversees the databases of domain names and IP addresses to ensure the internet remains stable and secure. Accredited registrars will register your domain name ownership in these databases on your behalf.
Truthfully, there aren't a whole lot of major differences among the thousands of registrars — but the details can make all the difference. For instance, not all registrars are allowed to sell all domain extensions, otherwise known as top-level domains (think .COM, .ORG, and even .NINJA). Prices can vary somewhat, as can expiration policies, renewals, and add-on services. Be sure to do your research when shopping for a domain name to know exactly what you're getting.
Consider registering more than one domain name to protect your site's brand reputation. You may only direct visitors to your .COM website, but you can easily acquire the .ORG, .BIZ, or .INFO (and so on) domains to all direct traffic to your main site. That way, competitors or other malicious actors can't sabotage your brand.
How to Choose the Best Domain Registration Service
Shopping around for the most trustworthy and affordable domain registrar is much like finding a new web hosting provider — there's lots of research to do, fine print to read, and jargon to learn. And while you can be as educated as possible about your options, taking the plunge can still be a little scary. Once you have a name figured out, here are some of the factors that make a good registrar great:
Registration and expiration policies: We like being able to reserve a domain name for multiple years at a time, but perhaps your host only lets you go a year at a time. That's perfectly fine, just make sure you can set up an automatic renewal so you don't accidentally let your registration expire. Some registrars offer a grace period if a domain expires that enables you to get your domain back before it hits the general market.
Domain transfer services: Your website and domain name can be hosted with two different companies (in fact, many recommend doing just that). But if you're frustrated with your current registrar and want to move your domain name, many providers will make the transfer process seamless. Once your 60-day introductory period is over, check a registrar's transfer policy for any extra fees or complications.
Add-on features: This can be a double-edged sword. We're definitely fans of privacy and security tools, as well as easy integrations with Office 365 or G Suite. You may also appreciate having options such as domain parking, transfer locks, upgraded DNS, and expiration protection. While those tools can make or break your domain registration decision, we're skeptical of registrars that sneak the upgrades and upsells into the checkout process instead of being more transparent.
Obviously, cost is a major factor you should consider, as well as making sure you're working with an ICANN-accredited registrar. You'll also want to gauge where the company puts its focus; some domain registrars really excel at domain management but kind of slack off on the hosting side of things, while other hosts may provide great uptime and performance while slipping a bit on the domain name tools. A few select companies perform well with both, so it all depends on your comfort level and what you truly need.
See Our Full Review of GoDaddy
Whatever type of hosting plan you're looking for, GoDaddy is a solid choice no matter the scale. Our reviewer Ryan Frankel recently took GoDaddy for a spin, and rated the popular host a 4.5 in the Domain Hosting category out of a perfect score of 5.0. Here's what Ryan had to say about GoDaddy:
GoDaddy has long been a reliable host — world-renowned as the #1 domain registrar. With some of the best longevity in the industry, the hosting company is a trustworthy provider we confidently recommend to beginners, developers, and entrepreneurs. Read our GoDaddy reviews below to see which hosting package will be the best fit.
Before signing up for GoDaddy, it's a good idea to read through Ryan's full review to learn about all the features GoDaddy offers. You can also compare it to other web hosts to ensure you're getting the best deal possible:
If you decide GoDaddy is the right choice, keep in mind that it takes just minutes to deploy your GoDaddy server space. And at $2.99 per month, it's a bargain considering the many great features that come in any GoDaddy plan.
Advertiser Disclosure
HostingAdvice.com is a free online resource that offers valuable content and comparison services to users. To keep this resource 100% free, we receive compensation from many of the offers listed on the site. Along with key review factors, this compensation may impact how and where products appear across the site (including, for example, the order in which they appear). HostingAdvice.com does not include the entire universe of available offers. Editorial opinions expressed on the site are strictly our own and are not provided, endorsed, or approved by advertisers.
Our Editorial Review Policy
Our site is committed to publishing independent, accurate content guided by strict editorial guidelines. Before articles and reviews are published on our site, they undergo a thorough review process performed by a team of independent editors and subject-matter experts to ensure the content's accuracy, timeliness, and impartiality. Our editorial team is separate and independent of our site's advertisers, and the opinions they express on our site are their own. To read more about our team members and their editorial backgrounds, please visit our site's About page.