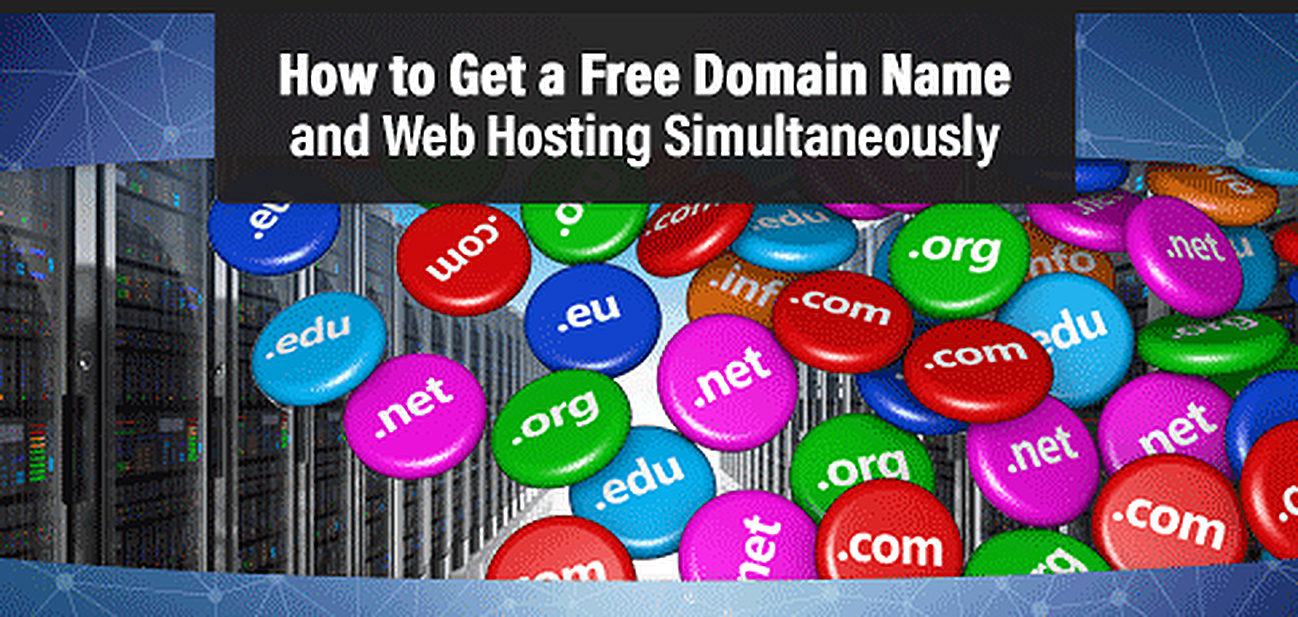 Choosing a domain name is akin to choosing your child's name. Whether it's your first or your fifth, you want the name you select to be unique, meaningful, and representative of the personality of your new brand (or baby). As you're mulling over domains and extensions — or nicknames and middle initials — you'll need to decide where to register and host your new online identity.
Unlike choosing your kid's name, picking a domain comes at a price (registration fees and annual renewals). Fortunately, many web hosting providers offer deals on domain services. Let's talk about some of the most popular ways to get a domain and web hosting set up on a budget.
Best "Free Domain" Hosting Overall
One of our favorite value-adds to discover in a hosting package, especially within the cost-conscious shared hosting market, is a complimentary domain name registration. Many hosts will act as your domain registrar, allowing you to search for available domains directly from the host's signup page and select the one that matches your brand and website goals.
In reality, the host is likely partnering with a third-party registrar and is merely acting as the go-between, but this is unbeknownst to the customer. Then there are hosts like GoDaddy — the world's #1 domain name registrar — that is actually the best of both worlds. In either case, getting a complimentary domain name at signup, even if it's just for the first year of the contract, is a great cost-saving pull factor for prospective customers.
When we evaluate the best domain hosts, we look for this perk, along with features such as free website builders, easy-to-use control panels, and unlimited resources for email, disk space, and data transfer. Based on our findings, the hosts with the best domain hosting deals, including a complimentary registration for the first year of service, are below:
Best Value: Free "Lifetime Domain" Registration & Hosting
Obviously, everyone loves free — the more free, the better. Huh? Yep, the only thing better than a free domain name is a free lifetime registration! Few hosts offer this luxury these days, but those that do see the advantage of offering long-term value to their customers.
The average .COM domain name costs $10 to $15 per year. Multiply that over the course of your site's lifespan, and you're saving a sparkly chunk of change. Skip the initial registration fees and annual renewals by signing up with one of the best bang-for-your-buck hosts:
Best "Unlimited Domain" Hosting
For our fellow domain collectors, you may be looking to host more than one site on a single account. Or maybe you just need to host multiple domains for various clients. You'll need to find a provider that supports multiple domain hosting, and we'd like to call your attention to the following hosts, which allow you to park unlimited domains on their servers.
Not only will these hosts accommodate more than one or two domains, many promise unmetered storage space, databases, email addresses, and data transfer, so you can grow your business without bounds. Eventually, there may come a time when you'll need to upgrade to a more resource-capable server, such as a VPS or dedicated hosting plan, but there's a guide for that, too. Without further ado, the best unlimited domain hosting service providers:
FREE domain registration and transfer
Unlimited disk space, domains, and MySQL databases
$100 towards Google AdWords and $100 in SEM credits
Unlimited bandwidth and email addresses
FREE online store and website builder
iPage: Our Expert's Review
Setup time: 5 minutes

PJ Fancher (HostingAdvice.com):

With iPage domain hosting, users get a free domain name registration or a free domain transfer, and can host unlimited domains. They offer unlimited bandwidth and emails, plus $200 in advertising credits to help get your website launched…

Go to full review »
| Money Back Guarantee | Disk Space | Domain Name | Domain Hosting Plans |
| --- | --- | --- | --- |
| 30 days | Unlimited | FREE (1 year) | www.ipage.com/domain |
FREE domain name and seamless site transfer
Includes 1-click installer with over 310 apps
FREE SSDs for shared business hosting plans
Easy installs for WordPress, Joomla, and PrestaShop
FREE data backups and complimentary SSL certificate
InMotion: Our Expert's Review
Setup time: 5 minutes

PJ Fancher (HostingAdvice.com):

Looking for leading-edge technology and fully reliable support? InMotion may be the host for you. Their domain hosting includes a free domain name registration, zero-downtime website transfers, and your choice of datacenter, with free SSDs…

Go to full review »



Host unlimited domains on one account
FREE site builder and complimentary domain registration
cPanel license included with easy app installations
Get $200 in FREE paid ad credits to kickstart marketing
24/7 support available
JustHost: Our Expert's Review
Setup time: 4 minutes

Ryan Frankel (HostingAdvice.com):

A lot of freebies come along with JustHost, making it a great value. The starter plan is very affordable; however the best deals are saved for those that sign up for multiple years.Some of the nice features included on the base account are unlimited bandwidth,...

Go to full review »
| Money Back Guarantee | Disk Space | Domain Name | Domain Hosting Plans |
| --- | --- | --- | --- |
| 30 days | Unlimited | FREE (1 year) | www.justhost.com/domain |
Best "Website Builder & Domain" Hosting
If you're searching for domain hosting, you're likely in one of two camps: You have a website and you just want to move its domain to a more reliable or cost-effective home, or you are starting from nothing and know the first step to building a website is choosing its domain. If you're in the latter bucket, this section's for you.
We frequently judge the top hosts on their offerings for novice website owners — free site-building tools that let you design without coding, intuitive control panels wherein you can easily install WordPress or manage email accounts, attentive and on-call support staff, et cetera. First-time site owners want a host that will do a little hand-holding to ease them into website ownership, and a user-friendly drag-and-drop website builder can take you the rest of the way. The hosts below pack a one-two punch with their website builder and domain hosting packages:
Choice of Weebly or WebsiteBuilder by iPage
#1 Pick for WYSIWYG site building with FREE domain
100s of professionally designed, customizable themes
Start your personal blog or business site in minutes
Get +75% off your first month
iPage: Our Expert's Review
Setup time: 4 minutes

PJ Fancher (HostingAdvice.com):

Do you want your website built today? If you answered "yes," you should look no further than iPage. In fact, it's possible for you to be online before you even finish reading this article. Thanks to iPage's user-friendly interface, instant provisioning, and...

Go to full review »
| Money Back Guarantee | Disk Space | Domain Name | Website Builder Hosting Plans |
| --- | --- | --- | --- |
| 30 days | 100 GB - Unlimited | FREE (1 year) | www.ipage.com/site-builder |
Integration with Fotolia and Flickr image databases
Pre-built and customizable content with GridBlocks
Responsive themes with tablet and mobile editing views
Generates clean, efficient, and compliant HTML
SEO, gallery, and forms plugins
BoldGrid: Our Expert's Review
Setup time: 5 minutes

Laura Bernheim (HostingAdvice.com):

After taking the BoldGrid suite of plugins for a test drive, we experienced how they make WordPress more accessible for beginners and much more efficient for professional developers.Because BoldGrid requires a separate hosting account and WordPress...

Go to full review »



Weebly or goMobi site builder
FREE domain name
Integrated CloudFlare CDN standard across all plans
Gain exposure with $200 in FREE advertising credits
24/7 customer support
Bluehost: Our Expert's Review
Setup time: 5 minutes

Ryan Frankel (HostingAdvice.com):

With Bluehost, new site owners have the drag-and-drop simplicity of Weebly (website builder) and goMobi (mobile site builder) at their fingertips. This makes launching a new online brand, store, or personal site from scratch relatively painless. Sure, site...

Go to full review »
See more website builder hosts »
Get Free Web Hosting AND Free Domain Name Hosting Today
So, is your new virtual baby an Amber or a Jonathan? Are you thinking something edgy with a .NINJA extension or sticking with the classic .COM moniker? Whichever name you choose, it's the first step in what's sure to be a wild ride, hopefully with 18-plus years of revenue rather than diapers and college loans.
As a final tidbit, it's worth noting that not all web projects warrant a full-scale hosting service. If you're just dabbling in domain ownership or just want to try your hand at web design, you may be fine with a free hosting service. Popular site builders like Wix will even throw in a free-for-life domain name, though it will be a subdomain of Wix.com. Get started with one of the top free hosts in less time than it takes to make a baby.