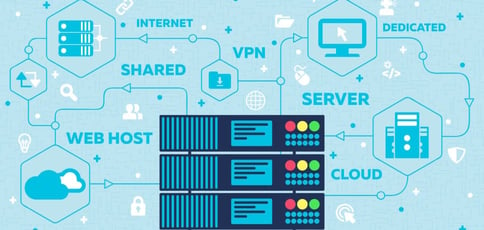 Growing your web presence can be a challenging but rewarding experience. Whether you expand to offer diverse content or to reach more visitors, a hosting plan that can keep up with your expansion will be essential. Without an accommodating hosting plan, your website can hit a performance wall and not have the resources to support your growth.
An unlimited hosting plan is an effective way to avoid these woes. This type of hosting allows you to go beyond the limits of typical hosting packages with unlimited storage, disk space, databases, SSL certificates, and bandwidth. There are also unlimited websites, domains, and email offerings.
Although web hosts market unlimited hosting as unlimited, it does have its bounds, which usually include a fair use policy. But these limits are so high that they can be difficult for the average user to exceed. That's why it is called unlimited hosting. Different server types have different limits, so it is good to research each unlimited plan before choosing one.
Below, we discuss the best free unlimited hosting plans and how to pinpoint a valuable unlimited hosting plan. We also review our top paid unlimited packages to compare the differences between free and paid hosting platforms.
Expert's Pick: Free Unlimited Hosting with Kamatera
Free hosting can be a valuable tool to help jump-start your web journey, but you don't want your journey to fizzle out. If you aspire to expand your website, a paid plan will help you to get there. Paid plans allow you to keep your website running on a constant stream of fuel and avoid hitting performance roadblocks.
If you're unsure about purchasing a web hosting plan, you can subscribe to a free trial. This way, you can get the full experience with no strings attached. Kamatera is one of our favorite hosting platforms that offer free trials. Its 30-day free trial gives you complete access to its platform. And you get to customize your server to your liking.
Customize your cloud environment for FREE
Work with a dedicated account manager
Dozens of Windows & Linux OS choices
Complimentary live chat support open 24/7
Launch in less than 60 seconds
CHEAP
RATING 4.9 ★★★★★ Our Review
Kamatera: Our Expert's Review
Laura Bernheim (HostingAdvice.com): That's right, Kamatera gives new customers FREE access to high-quality VPS hosting for 30 days. Upgrade your bargain-basement shared hosting to a cloud server configured to your exact specifications for no cost. Go to full review »
| Money Back Guarantee | Disk Space | Domain Name | Setup Time |
| --- | --- | --- | --- |
| 30-day FREE trial | 20 GB SSD – 4 TB SSD | New or Transfer | 3 minutes |
Customers can choose the amount of RAM, CPUs, and SSD storage, among other features. Kamatera's price calculator shows all the details, so you can view different feature combinations before signing up. If you want top security and cloud flexibility, Kamatera will be an excellent option to satisfy your needs.
Best "Almost-Free" Unlimited Hosting
Free hosting may seem like a steal for someone on a tight budget. But most often, it ends up taking your time and effort instead. The last thing any user would want is to spend precious time building a stunning website for it to have slow speeds and be packed with advertisements.
If you want to avoid the perils of free hosting, we have the next big thing. Budget hosting offers excellent performance while also costing you only a couple of dollars a month. Below, we review our favorite low-cost web hosts and their unlimited hosting features.
Unlimited everything, from storage to databases
FREE site builder & WP performance upgrades
FREE daily or weekly backups
Custom control panel and auto-installation scripts
SSH access & unlimited FREE SSL certificates
CHEAP
RATING 4.9 ★★★★★ Our Review
Hostinger: Our Expert's Review
Laura Bernheim (HostingAdvice.com): As the shared hosting market becomes increasingly saturated, unlimited storage, bandwidth, and email accounts have become surprisingly average. Hostinger, however, extends the routine, expected metrics to greater lengths — the number of websites, databases, FTP users, subdomains, and parked domains are all unrestricted for most customers. Go to full review »
| Money Back Guarantee | Disk Space | Domain Name | Setup Time |
| --- | --- | --- | --- |
| 30 days | 50 GB SSD – 200 GB SSD | FREE (1 year) | 3 minutes |
Hostinger knows a little thing or two about saving. Founded in 2011, Hostinger works to provide hosting services that make life easier for customers. As one of the most affordable hosts in the market, Hostinger delivers on this promise. And low cost is not its only highlight. Users rave about its customer service and easy-to-use user interface.
As for its unlimited resources, Hostinger provides the following:
SSL certificates
Bandwidth
MySQL databases
FTP accounts
All of its shared plans include unlimited bandwidth and SSL encryption. But its unlimited bandwidth does adhere to a fair usage policy. Hostinger's robust infrastructure and SSD servers provide users with quick loading speeds and ensure excellent performance. Hostinger is a unique gem in the hosting world and doesn't compromise quality for its low costs.
Host up to unlimited websites on a single plan
FREE SSL certificate included on all plans
Unlimited bandwidth & email addresses
1-click WordPress installs & FREE blog tools
Get 67% OFF by buying 36 months upfront
CHEAP
RATING 4.6 ★★★★★ Our Review
HostGator: Our Expert's Review
Ryan Frankel (HostingAdvice.com): HostGator is a great compromise between performance and price. The company offers unlimited emails, MySQL databases, disk space, and bandwidth, plus one-click installs of popular open-source projects, in addition to a 99. Go to full review »
| Money Back Guarantee | Disk Space | Domain Name | Setup Time |
| --- | --- | --- | --- |
| 30 days | Unlimited | FREE (1 year) | 4 minutes |
HostGator, a veteran in the hosting world, boasts more than 20 years in the industry, but that doesn't mean its plans are outdated or old school. HostGator has kept up with the times and uses its experience to deliver solutions and support to help you stay around on the web for just as long. Since HostGator designed its tools for growth, it's no surprise that it would offer unlimited resources.
Some of our favorite HostGator perks include:
Unlimited storage
Unmetered bandwidth
Free email
One-click WordPress installation
Unlimited websites
With these features, you can scale in no time. HostGator currently hosts more than 2 million websites, showing its pull in the hosting market. Users can trust HostGator to build their websites without worrying about migrating to a new hosting provider for more features.
FREE Cloudflare CDN and SSD speed boost
Optimized caching and 1-click installs
Unlimited email, domains, and databases
Advanced security and FREE HackScan
24/7 support via phone, chat & tickets
CHEAP
RATING 4.6 ★★★★★ Our Review
A2 Hosting: Our Expert's Review
Alexandra Anderson (HostingAdvice.com): There are plenty of excellent cPanel shared hosting providers out there, so what sets A2 Hosting apart from the rest. Not only does the company offer a ton of features, but it has custom-built its packages for enhanced performance, speed, and security — putting your priorities above pricing. Go to full review »
| Money Back Guarantee | Disk Space | Domain Name | Setup Time |
| --- | --- | --- | --- |
| 30 days | 100 GB SSD – Unlimited SSD | New or Transfer | 4 minutes |
If you're looking for top-tier performance, A2 Hosting is the host for you. Since its launch in 2001, A2 Hosting has been a trailblazer in its own right. Its developer-friendly platform was one of the first to adopt high-speed SSDs and offer support for PHP 5 and Ruby on Rails on shared servers. And it stands by its commitment to performance.
A2 Hosting has tons of great features, but here are our favorites:
Unlimited websites
Unlimited SSD storage
Free automatic backups
Turbo servers for 20x faster page loads
A2 Hosting covers all fronts. It excels in customer support and provides excellent security to keep your goals and hosting environment safe. A2 Hosting's trusted and reliable service is a standout in the hosting world and continuously delivers in its more than 20 years of existence.
Automated malware scans
Unlimited domain hosting
Unlimited email accounts with POP/IMAP/SMTP
FREE eCommerce store tools and PCI compliance
Streamlined proprietary control panel
CHEAP
RATING 4.3 ★★★★★ Our Review
DreamHost: Our Expert's Review
Laura Bernheim (HostingAdvice.com): While DreamHost's price might be a little steep compared to other high-value hosting providers, the company gives customers ample time and reasons to get hooked and stick around. The company, which started in the founders' dorm room in 1997, offers an industry-leading 97-day money-back guarantee. Go to full review »
| Money Back Guarantee | Disk Space | Domain Name | Setup Time |
| --- | --- | --- | --- |
| 97 days | Unlimited | FREE (1 year) | 4 minutes |
DreamHost is a major player in the WordPress hosting industry and has the accolades to prove it. The web host is rated "excellent" on TrustPilot and hosts more than 1.5 million websites on its platform. Although DreamHost offers other hosting types, its focus on WordPress allows users to build websites within a WordPress-tailored environment.
DreamHost's WordPress Unlimited plan includes the following:
Unlimited websites, traffic, email, and storage
WordPress pre-installed
A website builder with custom WP themes
Free SSL and domain registration
Of course, WordPress hosting is DreamHost's most popular plan. But users can also purchase shared, dedicated, cloud, and VPS hosting from DreamHost. So you can upgrade at any time if needed. DreamHost is a reliable and secure hosting provider that works to ensure users receive the best service possible. If it's not up to your standards, you can always use its 97-day money-back guarantee for a refund.
Other Free Hosting Providers
Finding a quality free hosting service can often feel like searching for a needle in a haystack. Effective free hosting services are a rare breed. Though your quick Google search may say otherwise, most free hosts are rife with peril and don't offer the experience you would expect.
Although you won't find free unlimited hosting, there are a few popular free hosting services worth checking out.
If you're on a tight budget, these web hosting services will help you get online quickly for no cost. They may not have the same performance or features as paid plans, but they can do the trick for smaller web goals. Read below for more information on the top free hosting providers that offer unlimited features.
6. InfinityFree
InfinityFree is one of the most popular free hosting providers on the market. Its platform includes almost everything you need to get started online, from domain registration to SSL certificates. InfinityFree is also unique in that it doesn't require website ads and logs some of the fastest speeds you can receive for a free hosting service.

Its unlimited hosting plan includes these perks:
Unlimited bandwidth and websites
99.9% uptime guarantee
Free DNS and subdomains
400 MySQL databases
InfinityFree is also a great option for WordPress users. Its platform includes the Softaculous script installer, which allows you to install WordPress and 400 other apps in one click. Although it doesn't offer live customer support, it does have a knowledge base and a support forum.
7. Google Cloud Hosting
Google Cloud Hosting doesn't exactly fall into the free web hosting category. But we couldn't miss out on the opportunity to list it here. You're probably wondering why. Well, check this out: Google Cloud Hosting offers $300 in free credits to host your website with one of its platforms, which means you get free hosting for a year. It's a pretty good offer since you get to test out one of the best cloud hosting providers in the world for a year.


Some of our favorite features from Google Cloud Hosting include:
Unlimited storage
Global CDN
Choice of multiple tailored hosting options
Responsive design
Leveraging free hosting from Google Cloud will definitely help you learn the ins and outs of web hosting. All you need to get started is a Google account. By accessing a flexible and resource-deep cloud platform with Google Cloud Hosting, you will better understand your resource limit requirements.
8. ByetHost
ByetHost stands out from the pack of free hosting providers with its rock-solid customer support. It's rare for a free host to offer customer support, as this is usually the first feature axed to save costs. ByetHost, an exception to the status quo, provides 24/7 technical assistance via a ticketing system and a knowledge base with video tutorials for self-service.


Besides customer support, ByetHost's free plan also includes the following features:
1 GB of disk space
Five subdomains
A MySQL database
Free site builder
Like InfinityFree, ByetHost doesn't require ads on customer websites. Users can view their control panels to track resource usage, including bandwidth, disk space, and daily visits. ByetHost makes setup and managing a hosting environment simple and affordable.
9. 000webhost
000webhost shares ties with another prominent host on our list. Hostinger manages the free hosting service and has helped scale it to where it is today. So that means users get to enjoy some of Hostinger's benefits, including its intuitive website builder.

Some of 000webhost best features include:
300 MB of SSD storage
Cloudflare-protected nameservers
A MySQL database
Ad-free website experience
For more than 10 years, 000webhost has been a leader in the free hosting space. Users can trust its platform to build WordPress websites and online projects with an easy-to-use control panel and a beginner-friendly selection of features. And if you would like more, you can easily upgrade to a premium plan with Hostinger.
Is Unlimited Hosting a Real Deal?
Web hosting is an essential piece of the online business life cycle. It is the backbone of the internet's catalog of websites, allowing users to make their online presence reachable to millions of people.
For most businesses, the number one goal is to grow and expand their footprint. But if you want to accommodate more visitors, your web hosting must also be up to par. This is where the search for unlimited hosting usually begins.
Although you can purchase unlimited hosting plans, these plans aren't necessarily true to their name. Every web hosting provider has its limits. Web hosting deals with physical hardware, which means these servers have limited resources.

Unfortunately, free unlimited hosting isn't a thing either. Since free hosting is already a limited offering, it is impossible for a web hosting provider to wrap it up as an unlimited package. Some free web hosts offer unlimited bandwidth or storage, but these features usually tap out quickly or have a policy attached.
While unlimited hosting doesn't technically exist, some hosting plans indeed have more resources than others. Some unlimited hosting plans have super high resource capacities, so high that most users can't reach the maximum limit. So if your site grows, you can use an unlimited hosting plan to power your site.
One thing to remember when researching an unlimited hosting plan is to look out for the fine print. Many unlimited feature offerings adhere to a fair usage policy. So if your website has too many traffic spikes or breaks policy rules, your account may face suspension or additional fees. We recommend upgrading to another server type for better resource allocation if your site experiences a significant jump in visitors or data needs.
What are the Limitations of Free Hosting?
Don't get us wrong. Free hosting is a great deal, but it's not for everyone. Its limited experience works best for students or developers looking to test the hosting experience or experiment with a new software or programming project. So why is free hosting so limited?
Since free web hosting providers offer services for zero cost, they don't have the capabilities or revenue to deliver many features. They must cut costs to stay afloat, so they provide fewer services in their plans. For instance, customer support requires a paid staff to work around the clock to answer customer questions and assist with technical issues. It will be challenging for a free host to provide this service because customers aren't contributing to paying for it.
Other limitations free hosting has are poor performance and minimal security. With a paid web host, you can receive fast page-loading speeds powered by robust infrastructure. But your website's speed will be slower on a free hosting platform. You may also run into uptime and availability issues. Many free hosts also make you pay for essential add-ons, such as domain registration and SSL certificates, which would be complementary on other platforms.
If you want a complete feature set, including free perks and top-notch performance, you should consider a budget host. These low-cost hosting providers are affordable and deliver everything you need to succeed online in one place. Many hosting plans are only a couple of dollars a month, which is less than a cup of coffee.
Which Server Type Provides the Best Unlimited Hosting?
In web hosting, four categories of servers exist. These categories are shared, VPS, cloud, and dedicated server hosting. Most web hosts offer unlimited hosting for every category. But each server type has its own resource capacity limits. One server's unlimited hosting may tap out at 30,000 visitors, while another may accommodate up to 100,000 visitors and more gigabytes of storage space.
Below, we discuss the different server types and the infrastructure design behind them, which will help explain their limitations.
Shared hosting is a popular hosting service that serves as the launching pad for beginner website owners. It's the most affordable hosting server type and offers a valuable amount of resources for users with smaller websites. Shared hosting carries this name because its framework consists of multiple users sharing the resources of one server.
Hosting providers can host many websites on a single server, which allows them to sell shared hosting plans for low prices. The downside of shared hosting is that neighboring websites can affect performance for other users if they have too many traffic spikes. Shared hosts can handle up to 30,000 visitors per month, which shows the limits of its features.
VPS hosting stands for virtual private server hosting. It's popular among developers and web designers for its flexibility and technical capabilities. Less technically inclined users usually purchase managed VPS hosting because the unmanaged version is challenging to navigate. Its plans allow users to have more control over their server space and modify settings to create customizations.
Similar to shared hosting, multiple users rent out space on one VPS server. But virtual private servers leverage virtualization technology to give users privacy and better resource allocation. This technology separates and isolates the spaces between users to achieve individualized hosting environments. With VPS hosting, customers can access more resources and flexibility.

Cloud hosting has grown in usage over the last decade and has become a significant pillar in the computing industry. And its unique benefits and structure have helped accelerate its growth. Cloud hosting is flexible, scalable, and secure, making it a valuable option for individuals and businesses.
Traditional hosting involves a single server. But the cloud uses a network of servers, making its infrastructure redundant and accessible. It allows users to scale resources to fit their needs and easily accommodate traffic spikes or seasonal demands.
Dedicated hosting is common among website owners and companies with massive resource needs. It is the most expensive hosting type and can cost upward of hundreds of dollars. That is because it can handle websites of all sizes and can provide power for more than 300,000 visitors a month.
As its name suggests, dedicated hosting involves sourcing users with a dedicated physical server for their web files and data. Since the entire server is for you, it ensures better performance and more space to grow. You also receive a dedicated IP address, fast page loading speeds, and increased bandwidth to handle more traffic.
Cloud hosting has the best resource flexibility for unlimited hosting out of the four types. Since it leverages a network of servers, you can easily scale with its flexible pricing model. Dedicated hosting is the next best option for unlimited hosting because you get a complete server to yourself, which includes a massive amount of resources.
Is There Free WordPress Hosting?
WordPress is the crème de la crème of content management systems. Although it began as a popular choice for bloggers, WordPress has become the foundation of websites in various industries, including retail, news, and education. WordPress has such a strong presence in the world of hosting that it was given its own hosting subcategory.
WordPress hosting is a hosting environment that is optimized for the CMS. Everything about these hosting plans is tailored to fit the needs of WordPress and its users. Features can include WordPress site acceleration, one-click installation, auto-updates, custom WP themes, and staging tools.
Free WordPress hosting does exist. Web hosts 000webhost, InfinityFree, and Accuweb Hosting, offer free WordPress hosting services with optimized WordPress features and no on-site ads to affect the experience. Although the features aren't much, they allow you to install WordPress with one click, so you can skip the hassle of installing the CMS yourself.
If you want more resources, such as WordPress acceleration and daily backups, you can check out the many hosting providers with WordPress hosting for low monthly prices.
Does Free Hosting Include Domain Registration?
Free hosting doesn't offer your typical domain registration. But they do provide the option of subdomains in their plans. Subdomains are similar to domain names but don't have the same customizability or level of brandability.
With subdomains, users choose a personalized name to attach to their host's domain name. An example of a subdomain would be mycompanyname.freehosting.com. Subdomains can also describe a branch name of your business, such as blog.mycompanyname.com. This type of subdomain is only available with an actual domain registration.
Website owners who want a full-fledged domain name can purchase one from a domain registrar or subscribe to a paid hosting service with free domain name registration. Most free hosting providers allow you to migrate your domain name after purchasing one from a registrar.

Tips on Choosing a Domain Name
Registering a domain name is one of the first steps to getting your website online. It's the name users type into the address bar, making your website reachable to thousands of visitors. Because it represents your website, it also plays a massive role in establishing your brand.
The following are a few tips we've compiled to help you on your domain journey:
Keep your domain name concise. We advise limiting the number of characters you use, so users can easily remember your domain name. It will also make it less of an effort to search for your website.
Align your domain name with your brand image. Your domain should match your brand and business since it is an extension of your brand. A domain name should also appear professional and credible.
Choose a top-level domain (TLD) extension. Examples of a TLD extension include .com, .net, and .org. These extensions are the most popular and can help make your website look more credible.
By following these tips, you can create a functional and professional domain name that is easy to search for and exemplifies your brand perfectly.
Which Features Should I Look for in a Hosting Plan?
Every hosting plan has its must-haves and optional add-ons. Must-haves are crucial to your website's success. These features include ample storage, fast server speeds, SSL certificates, domain registration, and customer support. If you don't have these solutions, having a smooth-running online presence won't be easy.
Optional add-ons are features that can help enhance your hosting experience. Various types of add-ons exist. But some of the most popular include CDN, daily backups, website builders, DDoS protection, email support, and a dedicated IP address. With these features, you can expand your brand, improve performance, and further secure your website.
You'll find that different web hosts prioritize different add-ons. So choosing a web host can come down to finding the right combination of add-ons and must-haves that work for you.
Go Beyond Your Limits With These Hosts
Everyone has different goals. An ideal hosting plan for one person may look different for another. So choosing the right one comes down to which plan is the most functional for your goals. By prioritizing your website needs, you can also estimate your resource limits.
Unlimited hosting may not be endless, but it can be so, depending on your perspective and website experience. A free unlimited plan may not be limitless enough for you, but an unlimited shared hosting plan may work.
We advise checking your host's fair use policy for each server type to see if its limits are high enough for your goals. If not, you can always upgrade to another server type for more resources and flexibility. We hope this guide will help you go beyond your web limits and lift your website to new heights.
Further Reading: "9 Best: Free Unlimited Hosting Plans (Oct. 2023)"
Hopefully, our recommendation of Kamatera fulfills all your web hosting needs. Starting at just $0.00 per month and rated 4.9 overall, Kamatera gives users plenty of bang for the buck. Among our favorite features:
Customize your cloud environment for FREE
Work with a dedicated account manager
Dozens of Windows & Linux OS choices
Complimentary live chat support open 24/7
Launch in less than 60 seconds
If you'd like recommendations similar to Kamatera and others in 9 Best: Free Unlimited Hosting Plans (Oct. 2023), check out these popular guides. You'll find comparisons of Kamatera to other hosts on pricing, features, support and more:
And of course, if Kamatera is your top choice, you can get started now at just $0.00/month. Kamatera is easy to set up and scale, no matter the size of your next project.
Advertiser Disclosure
HostingAdvice.com is a free online resource that offers valuable content and comparison services to users. To keep this resource 100% free, we receive compensation from many of the offers listed on the site. Along with key review factors, this compensation may impact how and where products appear across the site (including, for example, the order in which they appear). HostingAdvice.com does not include the entire universe of available offers. Editorial opinions expressed on the site are strictly our own and are not provided, endorsed, or approved by advertisers.
Our Editorial Review Policy
Our site is committed to publishing independent, accurate content guided by strict editorial guidelines. Before articles and reviews are published on our site, they undergo a thorough review process performed by a team of independent editors and subject-matter experts to ensure the content's accuracy, timeliness, and impartiality. Our editorial team is separate and independent of our site's advertisers, and the opinions they express on our site are their own. To read more about our team members and their editorial backgrounds, please visit our site's About page.