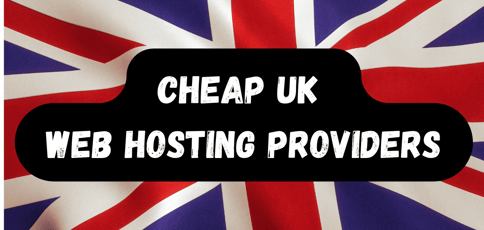 Nestled within the competitive realm of the UK's digital infrastructure, a discreet sector of web hosting providers offers an economical refuge for individuals and businesses seeking to establish their online presence without incurring excessive costs. These budget-friendly hosting services represent an intriguing mix of affordability and functionality, catering to the needs of those with modest financial resources.
But hey, something's got to give. After all, a lower price means less powerful hardware and software, fewer features, or limited support, right? True enough, the quest for the best cheap UK web hosting has twists and turns, but hosting providers with an alluring price tag are a good option for many businesses and individuals just starting out or with a limited budget.
Here are our favorite cheap UK web hosting providers to get you started.
1. Hostinger
Even with its most budget-friendly option, Hostinger doesn't compromise on performance and functionality. The all-SSD infrastructure, unlimited bandwidth, user-friendly no-code site builder, server-level speed enhancements, security options, and daily backups ensure enduring hosting for all needs. The company has a datacenter in Manchester, making it a supreme hosting choice for UK citizens.
Unlimited everything, from storage to databases
FREE site builder & WP performance upgrades
FREE daily or weekly backups
Custom control panel and auto-installation scripts
SSH access & unlimited FREE SSL certificates
CHEAP
RATING 4.9 ★★★★★ Our Review
Hostinger: Our Expert's Review
Laura Bernheim (HostingAdvice.com): As the shared hosting market becomes increasingly saturated, unlimited storage, bandwidth, and email accounts have become surprisingly average. Hostinger, however, extends the routine, expected metrics to greater lengths — the number of websites, databases, FTP users, subdomains, and parked domains are all unrestricted for most customers. Go to full review »
| Money Back Guarantee | Disk Space | Domain Name | Setup Time |
| --- | --- | --- | --- |
| 30 days | 50 GB SSD – 200 GB SSD | FREE (1 year) | 3 minutes |
More about Hostinger:
User-friendly control panel, great for beginners
Globally distributed datacenters for geo-redundancy
Serves more than 29 million customers
You can create up to 100 emails and forwarders at no extra cost. Most customers get to enjoy unlimited websites, databases, FTP users, subdomains, and parked domains. Slightly pricier plans grant unlimited computing power, more speed, and deluxe support, while you can get a free .co.uk domain with Premium shared hosting for 12 months. As a bonus, the UK datacenter uses renewable energy, which is always a plus in our book.
2. IONOS
How does a geo-redundant and sustainable datacenter in London sound? That's what you get with IONOS, and for an extremely low price at that, making it a wise choice for budget-conscious site owners. Its performance-optimized cheap hosting plan comes with unlimited traffic, a free domain name for a year, a free lifetime SSL, malware scanning, DDoS protection, and monitoring of basic site performance metrics. If you decide to pony up a few bucks more, you get unlimited storage and databases.
$1/month for 12 months
No hidden fees, pay just $12 at checkout
Easy setup and 24/7 expert support
FREE domain or transfer, plus FREE SSL certificate
Unlimited storage and databases with most plans
CHEAP
RATING 4.8 ★★★★★ Our Review
1&1 IONOS: Our Expert's Review
Alexandra Anderson (HostingAdvice.com): If budget is the main factor on your mind when searching for your next web host, search no more. 1&1 IONOS has an impressive range of robust web hosting and website building packages for what may be the best price we've ever seen in the world of hosting. Go to full review »
| Money Back Guarantee | Disk Space | Domain Name | Setup Time |
| --- | --- | --- | --- |
| 30 days | 10 GB – Unlimited | FREE (1 year) | 4 minutes |
More about IONOS:
One of the most affordable entry-level hosts
Monthly and annual hosting plans
Customizable automatic updates
Starting a website is fast and effortless, thanks to MyWebsite Builder and the eCommerce store creator, which provides theme and plugin recommendations and allows you to customize your site to your brand or personal style. As a dev-friendly platform, IONOS offers access to your sites via SSH and SFTP protocols and streamlined administration with the WP-CLI. Other dev features include .htaccess, a domain API SSH, and Git version control management should you desire to tinker under the hood.
3. HostArmada
Delivering a completely managed cloud solution, from shared web hosting to dedicated server hosting, HostArmada offers high speed and stability to satisfy user needs with little legwork. Every hosted site is optimized for faster loading speeds, backed by cloud SSD storage and web server caching. Users will also appreciate unlimited email accounts, databases, FTP accounts, and support for multiple PHP versions. With a datacenter in the capital, UK residents are guaranteed to enjoy fast connectivity.
FREE cPanel integration and Softaculous apps
Auto daily backups and web application firewall
Reliable and redundant cloud servers
FREE SSL encryption and website migration
99.99% uptime guarantee
CHEAP
RATING 4.8 ★★★★★ Our Review
HostArmada: Our Expert's Review
Lynn Cadet (HostingAdvice.com): HostArmada's cloud network spans four continents, with datacenters in Europe, the US, Asia, and Australia. Its server redundancy and website optimization features allow users to run stable and performant sites for end users across the globe while running a simplified hosting environment. Go to full review »
| Money Back Guarantee | Disk Space | Domain Name | Setup Time |
| --- | --- | --- | --- |
| 45 days | 15 GB SSD – 40 GB SSD | FREE (1 year) | 3 minutes |
More about HostArmada:
Free website optimization with enhanced caching
Monthly, one-year, two-year, and three-year plans
WAF and IP firewall
Though every shared hosting plan is rather inexpensive, HostArmada doesn't skimp on the security aspect, integrating an all-in-one security solution to protect users and keep their websites running well. The hosting provider partners with Imunify360. This results in a protective layer to keep hackers and malware at bay with malware scanning and removal, brute force protection, and an AI-based Web Application Firewall.
4. InMotion Hosting
As an independently owned web hosting provider (one of the few remaining), InMotion Hosting has made every effort to remain cost-competitive without cutting back on the goodies. All plans include unlimited bandwidth and email accounts, numerous one-click install apps, free website builder and SSL certificate, custom advanced layered caching, and hack and malware protection. The hosting service boasts a remarkable 20-fold speed boost thanks to its all-SSD storage and flexible datacenter options.
FREE BoldGrid site builder and templates
FREE website, domain, and cPanel migrations
SSD storage makes your site load up to 20x faster
Security suite includes SSL and hack protection
Unlimited bandwidth and email accounts
CHEAP
RATING 4.7 ★★★★★ Our Review
InMotion: Our Expert's Review
PJ Fancher (HostingAdvice.com): InMotion Hosting offers an excellent business-class shared hosting plan — with a price tag lower than several other budget hosts. For the IT crowd in the audience, you'll appreciate SSH access, as well as support for PHP, Ruby, Perl, Python, WP-CLI, and other popular languages. Go to full review »
| Money Back Guarantee | Disk Space | Domain Name | Setup Time |
| --- | --- | --- | --- |
| 90 days | 100 GB SSD – Unlimited | FREE (1 year) | 5 minutes |
More about InMotion:
Datacenters in the US and the Netherlands
$150 free advertising credits
The industry's most extensive money-back guarantee
Speaking of datacenters, the newly built datacenter in Amsterdam is the linchpin for faster website speeds and better performance across the North Sea. Tech-savvy users will find value in features including SSH access and support for PHP, Ruby, Perl, Python, WP-CLI, and other popular programming languages. Automatic data backups and DDoS protection round off an impressive security veneer, and InMotion Hosting throws in a few marketing tools to get your online store off to a great start.
5. SiteGround
Quality service and custom-built tools set SiteGround apart from the rest. From out-of-the-box caching and managed WordPress to a proprietary ticketing system and custom live chat software, the company has crafted a hosting solution that perfectly balances cutting-edge technology and exceptional customer support. Its globally distributed infrastructure includes a datacenter in London, along with a CDN location in the same place, thus facilitating low latency and fast loading times for visitors in the UK.
FREE website transfer service to get started
99.9% uptime guarantee and unlimited traffic
User-friendly WordPress installation
24/7 support featuring custom systems
4 caching options plus staging and Git
CHEAP
RATING 4.6 ★★★★★ Our Review
SiteGround: Our Expert's Review
Alexandra Anderson (HostingAdvice.com): Providing hosting with the perfect balance of technological innovation and superior customer support, SiteGround offers a range of affordable hosting services to meet your needs. In addition to the expected cheap web hosting perks — a free website builder and unlimited bandwidth — the company specializes in custom-built tools to deliver strong and positive user experiences. Go to full review »
| Money Back Guarantee | Disk Space | Domain Name | Setup Time |
| --- | --- | --- | --- |
| 30 days | 10 GB SSD – 40 GB SSD | New or Transfer | 6 minutes |
More about SiteGround:
One of the highest-rated WordPress hosts
Premium support and upgraded infrastructure
User-friendly control panel for easy site management
While SiteGround positions itself at the higher end of the shared hosting market, the investment is justified by its upgraded SSD-powered infrastructure and additional perks. These include a free SSL certificate, daily backups, and a content delivery network, ensuring a top-notch blend of speed and security. It's worth noting that the web host conducts monthly tests, measuring response times, attitude, and effectiveness with dummy accounts to improve its services continually. Talk about dedication to excellence.
6. A2 Hosting
A2 Hosting distinguishes itself in the realm of cPanel shared web hosting with robust features and a focus on enhanced performance, speed, and security. Plans include a free Cloudflare content delivery network, 24/7 Guru Crew support (including a WordPress-centric department), and multiple SSD speed enhancements. The user-friendly cPanel control panel includes Softaculous, allowing easy one-click installations of popular web applications.
FREE Cloudflare CDN and SSD speed boost
Optimized caching and 1-click installs
Unlimited email, domains, and databases
Advanced security and FREE HackScan
24/7 support via phone, chat & tickets
CHEAP
RATING 4.5 ★★★★★ Our Review
A2 Hosting: Our Expert's Review
Alexandra Anderson (HostingAdvice.com): There are plenty of excellent cPanel shared hosting providers out there, so what sets A2 Hosting apart from the rest. Not only does the company offer a ton of features, but it has custom-built its packages for enhanced performance, speed, and security — putting your priorities above pricing. Go to full review »
| Money Back Guarantee | Disk Space | Domain Name | Setup Time |
| --- | --- | --- | --- |
| 30 days | 100 GB SSD – Unlimited SSD | New or Transfer | 4 minutes |
More about A2 Hosting:
NVMe SSDs for faster performance
Globally distributed datacenters
300% faster page load speeds with full-stack optimizations
Cheap web hosting comes with a multitude of WordPress-specific features, such as an auto-configuration plugin, optional WP-CLI, and A2 Optimized servers. A2 Hosting's Perpetual Security features proactive protection through free HackScan protection and KernelCare, ensuring daily rebootless auto-updates to kernels. There is also DDoS protection, a web hosting firewall, 24/7 network monitoring, virus scanning, and defense against brute-force attacks to keep everything tidy. The provider's network is redundant with multiple 10 GB carriers, guaranteeing a 99.9% uptime.
7. GoDaddy
Getting started with a GoDaddy shared hosting plan is not only cost-effective but also remarkably user-friendly, catering to first-timers, bloggers, and business owners. The web host lets you select a hosting plan tailored to your specific needs, providing various options for disk space, email, processing power, and other resources. Each plan includes unmetered bandwidth, a one-click WP install, a free domain, and a cPanel (or Plesk if preferred) control panel, making it easy to install and set up popular web applications for blogging or eCommerce.
Manage your domain and hosting under one roof
Choice of cPanel or Plesk control panels
Up to unlimited bandwidth and storage
Microsoft 365 inboxes included FREE for first year
Get 70% OFF by signing up today
CHEAP
RATING 4.5 ★★★★★ Our Review
GoDaddy: Our Expert's Review
Ryan Frankel (HostingAdvice.com): A major pull factor for GoDaddy's hosting services is certainly the cost. It's hard to beat web hosting for just a few dollars per month, especially when the company includes a free domain name, control panel, impressively fast load times, and unlimited websites with most plans. Go to full review »
| Money Back Guarantee | Disk Space | Domain Name | Setup Time |
| --- | --- | --- | --- |
| 30 days | 25 GB – Unlimited | FREE (1 year) | 4 minutes |
More about GoDaddy:
An interesting perk is one year of two free Microsoft Office 365 email mailboxes with 10 GB of dedicated storage for email, contacts, and a shared online calendar. AutoSSL is free and included in the hosting plan of your choice as an alternative to paid SSL certificates. The 24/7 security monitoring and DDoS protection provide peace of mind, ensuring your site remains online, loads quickly, and stays secure.
8. Hostwinds
Thanks to its use of SSDs and LiteSpeed web servers, Hostwinds achieves an impressive 500% boost in performance compared to typical shared hosting plans. Its offerings include unlimited features covering bandwidth, disk space, subdomains, email accounts, databases, and FTP accounts, demonstrating the company's ability to combine superior services with reasonable prices. You also get a free dedicated IP and free SSL certificates for good measure.
Unlimited SSD storage, databases, and email
FREE site migration with cPanel and Softaculous
Instant upgrades without downtime
FREE around-the-clock monitoring
Automatic nightly backups available
CHEAP
RATING 4.3 ★★★★★ Our Review
Hostwinds: Our Expert's Review
Laura Bernheim (HostingAdvice.com): A recurring theme in the Hostwinds product lineup, the company offers multiple configurations to ensure every customer's needs are perfectly met. Between the SSDs and LiteSpeed web servers, Hostwinds ekes out 500% faster performance compared with typical shared hosting plans. Go to full review »
| Money Back Guarantee | Disk Space | Domain Name | Setup Time |
| --- | --- | --- | --- |
| 3 days | Unlimited SSD | New or Transfer | 6 minutes |
More about Hostwinds:
Redundancy through load balancers
Multiple operating system options, including Ubuntu, CentOS, Debian, and Fedora
Managed and unmanaged hosting plans
cPanel and Softaculous are combined to provide one-click installation for hundreds of web applications, from WordPress to Joomla. Like some hosting providers on this list, Hostwinds doesn't have a datacenter in the UK but in neighboring Amsterdam. That shouldn't deter you from taking Hostwinds into consideration, as the web host offers free website migration and managed support for its shared hosting at no additional cost, so sit back and let the pros handle everything for you.
9. 123 Reg
This host supports one in five of the UK's active websites. 123 Reg is a popular choice for businesses and individuals because it offers a wide range of services at an enticing cost. In terms of hosting, all plans come with one free domain name and personalized email address, no limit on bandwidth, and support for 1 GB MySQL databases. If you sign up for pricier plans or cheap WordPress hosting, you get an SSL certificate for free and scaled-up storage and processing power.

More about 123 Reg:
Unmetered bandwidth with no hidden costs
Daily backups
24/7 automatic security monitoring
The beginner-friendly cPanel interface is at the core of the user experience, making the setup process as smooth and painless as can be. Users can pick between a Linux or a Windows server, and 123 Reg keeps its systems safe in its very own datacenter. If you decide the service isn't entirely up your alley, note that you can get a refund for the first 14 days.
10. Webhosting UK
With 22 years of experience in the web hosting industry, it's safe to say Webhosting UK has amassed quite a bit of expertise and leading-edge technology to deliver reliable web hosting. The fully UK-based, privately owned hosting company offers you more resources than most competitors, including unlimited bandwidth, emails, databases, two websites, cPanel, and 24/7 technical support. The website migration service is free and, in most cases, takes less than 24 hours to get the job done.

More about Webhosting UK:
Windows hosting with 24×7 support and Plesk control panel
Daily offsite backups
99.9% uptime SLA
Webhosting UK has one of the best WordPress hosting plans around, also low-priced and worthy of praise. The world's most popular CMS comes pre-installed and with an easy-to-use control panel and WordPress Toolkit. To ensure high performance, the hosting provider uses SSD-powered WordPress-optimized Intel Xeon servers protected by advanced firewalls configured for the platform. With the one-click auto-installer in the mix, you can quickly install Drupal, Magento, Joomla, phpBB, and numerous more applications. Those looking for a green hosting solution will be happy to learn that this UK web host is big on sustainable hosting.
11. Namecheap
Namecheap is one of the largest domain registrars in the world. It has carved out a reputation for its low-cost service and customer support. With the cheapest shared hosting option, you get quite a bit of value. Let's start with the unmetered bandwidth and the possibility of hosting up to three websites with the CMS of your choosing. A free website builder and email service are included, as are 50 free PositiveSSL certificates for one year, which Namecheap automatically sets up for you.

More about Namecheap:
Free website migration
Fully redundant network
30-day free trial for WordPress hosting
What's more, all shared hosting plans with an EU datacenter promise 100% uptime and include cloud storage, though you also have a choice of a UK datacenter located in Nottingham. You can easily deploy WordPress in seconds with the Softaculous app installer, and there are a bunch of server, control panel, and database features (along with multiple add-ons) that make Namecheap a service worth considering for every type of demand.
How Much Does UK Web Hosting Cost?
The most affordable option is shared hosting, where prices range from $2 to $15 per month in the UK, depending on the length of the contract.
As expected, hosting plan prices vary among hosting providers, so ideally, you want to compare different providers to find the most cost-effective service. Keep in mind that a cheap web hosting provider may not always be the best fit for your needs in terms of performance, reliability, and customer support. Also, it's not uncommon for some hosting providers to offer lower initial prices but charge additional fees for certain features or upgrades, so make sure to read the fine print.

That being said, you can't go wrong with the top choices in this article, both in terms of price and what you get for it. With Hostinger, you can start as low as $$1.99 a month and get a lot of bang for your buck.
Plus, some hosting providers offer significant discounts on long-term commitments, ultimately bringing the monthly price tag ridiculously low. For instance, IONOS offers web hosting for just $1 a month for 12 months if you purchase an annual hosting package.
Is Webhosting UK a Good Host?
It's on this list, so it's good for something, right?
The short answer is yes. Webhosting UK provides fast and dependable hosting that caters to all kinds of business, serving more than two million websites worldwide. Compared to the vast array of competitors, the UK web host has five datacenters in the United Kingdom, including:
Maidenhead
Reading
Nottingham
Wakefield
York
The fact that the hosting company has been in the business for more than two decades should speak volumes for its consistency and reliability. Plus, it's privately owned (not depending on Google Cloud infrastructure, for example). On paper, it isn't beholden to external shareholders or public market pressures, which can lead to a more agile and customer-centric approach. In other words, it prioritizes customer satisfaction and service quality over profit maximization.
Can I Use Bluehost in the UK?
Yes, you can, though you should be aware of a few things.
For starters, you might have noticed that we didn't include Bluehost in our selection of cheap UK web hosting simply for the fact that the company doesn't have any UK-based datacenters. This is important because the location of a datacenter affects website speed, one of the pillars of user experience in hosting. The further the server is from your visitors, the longer it takes for your site to load on their screens. Hence, having a UK-based website host offers the advantage of having a faster-loading website.
One mitigation factor here is that Bluehost offers Cloudflare, a globally distributed network of servers that acts as an intermediary between a site's server and its visitors, improving the website's speed and reliability while protecting it from online threats.
Furthermore, Bluehost routinely scores glowing reviews on HostingAdvice for its beginner-friendly hosting solutions and reliable performance. It's a solid, reputable choice with competitive pricing, industry-standard hardware performance, and various premium add-ons. And if that is not enough, Bluehost is an officially endorsed WordPress host by the platform itself.
Cheap shared hosting from a trusted provider
Ideal for hosting a WordPress website
FREE Weebly website builder and Cloudflare CDN
Unlimited traffic and 24/7 live chat support
Get 70% off today with our Bluehost coupon
CHEAP
RATING 4.7 ★★★★★ Our Review
Bluehost: Our Expert's Review
Ryan Frankel (HostingAdvice.com): Bluehost pricing is about as competitive as the industry offers. Sign up for a shared hosting plan for as little as $2.95 per month, and WordPress hosting packages are consistently priced; a VPS plan starts at around $19.99 per month; and the dedicated hosting rates are as little as $79.99 per month. Go to full review »
| Money Back Guarantee | Disk Space | Domain Name | Setup Time |
| --- | --- | --- | --- |
| 30 days | 10 GB SSD – 100 GB SSD | FREE (1 year) | 5 minutes |
Check out our full review for all the important details on Bluehost's service.
How Can I Host a Website for Free in the UK?
Hosting a website for free in the UK can be done in several ways if you have the technical know-how. For most users, the two following options will suffice:
Website builders: Many website builders, such as Wix and Weebly, offer free plans that include hosting. While these plans have limitations like a branded domain, limited storage and bandwidth, and so on, they can be a good starting point for personal or test websites.
Free hosting providers: Some offer free web hosting with certain restrictions regarding storage, bandwidth, features, or support. 000webhost and WordPress.com are a couple of examples.
With a free hosting plan, certain users, such as students and developers, can freely test virtually unlimited websites for new projects, frameworks, and code without paying a monthly fee. Plus, since test projects normally don't get the same level of traffic as a typical website, there is no need to worry about bandwidth and storage limitations.
However, if you're planning to build a more serious or professional website, you may want to take a look at a cheap web hosting service or two, for starters. These paid plans offer more resources, better support, and a custom domain, which can enhance the credibility and functionality of your website.
Go Easy and Smart on Your Wallet
Choosing a cheap web hosting service with datacenters located in the UK certainly has its advantages. The server's proximity can influence multiple factors, notably website load speed and latency, which visitors care about most. Then, we mustn't forget about the impact on overall performance and search engine ranking.
Still, that's only a small part of the cheap hosting equation. Before selecting the most suitable UK web hosting solution, defining your objectives and identifying the specific services necessary for achieving them is crucial.
Take your time and conduct thorough research to make the most of your decision. Without knowing exactly what you need to guide you, it'll be impossible to get the best web hosting plan — no matter how much of a bargain it is.
See Our Full Review of Hostinger
Whatever type of hosting plan you're looking for, Hostinger is a solid choice no matter the scale. Our reviewer Laura Bernheim recently took Hostinger for a spin, and rated the popular host a 4.9 in the Cheap Hosting category out of a perfect score of 5.0. Here's what Laura had to say about Hostinger:
A champion of affordable hosting, Hostinger is a popular pick for site owners looking for beginner-friendly shared servers. More than 29 million customers call Hostinger home as they scale websites through site builder, VPS, and WordPress hosting plans. When searching for a new plan, Hostinger is among the best at balancing high quality with low prices.
Before signing up for Hostinger, it's a good idea to read through Laura's full review to learn about all the features Hostinger offers. You can also compare it to other web hosts to ensure you're getting the best deal possible:
If you decide Hostinger is the right choice, keep in mind that it takes just minutes to deploy your Hostinger server space. And at $1.99 per month, it's a bargain considering the many great features that come in any Hostinger plan.
Advertiser Disclosure
HostingAdvice.com is a free online resource that offers valuable content and comparison services to users. To keep this resource 100% free, we receive compensation from many of the offers listed on the site. Along with key review factors, this compensation may impact how and where products appear across the site (including, for example, the order in which they appear). HostingAdvice.com does not include the entire universe of available offers. Editorial opinions expressed on the site are strictly our own and are not provided, endorsed, or approved by advertisers.
Our Editorial Review Policy
Our site is committed to publishing independent, accurate content guided by strict editorial guidelines. Before articles and reviews are published on our site, they undergo a thorough review process performed by a team of independent editors and subject-matter experts to ensure the content's accuracy, timeliness, and impartiality. Our editorial team is separate and independent of our site's advertisers, and the opinions they express on our site are their own. To read more about our team members and their editorial backgrounds, please visit our site's About page.