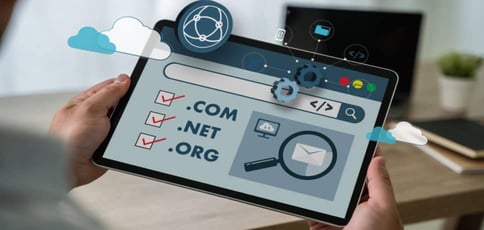 Domain registration is crucial to the existence and mechanics of the web. Domain names allow the internet to function efficiently, enabling users to easily find websites with short and memorable web addresses. Imagine if human users had to leverage the numerical IP addresses computers use to communicate and find each other on the web. That would be an inefficient and unorganized nightmare!
As we mature into the digital age, more domain names have emerged with the growth of new websites. Domain names have also evolved. Users can create names with new extensions, including .ai or .xyz, though generic TLD extensions continue to dominate the market. With more people using the web than ever before, domain registrations will continue to rise to meet the demand.
Below, we list some of the most exciting domain registration statistics that describe the current market and showcase the importance of domain names within the internet's structure.
The Dominating Facts
Here are a few facts that summarize the domain industry's proliferation today:
The US has about 130.6 million registered domains, the most in the world.1
More than 350 million registered domains exist worldwide.
700 million active domain names exist within the world's database.2
If you're looking for more in-depth information on domains, stick around because the following facts will surely do the trick.
4. 37% of Domain Names Have a .com Extension
Domain names can have various extensions, including .net, .org, and .com. But .com has reigned as the most popular extension for years, which can be credited to its age.3 Since it is the oldest and largest domain suffix, search engines, including Google, prefer it over the others. And because of its popularity, people tend to gravitate toward it more.
Top-level domains with generic extensions fare better than other extensions. More than 43% of all TLDs are generic. After .com, the country TLD .cn ranks the second highest, and .net is the second most used generic TLD. But the newer TLDs are also gaining traction. The extension .xyz has more than 12 million domains registered under its category.
5. GoDaddy, Namecheap, and Tucows Domains are the Top Three Domain Registrars in the World by Market Share
With so many domain registrations worldwide, domain registrars set out to manage these massive databases and provide users with services to maintain their domains. But users can get lost within the growing sea of registrars.
GoDaddy, Namecheap, and Tucows Domains have mastered the domain industry and sit comfortably at the top of the registrar market.4 Each of these companies has its own business models and layouts, but they all share domain services in common. GoDaddy asserts its dominance with a 12% market share compared to Namecheap's and Tucows' 3% and 2% shares, respectively.5

Below, we review each domain service and what they're best known for.
GoDaddy – 12% Market Share
GoDaddy is the #1 registrar in the world and has 76.6 million domains registered with its brand. Its services go beyond domain registration. GoDaddy offers users a complete one-stop shop for domain solutions. On its site, users can find a domain generator, domain appraisal, auctions, and a broker service. Its dashboard also has general services, including domain transfer, privacy and protection, and individual and bulk domain search.
Namecheap – 3% Market Share
Namecheap has been a top name in the domain industry for decades and owns more than 16.5 million domain registrations. Namecheap provides users with an affordable and customer-centric experience to help them get online quickly. Customers can use its 24/7 support to find assistance registering and managing their domains while leveraging a seamless account management dashboard for their required domain duties.
Tucows Domains – 2% Market Share
Tucows Domains has been ICANN-accredited since 1999 and has 11.1 million domains registered under its brand. As the world's third-largest registrar, Tucows manages millions of domain names. But unlike the other two on the list, Tucows doesn't directly sell domain names. Instead, it works under a wholesale model and has affiliated domain providers that customers can use to buy and manage their domains.
All three domain registrars hold firm footing in the domain name competition, although they have varying business models. Their success proves registrars don't have to follow one method to make it in the domain industry.
6. The Average Length of a Domain Name is 9 Characters
Domain names vary in personality and extension format. But one thing they all share is that they are short in length. Most domain names have above nine characters, whether a phrase or a brand name.6 Shorter domain names are encouraged because they are better for memorability and user navigation. They also boost credibility and garner more traffic.
According to Domain Wheel, the names of the top five most popular websites have six characters. Most domain names also have a combination of two words for a short and trendy brand name.
7. About 33,000 Domain Registrations Take Place Daily
Domain registrations occur all the time.7 This stat shows not only the frequency of registrations but also the steady rise of the number of websites on the internet. People register domain names for various reasons, including to preserve their brands, protect copyrights and trademarks, and resell them.

When a person registers a domain, a WHOIS record containing ownership contact information and other data is also created. Currently, the WHOIS database has about 13.7 billion records and highlights a piece of the domain industry's massive size.
Expand Your Domain Knowledge With These Stats
Without domains, the internet would not be where it is today. Domain names are essential to the framework of internet navigation and make websites discoverable to humans. Domain registration is also one of the first steps users take to establish an online presence. And as websites become a cornerstone for businesses and others undergoing digital transformation, domains have become even more important.
The stats we've listed above showcase the breadth of domain names and how the industry has taken off in the last few years. The domain industry has seen steady growth over the previous decade. And it will continue to expand. Websites and domain registration are connected.
The domain industry has also evolved in other ways. Many people have made domain registration a business for themselves through reselling, auctioning, and parking domains. It will be exciting to see where the domain industry leads next.
Further Reading
Our statistics in this guide are comprised of internal research and reputable sources. If you're interested in learning more, check out some of these sites for further reading.
https://domainwheel.com/domain-name-statistics/#gref, https://colorlib.com/wp/domain-name-statistics/ & https://domainnamestat.com/statistics/country/others
https://domainnamestat.com/whois-database-download
https://domainnamestat.com/statistics/tld/others
https://www.hostingadvice.com/how-to/largest-domain-registrars/
https://domainnamestat.com/statistics/registrar/others
https://domainwheel.com/domain-name-statistics/#gref, https://www.networksolutions.com/blog/establish/domains/8-characteristics-of-top-domain-names#:~:text=According%20to%20a%20study%20by,barely%20longer%2C%20at%2010%20characters & https://www.fasthosts.co.uk/blog/long-domain-names-vs-short-domain-names/
https://domainwheel.com/domain-name-statistics/#gref
For more information on domain registration, check out our list of the top 20 domain registrars and their services here.