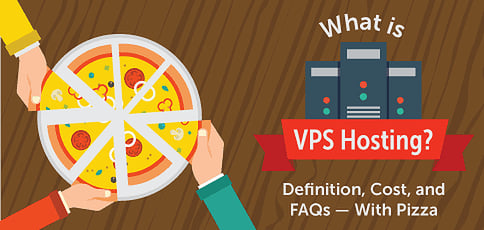 What is VPS hosting, you may ask, and where does it fit among all the web hosting options out there? Well, many know the housing analogy when talking about web hosting: Shared hosting is renting an apartment, VPS is like owning a condo, and dedicated servers are equivalent to owning your own home. We've used the comparison plenty, but it's time for something new.
Fresh off discovering and using Pizza-as-a-Service to describe cloud service models, we're ready to compare all things web hosting to pizza. Quickly, VPS stands for virtual private server and resides between shared and dedicated plans on the hosting spectrum. When it comes to pizza (as all things inevitably do), VPS equates to splitting a pizza with a friend and choosing the specific toppings you want on each half.
Let's take a look at the top hosts and services we recommend before I define VPS hosting and outline its delicious, cheesy advantages.
1. What are the Best VPS Hosting Services? (Top 3)
When you're ready to upgrade your hosting to a VPS plan, see if your current host offers the service. If you listened to us and signed up with one of our top shared hosting providers, chances are the company will migrate your websites, applications, and files to a VPS plan for free.
Otherwise, take a look at our three favorite VPS providers below. When shopping around, pay attention to which companies offer more powerful and speedy SSD storage, redundant and scalable cloud infrastructure, managed patches and updates, and instantaneous provisioning.
Managed or unmanaged virtual servers available in Windows or Linux
Cloud hosting instances with hourly or monthly billing
Instant upgrades without downtime
FREE around-the-clock monitoring
Automatic nightly backups available
Hostwinds: Our Expert's Review
Setup time: 6 minutes
Go to full review

»
Does any hosting provider have more virtual private server packages than Hostwinds? The company offers 10 configurations — and that's just for managed Linux server partitions. Hostwinds provides 10 additional plans each for managed Windows VPS and unmanaged...
| Money Back Guarantee | Disk Space | Domain Name | VPS Hosting Plans |
| --- | --- | --- | --- |
| N/A | 30 GB - 750 GB SSD | New or Transfer | www.hostwinds.com/vps |
$0.01 for the first month using code HOSTINGADV
Then $6 monthly with no contracts, no price changes
Latest versions of PHP, MySQL, Perl, Python, and Ruby
7 operating system options for Linux or Windows users
Full root access and choice of datacenter included
InterServer: Our Expert's Review
Setup time: 6 minutes
Go to full review

»
InterServer's on-site datacenter and hands-on involvement with configuring and provisioning virtual private servers give customers a level of flexibility not seen with many other hosting providers. InterServer rations VPS and cloud resources through slices....
| Money Back Guarantee | Disk Space | Domain Name | VPS Hosting Plans |
| --- | --- | --- | --- |
| N/A | 30 GB SSD - 480 GB SSD | New or Transfer | www.interserver.net/vps |
High-speed hosting that's faster than AWS, Rackspace, and Digital Ocean
FREE backups, CDN, root access, and DDoS protection
Up to 16 processors with all-SSD storage
Choice between cPanel or Plesk Onyx control panel
Real-time monitoring and 100% uptime guarantee
Liquid Web: Our Expert's Review
Setup time: 7 minutes
Go to full review

»
It's no secret by now that Liquid Web is known for best-in-class technology and reliability that exceeds expectations. The company's cloud VPS environments embody that reputation to its fullest — including managed WordPress and WooCommerce products.Liquid...
| Money Back Guarantee | Disk Space | Domain Name | VPS Hosting Plans |
| --- | --- | --- | --- |
| N/A | 30 GB SSD - 150 GB SSD | New or Transfer | www.liquidweb.com/vps |
2. What Does VPS Hosting Mean?
When it comes to the different types of hosting plans available, you can think of shared hosting as that already made, cheap pizza you get to share with seven or eight friends — there's little say on the toppings and you'll only get a slice or two, even if your growling stomach demands more.
With VPS hosting, you and another person can choose from higher quality ingredients and decide if the pineapple, for example, should only go on part of the pizza. Dedicated hosting, on the other hand, likens to skipping the delivery menu in favor of making your own and not sharing with anyone else. You have total control over how your pizza tastes, even though someone else might cook the pie in their oven.
In VPS hosting, a server has been divided into virtualized partitions or virtual machines. You have more control and computing resources than shared hosting packages (in other words, more pizza to satisfy your growing appetite) but still share the hardware with other VPS customers while your traffic grows to the point where a dedicated server makes the most financial and performance sense.
A VPS runs its own operating system copy and acts as an independent dedicated server, even though the physical server might contain several virtual environments. Users have administrative rights to their VPS and can install their own instances of various applications, including Apache, PHP, or MySQL.
3. What is "Cloud" VPS Hosting?
As with all these hosting analogies, cloud hosting makes things a bit more hazy and difficult to explain. Returning to pizza, cloud VPS hosting is roughly akin to eating at an affordable pizza buffet. You can take slices from several different types of pizzas and go back up to the buffet for more if or when you're hungry.
A cloud-based VPS still draws resources from a virtual machine, but the environment is made up of several different servers clustered or networked together. Each cloud server helps conduct a particular set of tasks, and other servers are ready to fill in in the event that something fails or crashes. This makes cloud VPS hosting extremely performant, scalable, and reliable.
For the pizza analogy to truly apply, however, we have to make a few strange tweaks. Most cloud VPS hosting plans adopt a pay-as-you-go model, billing customers for exactly the computing or storage resources used. So, cloud VPS is totally like eating at a pizza buffet — that is, if you're visiting one that charges you by the slice and lets you put the uneaten pizza back on the buffet. Regardless, be sure to check out our three favorite cloud VPS hosting providers:
Ranked #1 for cloud VPS hosting
Fault-tolerant SSD storage and up to 8GB of RAM
FREE control panel with choice of Linux OS
Full root access or managed servers available
FREE live-state or scheduled snapshots
InMotion: Our Expert's Review
Setup time: 6 minutes
Go to full review

»
With leading-edge cloud technology, InMotion offers free site transfer, setup, and SSD drives for the ultimate cloud solution offerings. They include free data backups and offer unmanaged or fully managed servers to help you scale your site with...
| Money Back Guarantee | Disk Space | Domain Name | Cloud Hosting Plans |
| --- | --- | --- | --- |
| 90 days | 75 GB SSD - 260 GB SSD | FREE (1 year) | www.inmotion.com/cloud |
Twice as fast and four times the computing resources
Tons of storage with the scalability of the cloud
Low-density servers and multiple caching layers
Unlimited domains and MySQL databases
Upgrades available for security, backups, productivity, and domain privacy
HostGator: Our Expert's Review
Setup time: 7 minutes
Go to full review

»
For those ready to expand beyond shared hosting, HostGator offers a fully featured step into the cloud. With scalable, high-powered resources, customers can easily monitor resources and caching from an intuitive dashboard. Rest easy knowing your site is...
| Money Back Guarantee | Disk Space | Domain Name | Cloud Hosting Plans |
| --- | --- | --- | --- |
| 45 days | 120 GB - 240 GB | New or Transfer | www.hostgator.com/cloud |
Choose your OS or optimized application configuration
Hourly or monthly billing for convenience
Optional upgrades for cPanel, backups, and monitoring
Managed services, SSDs, and HDDs available
Block and object storage, plus enterprise-grade firewall
Hostwinds: Our Expert's Review
Setup time: 6 minutes
Go to full review

»
Hostwinds provides supremely scalable and customizable options for the savvy developer or site owner. Customers can customize their cloud environment or choose pre-built configurations optimized to run apps like WordPress, Drupal, and others. With an emphasis...
| Money Back Guarantee | Disk Space | Domain Name | Cloud Hosting Plans |
| --- | --- | --- | --- |
| N/A | 30 GB - 750 GB SSD | New or Transfer | www.hostwinds.com/cloud |
4. What are the Advantages and How Much Does It Cost?
Jumping from a shared hosting plan into a VPS unlocks a bevy of new functionalities. Being able to configure your environment through full root access is a major perk of VPS hosting, along with the noticeable boosts in performance and stability because fewer customers share the computing resources.
If the added technical responsibility intimidates you, however, many hosting providers begin offering managed services at the VPS level. That means the company's in-house experts and support staff will handle everything from server setups and software installation to platform optimization and enhanced security. Your host will take care of maintaining and updating the infrastructure so you can focus on your company, application, or website.
Because of the upgraded features, resources, and support, VPS hosting plans are understandably more expensive than shared hosting. However, that doesn't mean VPS is cost-prohibitive or that you can't find good services for great, affordable prices. Simple, bare-bones VPS plans from respected, reputable hosting providers typically start out around $30 per month — though many of our favorite VPS hosts allow us to give you a discount.
As you add computing resources and servers to your VPS cluster, however, expect those prices to grow. Another big benefit of VPS hosting, especially of the cloud flavor, is the ability to quickly scale your infrastructure to meet traffic demands. You can add or remove servers, often in an automated fashion, with a click or two of the mouse and only pay for what you use.
5. What is VPS Hosting Used For and Who Needs It?
VPS hosting is the service of choice for small or medium businessessmall or medium businesses looking for more control, flexibility, and performance than shared hosting but without the investment required to move all the way up to a dedicated server. While everyone from baffled first-time website owners to seasoned individual developers populates the shared hosting customer ranks, VPS users typically have professional-level experience or critical business needs from their web hosting.
Availability, security, and speed are all critically important to businesses. VPS hosting plans deliver that and more, often automating routine processes, including security monitoring and load balancing, and booting up additional servers and computing resources. Although setting up your VPS infrastructure and processes can be quite a bit more intense (or not, if you have a managed hosting plan), the automation and added services from VPS packages often make customers' experiences resemble shared hosting's "set it and forget it" routine.
So, How Can a Virtual Server Help Scale Your Business?
Just as pizza chefs toss the dough in the air to extend it, VPS hosting plans can elevate your business to new heights. As you move forward (hopefully with one of our recommended hosts), we hope your VPS hosting adventures will be as exciting and delicious as stumbling upon a late-night pizza joint serving hot, fresh slices of buffalo chicken pizza. Top-notch ingredients, such as scalability, redundant cloud infrastructure, ultimate flexibility, and pay-as-you-go billing, give you a taste of the benefits a VPS host can deliver.