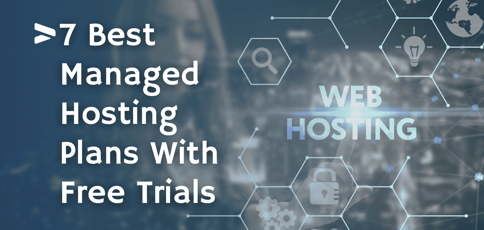 A free trial is a smart way to dip your toes into a web host's water. You pay nothing upfront and get to enjoy all the host's features and services for a period of time.
Independent web developers, freelancers, and programmers are faced with a huge number of options on public cloud platforms, many of which accomplish the same functionality. The best managed hosting free trials give developers the ability to assess programming language and database tools for website design and mobile application requirements before they commit to a long-term contract with the brand.
We've reviewed dozens of hosting packages across all categories to bring you the best managed hosting plans with free trials.
1. Kamatera: Best Managed VPS Free Trial
Kamatera offers a 30-day free trial, as long as your web hosting service customizations cost less than $100 per month. The platform is similar to WP Engine or WPX Hosting and has a wide range of enterprise-grade hosting products like multi-cluster servers that scale across multiple datacenters around the world and a fully managed cloud control panel for VPS hosting.
Cloud VPS that's more flexible and affordable
Load balancer, firewall, and managed services
Premium Intel CPUs with 300% more power
Choose between monthly or hourly billing
Sign up today for a 30-day FREE trial
MANAGED
RATING 4.9 ★★★★★ Our Review
Kamatera: Our Expert's Review
Laura Bernheim (HostingAdvice.com): Backed by cutting-edge cloud computing technology, Kamatera adds instant and limitless scalability to the VPS hosting marketplace. Each cloud or virtual server is equipped with blazing-fast SSD storage and Intel Xeon Platinum CPUs. Go to full review »
| Setup Time | Disk Space | CPU | RAM |
| --- | --- | --- | --- |
| 5 minutes | 20 GB SSD – 4 TB SSD | 1 – 104 cores | 1 GB – 525 GB |
Programmers, developers, and systems administrators can gain the most by taking advantage of the 30-day free trial offer at Kamatera. Most cloud hosting companies are distinguished by their GUI and custom AMP facilities. The free trial allows admins to access the range of features available for every Kamatera platform. Cloud VPS plans can be launched in just a few minutes with free trial hosting.
2. Cloudways: Best Managed WordPress Free Trial
Cloudways has a 3-day free trial for its managed WordPress plans which can be valuable for developers with short-term needs. Cloudways allows for custom application deployment across DigitalOcean, GCE, and AWS with full-stack virtual machine installations. You get a free SSL certificate for hosting services.
Migrate unlimited WP sites using Cloudways plugin
FREE CDN and WordPress staging areas
Caching plugin, Breeze, comes pre-installed
SSD storage for 3x faster WordPress hosting
25% OFF with code HOSTINGADVICE
MANAGED WORDPRESS
RATING 4.5 ★★★★★ Our Review
Cloudways: Our Expert's Review
Alexandra Anderson (HostingAdvice.com): Cloudways makes it simple to kick-start a WordPress site or app hosted in a cloud environment. During the initial setup, we were given a choice of a single- or multi-site installation of the latest WordPress version — complete with Cloudways optimizations — or a no-frills WP install. Go to full review »
| Money Back Guarantee | Disk Space | Domain Name | Setup Time |
| --- | --- | --- | --- |
| 3-day FREE trial | 20 GB SSD – 4 TB SSD | New or Transfer | 8 minutes |
Cloudways customers can test the performance of popular apps like WordPress, Drupal, WooCommerce, Magento, Moodle, and other free LAMP scripts with one-click deployments on their choice of server. It's easy to configure the RAM, SSD storage, and vCPU settings. Use the Cloudways free trial with a copy of a site to compare benchmarks versus the current hardware of your WordPress host.
Best Managed Hosts with Money-Back Guarantees
A money-back guarantee is similar to a free trial because you can test your hosting provider risk-free. The money-back offer is especially important if you sign up for a long-term contract to lock in the best hosting rates.
Independent developers and small businesses can rest easy knowing they can receive a refund on their hosting plan if the platform is deficient for some reason.
The list below highlights our choice of the top five managed cloud hosting providers that come with a money-back guarantee. The list is based on Cloud VPS plans that can be configured to support a wider range of programming languages and databases than is offered by shared LAMP hosts. These exclusive hosting offers include free web hosting trials with a free domain and free migration of website files.
Use the following offers for a managed hosting plan with a free trial:
Choice of self-, semi-, or fully managed
Enterprise-grade Intel hardware
Linux or Windows operating system
RAID SSD storage for added speed
100% network uptime
MANAGED
RATING 4.9 ★★★★★ Our Review
Liquid Web: Our Expert's Review
Alexandra Anderson (HostingAdvice.com): It's no secret by now that Liquid Web is known for best-in-class technology and reliability that exceeds expectations. The company's cloud VPS environments embody that reputation to its fullest — including managed WordPress and WooCommerce products. Go to full review »
| Setup Time | Disk Space | CPU | RAM |
| --- | --- | --- | --- |
| 7 minutes | 40 GB SSD – 200 GB SSD | 2 – 8 cores | 2 GB – 16 GB |
Liquid Web continues to expand integration with Nexcess Commerce Cloud to meet the needs of SMEs managing online websites and mobile applications. The Liquid Web money-back offer is recommended to test performance speeds on WordPress and Magento websites before committing to transferring to a managed hosting plan.
DevOps techs can benchmark the performance and compare it to that of their current web hosting company. Liquid Web accounts can be configured with multiple mailboxes and variable storage limits for email account support.
Liquid Web has dedicated, VPS, cloud, eCommerce, and enterprise products that specialize in the needs of different publishers or software applications. The money-back guarantee, which applies to Liquid Web and Nexcess products, allows users to evaluate their managed WordPress platform. Liquid Web compares to Digital Ocean, Google Cloud, and WP Engine as the best web hosting services for high-performance websites, SMEs, and major brands.
Affordable and fast managed VPS hosting
Minimum 2 dedicated IP addresses per plan
Daily, automatic, and rebootless kernel updates
24/7/365 live chat, phone, email, or ticket support
FREE Cloudflare CDN and New Relic monitoring
MANAGED
RATING 4.9 ★★★★★ Our Review
A2 Hosting: Our Expert's Review
Alexandra Anderson (HostingAdvice.com): A2's managed VPS hosting plans are loaded with premium features. Powerful Turbo Servers yield 20 times faster performance and are combined with the expertly managed services of the engineers and Guru Crew support personnel. Go to full review »
| Setup Time | Disk Space | CPU | RAM |
| --- | --- | --- | --- |
| 7 minutes | 150 GB SSD – 450 GB SSD | 1 – 8 cores | 1 GB – 32 GB |
A2 Hosting has an unconditional money-back guarantee for the first 30 days and a prorated refund policy for up to 90 days if customers are dissatisfied for any reason with the services. This policy applies across shared and dedicated cloud hardware but not to domain names and SSL certificates.
A2 Hosting Managed WordPress Hosting plans run on Turbo hardware units and are optimized for speed and security. WordPress publishers can test exclusive opt-ons and special offers for Jetpack and WooCommerce.
Each registered domain name gets a free SSL certificate on A2 Hosting plans. Domain name registration costs will not be refunded with the A2 web hosting free trial options if the plan billing is canceled.
FREE server setup by their experts
99.999% network uptime guaranteed
FREE OS/cPanel security patches and updates
FREE SSDs make your site load up to 20x faster
Custom server configurations and FREE SSL security
MANAGED
RATING 4.6 ★★★★★ Our Review
InMotion: Our Expert's Review
PJ Fancher (HostingAdvice.com): InMotion Hosting is a web leader in managed services, whether you're shopping for a VPS or a dedicated server. Starting with the custom server configurations and complimentary setup by their experts, you won't be disappointed…. Go to full review »
| Setup Time | Disk Space | CPU | RAM |
| --- | --- | --- | --- |
| 6 minutes | 90 GB SSD – 360 GB NVMe SSD | 2 – 8 cores | 4 GB – 16 GB |
InMotion Hosting is famous for introducing NVMe SSD hosting on their Cloud VPS plans for a higher level of performance on CMS, social networking, and eCommerce websites. The cPanel administration is rock solid, and project managers can benchmark the NVMe options for speed and control panel on shared hosting.
It is easy to justify the platform shift to InMotion Hosting when you can run copies of the same website on different web hosts using a money-back guarantee or free offer. InMotion Hosting meets the highest performance speeds in benchmark testing thanks to its NVMe SSD storage for files and databases on premium accounts.
Same price for Windows or Linux OS
FREE daily backups
SSD or cloud storage upgrades
Full root access
Pre-configured software firewall
MANAGED
RATING 4.6 ★★★★★ Our Review
AccuWebHosting: Our Expert's Review
Laura Bernheim (HostingAdvice.com): The signature service of AccuWebHosting, the company's VPS plans come in all shapes, sizes, and operating systems. Blending quality and affordability, AccuWebHosting plans start at less than $10 per month — roughly half of what you'll find elsewhere. Go to full review »
| Money Back Guarantee | Disk Space | Domain Name | Setup Time |
| --- | --- | --- | --- |
| 7 days | 40 GB – 125 GB | New or Transfer | 6 minutes |
AccuWebHosting has a 7-day money-back guarantee and a free website migration offer with its fully managed VPS plans. This allows you to test the platform with your web/mobile apps with reduced setup time.
AccuWeb support teams help customers with any transfer issues and are more experienced than Lithium Hosting in managed WordPress hosting on cloud server hardware.
Some web hosts charge as much as $139 per website transfer. AccuWeb's free website transfer is a value-added feature for publishers with a large file base. Multisite domain publishers can save on shared hosting plans at AccuWeb with a web hosting trial that offers support for both Linux and Windows servers.
Choice of Debian, Ubuntu, Fedora, and CentOS
Cloud VPS hosting with hourly or monthly billing
Impressive 99.9999% uptime guarantee
Real-time monitoring and instant scalability
Full management and nightly backups
MANAGED
RATING 4.5 ★★★★★ Our Review
Hostwinds: Our Expert's Review
Laura Bernheim (HostingAdvice.com): As a managed VPS hosting provider, Hostwinds gives site owners tons of advanced options. Customer can choose from several Linux operating systems, including Debian, CentOS, Ubuntu, and Fedora. Go to full review »
| Setup Time | Disk Space | CPU | RAM |
| --- | --- | --- | --- |
| 6 minutes | 30 GB SSD – 750 GB SSD | 1 – 16 cores | 1 – 96 GB |
Hostwinds' three-day money-back guarantee is shorter than most web hosting trial offers. This is enough to demo the custom Administration Management Panel (AMP), benchmark the hardware, explore the custom configuration of virtual machines, and test other required features for projects.
Hostwinds strictly adheres to its no-refund policy of any sort on domain names and other add-on services from third parties billed to new accounts. To avoid this, use your side domains to route to Hostwinds through DNS settings and see if the managed Cloud VPS is suitable to your needs to test the platform.
Please see our FAQ section for more details on cloud hosting, storage, server configurations, billing, and licensing.
What Is Managed Hosting?
Managed hosting platforms provide the full stack software required to run an Apache or NGINX web server preinstalled on virtual hardware. The management aspect focuses on flexible virtual configurations of vCPUs, SSD/HDD storage, and scalable RAM allocations on accounts with load balancing.
Trained engineers at the web hosting company provide 24/7/365 maintenance for your site's web hosting operations. This allows small businesses and startups to use the same tools as enterprise organizations and helps them introduce new software features to platforms more quickly.

A managed hosting plan takes care of automatic security upgrades to all installed software on a web server with the exception of your personal files. On an unmanaged VPS or dedicated server plan, system administrators will be required to monitor this and make upgrades manually with command line tools. Unmanaged servers are expensive and time-consuming for small businesses, so paying a premium for managed hosting is well worth it for many customers.
If time savings isn't enough, managed hosting has also evolved to offer performance-enhanced stack software on elite hardware configurations for the best web and mobile app speeds in production.
A managed web hosting plan has many advantages for individual developers, small businesses, NGOs, and other project groups. Those advantages include the ability to deploy hardware in minutes rather than hours or days, have web servers configured by the world's best experts, and rely on ongoing security from a hosting brand, among other benefits.
Managed hosting allows business publishers of any size to access the best web server configurations for their software without having to employ an expensive in-house team. This reduces the long-term cost of systems administration, web development, and cybersecurity, while also eliminating the need for businesses to run in-house datacenters.
Rely on managed cloud hosts to save costs on shared hosting for the best deals in the industry.
Do I Really Need Managed Hosting?
Most people have no need to reinvent the wheel every time they want to drive. Take advantage of the experience of engineers at the world's largest and most advanced datacenters rather than investing in building your own solution from scratch.
Most managed hosting platforms are designed to optimize software deployment on AWS, GCP, and Microsoft Azure. The difficulty of programming, version control, security, and configuration of cloud servers on AWS, GCP, and Microsoft Azure are barriers to many developers who can do better with managed cloud products.

Most managed hosting platforms are currently focused on optimizing runtime support for LAMP applications and provide MySQL, PHP, and Apache server configuration services for clients. Businesses of any size can save significantly on systems administration using managed cloud platforms.
If you're on a tight budget, managed hosting with cPanel configuration of LAMP servers is the industry standard for value. You cannot beat the combination of cPanel and Softaculous for ease of use.
These scripts support hundreds of open-source web development solutions. Many are also integrated with managed WordPress hosting plans with optimized hosting environments for scripts. These aspects make managed hosting services well worth the price of the subscription plans.
What Is the Best Managed WordPress Hosting Provider?
WP Engine is widely regarded as the leading Managed WordPress hosting provider, and it is the central focus of its company.
Are your developers ready to reliably configure NGINX, Varnish Cache, Memcached, and Redis on a web server? Are your systems administrators able to immediately update PHP and MySQL with the latest security updates? These advantages distinguish WP Engine from other web hosts as the best Managed WordPress hosting service.
Pro Tip: WP Engine does not currently offer a true free trial. However, its money-back guarantee allows you to try its premium services at no risk.
0%

OFF your first payment for our readers
FREE Genesis Framework & StudioPress themes
Fast, scalable, and secure WordPress
FREE SSL certificate and CDN ready
Upgrade for geotargeting and edge security
WORDPRESS
RATING 4.8 ★★★★★ Our Review
WP Engine: Our Expert's Review
Ryan Frankel (HostingAdvice.com): With prices much higher than many WordPress users are accustomed to seeing, we understand that WP Engine may not be for everybody. But for those developers, designers, agencies, and growing businesses passionate about website performance, stability, and cutting-edge WordPress features, WP Engine will be a godsend. Go to full review »
| Money Back Guarantee | Disk Space | Domain Name | Setup Time |
| --- | --- | --- | --- |
| 60 days | 10 GB – 50 GB | New or Transfer | 6 minutes |
WP Engine largely invented the service category of managed WordPress hosting. Now most web hosting companies are imitating its service. The advantages of WP Engine over other managed WordPress hosting platforms are fewer now than when it launched because knowledge spreads more quickly using open-source collaboration.
You will need to pay top prices to secure the cloud products designed by the top programmers in the WordPress ecosystem.
How Do I Host a Website for Free?
The best way to host a site for free is to abandon your requirements for PHP, Python, & MySQL or compatible database installations and use a Static Site Generator (SSG). For many people, this is like a regression to Web 1.0, but you can get a lot of free hosting offers from JAMstack companies by using GitHub and relying on SSG frameworks to publish simple websites.
For cPanel, many hosts will give some site credit or free hosting if you recommend your friends for a new account. Other companies support charity projects. The best way to host a website for free is to use a social media account. Facebook, Instagram, Twitter, and other large social media sites have extensive resources for publishers that are free and will support huge traffic surges. Social media for bloggers and eCommerce websites may add advertisements to pages.
Site builders like Weebly and Wix offer free hosting for low-traffic websites on subdomains. To use your own domain name you will need to upgrade. Some low-code platforms may offer free hosting with their services as a means to attract new customers.

Public cloud hosting companies like AWS, GCP, and Microsoft Azure offer free hosting to low-traffic websites on limited-time offers. After the test period expires, costs can often exceed those of shared hosting.
Instead of opting for a free hosting plan, consider an inexpensive shared hosting plan instead.
What Comes With a Free Hosting Trial?
The main component of a free hosting trial is a virtual web server. The VM or VPS partition can then be dedicated to a unique user with account isolation based on RBAC and can be configured with different web server installations on multicore hardware using KVM.
The VM or VPS account needs a control panel or Account Management Panel (AMP) to provide administrative functionality to the user. Configuring the web server is the main part of the free trial, while the other aspect is making a web server instance available for use by the client.
Some companies may offer free hosting with command line administration that allows you to install cPanel, Webuzo, Plesk, or an open-source control panel option for the server according to your license.
It is rare to find free hosting on "bare metal" hardware. Usually, free accounts are made available on managed hosting plans to give users a test option or as a long-term resource for website development for nonprofit organizations. Otherwise, use social media websites for free blogs. Stores like Shopify are not cheap and cost $40 to $120 per month on average.

At a fundamental level, developers need hardware, an operating system, a web server framework (Apache/NGINX) linked to an IP address, installed programming language extensions, and at least a single database option for a viable free trial hosting offer.
A control panel, licensed or open-source, provides a GUI option for browser-based management of the web server rather than command line administration to the user of the service.
Know what to look for when choosing a free web host >>
What Happens After My Free Trial Ends?
Most users will be signed up automatically with subscription billing once a free trial offer ends unless the account is canceled.
Only nonprofit accounts can avoid paying for hosting services at major companies. Low-traffic accounts will transition to basic billing on public cloud platforms which can be more expensive than shared hosting plans in the long term. Social media accounts will generally keep posts active indefinitely for free but will include ads on the site.
Free accounts hosted on branded sub-domains are more likely to stay online when the free trial ends than hosting plans that require a custom domain name. Most users will be forced to transfer their domain to another web host when the free trial is over unless they want to pay the web host's price for services.
Social media accounts are better for preserving free content over time. Many blog and eCommerce publishers can use social media accounts reliably for low-budget and bootstrapped projects.
Rely on Managed Hosting for Secure Platform Innovation
Before the cloud era, systems administrators were required to spend large amounts of time configuring each web server individually and maintaining it with security patches over time.
Managed hosting has largely removed this requirement from businesses by allowing them to outsource their datacenter requirements to the cloud. Free plans allow project managers and IT decision-makers to analyze platforms to make informed choices on provisioning.
The web and mobile software development industry moves in swift cycles, and it takes experts in datacenter administration to keep up with innovation. Look for companies with adequate funding resources and cutting-edge facilities that are working on advancement in cloud-native web standards.
This can include contributions to open-source projects or the release of new platform solutions for cloud hosting. Secure platform innovation saves small businesses money on software development essentials and gives them access to tools with enterprise features.

The basic functionality of a web server, programming language, or database does not change depending on the hosting platform it is featured on. But there is a lot of difference in performance depending on the datacenter configuration, the base hardware specifications, the web stack components, and other aspects related to fine-tuning with DevOps solutions.
Use free trial and money-back offers as an insurance policy to make sure you will be satisfied with your hosting account, then lock in value with a long-term contract. You can save the most on web publishing by using managed hosting plans. WordPress is the most popular development framework, but don't overlook the value of other emerging open-source projects.
Kamatera, Cloudways, Wix, Weebly, and WP Engine are good choices to pursue for managed hosting on projects of any size. These companies specialize in the needs of small businesses by giving them access to the same powerful tools enterprise organizations use in IT at competitive rates.
Focus your development team on the benefits of managed cloud hosting.
Advertiser Disclosure
HostingAdvice.com is a free online resource that offers valuable content and comparison services to users. To keep this resource 100% free, we receive compensation from many of the offers listed on the site. Along with key review factors, this compensation may impact how and where products appear across the site (including, for example, the order in which they appear). HostingAdvice.com does not include the entire universe of available offers. Editorial opinions expressed on the site are strictly our own and are not provided, endorsed, or approved by advertisers.
Our Editorial Review Policy
Our site is committed to publishing independent, accurate content guided by strict editorial guidelines. Before articles and reviews are published on our site, they undergo a thorough review process performed by a team of independent editors and subject-matter experts to ensure the content's accuracy, timeliness, and impartiality. Our editorial team is separate and independent of our site's advertisers, and the opinions they express on our site are their own. To read more about our team members and their editorial backgrounds, please visit our site's About page.