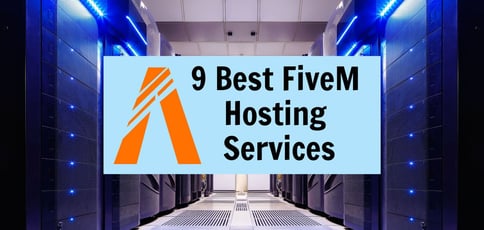 I vividly remember how excited my teenage classmates and I were when Grand Theft Auto V was released in 2013. My best friend was one of the first to purchase the game, and we spent many evenings completing missions in the fictional world of Los Santos. Grand Theft Auto VI is around the corner, and I feel like a teenager again, brimming with impatience!
With more than 405 million units sold worldwide, the Grand Theft Auto (GTA) video game franchise is one of the most successful video game series of all time. GTA V is by far the most popular game of the series, with 185 million units sold to date. If you are a gaming enthusiast and love playing GTA V in particular, we recommend exploring FiveM.
Powered by Cfx.re, FiveM is a multiplayer modification framework for Grand Theft Auto V, allowing you to play on customized, dedicated servers. By hosting/joining a FiveM server, you can play with up to 2,048 players and enjoy different game worlds, multiplayer modes, and resources, without being limited to in-game money. We are here to help you explore the best FiveM hosting services.
Best FiveM Virtual Private Servers
Any virtual private server (VPS) with root access can host FiveM, but you will need some technical expertise to set it up. If you are looking for an affordable, reliable, and secure FiveM server hosting solution with full root access to play FiveM with your friends, the following VPS hosting providers are the best options.
Cloud VPS that's more flexible and affordable
Load balancer, firewall, and managed services
Premium Intel CPUs with 300% more power
Choose between monthly or hourly billing
Sign up today for a 30-day FREE trial
VPS
RATING 4.9 ★★★★★ Our Review
Kamatera: Our Expert's Review
Laura Bernheim (HostingAdvice.com): Backed by cutting-edge cloud computing technology, Kamatera adds instant and limitless scalability to the VPS hosting marketplace. Each cloud or virtual server is equipped with blazing-fast SSD storage and Intel Xeon Platinum CPUs. Go to full review »
| Setup Time | Disk Space | CPU | RAM |
| --- | --- | --- | --- |
| 5 minutes | 20 GB SSD – 4 TB SSD | 1 – 104 cores | 1 GB – 525 GB |
Kamatera is one of the best VPS hosts, with cutting-edge cloud computing technology, affordable billing plans, a guaranteed server uptime of 99.95%, and high-speed SSD storage and Intel Xeon Platinum CPUs.
You can customize your VPS hosting plan by selecting the disk space, bandwidth, memory, processing power, and operating system (OS)version you need. You can also add cPanel or Plesk to your web hosting plan. Download the FiveM.exe client for free and set up your own dedicated FiveM cloud server with Kamatera.
$2/month with no hidden fees
Try it FREE via 30-day money-back guarantee
Full root access and API
10GB to 240GB SSD, Linux or Windows
No throttling or traffic restrictions, ever
VPS
RATING 4.9 ★★★★★ Our Review
1&1 IONOS: Our Expert's Review
Alexandra Anderson (HostingAdvice.com): For an all-star player in the game of web hosting flexibility, look no further than the low-cost options from 1&1 IONOS. The company's vServers are a powerful VPS option that includes dedicated resources and unlimited traffic. Go to full review »
| Setup Time | Disk Space | CPU | RAM |
| --- | --- | --- | --- |
| 6 minutes | 80 GB SSD – 240 GB SSD | 1 – 8 cores | 512 MB – 24 GB |
IONOS offers cheap Linux VPS hosting plans without sacrificing quality. These plans are packed with impressive features, including full virtualization, unrestricted traffic of up to 1 Gbps, fast NVMe SSD storage, certified datacenters and peak security, and a free Plesk Web Host Edition license.
The hosting company offers six customizable Linux VPS plans, so choose the plan that is best for your FiveM gaming experience. IONOS is without a doubt one of the best FiveM hosting services.
Managed or unmanaged, in Windows or Linux
Cloud hosting with hourly or monthly billing
Instant upgrades without downtime
FREE around-the-clock monitoring
Automatic nightly backups available
VPS
RATING 4.8 ★★★★★ Our Review
Hostwinds: Our Expert's Review
Laura Bernheim (HostingAdvice.com): Does any hosting provider have more virtual private server packages than Hostwinds. The company offers 10 configurations — and that's just for managed Linux server partitions. Go to full review »
| Setup Time | Disk Space | CPU | RAM |
| --- | --- | --- | --- |
| 6 minutes | 30 GB SSD – 750 GB SSD | 1 – 16 cores | 1 – 96 GB |
Hostwinds offers four VPS hosting categories (Linux managed, Linux unmanaged, Windows managed, and Windows unmanaged), with 10 VPS hosting plans each. These plans feature a range of CPU cores (1-16), RAM (1-96 GB), SSD storage (30-750 GB), and bandwidth (1-9 TB).
Some other features worth noting include an astounding uptime guarantee of 99.9999%, nightly backups, and excellent technical support. If you are looking for an unmanaged Windows VPS hosting provider, Hostwinds is your best bet.
Seamless migration from any Bluehost shared hosting plan
Root access and easy multi-server management
Ample RAID-1 storage and tons of bandwidth
Each plan gets at least 3 dedicated IP addresses
cPanel and WHM with root access
VPS
RATING 4.7 ★★★★★ Our Review
Bluehost: Our Expert's Review
Ryan Frankel (HostingAdvice.com): We love recommending Bluehost for its lifetime customer growth potential, meaning you can start with shared hosting and seamlessly scale to VPS hosting plans and beyond. The price versus performance is pretty unbeatable in the virtual hosting space, and Bluehost's engineering team will kick off the customer relationship by instantly provisioning your server. Go to full review »
| Setup Time | Disk Space | CPU | RAM |
| --- | --- | --- | --- |
| 6 minutes | 30 GB SSD – 120 GB SSD | 2 – 4 cores | 2 GB – 8 GB |
Bluehost VPS hosting plans are slightly expensive but offer stellar features. These include unmetered bandwidth, stately SSD storage (starting from 120 GB SSD), 2-8 GB RAM, up to four CPU cores, a cPanel license included for free, and 24/7 VPS hosting assistance.
Full root access, fully dedicated server resources, and admirable raw computing power enable you to install and play FiveM without any hiccups. If your budget is not a constraint and you want to play with a large community, Bluehost is among the best FiveM hosting services. It is worth mentioning that Bluehost is a renowned WordPress hosting provider as well, recommended by WordPress itself.
Cloud-based SSD storage for speed and reliability
Double your RAM with burst periods
FREE dedicated IPv4 and IPv6 addresses
Custom control panel for reboots and OS installs
HostingAdvice readers enjoy more than 50% off
VPS
RATING 4.6 ★★★★★ Our Review
Hostinger: Our Expert's Review
Laura Bernheim (HostingAdvice.com): Hostinger's laser focus on providing affordable hosting solutions shines brightest with the company's VPS packages. The company provides six different virtual server plans, including one that costs less than $5. Go to full review »
| Setup Time | Disk Space | CPU | RAM |
| --- | --- | --- | --- |
| 6 minutes | 20 GB SSD – 250 GB SSD | 1 – 8 cores | 1 GB – 16 GB |
Hostinger offers KVM VPS hosting plans, with free automatic weekly backups, 4-32 GB RAM, 50-400 GB NVMe disk space, 1-8 TB bandwidth, a unique dedicated IP address, firewall and DDoS protection, and an AI assistant.
Hostinger VPS hosting plans were created with activities like gaming and streaming in mind. Hostinger VPS' network speed of 300 Mbps ensures high uptime, fast loading speeds, and good overall gaming performance so you can enjoy an uninterrupted FiveM experience. Hostinger is easily one of the best FiveM hosting services.
Other FiveM Hosting Services
These FiveM hosting services come preconfigured with all the settings you need. All you need to do is select a hosting plan, adjust its settings (location, player slots, memory, disk space, and the CPU and host server), and make the payment. Your server should go live within a few minutes.
6. Zap-Hosting
Zap-Hosting is the FiveM-approved server provider. With Zap-Hosting, you can create your own scripts, run your preferred game modes, and innovate. You can rent a customizable Windows or Linux FiveM server and set it up in under five minutes. The game is preinstalled.

We recommend booking a minimum of 2 GB RAM. To host more than 48 players, you'll need a FiveM Patreon membership. Access the Resources Installer to install the resources, scripts, and modifications you need for your server.
7. RocketNode
RocketNode offers fast, secure, powerful, scalable, and affordable FiveM server hosting. The game server host offers features that include DDoS protection with RocketGuard, cloud backups, and 24/7 customer support, setting it apart from other game server hosting providers.

You can customize your FiveM hosting server plan. Visit this page and select the amount of RAM you need (2-32 GB) for optimal performance and your preferred location to proceed to the billing section. You can choose a monthly, quarterly, or semi-annual billing cycle. RocketNode is one of the best FiveM hosting services.
8. Iceline
Iceline offers budget-friendly server hosting for FiveM, with a two-minute server setup process. With Iceline, you can easily install FiveM mods and plugins. The game server host also offers DDoS protection with Ice Shield.

If you want to play FiveM with a small group of friends (up to eight friends), we recommend the FXSERVER-1 plan. This plan offers 1 CPU core, 1 GB DDR4 RAM, 10 GB NVMe storage, and seven location options. Get started today.
9. Gravel Host
Gravel Host is another cheap game server hosting provider. The game server host offers four FiveM plans. The cheapest plan, Ocelot Pariah, includes 3.5 GB DDR4 RAM and 25 GB NVMe storage. This plan is recommended for 20 FiveM players.

Gravel Host offers a wide range of free features with this plan, including top-tier DDoS protection, three years of server data backups, a built-in firewall manager, full FTP access, a custom game control panel, and 24/7 customer service through Discord. These features make Gravel Host a solid option for FiveM hosting.
What Is FiveM Hosting?
FiveM is a groundbreaking, multiplayer modification for GTA V, enabling you to play with up to 2,048 players on a single, customized, dedicated server.

While you can download FiveM for free, you must purchase a VPS hosting plan or rent a FiveM server to host the game. Alternatively, you can join an existing server to play the game (you may have to pay a joining fee).
We recommend renting a FiveM server for FiveM hosting if you are looking for a preconfigured setup.
You will have to purchase a FiveM subscription plan to host the game for more than 48 players regardless of your hosting plan.
P.S. If you are setting up a dedicated FiveM server to play the game with your friends, remember to split the cost with them!
How Much Is FiveM Hosting?
FiveM hosting can cost between a few dollars to more than $100 monthly, depending on your hosting plan and the number of slots you plan on purchasing. FiveM hosting for more than 48 players is a costly affair, as you will have to purchase an additional $15.87-$52.89 FiveM subscription plan, billed monthly.
The three FiveM subscription plans with Element Club access are:
FiveM Element Club Argentum
FiveM Element Club Aurum
FiveM Element Club Platinum
The perks of a FiveM subscription plan include exclusive Element Club access, the ability to stream custom clothing and add colors in your server name, a silver/gold/hot-pink plate before your server name, and Discord access. Additionally, up to 2,048 players can join your server and play concurrently with FiveM's advanced OneSync and OneSync Infinity framework
Is Zap-Hosting Good for FiveM?
Zap-Hosting is one of the best FiveM hosting services, recommended by FiveM itself. You can rent a Linux or Windows server and set up your server configuration within five minutes.

Simply visit this page and select a FiveM server hosting plan, a location, the number of game server slots you need, additional memory and disk space if required, a settlement type, a billing interval, and a CPU and host server.
Confirm your settings, sign up, make the payment, and enjoy the benefits of your Zap-Hosting FiveM plan!
Which FiveM Hosting Service Should I Choose?
If you are looking for a preconfigured FiveM host, Zap-Hosting, RocketNode, and Iceline are the best FiveM hosting services for you. If you know how to set up a VPS to host FiveM, we recommend exploring a Kamatera, IONOS, or Hostwinds VPS hosting plan.
Zap-Hosting is FiveM's recommended server provider, and it takes less than five minutes to set up a Zap-Hosting server. For these reasons alone, opting for a Zap-Hosting server makes the most sense. If you are on a tight budget and want to play with a small group of friends, purchase an Iceline server.
Host your own FiveM server today!
See Our Full Review of Kamatera
Whatever type of hosting plan you're looking for, Kamatera is a solid choice no matter the scale. Our reviewer Laura Bernheim recently took Kamatera for a spin, and rated the popular host a 4.9 in the VPS Hosting category out of a perfect score of 5.0. Here's what Laura had to say about Kamatera:
Offering an astounding 30-day free trial of its cloud computing and storage hosting plans, Kamatera is a great choice for developers who value performance and scalability. Beginning site owners may be a bit overwhelmed at first, but the web host's managed cloud services and always-there support team will help you through any issues.
Before signing up for Kamatera, it's a good idea to read through Laura's full review to learn about all the features Kamatera offers. You can also compare it to other web hosts to ensure you're getting the best deal possible:
If you decide Kamatera is the right choice, keep in mind that it takes just minutes to deploy your Kamatera server space. And at $4.00 per month, it's a bargain considering the many great features that come in any Kamatera plan.
Advertiser Disclosure
HostingAdvice.com is a free online resource that offers valuable content and comparison services to users. To keep this resource 100% free, we receive compensation from many of the offers listed on the site. Along with key review factors, this compensation may impact how and where products appear across the site (including, for example, the order in which they appear). HostingAdvice.com does not include the entire universe of available offers. Editorial opinions expressed on the site are strictly our own and are not provided, endorsed, or approved by advertisers.
Our Editorial Review Policy
Our site is committed to publishing independent, accurate content guided by strict editorial guidelines. Before articles and reviews are published on our site, they undergo a thorough review process performed by a team of independent editors and subject-matter experts to ensure the content's accuracy, timeliness, and impartiality. Our editorial team is separate and independent of our site's advertisers, and the opinions they express on our site are their own. To read more about our team members and their editorial backgrounds, please visit our site's About page.