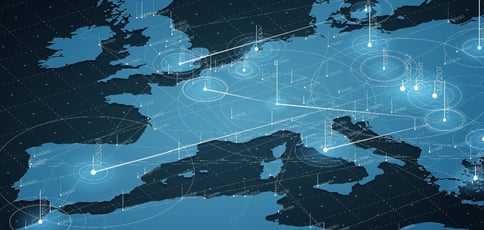 My first experience with a Virtual Private Server (VPS) was in 2018. Fresh out of college, I spent my spare time mostly playing Minecraft. That was around the time the game took the internet by storm. I wasn't thrilled about it until my former classmates, who had moved to Europe, asked me to join them in creating a virtual Minecraft world.
To connect to my friends across the pond, VPS hosting was the best option. So I quickly signed up for a plan but, out of excitement or probably a lack of knowledge, I made one mistake in the process; I didn't consider the datacenter location. That mistake is the inspiration behind this article you're reading right now.
Now that I know better, I'll help you find the best VPS hosting in Europe and hopefully make you understand why you should go this route.
Best European VPS Hosting Providers
Having a datacenter near your users (or in my case, my friends) will ensure better website performance for your site visitors. Datacenter location matters because the farther your website's files have to travel to your user, the slower your website loads.
Even the best VPSes are prone to slowdowns if they must send data across the world. We've chosen the following European virtual private servers because they offer the greatest price-to-performance ratio, among other enticing features.
Cloud VPS that's more flexible and affordable
Load balancer, firewall, and managed services
Premium Intel CPUs with 300% more power
Choose between monthly or hourly billing
Sign up today for a 30-day FREE trial
VPS
RATING 4.9 ★★★★★ Our Review
Kamatera: Our Expert's Review
Laura Bernheim (HostingAdvice.com): Backed by cutting-edge cloud computing technology, Kamatera adds instant and limitless scalability to the VPS hosting marketplace. Each cloud or virtual server is equipped with blazing-fast SSD storage and Intel Xeon Platinum CPUs. Go to full review »
| Setup Time | Disk Space | CPU | RAM |
| --- | --- | --- | --- |
| 5 minutes | 20 GB SSD – 4 TB SSD | 1 – 104 cores | 1 GB – 525 GB |
Enter Kamatera, one of the leading VPS hosting companies with datacenters in Europe. This web host ticks all the right boxes and scoops the top prize for customer service. It offers excellent customer support, from live chat, phone, ticketing, and even email, all available 24 hours a day, seven days a week.
Kamatera consistently ranks number one for its virtual servers located worldwide (including in Europe). The web host offers a range of plans to suit individuals and enterprises alike.
When you sign up for Kamatera, you get access to its 30-day free trial for virtual servers. You can select the amount of disk space, RAM, bandwidth, level of support, and datacenter location. If your customizations cost less than $100 per month, you won't pay a dime for the first 30 days.
See our full review of Kamatera >>
$2/month with no hidden fees
Try it FREE via 30-day money-back guarantee
Full root access and API
10GB to 240GB SSD, Linux or Windows
No throttling or traffic restrictions, ever
VPS
RATING 4.9 ★★★★★ Our Review
1&1 IONOS: Our Expert's Review
Alexandra Anderson (HostingAdvice.com): For an all-star player in the game of web hosting flexibility, look no further than the low-cost options from 1&1 IONOS. The company's vServers are a powerful VPS option that includes dedicated resources and unlimited traffic. Go to full review »
| Setup Time | Disk Space | CPU | RAM |
| --- | --- | --- | --- |
| 6 minutes | 80 GB SSD – 240 GB SSD | 1 – 8 cores | 512 MB – 24 GB |
1&1 IONOS takes the crown for affordability. Whoever said cheap is expensive wasn't referring to this web host. It is a living testament that not every affordable web hosting service is substandard. And with datacenters in Europe, 1&1 IONOS offers top-notch VPS hosting at pocket-friendly prices, probably the most affordable host I've seen recently.
The first question that comes to mind when you see such a good deal is: What's the catch? The truth is, there is none. 1&1 IONOS has cracked the code regarding keeping prices low and quality high. It's just one of those unique traits you can't take away from this host.
See our full review of 1&1 IONOS >>
Fully managed VPS with cloud performance
FREE site migration executed by experts
Enjoy 100% SSD storage and unmetered bandwidth
Custom full-service SPanel administration portal
HostingAdvice readers get

36

% off the first term
VPS
RATING 4.9 ★★★★★ Our Review
ScalaHosting: Our Expert's Review
Laura Bernheim (HostingAdvice.com): ScalaHosting particularly stands out for its portfolio of cloud VPS solutions. Site owners will naturally find the best deals with hosting providers that cater to an audience of "cheap hosting" shoppers. Go to full review »
| Setup Time | Disk Space | CPU | RAM |
| --- | --- | --- | --- |
| 6 minutes | 50 GB SSD – 2 TB SSD | 2 – 24 cores | 4 GB – 64 GB |
ScalaHosting is one of the pricier plans on our list, but you get what you pay for. This host ensures the best bang for your buck by packing its VPS plans with highly performant cloud resources.
Scalability is one of the key factors some people look for when choosing a web host. The answer to the question of whether or not you need a scalable host will depend on the kind of website or application you intend to host.
Let's roll the tape back to an eCommerce website as an example. When you're getting started with your eCommerce business, you probably don't have that many products to sell to your customers. But we all know that growth is one of the key driving factors of a business.
For starters, eCommerce websites perform way better on VPS hosting than shared hosting. Secondly, when you have a scalable host like ScalaHosting, as the name implies, you won't have to worry about switching to a new host when your business grows. The cloud VPS hosting service ScalaHosting offers is elastic; it expands and contracts depending on your needs.
This host has datacenters all over Europe, including Sofia (Bulgaria), Frankfurt (Germany), Paris (France), and London (United Kingdom).
See our full review of ScalaHosting>>
Turbo server & cache options for faster page loads
Well-built plans starting with 4GB RAM
FREE CDN plus auto-installs with Softaculous
Multilingual support and up to unlimited databases
Enhanced security with and daily kernel updates
VPS
RATING 4.8 ★★★★★ Our Review
A2 Hosting: Our Expert's Review
Alexandra Anderson (HostingAdvice.com): While A2 Hosting's turbocharged shared hosting platform gives site owners ample room to grow, the company's tech prowess is on full display with its portfolio of VPS options. Ranging from unmanaged, bare-metal environments to stress-free, fully managed space, A2 Hosting is sure to have the perfect option for your expanding online presence. Go to full review »
| Setup Time | Disk Space | CPU | RAM |
| --- | --- | --- | --- |
| 7 minutes | 150 GB SSD – 450 GB SSD | 1 – 8 cores | 1 GB – 32 GB |
A2 Hosting also enters the chat but as the king of speed. Its Turbo servers make this hosting service fast. This does not imply that other hosts on this list are slow. If they were, they wouldn't be on this list in the first place.
But there's something about A2 Hosting that makes it incredibly faster than most web hosts I've used. A2 understands the speed test, from its Turbo servers and SSD storage to powerful RAM.
Speed is one of the top considerations when choosing a web hosting provider. In fact, even Google, the world's most popular search engine, considers speed a top ranking factor.
See our full review of A2 Hosting >>
Cloud-based SSD storage for speed and reliability
Double your RAM with burst periods
FREE dedicated IPv4 and IPv6 addresses
Custom control panel for reboots and OS installs
HostingAdvice readers enjoy more than 50% off
VPS
RATING 4.6 ★★★★★ Our Review
Hostinger: Our Expert's Review
Laura Bernheim (HostingAdvice.com): Hostinger's laser focus on providing affordable hosting solutions shines brightest with the company's VPS packages. The company provides six different virtual server plans, including one that costs less than $5. Go to full review »
| Setup Time | Disk Space | CPU | RAM |
| --- | --- | --- | --- |
| 6 minutes | 20 GB SSD – 250 GB SSD | 1 – 8 cores | 1 GB – 16 GB |
Hostinger is a beginner-friendly choice because it's affordable and easy to get started. Its VPS plans have a low starting price but come with ample storage, bandwidth, and speed for smaller websites.
If you need a VPS for a midsize business or an eCommerce store, you'll be happy to know this host can easily support that. Hostinger's VPS plans come in a range of sizes and prices, and include the option to host your site on a European datacenter.
With full root access, you don't need to worry about a lack of customization and control. Plus, Hostinger's advanced security features, which include automated backups and an AI-powered firewall, make it a great choice for any website or application that handles sensitive data and cannot spend even a minute offline.
See our full review of Hostinger >>
HostingAdvice readers get 67% off the first term
FREE site migrations and 2 hours of Launch Assist
2 – 3 dedicated IP address options
FREE cPanel/WHM licenses included
Highly available servers with real-time redundancy
VPS
RATING 4.6 ★★★★★ Our Review
InMotion: Our Expert's Review
PJ Fancher (HostingAdvice.com): Boasting market-leading VPS hardware, slick management software, and free SSD drives and backups, InMotion Hosting competes to win when it comes to managed VPS hosting packages. The host initiates its VPS customer relationship with free website migrations and up to two hours of launch assistance from an experienced sysadmin. Go to full review »
| Setup Time | Disk Space | CPU | RAM |
| --- | --- | --- | --- |
| 6 minutes | 90 GB SSD – 360 GB NVMe SSD | 2 – 8 cores | 4 GB – 16 GB |
InMotion Hosting has a datacenter in Amsterdam. The three-story datacenter is home to three of the world's largest internet exchanges. That means faster speeds and better overall performance for users in European countries.
I find this web host easy to set up, which is perfect if you're not tech-savvy. All you need to do is sign up for a VPS hosting plan and choose its state-of-the-art datacenter in Amsterdam.
Some of the perks of choosing a VPS plan with this host include a free SSL certificate to protect your website from malicious activity, the ability to choose your own control panel, and a minimum of four CPU cores for faster speeds.
See our full review of InMotion Hosting>>
High-speed hosting that's faster than AWS, Rackspace, and Digital Ocean
FREE backups, CDN, and DDoS protection
Up to 16 processors with all-SSD storage
Choice between cPanel, Plesk, or InterWorx
Real-time monitoring and 100% uptime guarantee
VPS
RATING 4.5 ★★★★★ Our Review
Liquid Web: Our Expert's Review
Alexandra Anderson (HostingAdvice.com): It's no secret by now that Liquid Web is known for best-in-class technology and reliability that exceeds expectations. The company's cloud VPS environments embody that reputation to its fullest — including managed WordPress and WooCommerce products. Go to full review »
| Setup Time | Disk Space | CPU | RAM |
| --- | --- | --- | --- |
| 7 minutes | 40 GB SSD – 200 GB SSD | 2 – 8 cores | 2 GB – 16 GB |
Websites and applications all have unique needs regarding hosting. But for some, certain needs are more of a priority than others. For example, some industries have serious compliance requirements.
For such industries, non-compliance is all fun and games until you get slapped with a hefty lawsuit and lose all your fortunes. If you're in such an industry, then compliance should be at the top of your list of priorities.
And if you need a super compliant web host with European-based datacenters, Liquid Web should be your first stop. This host has a datacenter in Amsterdam that can hold up to 25,000 servers.
And it takes the compliance checklist seriously. The seal of the International Organization for Standardization (ISO), the Amsterdam Internet Exchange (AMS-IX), and the Payment Card Industry Data Security Standard (PCI-DSS) are some of the gold stars that rest proudly on this web host's coat.
See our full review of Liquid Web >>
What is VPS Hosting?
A virtual private server (or a VPS) is a type of server that uses virtualization technology to separate resources for each hosting plan. Although you're technically sharing the server with others, your bandwidth and storage are dedicated to your website (or websites).
On a virtual private server, you're less affected by the "noisy neighbor" syndrome, which is common with shared hosting plans. With shared hosting, if your neighbor has a spike in traffic, it can easily slow your site down. The virtual partition within your VPS prevents this from happening.

The virtualization software also allows you to customize your server environment without affecting others. You can download software and containers as you see fit, without disturbing your neighbors.
A virtual private server is often the next step after you outgrow a shared hosting plan, but it's more affordable than a dedicated server. You can expect to pay anywhere from $2 to $24 for a VPS.
Do I Really Need VPS Hosting?
It all depends on what you intend to host. Let's say you run an eCommerce business overflowing with web traffic. In such a scenario, VPS offers dedicated hosting resources for better performance. The same applies to custom software applications, such as project management tools, the Internet of Things (IoT), or even game servers like Minecraft.

One of my former employers used VPS hosting for remote work and collaboration. That was around 2020 when the Covid-19 pandemic was at its peak, with many non-essential workers (like the web design team I was part of) working from home.
Some entrepreneurs even use VPS hosting to provide reseller hosting services. This is particularly common among web design agencies.
The bottom line is that VPS hosting would be an overkill if you're running a website or application that doesn't require a lot of resources, such as a personal blog, a small business website, or a portfolio. Opt for shared hosting instead.
What Are the Advantages of VPS Hosting?
VPS hosting has a few advantages worth your consideration:
Consistency: VPS hosting divides server resources into virtual machines, providing dedicated resources for each VPS. This leads to consistent performance since whatever happens with neighboring websites on your server won't affect your website or application.
Scalability: This type of hosting is also very scalable. You can easily expand or contract server resources based on your website or application's needs.
Customization: You'll also have full control over your virtual server through root or administrative access. With this feature, you can customize the VPS server environment, install software, and manage security settings according to your requirements.
A virtual private server is ideal for businesses that have outgrown the resources of a shared hosting plan but don't have the budget for a dedicated server.
What Is the Best VPS Provider?
1&1 IONOS is my top pick for the best VPS hosting provider that's also affordable. The best thing about this host is that it still offers top-notch hosting services despite being inexpensive.
Many customers shopping for a virtual private server are upgrading from a shared hosting plan. Perhaps they've outgrown the resources a shared plan can offer, but don't want to break the bank with an expensive VPS with too many resources. After all, you should only pay for what you need.
IONOS is a smart solution to dip your toes into the world of virtualization. Its plans come with ample resources for a range of sites and start at the low price of $2.00.
You can choose its smallest plan for a personal website or a blog or its largest plan for enterprises. Regardless of your needs, IONOS is a web host that delivers a nice price-to-performance ratio. You won't be disappointed.
Where Is the Best VPS Location?
In the United States, New York and California are great VPS locations. In Europe, datacenters based in Germany, the United Kingdom, the Netherlands, Bulgaria, and Amsterdam are known for their excellent performance.
When looking for a VPS location, especially outside the United States, you should consider its proximity to some of the world's largest internet exchange points.

Examples include but are not limited to the following:
Brazil Internet Exchange (IX.br)
Deutscher Commercial Internet Exchange (DE-CIX)
Amsterdam Internet Exchange (AMS-IX)
London Internet Exchange (LINX)
Netherlands Internet Exchange (NL-ix)
France-IX
Note that an internet exchange point, also known as an IXP, is not the same as a datacenter.
Think of a datacenter as a physical facility equipped with specialized computers providing processing space, storage (often referred to as "data halls"), and networking connections to other organizations.
On the other hand, an IXP is a physical hub where network operators or Internet Service Providers (ISPs) can manage and exchange traffic between two or more of their networks through diverse pathways.
In simple terms, an IXP functions like a telephone exchange for data traffic. It routes data packets based on their intended destination, similar to how a telephone exchange routes voice calls based on the area code dialed.
Final Thoughts on Choosing The Right VPS for Your Website or Application
To wrap it up, Kamatera, 1&1 IONOS, A2 Hosting, Hostinger, Liquid Web, InMotion Hosting, and ScalaHosting are great VPS service providers with European datacenters. But that doesn't mean they'll all work for you.
To find the best VPS host for your website or application, consider your unique needs first. For example, if you want an extra dose of affordability, 1&1 IONOS should be your top pick. But if you want ultra-fast speeds, A2 Hosting is the best web hosting company for that.
That said, having a VPS with a European datacenter can help reduce latency and boost performance. It's even better if the datacenter is close to an internet exchange point. You'll experience blazing speeds and excellent performance.
Further Reading: "7 Best: VPS Hosting in Europe (Oct. 2023)"
Hopefully, our recommendation of Kamatera fulfills all your web hosting needs. Starting at just $4.00 per month and rated 4.9 overall, Kamatera gives users plenty of bang for the buck. Among our favorite features:
Cloud VPS that's more flexible and affordable
Load balancer, firewall, and managed services
Premium Intel CPUs with 300% more power
Choose between monthly or hourly billing
Sign up today for a 30-day FREE trial
If you'd like recommendations similar to Kamatera and others in 7 Best: VPS Hosting in Europe (Oct. 2023), check out these popular guides. You'll find comparisons of Kamatera to other hosts on pricing, features, support and more:
And of course, if Kamatera is your top choice, you can get started now at just $4.00/month. Kamatera is easy to set up and scale, no matter the size of your next project.
Advertiser Disclosure
HostingAdvice.com is a free online resource that offers valuable content and comparison services to users. To keep this resource 100% free, we receive compensation from many of the offers listed on the site. Along with key review factors, this compensation may impact how and where products appear across the site (including, for example, the order in which they appear). HostingAdvice.com does not include the entire universe of available offers. Editorial opinions expressed on the site are strictly our own and are not provided, endorsed, or approved by advertisers.
Our Editorial Review Policy
Our site is committed to publishing independent, accurate content guided by strict editorial guidelines. Before articles and reviews are published on our site, they undergo a thorough review process performed by a team of independent editors and subject-matter experts to ensure the content's accuracy, timeliness, and impartiality. Our editorial team is separate and independent of our site's advertisers, and the opinions they express on our site are their own. To read more about our team members and their editorial backgrounds, please visit our site's About page.