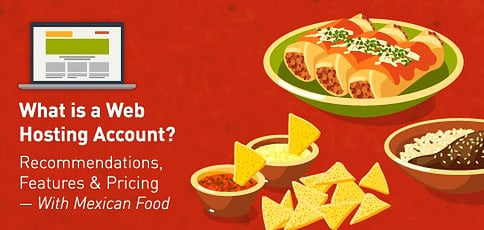 What is a web hosting account, you may ask? Well, when most people describe hosting to beginners, they employ the tried-and-true housing analogy: Shared hosting is like renting an apartment, VPS is a condo, and dedicated servers equate to owning your own home. In a never-ending quest to keep things interesting, however, I've compared web hosting accounts to pizza and the search for love. Now, it's time to spice things up and turn to another passion of mine: Mexican food.
Believe it or not, web hosting can be thought of as an indulgent menu of meat, beans, cheese, and seasonings for you to arrange and prepare as you see fit. We've mixed together a five-course meal of hosting account descriptions, definitions, features, and prices, culminating in our picks for the best hosting accounts. What are you hungry for?
At the most basic level, web hosting accounts give you access to large computers, called servers, where you can store the files and information required to make a website or application. The servers connect to the internet to share and deliver that content to users. Although it's possible for you to operate your own server and host your own website, doing so requires a ton of expertise and patience as you work through the numerous headaches that are bound to pop up. If you want more information, we've created a helpful guide that explains the basics of web hosting.
Why spend years learning how to make the perfect tortilla from scratch when you could simply go to your favorite Mexican restaurant on a whim? The vast majority of website owners will purchase hosting services from a reputable company, much like opting for a nice dinner out with friends.
Similar to Mexican food, the different types of web hosting accounts can largely be described as using the same ingredients in different configurations. Chow down on these hosting descriptions that compare shared, virtual, cloud, and dedicated servers, in addition to other specialized formats of web hosting.
Shared Hosting Definition
When it comes to Mexican food, shared web hosting is like the free chips and salsa brought out for your arrival, or maybe a heaping plate of nachos. Perhaps one of those giant margaritas served in a comically large glass with two straws?
The point is, you'll be using a server's computing resources alongside everyone else sitting at the table. Although you have no say on server settings or nacho toppings, the best plans come with everything you could possibly need — and probably even a few extra things you won't touch. Seriously, who wants black olives on nachos? The same usually goes for niche hosting features, such as Secure Shell (SSH) access or phpMyAdmin, for inexperienced customers.
There are unwritten rules that everyone should have an equal share of both nachos and server resources, but you always run the risk of dining with that friend who grabs chip after chip and scoops out all of the best toppings. Those diners affect the mood at the whole table, just as a resource hog affects server performance for the other hosting customers. Even though many hosts tout unlimited storage and bandwidth, the companies will often penalize customers who go too far.
Whether you're looking for your first web hosting account or simply a new home for your existing website, one-click software installations, 24/7 customer support, and strong uptime guarantees should be go-to ingredients of a strong shared hosting option. As you look over the menu, keep an eye out for your favorite dish: It could mean getting high-performance SSDs, a website builder, or extra SEO help. Our three favorite hosts at this level represent a great cross section of the variety of hosting accounts available:
VPS Hosting Definition
Few things whet the appetite quite like a sizzling, steaming plate of fajitas heading your way. Many places offer fajitas made for two or four, and this is the perfect example of VPS hosting. Standing for virtual private server, VPS hosting plans mean that servers are divided into virtualized partitions or virtual machines, which then act as independent dedicated units.
Customers still share a server, but they each enjoy much larger portions and have greater control over their computing resources. Site owners on a VPS plan can configure their hosting stack by choosing the operating system, web server, database platform, or programming framework. Many rapidly growing sites turn to VPS hosting so they can quickly scale bandwidth and memory.
With VPS-style Mexican food, you can simultaneously share a meal with your dining companions and still eat exactly what you want. Don't like onions but want extra sour cream? Enjoy!
As your hosting needs grow and your server requirements become more complex, a strong VPS account will help you scale even further. The best plans typically come with upgraded hardware, free administrative tools, and included managed services to help you configure and maintain the most secure and performant hosting environment. These premium providers offer some of the best services at the most affordable rates:
Cloud Hosting Definition
Naturally, the most complicated form of web hosting is always the most difficult to work into these tasty analogies. In this case, we need to temporarily leave Mexican food to pay homage to Spanish cuisine — specifically, tapas. The fellow cloud hosting customers at the table can order many different dishes that everyone may sample from to create a full meal. No one goes hungry because there are always new dishes arriving and empty plates being bussed off the table.
Eating tapas is akin to the nebulous type of hosting in that cloud hosting environments consist of several servers that are networked together and virtualized to share storage and processing resources. Cloud hosting is extremely performant, scalable, and reliable because servers are optimized to handle particular tasks. If something goes offline or crashes, other servers are ready to fill in to keep your website or application online. Likewise, new resources can be provisioned or turned off as your traffic scales up or down. Check out some of the most exciting cloud hosting plans on the market today:
Dedicated Hosting Definition
Every Mexican menu has one — the massive, as-big-as-your-face burrito. As with dedicated servers, giant burritos represent the utmost in Mexican food indulgence. There is one plate, an enormous pile of ingredients that you chose, and nothing standing in your way. The restaurant will still provide the plate, silverware, and napkins, but you're on your own; no one else at your table may nibble on your burrito unless you give them access.
With dedicated hosting, you are the lone customer on a server. The host will typically cook up and deploy your dedicated server within their datacenter, often including management services such as operating system updates and security patches. Customers, however, can enjoy total control over software and security programs, along with the processing power and storage space.
At the top tier of the hosting world, dedicated servers represent ultimate luxury and responsibility. Customers can often customize their hardware and software configurations, in addition to selecting upgraded services for backups, security, monitoring, load balancing, and more. Although dedicated hosting accounts are among the most expensive, our recommended hosts make the servers an extremely worthwhile investment:
See more dedicated server hosts »
Other Hosting Services
Although nachos, fajitas, and burritos are typically among the most popular items at your favorite Mexican restaurant, you'll often have much more to choose from. Just like the combo plates many restaurants offer, you can frequently mix and match more specialized hosting services to satisfy a particular craving. Here's a list of the hosting equivalents of enchiladas, quesadillas, chimichangas, and chile rellenos:
Specialized hosting services appeal to customers with specific needs and functionality requirements. An online business won't succeed without a hosting plan that includes eCommerce and marketing tools, while those tools might go unused with someone running a high-powered blog who needs a managed WordPress hosting plan.
With all the various server configurations, specialized tools, and add-on services available to site owners of all levels of experience and expertise, the best hosting provider or plan entirely depends on your needs. What are you craving? How hungry are you?
Whether you're looking for something light or are ready to chow down, we've broken down the hosting smorgasbord into bite-size portions to make the different types of web hosting dishes more digestible. Feel free to read our guide explaining how to choose a web host, or click the links below to go straight to the type of hosting that will serve you best.
Best Blog & WordPress Hosting
The globally popular content management system might power more than a quarter of all websites on the internet, but most users don't understand the technical nuances of most effectively and efficiently hosting WordPress. The best WordPress hosts offer upgraded hardware, toughened security programs, and WordPress-specific support. If WordPress isn't to your liking, send the dish back. Our hosting chefs will whip up one-click installations of several blogging programs for you to savor.
Best eCommerce Hosting
Online shopping overtook in-store purchases in 2016, making eCommerce functionality a critically important feature to add to your business web hosting account. For those looking to do business online, many hosts offer specialized software to create and manage online stores. Optimized servers and plenty of storage space is key for showcasing multiple products and converting site visitors to consumers. In addition to securing your customers' data, our top eCommerce hosts make designing your storefront a breeze.
Best Website Builders
Similar to the kitchen crew in your favorite Mexican restaurant, website builders prepare your online presence in a way sure to make your mouth water. Starting with the theme, users can customize colors, fonts, layouts, and more. Our favorite building tools also incorporate apps or plugins that add interactivity and new features to your website, such as a contact form or social media integration. Read on for our three favorites:
Naturally, most new hosting customers are going to look for plans with the most features for the lowest price. Hosting connoisseurs, on the other hand, will have a better understanding of the ingredients that most strongly delight their taste buds.
By understanding the major components of web hosting accounts, you'll be able to make more informed decisions with your hard-earned money. You might find that marketing credits and SEO tools are more important to your online business, while professionals might place more value on the strong design a website builder can provide.
Domains and Emails
These two commonly get lumped together in hosting account descriptions, but domain names and email are distinctly different services. Domains are effectively the address web browsers use to find and display a website. Many hosting companies include a free domain name registration for the first year, a value around $10 to $15, when new customers sign up. If you already have a domain name, those same companies will usually apply that credit toward a free transfer or website migration.
Email accounts, which use the domain name as the second half of the address, use server space to store, send, and process your messages. Email addresses with a custom domain name tend to look more professional than the standard Gmail, so this tends to be an important feature for online businesses. The best email hosting plans typically come with spam and virus protection, as well as autoresponders, enhanced security, and support for various protocols, plus tools for forwarding and filtering.
Control Panels
Sure to be a first-time hosting customer's best friend, a control panel acts as a translator, of sorts, for the most foreign menus. The user-friendly interface enables site owners to quickly and easily manage their hosting account.
The majority of hosting accounts use the Linux operating system, which is most often paired with the cPanel control panel. Windows hosting plans, best for sites and applications running ASP.NET, typically come with Plesk. Other options, particularly at VPS and dedicated hosting levels, include free and open-source control panels. We've prepared the ultimate guide to control panels for those who want more information.
Disk Space, Bandwidth, and Databases
Three of the standard components of a good web hosting account, even first-time shoppers can easily compare storage, data transfers, and the number of allowable databases. Many plans, especially at the shared hosting level, boast unlimited services — even though unlimited hosting isn't actually possible, most customers won't overstep the resource boundaries.
Disk space is measured in the gigabytes or terabytes available to store your files. Obviously, the more the merrier, but the big distinction here is looking for a small acronym: SSD, which stands for solid-state drives. This upgrade contributes to faster and more reliable websites but is usually a dollar or two per month more expensive.
Databases are an efficient way to store your information and typically correspond to what type of content management system you choose to install. Most tools will automatically walk you through a simple setup process to connect your information to your website. Bandwidth, which is also called data transfer, speaks to how quickly visitors can access your website. The more bandwidth you have, the faster your content is delivered.
Site-Building Tools
The taco bar of the web hosting world, website builders let you customize your meal without having to roll up your sleeves and cook. The tools enable drag-and-drop web design (also known as low-code development) by providing hundreds of mobile-friendly templates and a WYSIWYG editor — what you see is what you get. Some of the well-known builders, including Wix and Weebly, come with their own hosting plans. Many hosting providers make builders available to customers, with some even taking the time to craft their own platform.
Marketing and SEO Tools
Finally, you've cooked this big meal — what if no one comes to eat? Search engine optimization and marketing tools get people in the door by making your site accessible and primed for success. A strong SEO plan will boost your website or brand's visibility, traffic, and credibility, and often has a better return on investment than traditional advertising methods. Web hosts, particularly with shared hosting plans, frequently include tools to create site maps, edit metadata, and measure keywords. Beyond email marketing tools, some providers even include a credit of $100 or more to spend on search engine advertisements.
All the hosting features might be nice, but we know the bottom line is usually the deciding factor when choosing a web hosting account. The trick, however, is to balance budgetary restraints with quality. You can save money by going to Taco Bell, but you'll appreciate the authentic cuisine and fresh ingredients at the slightly more expensive sit-down restaurant.
Shared hosting plans start at only a few dollars per month, with providers usually giving customers a discount for committing to a year or more of services. For whatever reason, hosts advertise their monthly rates but typically bill for the entire year. Also, be sure to plan for additional fees: Domain name registration, professionally designed themes, and upgraded services for security, backups, and performance can push your invoice higher.
As someone who unabashedly tells friends about my willingness to bathe in my favorite restaurant's creamy jalapeno sauce, I particularly enjoy thinking about Mexican food as a resource for something other than nutrition.
Once you've signed up for a web hosting account and get everything seasoned just the way you like it, your finished website is like the tasty dessert. Whether you prefer flan, sopapillas, churros, or tres leches, a successful hosting partnership will leave a sweet taste in your mouth. After such a delicious feast, however, be sure to leave a tip. Share your insights and advice below!
Hopefully, our recommendation of Hostinger fulfills all your web hosting needs. Starting at just $1.99 per month and rated 4.9 overall, Hostinger gives users plenty of bang for the buck. Among our favorite features:
Unlimited everything, from storage to databases
FREE site builder & WP performance upgrades
FREE daily or weekly backups
Custom control panel and auto-installation scripts
SSH access & unlimited FREE SSL certificates
If you'd like recommendations similar to Hostinger and others in What is a Web Hosting Account? Get Started with a Host (2023 Guide), check out these popular guides. You'll find comparisons of Hostinger to other hosts on pricing, features, support and more:
And of course, if Hostinger is your top choice, you can get started now at just $1.99/month. Hostinger is easy to set up and scale, no matter the size of your next project.
Advertiser Disclosure
HostingAdvice.com is a free online resource that offers valuable content and comparison services to users. To keep this resource 100% free, we receive compensation from many of the offers listed on the site. Along with key review factors, this compensation may impact how and where products appear across the site (including, for example, the order in which they appear). HostingAdvice.com does not include the entire universe of available offers. Editorial opinions expressed on the site are strictly our own and are not provided, endorsed, or approved by advertisers.
Our Editorial Review Policy
Our site is committed to publishing independent, accurate content guided by strict editorial guidelines. Before articles and reviews are published on our site, they undergo a thorough review process performed by a team of independent editors and subject-matter experts to ensure the content's accuracy, timeliness, and impartiality. Our editorial team is separate and independent of our site's advertisers, and the opinions they express on our site are their own. To read more about our team members and their editorial backgrounds, please visit our site's About page.