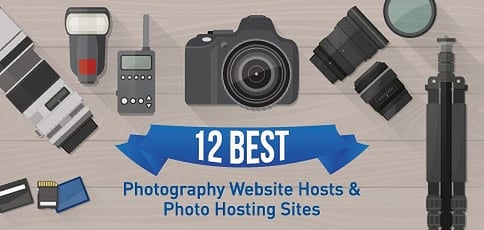 Few 20th-century photographers were more creatively and technically adept than Ansel Adams. His photography of Yosemite and the Sierras is the stuff of legend. Adams's signature black and white images captured viewers and took them into the wilds of the American West.
Today, for Adams to achieve the same commercial success and reach, he would surely need a robust website to display his work. Many contemporary photographers, while technically proficient in their craft, might view the prospect of looking for web building solutions akin to scaling El Capitan.
Fortunately, there's no need to climb massive rock formations to find the right web host. Consider me your guide into the wilds of the top free website and photo hosting services for photographers.
Best Website Builders for Photography Sites
When vetting website builder platforms with photographers in mind, we look for user-friendly, drag-and-drop editors that don't require HTML or CSS knowledge. We expect robust, easy-to-use eCommerce tools that empower site owners to sell digital downloads and/or prints. And the visual appeal of the website templates and supported themes should be nothing short of stunning — as well as mobile-responsive and SEO-friendly.
Kicking things off is Wix. As with all the best web builders, Wix offers a wide array of templates, marketing tools, and blogging options.
Wix positions its platform as the web builder for self-creators. Many Wix.com features are specifically geared toward photographers. Artists can choose from more than 40 types of galleries to display their imagery. Wix's page protection options allow photographers to create private galleries where specific clients can log in to browse their work. Start designing with Wix for free.
No coding skills needed with drag-and-drop builder
100s of templates with niche-specific designs
Add features via the App Market and Wix Events
Easily create ecommerce functionality easily
Great way to build small sites on a budget
WEBSITE BUILDER
RATING 4.9 ★★★★★ Our Review
Alexandra Anderson (HostingAdvice.com): Website building is where Wix shines. The thousands of templates, the intuitive editor, the industry-leading designs that cater to a variety of specific fields and use cases — all these facets represent a platform that excels at facilitating easy web design for the non-tech-savvy user. Go to full review »
| Money Back Guarantee | Disk Space | Domain Name | Setup Time |
| --- | --- | --- | --- |
| 14-day FREE trial | 2 GB – Unlimited | FREE (1 year) | 4 minutes |
Photographers new to website creation find a friend in Weebly's intuitive drag-and-drop builder. Weebly's elegant themes add an aesthetic appeal to portfolios, making them sure to stand out to potential clients.
More than 40 million entrepreneurs are using Weebly's eCommerce tools to successfully market and sell their products — a testament to how Weebly can help you get prints out to the public and grow your business. The platform has gained such popularity that many of the web's most prominent hosting providers have bundled the Weebly website builder as an add-on to their hosting services.
Give Weebly's site builder a try for free.
Design your site with the popular drag-and-drop site builder
Fully hosted, drag-and-drop site-building and marketing
Choose from 100s of customizable, professional themes
Add contact forms and take RSVPs via apps
eCommerce-ready and SEO-friendly with built-in tools
WEBSITE BUILDER
RATING 4.8 ★★★★★ Our Review
Weebly: Our Expert's Review
Alexandra Anderson (HostingAdvice.com): Weebly is in the elite clique of drag-and-drop website builders that includes WordPress and Wix. com. Go to full review »
| Money Back Guarantee | Disk Space | Domain Name | Setup Time |
| --- | --- | --- | --- |
| 30 days | 500 MB – Unlimited | FREE (w/ paid plans) | 3 minutes |
Not to be outdone is the wildly popular WordPress.com. While primarily known for blogging, WordPress and the full-fledged website builder allows users to create highly customized sites without the need for web design expertise. WordPress template options abound, each accentuating a different look, feel, or industry type.
The themes with an emphasis on visual elements (i.e., portfolios and slideshows) make it simple for photographers to create stunning pages that compliment their work. Add-ons, such as advanced galleries and audience-building tools, get your art noticed by the masses.
With a range of low prices available from well-known hosts, such as InMotion, Bluehost, Hostinger, and SiteGround, WordPress is a great place to broadcast your media. For added user-friendliness, BoldGrid is a slick drag-and-drop builder that layers atop WordPress to further enhance the editing experience for non-developers. We recommend users try WordPress hosting from InMotion, which includes BoldGrid for free, pre-installed.
Intuitive, drag-and-drop site builder BoldGrid sits atop WordPress
Developed and supported by the InMotion Hosting team
Responsive themes so your WP site looks good on any device
FREE to download WordPress software
SEO-friendly end result
WEBSITE BUILDER
RATING 4.8 ★★★★★ Our Review
WordPress: Our Expert's Review
Alexandra Anderson (HostingAdvice.com): While WordPress is technically blogging software, it's been called a website builder, a content management system, and even an ecommerce platform — basically, a website-building multitool. Because it's open-sourced, the core code can be adapted to meet virtually any website need, and the wealth of plugins and WP-friendly apps built by third-party developers makes this platform a go-to for website owners around the world. Go to full review »
| Money Back Guarantee | Disk Space | Domain Name | Setup Time |
| --- | --- | --- | --- |
| 90 days | 100 GB SSD – Unlimited SSD | FREE (1 year) | 5 minutes |
Best Image Hosting Services
Believe it or not, photographers can find top-tier image and web hosting without a specialist photography site builder. These services provide ample space for high-resolution photos, video, and other media, along with the ability to password-protect certain folders, share certain galleries with clients, and so much more.
After curating the most popular image hosting services, we've narrowed it down to a select few trusted names in the business. Remember, the best image hosting providers will provide amble storage, industry-standard security, and at least 99.99% uptime guaranteed.
FREE Cloudflare CDN and SSD speed boost
Optimized caching and 1-click installs
Unlimited email, domains, and databases
Advanced security and FREE HackScan
24/7 support via phone, chat & tickets
CHEAP
RATING 4.6 ★★★★★ Our Review
A2 Hosting: Our Expert's Review
Alexandra Anderson (HostingAdvice.com): There are plenty of excellent cPanel shared hosting providers out there, so what sets A2 Hosting apart from the rest. Not only does the company offer a ton of features, but it has custom-built its packages for enhanced performance, speed, and security — putting your priorities above pricing. Go to full review »
| Money Back Guarantee | Disk Space | Domain Name | Setup Time |
| --- | --- | --- | --- |
| 30 days | 100 GB SSD – Unlimited SSD | New or Transfer | 4 minutes |
A2 Hosting is one of our favorite and more affordable options when it comes to creating visually appealing websites, galleries, and portfolios, and the company's high-powered infrastructure is primed to handle large image files.
In addition to solid-state drives for storage that operate up to 20 times faster than traditional hard drives, A2 Hosting provides photographers with 15 different easy-to-use programs for creating and designing galleries, portfolio sites, and other visual endeavors.
Learn more about image hosting from A2 »
Photobucket, a subsidiary of News Corp, is one of the most popular image hosting services on the internet. The Photobucket app makes it easy to upload and share photos on your website or blog.


The app also allows users to store, view, organize, and share photos directly from social media accounts such as Facebook, Twitter, and Instagram. Photobucket is free for up to 2 GB of storage, but users can upgrade to a paid account for more storage space.
To sweeten an already attractive deal, Photobucket offers a 21-day free trial to allow you to determine your photo storage needs. Once you upgrade to one of the site's paid plans, unlock your photos' true potential with Photobucket's editing tools.
Best of the Rest
While we couldn't justify naming every wannabe photography host under the sun, we'd be remiss not to mention a few more industry names. The following platforms and service providers offer plenty of attractive features for photographers hoping to either store their portfolio or promote it to prospective clients; however, something left us with an "almost but not quite" takeaway.
5. Pixpa
Looking for a package deal? Pixpa provides everything professional photographers need to showcase their work, navigate the client proofing process, start an online store, and more. With customizable layouts, a visual style editor, and interactive proofing albums, the platform puts the user in control.

Pixpa also helps photographers boost their bottom line through handy price lists that allow customers to purchase images as downloads, prints, and other products. To ensure visitors can find the images they want, the platform automatically imports IPTC data as image captions. By streamlining the customer experience, photographers have a better shot at capturing sales. Sign up for a free trial here.
6. Squarespace
At Squarespace, it seems to be all about teamwork. Expert photographers who need a bit of help conceptualizing and executing website builds get up to speed with the site's award-winning template design team. Squarespace's Customer Care Advisors are available around the clock to answer technical, design, or deployment questions, basically acting as your own IT department.

In addition to access to a dedicated team, Squarespace's web builder provides an easy venue to publish your content online. Photographers can tell their stories through comprehensive blogging functionalities that include multiple features such as galleries, video, and a built-in RSS feed.
A free portfolio app is also available, giving artists the ability to show potential clients their work on the go, even without an internet connection. Squarespace's calendar tool is ideal for artists holding openings or hosting shows, as it provides a list of events viewers can RSVP to directly on your site.
7. 500px
If you're looking for a community with whom to share your photos and passions, 500px houses a network of more than 9 million photographers who are connecting with colleagues and customers. The platform gets photographers up and running with a personalized home feed where they can exhibit work in galleries and blogs. Users can follow other professionals and friends to see updated photos. It's a great way to grow your following and client base.

Probably the most popular feature offered by 500px is their Marketplace. Here, photographers can submit their work and license it for use as stock photography. This, coupled with a complete business suite, expands reach, gets photographers assignments, and grows bottom lines.
8. Zenfolio
With templates perfect for any genre of photography, Zenfolio is versatile and can be used to display images ranging from conceptual fine art and landscape to fashion and food. Unlimited storage for all plans means photographers don't have to worry about maintaining an online storehouse of high-resolution images.

For pros working weddings and bar mitzvahs, Zenfolio's client proofing portal allows customers to access work privately and choose the images they like best. Add in an integrated shopping cart and partnership with top print labs, and Zenfolio is a great platform for photographers to run successful businesses.
9. Format
If you're in the photography business, you probably care about brand integrity. It's paramount to create an online presence that displays your creations in a way that maintains the core style of your art. Format knows this and provides an exceptional venue for creatives to design and build compelling websites.

Format prides itself on giving artists the ability to employ themes on their sites that are tailored to their body of work. One big reason photographers are drawn to Format is because they offer completely integrated storefronts. The eCommerce solution is available with every plan, and Format doesn't take a cut of the earnings, making for a great way to scale creative businesses. For more information, see our feature story on how Format empowers creatives to showcase their work online.
10. SmugMug
An ideal starting point for novice or expert photographers to showcase their work, SmugMug allows users to customize websites with full-screen galleries with numerous layout options. There is no coding needed to create a personalized feel. Artists can choose from more than 20 premade site designs, or use the intuitive user interface and drag-and-drop organizer to give their sites a unique feel.

The support team at SmugMug is available to help with any type of question 24 hours per day, seven days per week, and 364 days per year. (The team has to take at least one annual day off!) Plans are all reasonably priced and come with unlimited photo uploads.
11. PhotoDeck
PhotoDeck aims to help photographers and videographers cut through the clutter with a minimalist approach to web design that lets portfolios shine through. PhotoDeck makes it simple to get your photos out to the audiences you're trying to reach — and do it fast. According to the PhotoDeck website, Pingdom speed testing revealed sites built via PhotoDeck are faster than 92% of other tested URLs.

For professionals who offer a mix of photography and videography, the platform allows the display of video clips with still images together in galleries. Both videos and stills can be downloaded and sold through PhotoDeck.
12. Photoshelter
Photographers seeking effective tools to exhibit, organize, share, and sell creative pieces can find more than 100 of them at Photoshelter. From image delivery and eCommerce to high-capacity cloud storage and SEO features, Photoshelter has everything a photography business needs to be successful online.

As with other popular web building platforms, Photoshelter sites are completely customizable and can be personalized to your specifications. Social media is integrated, so you can notify all your Twitter and Facebook followers when new images or galleries are added.
FAQs About Photography Hosting
Taking your photography business and/or portfolio online is a big milestone. Your head is likely swimming with questions, so let's tackle a few of the big ones below.
Can I Host A Photography Site for Free?
Yes, you can host a photography site for free. The majority of the website builders above offer free trials or free-forever plans.
For those who'd like to get their work online but don't want a full-fledged website, you can sign up for an account with a free photo storage site. A few of the most popular photo hosting sites are Flickr, Imgur, Google Photos, and Photobucket.
While these sites allow users to house photos online, they're not much more than glorified storage spaces. They lack customization options, unique domain names, and eCommerce solutions. We regularly caution users searching for free anything in the hosting space. You will be limited in terms of features, storage, and bandwidth. If you're serious about selling your photos online, we recommend investing in a paid hosting plan.
To get your art to market — really have your photos noticed (and purchased) — you need a professional-grade website. While a free photo hosting site may sound good in theory, it's no substitute for a quality website builder.
What's the Best Way to Sell My Photos Online?
The best way to sell your photos online is to use a platform that was designed specifically for photographers or creatives. Wix, for example, makes it easy to sell your photos as prints, downloads, or both.
If you're looking for a more general-purpose eCommerce solution, you might consider investing in a commerce-specific platform like Shopify or BigCommerce. These platforms are a bit more expensive, but they offer a lot more flexibility in terms of the types of products you can sell.
Do I Need a Business License to Sell My Photos Online?
This depends on your location, but in most cases, the answer is yes. If you're in the United States, we recommend checking with your local county clerk's office to see if you need a business license.
What's the Difference Between a Photo Hosting Site and a Photo Sharing Site?
A photo hosting site is a platform that allows you to upload and store your photos. A photo sharing site is a platform that allows you to share your photos with others.
That's a Wrap on the Best Photography Web Hosting Services
Like you, if Ansel Adams were around today, he'd be looking for the best web hosting for his photography website. The options listed above all provide unique and effective venues for novices and pros alike to broadcast their art to the world.
---
Search instead for the best web hosting for:
Bloggers and Writers | Musicians | Realtors | Startups | Small Business
---
Further Reading: "12 Best: Free Photography Website & Photo Hosting (Oct. 2023)"
Hopefully, our recommendation of Wix fulfills all your web hosting needs. Starting at just $0.00 per month and rated 4.9 overall, Wix gives users plenty of bang for the buck. Among our favorite features:
No coding skills needed with drag-and-drop builder
100s of templates with niche-specific designs
Add features via the App Market and Wix Events
Easily create ecommerce functionality easily
Great way to build small sites on a budget
If you'd like recommendations similar to Wix and others in 12 Best: Free Photography Website & Photo Hosting (Oct. 2023), check out these popular guides. You'll find comparisons of Wix to other hosts on pricing, features, support and more:
And of course, if Wix is your top choice, you can get started now at just $0.00/month. Wix is easy to set up and scale, no matter the size of your next project.
Advertiser Disclosure
HostingAdvice.com is a free online resource that offers valuable content and comparison services to users. To keep this resource 100% free, we receive compensation from many of the offers listed on the site. Along with key review factors, this compensation may impact how and where products appear across the site (including, for example, the order in which they appear). HostingAdvice.com does not include the entire universe of available offers. Editorial opinions expressed on the site are strictly our own and are not provided, endorsed, or approved by advertisers.
Our Editorial Review Policy
Our site is committed to publishing independent, accurate content guided by strict editorial guidelines. Before articles and reviews are published on our site, they undergo a thorough review process performed by a team of independent editors and subject-matter experts to ensure the content's accuracy, timeliness, and impartiality. Our editorial team is separate and independent of our site's advertisers, and the opinions they express on our site are their own. To read more about our team members and their editorial backgrounds, please visit our site's About page.