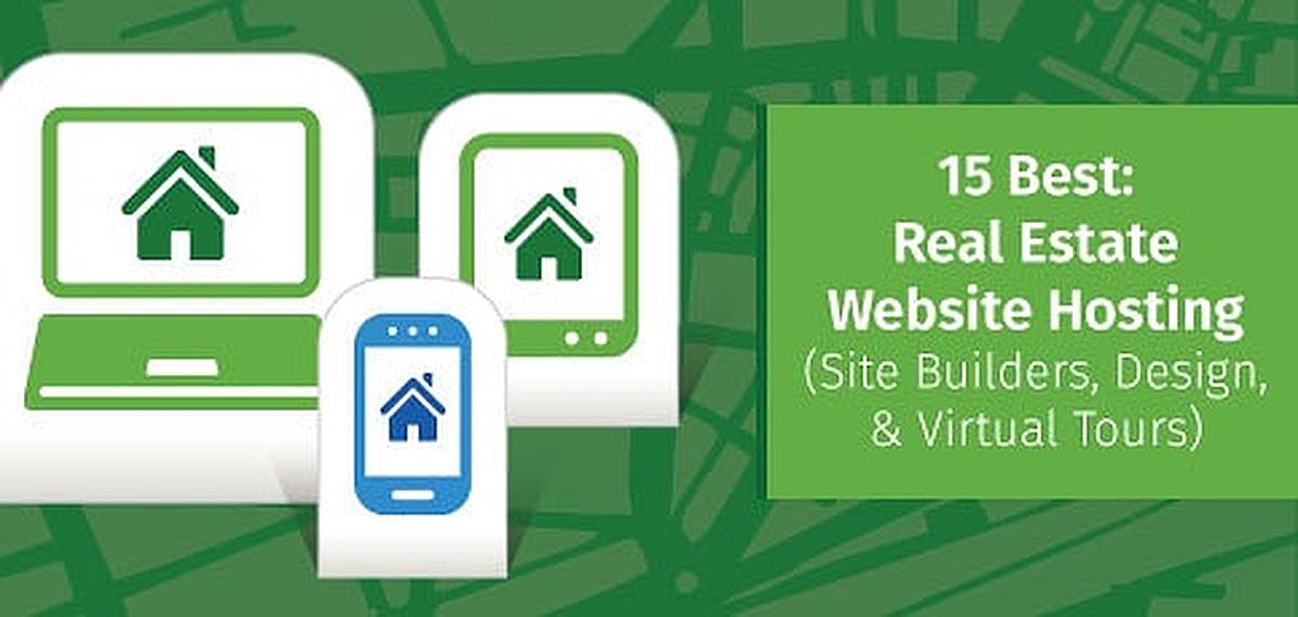 Prospective home buyers used to drive through neighborhoods in search of brochure boxes: these stuck-in-the-grass signs containing flyers with information about a listing. They could then ask their Realtor to set up a showing of the property. While that method is still an option, its use has largely been replaced by the internet (surprise, surprise).
For example, before taking a real-life tour of the apartment I now live in, I scoped out the entire floor plan virtually. Online property listings and virtual tours are the future of real estate, so agents and property owners are in the market for a means to make their listings available for online viewing by potential tenants, clients, and/or buyers.
I grew up with two Realtors for parents, so I could probably regurgitate more info on open houses and closing inspections than I care to admit, but I'll focus on websites for real estate today.
Overall: Best Website Hosting for Real Estate Agents
I don't need to explain the value of a low-cost, quality product to a Realtor. Just like dollar amount is not the sole determinant of a property's worth, hosting value is measured in quality. As you're browsing review listings, you'll want to look for the plan that offers the maximum number of resources and support for the lowest price.
The top providers on our list of recommendations offer free domain name registrations; unlimited domains, email, and storage; and as much as $200 in free advertising credits to get your new real estate site noticed by potential buyers.

FREE site transfer or new site setup with 1-click install
FREE automated daily backups, CDN, email, and SSL
24/7 expert support with no wait time on phone or live chat
Recommended by WordPress as a top WordPress host
Ideal for business email hosting, with 99.9% uptime
SiteGround: Our Expert's Review
Setup time: 6 minutes

Alexandra Leslie (HostingAdvice.com):

With an impressive breadth of overall hosting services offered, SiteGround is a leading innovator in the hosting space — from custom software solutions to premier customer support. They offer the full range of web hosting features, including a free...

Go to full review »
| Money Back Guarantee | Disk Space | Domain Name | Best Overall Hosting Plans |
| --- | --- | --- | --- |
| 30 days | 10 GB - 30 GB | New or Transfer | www.siteground.com |
For Agents Seeking a Real Estate Website Builder and Hosting
Knowing how many early-morning Saturday hours Realtors spend getting a property ready for a showing, I'm sure getting your website's look and feel just right is a concern. You're great at closing contracts, not coding HTML. That's fine! Many of the best hosting providers offer complimentary website builder tools that allow you to point your mouse, click, and drag elements of your new website into place. You can type the listing or contact information in a simple text editor, and it will appear exactly as you would expect it to in the published version of your site.
It's that simple, and best of all: There are thousands of free templates available for you to download, giving you a headstart on design. Below are our favorite website builder plans:

See all website builder plans »
For Agents Needing Real Estate Virtual Tour Hosting
If you don't want a website all your own, you may opt for an online service that allows you to upload videos giving virtual tours of your properties on the market. You can easily pay anywhere from $10 to $350 a month with popular virtual tour hosting providers, the top being:
While these sites give you access to their established audiences, having your own website and marketing it well gives you a better shot at building up your own brand, which means better business in the long run. If you'd prefer to manage your videos yourself, you can go with an affordable, trustworthy host. InMotion will start you out with a free domain name, and you can choose from more than 500 easily editable templates to customize your new virtual tour site.
Designing Your Site for Sales
Once you've signed up with one of the top real estate web hosts above, you have two options for design: Use the free drag-and-drop website builders or take advantage of the one-click installs for popular content management platforms like WordPress or Joomla.
While both WordPress and Joomla come with a bit of a learning curve, WordPress is more welcoming to first-timers, and it is the best platform for blogging. Period. Meanwhile, Joomla is excellent for storing a great deal of videos, graphics, and other content for a user-oriented site.
Check out our recommendations for WordPress design below, or skip to the Joomla themes.
Best Real Estate Themes for WordPress
At WordPress.org, you can search "real estate" and discover popular themes for websites in your industry. There are tons of these themes, or site templates, online, and they can easily be downloaded and installed — magically crafting your site's initial layout in seconds. Below you'll find some of the top options for real estate themes:
Once you have your sights set on a theme, you'll need a WordPress host, ideally offering single-click installs, WordPress-savvy support, and software-specific add-ons for security and speed.
WordPress pre-installed with NGINX server caching
FREE SSL certificate and unlimited bandwidth
Optional automatic plugin, theme, and core updates
Host unlimited WordPress sites on one account
Premium themes and plugin subscriptions
InMotion: Our Expert's Review
Setup time: 7 minutes
Go to full review

»
InMotion, long known for their shared hosting options, entered the WordPress space with a solid option built upon their reputation for great support and reliability. Costing a small premium over other budget-minded options, they do include some nice features...
Best Real Estate Extensions (Themes) for Joomla
Joomla's equivalent to WordPress themes are called extensions, i.e., they extend the functionality of your site. You can browse Joomla's extension directory for real estate looks for your site as well. Below you'll find some of the top options:
You know the drill: A theme is nothing without a web host. The top Joomla hosts let you download and install the software in a single click, offer unlimited storage space, and maybe even throw in some free marketing credits.
Official hosting partner of the Joomla project
FREE Joomla site transfer or setup with 1-click install
Amazing speed and security features
Complimentary staging area for your Joomla site
Auto-updates to the Joomla Core and plugins
SiteGround: Our Expert's Review
Setup time: 6 minutes
Go to full review

»
SiteGround's Joomla web hosting services cater to speed- and security-minded site owners. The team gets you up and running quickly, then monitors your site 24/7 to prevent downtime. With a free staging area, you can test out changes to your Joomla...
| Money Back Guarantee | Disk Space | Domain Name | Joomla Hosting Plans |
| --- | --- | --- | --- |
| 30 days | 10 GB - 30 GB | New or Transfer | www.siteground.com/joomla |
Close the Deal on Your Hosting Service in 4 Minutes or Less
The real estate biz is fast-paced and results-driven. Equipped with the marketing prowess Realtors are known for, and now backed by the top web hosts on the market, you're ready to take your business to the web. I wish you drag-and-drop simplicity, high-value support, and most importantly, many sales! Start browsing the best website builders for business, and get your website started today.
---
Search instead for the best web hosting for:
---