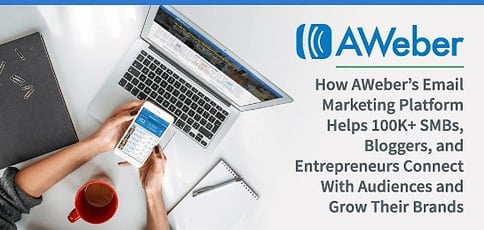 TL; DR: For nearly two decades, AWeber has been a visionary in email marketing, helping clients capture audience attention and achieve sustained business growth. The company's innovative email marketing platform gives businesses — from emerging startups to established organizations — the ability to develop comprehensive, targeted campaigns through professionally designed HTML templates, autoresponders, and tracking and analytics tools, among many other features. This, coupled with an award-winning, hands-on approach to customer service, is why more than 100,000 businesses have turned to AWeber to build unique, personalized marketing messaging, expand brand reach, and boost revenue.
When AWeber began its journey as an email marketing company in 1998, it was essentially navigating uncharted territory. In these early days of the web, email itself was still an emerging form of communication, and using it as a way for businesses to connect with their audiences was, well, somewhat revolutionary.
Founder and CEO Tom Kulzer's vision — and what would become AWeber's mission statement — to "send emails people love," ultimately proved to be a winning formula to help businesses engage customers in a novel, more personal way on the web — a recipe that still works today.
Tom Kulzer remains at the helm of AWeber as CEO, and the email marketing pioneer continues to innovate in the now-thriving market.
"There's a legacy there," said Tom Tate, AWeber's Marketing Manager. "AWeber has always had a reputation for being one of the earliest email automation platforms."
Today, the company partners with more than 100,000 small businesses, bloggers, and entrepreneurs to help them connect with online audiences and expand their brands. The company's robust email marketing platform enables its clients to build a unique asset — a fully owned subscriber list that expands their reach through targeted, personalized emails, convert customers, and, ultimately, boost revenue.
Send More Relevant, Targeted Emails With Enhanced Segmentation
According to Tom, one of the current challenges in the market is cutting through the clutter and getting people's attention. Not everyone is keen to sign up for an email list or newsletter, and, once they do, you have the added hurdle of keeping them engaged and answering calls to action.
"In this day and age, it's really challenging to get people to sign up for your email list if the only offer that you have is 'sign up for my email newsletter,'" he said. "It is really important for our customers — and this is something that we preach — to provide a strong incentive for their subscribers to sign up in the first place."
Once you have your audience's attention, Tom noted, the key is getting them to know you. As Tom put it, "People don't buy from people they don't trust."
And getting prospects to view your business as credible rests on one integral component — providing them with pertinent, personalized content that interests them.
"People want content that is more relevant, more targeted — something that is going to provide more value than just an update," Tom said. "We've been evolving our customers' ability to create more dynamic segments of their subscribers so they can offer more contextual content — content that is relevant to the needs and desires of their subscribers."
The question of "what's in it for me" — or WIIFM — serves as a governing principle at AWeber. Tom told us AWeber likes promoting that concept because it not only forces the company to think about its customers, but it also helps customers think about their subscribers and client bases.
Ultimately, AWeber's goal is to make it easier for customers to invest back into their businesses.
"A lot of our customers are entrepreneurs, solopreneurs, and small businesses," Tom said. "Sometimes, their most valuable asset is their time. Anytime we can improve our platform just to give them time back, that's a huge win for them."
As a result, Tom told us AWeber is constantly looking at how customers are using its tools and whether they're connecting and engaging with their audiences in the most optimal ways.
"This is always something we seek to help our customers improve," Tom said.
Customer-Focused Support From an Award-Winning Team
If AWeber's experience and longevity attract clients, its customer support team makes them stay. The company's live customer support — offered seven days a week via phone, email, and chat — is a vast online knowledgebase that includes video guides and webinars and has led to AWeber consistently walking away with top honors for outstanding customer service.
"Not every email provider provides live customer support," Tom said. "Some do so on a paid basis. We offer it to all of our customers, even if you are within our free trial."
In addition to that support, AWeber provides best-in-class educational opportunities and resources, including free video courses.
"We're constantly thinking of new tools and new resources we can build to really help educate marketers on how to get the most out of their email marketing," he said.
Marketers grappling with the latest terms (Tom used "segmentation" and "contextual automated sequences" as examples) will find relief in AWeber's courses.
"These are new concepts, and it's important for us to really distill those down into content that is easy to digest and understand, but then also things that are super actionable so you can take small steps and start implementing those strategies and tactics," Tom said.
AWeber also benefits from a user experience (UX) team that constantly works to optimize the usability of the application itself. In fact, the company redesigned its automation functionality just a few years ago. Tom told us the team spent a lot of time looking at other automation platforms on the market and found many to have visual builders that were sometimes overwhelming for users.
"We really tried to offer the same functionality but avoid that potential pitfall of creating an automated flow that can get confusing really quickly," he said.
According to Tom, the company's collaborative culture makes all of this possible. All 100-plus employees work in one building outside of Philadelphia, Pennsylvania, and, other than a separate space for human resources, AWeber doesn't have individual offices.
"Even our CEO, Tom Kulzer, sits on the engineering team floor with everybody else," Tom said. "We are able to have conversations across the entire team — from marketing to product to customer solutions to design — where we can discuss the pain points of our customers, what they are struggling with, and how we can better solve their problems…whether that's releasing something brand new or just making something we currently have that much easier to use."
Build a Unique Asset, Expand Reach, and Boost Revenue
Perhaps the greatest benefit AWeber grants customers is the ability to build their own subscriber base independent from social media platforms or fluctuating SEO algorithms, which allows them to gain lasting influence.
Tom told us that some marketers rely too heavily on "building their houses on rented land." That is, putting all of your marketing efforts on, say, Facebook, could be a big mistake since you don't own that specific channel, and that platform can change at any moment.
"If you go all in on SEO, Google could change their algorithm next week, and you could all of the sudden lose half of your traffic," Tom said. "If you go all in on a Facebook group or private group, and Facebook decides one day that you need to pay per user, per group, that might significantly impact your business."
Conversely, businesses that use AWeber to grow their email lists are building an asset. With AWeber the email list a business builds and all the data that comes with it is owned by the business, Tom said. This way, you don't have to worry about losing all the hard work you put into creating it if another platform changes its algorithm or terms.
And, when it comes to tracking the success of a campaign, AWeber also offers some advantageous tools.
"One of the best examples I like to give is, if you have a website, that's kind of like a guitar instructional website. Say you have a blog for guitar lessons," Tom said. "If you had a signup form, and you asked your audience to self-select if they were beginners or if they were advanced, you could trigger two distinct automatic sequences based on that selection: one for beginners and one for advanced. From that, you can evaluate the open rate and the click rate of your emails for your beginners and then evaluate that side by side with your advanced users as well."
From open and click rates to tracking and deliverability, the platform allows users to dig deep.
"A lot of these reporting tools are going to give you insight into how your prospects and customers are responding to your messages," Tom said.
New Features: An Evolving Automation Platform and Mobile Prototypes
Rooted in innovation, AWeber is continuing its forward-thinking approach. In its next phase, the company is focusing on automation as well as the development of mobile prototypes that will help businesses reach subscribers using just a smartphone.
The company continuously updates its automation platform, which is based on an "if-this-then-that" system of triggers, to ensure clients have the options they need to send the right message to the right people at the right time.
On the mobile side, AWeber currently offers three free apps for Android and iOS that allow clients to check email marketing stats, add new subscribers, and curate newsletters from any location. The company is working to further mobile functionality with additional tools.
While the specifics haven't been unveiled yet, "the prototypes are pretty exciting," Tom said. "Being able to manage your marketing message to subscribers on the go is something we're trying to constantly improve because we know so much of your business is being run on a mobile device these days."
Advertiser Disclosure
HostingAdvice.com is a free online resource that offers valuable content and comparison services to users. To keep this resource 100% free, we receive compensation from many of the offers listed on the site. Along with key review factors, this compensation may impact how and where products appear across the site (including, for example, the order in which they appear). HostingAdvice.com does not include the entire universe of available offers. Editorial opinions expressed on the site are strictly our own and are not provided, endorsed, or approved by advertisers.
Our Editorial Review Policy
Our site is committed to publishing independent, accurate content guided by strict editorial guidelines. Before articles and reviews are published on our site, they undergo a thorough review process performed by a team of independent editors and subject-matter experts to ensure the content's accuracy, timeliness, and impartiality. Our editorial team is separate and independent of our site's advertisers, and the opinions they express on our site are their own. To read more about our team members and their editorial backgrounds, please visit our site's About page.