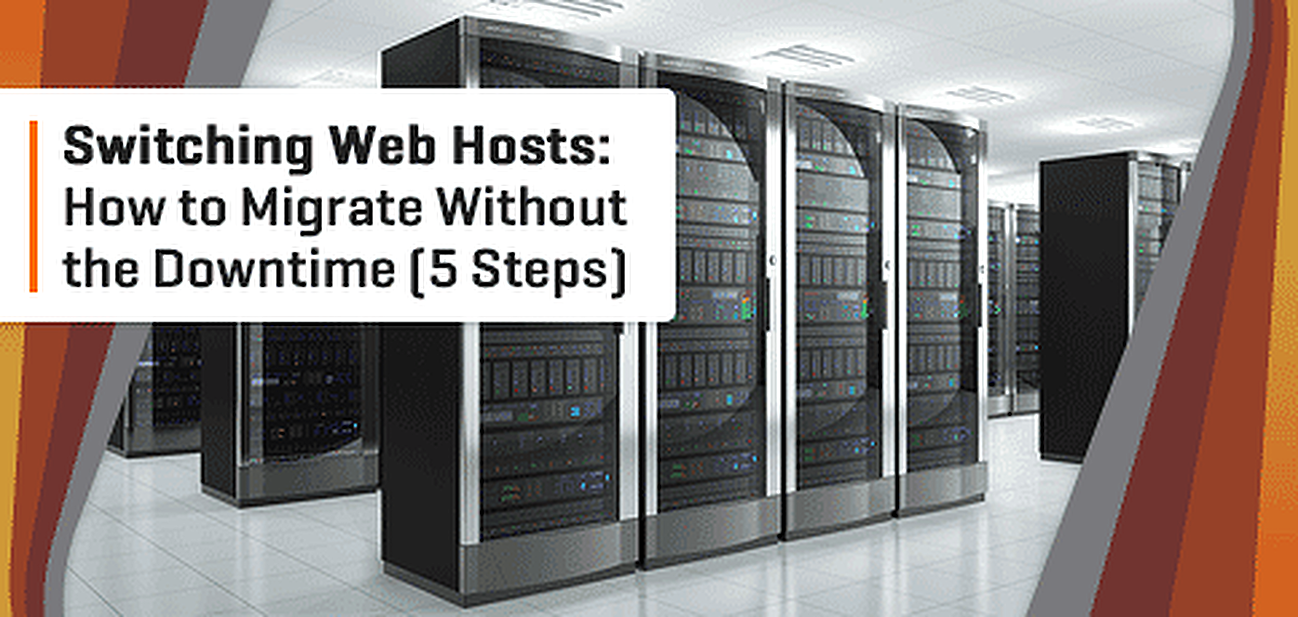 If you're not getting what you need from your current web host, it might be time to pick up and find a new one. Moving a site to a new web hosting service doesn't have to be as arduous as moving to a new house or apartment. It can actually be fairly easy if you take the right steps.
I know a prominent lawyer who publishes her law firm's website on WordPress. Stephanie's current host's support is superb, but there were a few things she felt were lacking. She wanted unlimited inbox storage because the limitations on her current email package were making it hard to keep important documents and messages easily accessible. She also wanted to move to a cloud-based server to increase the flexibility and customization of her server settings.
It took Stephanie a few months to make the decision because she was worried about the effort it would take and having downtime on her site. When she just couldn't wait any longer, it turned out that switching web hosts was a painless process. With some advice from her local web hosting expert (yours truly), she was able to switch within a week. You'll find that same advice in this article on how to choose and move to a new web host without breaking a sweat.
Option A: Choose a Host That Will Migrate Your Website For Free
Web hosting is a competitive industry, and as such, many hosts offer free assistance with switching to one of their plans from a different hosting service. This means you can transfer all of your files and databases to the new host, without doing the heavy lifting, free of cost. In most cases, all you need to do is request a migration after signing up for an account with the new provider, and they'll take care of the rest.
Migration experts at your new web host may be able to transfer your data by creating a new account on your web server control panel – if your new host uses the same control panel system. If not, they'll likely have to do it manually, which is more work for them but can be completed within a few days, depending on the size of your site. Regardless of the method, you'll want to go with a provider that can guarantee a seamless transition with zero downtime.
Here are our top picks for hosts that offer hassle-free migration assistance:
FREE SSD drives included with all hosting plans
Zero-downtime website transfers and migrations
FREE data backups, SSL certificate, and DDoS protection
Choice of East Coast or West Coast datacenter
Multi-language support, including PHP, Ruby, and Perl
InMotion: Our Expert's Review
Setup time: 4 minutes

PJ Fancher (HostingAdvice.com):

Offering a wider range of services than most — including shared, dedicated, VPS, and even WordPress-specific plans — InMotion Hosting features a great combination of industry-leading hardware, always-there support, and mass scalability for all hosting...

Go to full review »
| Money Back Guarantee | Disk Space | Domain Name | Best Overall Hosting Plans |
| --- | --- | --- | --- |
| 90 days | Unlimited | FREE (1 year) | www.inmotionhosting.com |
FREE site transfer or new site setup with 1-click install
FREE automated daily backups, CDN, email, and SSL
24/7 expert support with no wait time on phone or live chat
Recommended by WordPress as a top WordPress host
Ideal for business email hosting, with 99.9% uptime
SiteGround: Our Expert's Review
Setup time: 6 minutes

Alexandra Leslie (HostingAdvice.com):

With an impressive breadth of overall hosting services offered, SiteGround is a leading innovator in the hosting space — from custom software solutions to premier customer support. They offer the full range of web hosting features, including a free...

Go to full review »
| Money Back Guarantee | Disk Space | Domain Name | Best Overall Hosting Plans |
| --- | --- | --- | --- |
| 30 days | 10 GB - 30 GB | New or Transfer | www.siteground.com |
Heroic Support® and fully managed hosting services
Sonar Monitoring™ team detects and treats issues
Consistently recommended by customers to colleagues
Storm® Platform touts cloud flexibility with custom add-ons
100% uptime guarantee
Liquid Web: Our Expert's Review
Setup time: 7 minutes

Alexandra Leslie (HostingAdvice.com):

We've gotten to know a few key members of the Liquid Web team personally, and let us tell you: the passion they put into just talking about their products hints that this is a company worth checking out. Liquid Web boasts supreme uptime, always-there-for-you...

Go to full review »
| Money Back Guarantee | Disk Space | Domain Name | Best Overall Hosting Plans |
| --- | --- | --- | --- |
| N/A | 30 GB - 1.6 TB SSD | 2 - 5 Domains FREE | www.liquidweb.com |
Option B: Move Your Website to a New Host Yourself
If your new web host doesn't offer migration assistance, or you would rather handle it yourself, you can move your website files independently. This is a good time to employ the skills of your in-house IT staff, who likely have experience with backing up and transferring files. Many web hosts also have documentation with step-by-step guides on how to migrate your website. Read on to discover the best practices for moving your website to a new host safely and quickly.
1. Choose a New Web Host (Before Cancelling Your Old Account!)
There are as many reasons to switch web hosts as there are features in a hosting package. It's a matter of what aspects of web hosting are most important for the individual or company, and whether those are being achieved with their current host. For some people, the level of customer service is a high priority. For others, the price point is a top consideration. It's wise to consider the range of your web hosting needs when thinking about switching hosts.
If you find yourself weighing your options, pinpoint those things that make you want to move your business elsewhere. Some aspects organizations usually consider include security system performance, server storage space, mailbox and email features, uptime, and the availability of controls panels, website builders, and shopping carts. Many web hosts have comparable offerings, but some hosts invest more into certain features than others. Ask yourself which features you can't live without and which ones must perform the absolute best – then make your decision based on those answers.
If you know you want to switch hosts, but you're unsure of which provider you want next, consider our recommendations for the best shared host, VPS plan, and/or dedicated servers below.
Recommended Shared Hosting
If you're looking to shop around for inexpensive providers, shared hosting is a good place to start. With shared hosting, you'll share your server with other websites and storage space will be divided among the sites. Shared hosting can be a good option for small businesses with low-traffic websites, and is economical to boot, with most plans costing less than $10 per month. Check out our recommended shared hosting providers below, which carry many of the benefits of shared hosting such as effectiveness and responsive support.
Known for high-performance, low-cost shared hosting
FREE website builder with 1,000s of templates
Endorsed by the WordPress.org team as a top WP host
FREE CDN accelerates your site's page loads
Usually $7.99/month, but our visitors pay $2.95/month
Bluehost: Our Expert's Review
Setup time: 4 minutes
Go to full review

»
If you're looking for an affordable host, Bluehost is a solid, reputable choice; The company's low costs, coupled with its supremacy in the shared hosting arena, is what makes this provider such a valuable deal. The Bluehost name is listed toward the top of...
| Money Back Guarantee | Disk Space | Domain Name | Shared Hosting Plans |
| --- | --- | --- | --- |
| 30 days | 50 GB - Unlimited | FREE (1 year) | www.bluehost.com/shared |
See more shared hosting providers »
Recommended VPS Hosting
For businesses that want to maximize their site's performance without breaking the bank, VPS (virtual private server) hosting offers the best of both worlds. On a VPS, each website has its own server space. The servers for each website on a VPS are housed on the same computer, but unlike shared hosting, companies can purchase as much space as their website requires. Pricing for a VPS is higher than shared hosting but lower than having your own dedicated server. Our top picks for VPS hosting are notable for their reliability, tight security, and customization options.
63% off the first month with added discounts
Real-time redundancy powered by a cloud infrastructure
FREE cPanel licenses with enterprise-grade CentOS
FREE server management for patches and updates
FREE SSDs and SSL certificate for fast, secure hosting
InMotion: Our Expert's Review
Setup time: 6 minutes
Go to full review

»
Boasting market-leading VPS hardware, slick management software, and free SSD drives and backups, InMotion Hosting offers the most attractive VPS plans you'll find anywhere.Each VPS plan comes with free SSD storage arranged in a RAID-6 array, which is...
See more VPS hosting providers »
Recommended Dedicated Server Hosting
Dedicated server hosting is typically the most expensive option. It's ideal for larger, high-traffic websites and can provide greater flexibility and security. Compared with a VPS, a dedicated server hosts one website only and thus allows for maximum resources to be available for that site. It's a bigger investment than either shared hosting or a VPS, but as websites grow and businesses expand, it can become a more viable option for sites that need the space.
Read on to find out which web hosting providers offer the most comprehensive dedicated server plans, including fully managed services and premium email offerings.
100% network and power uptime guarantees
Custom configurations, SSDs, and instant provisioning
Auto-migrations, backups, and 24/7 Sonar Monitoring™
Block/object storage and load balancer add-ons
Our visitors pay $79.98/month! (usually $189/month)
Liquid Web: Our Expert's Review
Setup time: 8 minutes
Go to full review

»
Liquid Web's strong suit is their managed dedicated server hosting. They own and operate three state-of-the-art datacenters in the US and have over 50 developers working tirelessly to build and maintain custom solutions for added performance and...
| Money Back Guarantee | Disk Space | Domain Name | Dedicated Hosting Plans |
| --- | --- | --- | --- |
| N/A | 211 GB - 1,775 GB SSD | New or Transfer | www.liquidweb.com/dedicated |
See more dedicated hosting providers »
2. Back Up Your Website Files and Databases
After you've purchased your new hosting plan and before you cancel your old one, you'll need to back up your website in its entirety and move it over to your new server. Download all of your files from the old host – they should have specific instructions for doing this in their platform – and then migrate them to the new host via FTP. Databases must also be backed up by downloading the files, uploading them, and then restoring the database using a control panel or SSH. Emails can sometimes be transferred but at the very least should be archived so they can be preserved. This step is crucial to maintaining the integrity of your site just as it was on the old host.
3. Switch Your Domain's DNS Record to Your New Host or Registrar
When you switch to a new web host, your DNS (domain name system) server also changes. The DNS tells a user's internet service provider (ISP) where the site files are located and directs the connection to your site so it can load in their browser. After your website files and databases are migrated to the new host, you will need to ask the provider from which you purchased your domain name to make the change. Be sure to contact your new host to get the new DNS information to give to the old host. This change typically takes 48 hours (two days) to take effect, at which point your site will load from the new web host.
4. Once the DNS Change Request Goes Through, Conduct a Final QA
So, you've fully migrated your site and changed your DNS name – now what? Don't take it for granted that everything came over in one piece. Do a thorough quality control check to ensure no files are missing from your site. Once you cancel your account with the old host, there's no guarantee you'll get those files back, so be certain everything is as it should be before pulling the plug on the old host. Go through each page of the site and review all the files and databases you transferred over in fine detail.
5. Cancel Your Old Account!
Like closing on an old house when moving to a new place, the last step of switching hosts is to close out your account with the old web host. Once you've made sure you have all of your files and databases and have switched your DNS record, you should have no worries about checking off this final task. If you originally purchased your domain name with the old host, remember to keep the domain name registration, but your hosting account can go. Don't look back – you've done everything you need to do to move on to the next chapter in the life of your website.
Switching to a New Web Hosting Provider Doesn't Have to Be Daunting
Switching web hosts should feel like an upgrade, and what that looks like for your website might be different than for another. Keep in mind those key web host features that will make your site perform better and make your life easier. When Stephanie, the lawyer who switched to a cloud-based host with unlimited email storage and mailboxes, decided to make the move to a new host, she did so with full knowledge of her options and priorities. Use these host-versus-host comparisons to determine which web hosting providers carry the features you care about most.