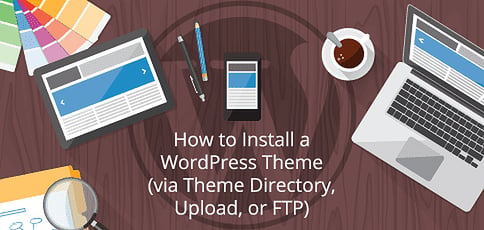 Learning how to install a WordPress theme is one of those simple skills that unlocks a world of potential. Wherever you find the design of your dream, your website will always look fresh and professional.
Website templates, or themes, are these rare phenoms that benefit both first-time site owners and experienced developers — giving them each the opportunity to save time, money, and headaches on website design. It's true! While my mother loves the idea of being able to point and click to try out color schemes and slider photos, my freelance dev friends love that they don't have to start from scratch each time a client requests a new site design.
Quality WordPress themes are designed to make people's lives easier, but for some, the trickiest part is getting them installed and operational. Here, we'll cover the different avenues for installing a theme for your newest web project.
First, You'll Need a Theme & Host
You'll need a web host before anything else, and if you're specifically interested in WordPress hosting, we'd recommend selecting from one of the top hosts with WordPress-friendly packages. You can use the official install documentation to install WordPress manually, but the best WP hosts simplify things with 1-click installations or pre-installations of the software:
WordPress pre-installed with NGINX and PHP 7
FREE SSL certificate and unlimited bandwidth
Optional automatic plugin, theme, and core updates
Features a FREE drag-and-drop WP page editor
Premium themes and plugin subscriptions
InMotion: Our Expert's Review
Setup time: 5 minutes
Go to full review

»
InMotion Hosting, long known for affordable and high-performance shared hosting options, entered the WordPress space with a solid option built upon the company's reputation for great support and reliability. Costing a small premium over other budget-minded...
Recommended by WordPress Core since 2005
FREE SSD storage and SSL certificate
FREE domain registration and email
Automatic installation and updates
63% discount exclusively for HostingAdvice shoppers
Bluehost: Our Expert's Review
Setup time: 5 minutes
Go to full review

»
Aimed at personal bloggers and first-time users, Bluehost's WordPress hosting packages are a great alternative to simple shared hosting. These service come at a premium, compared to Bluehost's standard shared plans, but the WordPress optimization and...
| Money Back Guarantee | Disk Space | Domain Name | WordPress Hosting Plans |
| --- | --- | --- | --- |
| 30 days | 50 GB SSD - Unlimited | FREE (1 year) | www.bluehost.com/wordpress |
FREE Cloudflare CDN and 1-click installs for WordPress
Turbo Server, SSD speed boost, and optimized caching
A2-optimized WP plugins for performance and security
SSL certificates, PayPal integration, and 24/7 support
FREE HackScan and KernelCare
A2 Hosting: Our Expert's Review
Setup time: 4 minutes
Go to full review

»
As experts in performance optimization, A2 Hosting is a top choice for powering resource-heavy WordPress websites. The company offers shared or managed plans for the ultra-popular content management system, with the benefits extending to Joomla, Drupal, and...
Easy-to-set-up WordPress hosting on shared servers
Install WordPress with one click via cPanel dashboard
Unlimited email addresses hosted at your domain
99.9% uptime guarantee means your blog stays online
$100 in Google Adwords credits to kickstart marketing
HostGator: Our Expert's Review
Setup time: 4 minutes
Go to full review

»
HostGator is great for all things shared hosting, and application-specific services — such as the classic one-click-install WordPress hosting — are no exception. The team recently updated its already clean and intuitive cPanel dashboard, wherein users can...
Officially endorsed by WordPress.org as a top host
FREE WordPress transfer or setup with 1-click install
Pre-installed Git, 3 caching levels, and FREE CDN
FREE WP setup wizard, staging, and auto-updates
99.9% uptime, 24/7 support, and custom chat system
SiteGround: Our Expert's Review
Setup time: 6 minutes
Go to full review

»
Want a hassle-free, WordPress-optimized hosting service? SiteGround has thought of everything you need to get your site up and running. Starting with the essentials, users get free email accounts, site transfer, Cloudflare CDN, and cPanel license. Then the...
| Money Back Guarantee | Disk Space | Domain Name | WordPress Hosting Plans |
| --- | --- | --- | --- |
| 30 days | 10 GB SSD - 30 GB SSD | New or Transfer | www.siteground.com/wordpress |
Once you're set up with your host and WordPress installation, you're ready for the fun part. Go to the official WordPress theme site, or navigate to "Appearance" and then "Themes" in the WordPress backend, and begin your search. You can filter thousands of designs by popularity, date, layout structure, and commercial or featured.
Some tips when searching for your theme:
Use words like minimal, portfolio, shop, business, artist, grid, etc.
Make sure the theme is responsive so it works nicely on all manner of screen sizes.
If you need a multilingual site, make sure the theme can support that from the get-go.
Choose a theme that is well maintained and not too complex to customize for your goal.
You can install multiple themes and activate and evaluate each one more in depth later. If you don't find any free themes that strike your fancy, you can try for a commercial theme (great options for $25-$75) or visit a third-party theme site. Below are some of the best third-party theme providers (free and commercial):
Once you've found the theme of your dreams, you can choose one of three options for installation: the WordPress directory, ZIP file, or (S)FTP. We'll walk through each option next.
Option 1: Download & Install From the Official Directory
This is, by far, the easiest way to install a WordPress theme. Once you've selected your design template, note that you can preview the look and layout on your site.
Caution: If you hit SAVE while previewing a theme you will update your site automatically!
To install a theme directly from the Theme Directory in the backend, click the Install button on the theme tile. After a successful installation, you can activate the theme for your site!
Option 2: Manually Upload a Theme .ZIP File
Alternatively, you can manually download and install zipped archives that contain all the files needed to implement a theme (.ZIP files). If you found your theme on a third-party site, this installation option may be required; however, themes on the WordPress site can also be downloaded manually.
Before installing any WordPress theme .ZIP file, you should always consider the following:
Evaluate whether you really trust the theme provider (if it's not the official WordPress site).
Check out the reviews of the theme and the specific theme provider.
Make sure the file is truly a .ZIP file once it's downloaded: You can right-click on the file and unzip first, instead of double-clicking (which could execute an unknown executable!).
Now, to install the theme .ZIP file, go to the Appearance sidebar menu and click "Themes" in the backend. The newly loaded page should feature an Add New button. Click! Next, you'll see an Upload Theme button. Click! You'll then see a Choose File button, which allows you to choose your downloaded .ZIP file before clicking the Install Now button. Voila!
Once the installation is complete, you can click "Activate," and the theme will be live on your site.
Option 3: Install a Theme via FTP
(S)FTP access is an alternative means of manually uploading your theme. Whether you need to use plain FTP or, the more secure, SFTP depends on your web hosting service. The uploading process itself is the same, though.
Note: The (S)FTP upload method might be needed if you only have access to your web server via (S)FTP without direct access to the web server file system itself.
To install a theme via (S)FTP:
Download the theme .ZIP file from a theme site.
Extract the .ZIP file locally.
Use an FTP client (e.g., FileZilla) to access your web server via FTP.

Select the extracted file directory in the left pane.
Select the target directory, "wp-content/themes," on your web server in the right pane.
Upload files to your web server by right-clicking them and selecting "Upload" on the left.
Now your WordPress installation will pick up this new theme. When you now go to the Appearance tab, you will be able to see and activate it.
Now You're Ready to Modify & Launch!
Let the customization begin! Whether you're designing for yourself, a client, or a friend, you'll find WordPress themes can be an invaluable time-saver. Plus, you get to experiment with some amazingly creative works from other web experts.
For the beginners reading, you'll want to familiarize yourself with the basic tricks to customizing a WordPress site, and the documentation for your specific theme is also worth a look-over. The docs will explain how to customize the template in the most maintainable way.
Finally, check out the 50,000-some-odd WordPress plugins for the full breadth of functionality for your site, and maintain regular backups in case the worst should happen. Happy designing!