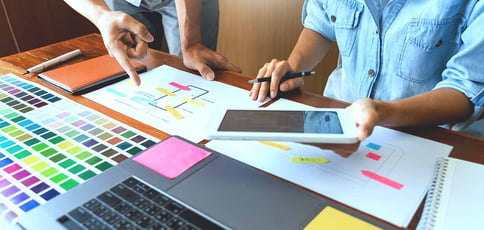 Leveraging the best reseller hosting for web designers represents an opportunity to enhance your brand and add more revenue. You may already run a successful web design and development operation — but are you confident you're doing all that you can?
Reseller hosting currently accounts for only about 14% of the overall market, but the annual growth of the hosting industry means an increasing number of people are looking for ways to get their content online.
Higher demand for hosting brings an opening for web designers to join the fray and make more money. Check out our reviews of the best reseller hosting programs with which you can join forces.
Boasting high-performance hardware and business-friendly software, InMotion Hosting carries a complete reseller hosting package for those looking to grow a business..
Each plan comes with fully licensed versions of WHMCS, cPanel, and Enom, ensuring all aspects of running your reseller hosting business go smoothly. The white-label service allows for the use of 25 to 80 unique cPanel accounts on each plan.
Storage: 80 – 250 GB SSD
Bandwidth: 800 GB – 6 TB
cPanel accounts: 25 – 80+
Billing software: WHMCS
Domain reselling: Enom
Price: $15.99 – $35.99 per month
Although the company does not offer a built-in storefront application with InMotion reseller accounts, web publishers will appreciate the ability to run websites on a managed hosting platform with performance optimization for LAMP scripts.
Those who want the extra help, however, can purchase the Reseller Advantage package. The one-time fee delivers a custom website ready to sell hosting services in just two days.
The InMotion Hosting team automates the selling process by installing and configuring all the tools needed to get your business off the ground.
Alternatively, customers who choose the two highest-tier reseller plans unlock the company's premium Launch Assist feature, which provides two hours of time with a systems administrator to use as you see fit — migrations, billing setup, performance optimizations, and other tasks.
The high-availability service from InMotion Hosting also includes free backups for the database and files of your client websites when running in production. Plus, you'll have an industry-leading 90-day money-back guarantee as cushion if you decide InMotion Hosting isn't the perfect fit.
A2 Hosting has been a popular solution for web developers for nearly 20 years. The performance-minded web host's reseller plans come in two versions: Standard and Turbo.
The Standard servers run A2 Hosting's cPanel stack for LAMP, while the Turbo servers are built on elite hardware with low-density domain name allocation. All reseller plans from A2 Hosting include free Softaculous and Cloudflare CDN.
Storage: 60 – 100 GB SSD, or 100 GB NVMe
Bandwidth: 600 GB – 1 TB
cPanel accounts: 20 – 30
Billing software: Blesta or WHMCS
Domain reselling: Enom
Price: $24.99 – $32.99 per month
A2 Hosting gives resellers ample opportunities to enter the market with the prices and technologies that work best for each business plan.
The host keeps client cPanel accounts low to avoid overselling, but resellers can upgrade their WHMCS license and hosting plan to add hundreds more clients.
Upgrade the lower-tier plans to Turbo servers for 40% faster CPU performance, support for nine times more traffic, and triple the read/write speeds.
HostGator reseller plans make it easy to offer industry-leading cPanel web hosting service to clients with white-label branding.
Every reseller plan includes a free license for WHMCS and support unlimited websites and domains. Each domain name receives a free SSL certificate, and you'll only need to upgrade tiers when you need to add more storage or bandwidth.
Storage: 60 – 140 GB
Bandwidth: 600 GB – 1.4 TB
cPanel accounts: Unlimited
Billing software: WHMCS
Domain reselling: Enom or ResellerClub
Price: $19.95 – $24.95 per month
HostGator has one of the most popular cPanel reseller platforms in the world, designed specifically to scale with the hardware requirements of the customer's clients.
Anyone considering a reseller web hosting plan for their business can get started at HostGator with no experience and easily learn the basics of WHMCS.
A main advantage of HostGator reseller plans is the ability to upgrade seamlessly as your client base or web traffic expands — without having to pay more for an expensive licensing agreement.
Moving away from the more common cPanel/WHM stack, SiteGround offers its proprietary Site Tools solution for web hosting management and client interactions.
The company gives resellers and developers multiple options for connecting with clients, starting with two of the standard, cloud-based web hosting plans. Those with a larger client base should use the full-strength cloud servers.
Storage: 20 – 160 GB SSD
Bandwidth: Up to 5 TB
cPanel accounts: None (unlimited Site Tools client accounts)
Billing software: Not included
Domain reselling: Not included
Price: $3.99 – $400 per month
Resellers can use the Site Tools interface to easily collaborate with clients or provide clients with a white-labelled access point to all the tools you'd expect for installing software, creating email inboxes, adding a MySQL database, and other tasks.
SiteGround's high-performance cloud infrastructure features CentOS servers with both Apache & NGINX support.
However, the host doesn't provide any tools for billing or domain reselling — SiteGround simply provides the hosting technologies, and resellers must choose how to operate their business.
As such, the SiteGround reseller plans are best for design agencies and developers that build and host sites for clients.
InterServer has a wide range of reseller plans that allow freelance programmers and web developers to dial in specifically to the hardware configurations they need.
InterServer has five reseller plan tiers that support up to 70 cPanel accounts with unlimited MySQL database installations on SSD storage for fast website performance speeds.
Storage: 80 – 280 GB SSD
Bandwidth: 500 GB – 2 TB
cPanel accounts: 20 – 70
Billing software: Not included
Domain reselling: Not included
Price: $19.95 – $69.95 per month
Client accounts receive full access to InterServer's standard shared hosting features, including Softaculous script installations, free website transfers, and an integrated backup service.
Although the reseller platform at InterServer offers unlimited domain name support, the company does not provide tools for reselling domain names or billing clients.
Beyond hosting services, we're always impressed with the expertise and innovation from the InterServer team. For instance, the company's InterShield security software blocks bot-driven hacking scripts, automatically scans files for viruses, and includes a machine learning firewall.
The InterProxy system works with Cloudflare CDN to improve load balancing on web traffic across data centers and protect against DDoS attacks. InterInsurance provides backup, restore, testing, and debugging for scripts. All are excellent support tools for designers and developers.
GoDaddy is the world's largest domain name registrar and traditionally the most popular hosting solution for reseller customers.
GoDaddy's reseller platform includes a storefront with all of the hosting products the company offers for sale. Instead of selling customers portions of your computing resources, GoDaddy enables you to sell its products directly to your customers.
Storage: N/A
Bandwidth: N/A
cPanel accounts: N/A
Billing software: Built in
Domain reselling: Built in
Price: $7.50 per month
It doesn't get much simpler — there's no cPanel account, WHM, or WHMCS. Customers use the same hosting products available from GoDaddy's site, with resellers getting a 20-40% wholesale discount.
Resellers can rebrand shared, VPS, and dedicated hosting plans — along with domains, email products, SSL certificates, and other web services.
The GoDaddy storefront application allows resellers to sell products at their own prices and relies on automated credit card processing. The theme can be customized to match your own company brand and logo.
AccuWebHosting gives customers the ability to operate as both a Windows and a Linux web hosting reseller. The company also offers a Windows VPS reseller plan for white-label apps.
The AccuWebHosting reseller platform gives developers the option to run Windows Server 2016, 2012, or 2008 as the operating system, while Linux reseller plans operate on CloudLinux with cPanel administration.
Storage: 30 – 200 GB SSD
Bandwidth: 100 GB – 1 TB
Client accounts: 5 – 100 cPanel users or 15 – 60 Plesk users
Billing software: Not included
Domain reselling: Separate AccuWebHosting account
Price: $8.99 – $131.00 per month
We appreciate giving Windows enthusiasts a comparatively rare opportunity to resell hosting services that support ASP.NET and MS SQL databases with Plesk administration.
The ability to resell Windows VPS environments is another incredible opportunity for resellers to differentiate themselves and attract a higher level of clients, as well.
Each client account comes equipped with cPanel or Plesk plus a free SSL certificate, along with unlimited email inboxes, databases, and FTP accounts.
To further demonstrate its value, AccuWebHosting gives customers the choice of datacenter location. The company currently offers seven datacenters — with more on the way — in the U.S., Europe, Asia, Africa, and Australia.
Resellers will need to select and configure their own billing software, unfortunately, but AccuWebHosting will help with domain reselling services. Generally speaking, AccuWebHosting makes a very solid partner for resellers.
Offering flexibility to resellers, Hostwinds has two types of accounts: a white-label service that enables you to sell all of the company's products under your own branding, and a shared hosting reseller business model that gives you discounts for ordering client accounts in bulk.
The white-label plan includes all of the Hostwinds shared, business, and VPS hosting products with licensing support, along with a WHMCS license and reseller management portal.
Storage: N/A
Bandwidth: N/A
cPanel accounts: N/A
Billing software: WHMCS with white-label reseller plans only
Domain reselling: Not included
Price: $5.24 to $10.00 per month
The standard web hosting plans, which retain the Hostwinds branding, offer unlimited disk space and monthly bandwidth, and run a LAMP stack and cPanel on the CloudLinux operating system.
Combining white-label functionality with traditional WHM features, customers can offer shared hosting plans for resale while also supporting clients on a single unified account. The more shared hosting plans you acquire, the better wholesale discount you'll receive.
With the white-label service, clients order hosting and make payments on your website — and Hostwinds handles the rest. The company automatically deploys the service and notifies users when their account is ready.
Why not go with the web hosting specialist with reseller in its name? ResellerClub streamlined the concept of reseller hosting by offering customers a full suite of cloud server products that can be white-labeled or rebranded.
Whether you want to sell Windows or Linux hosting (or both), ResellerClub offers a wide range of available options and popular configurations to manage a complete hosting company.
Storage: 10 – 200 GB
Bandwidth: 200 GB – 4 TB
Client accounts: 40 – 300 cPanel accounts or unlimited Plesk users
Billing software: WHMCS on most plans
Domain reselling: Separate ResellerClub account
Price: $16.99 – $45.99 per month
Resellers can also sell domain registrations, email accounts, SSL certificates, and backup services. In fact, ResellerClub boasts one of the largest domain reseller programs in the industry, with more than 350 extensions available.
Even better, ResellerClub gives business owners multiple options for selling. The SuperSite storefront application helps build white-label hosting websites, or an API service integrates products into your existing site.
For those with an established workflow with popular systems, resellers can operate using Plesk or cPanel/WHM with an ExpressCart or WHMCS integration. All told, ResellerClub offers nearly 10 options for third-party billing.
GreenGeeks distinguishes its hosting service through a commitment to renewable energy sources. Other web hosting companies sometimes claim to offset their carbon footprint, but GreenGeeks purchases wind credits that match 300% of the company's entire energy consumption.
The host's reseller plans are popular for cPanel web hosting business operations that include unlimited websites and domain names.
Storage: 60 – 160 GB SSD
Bandwidth: 600 GB – 1.6 TB
Client accounts: 25 – 80
Billing software: WHMCS
Domain reselling: Wholesale prices from GreenGeeks
Price: $19.95 – $34.95 per month
The GreenGeeks reseller plans include the full suite of cPanel, WHM, WHMCS, Softaculous, and Let's Encrypt SSL/TLS certificates for each domain. SSD storage is standard on all plans, ensuring your clients will be set up for success.
The company's support teams monitor its infrastructure and customers' websites around the clock with manual and automated systems to detect malware and other threats. If an issue arises, you can contact them 24/7 via chat, email ticket, and phone.
Servers are optimized with the LiteSpeed web server and caching tools, plus RAID-10 disk space, CDN integration, and support for HTTP/2 and PHP 7. Even better, the GreenGeeks team will transfer up to 30 cPanel accounts for free.
HostPapa offers an impressive five reseller plans with different hardware configurations, ranging from four to eight CPU cores and up to 32 GB of RAM. Each plan will support between 20 and 150 unique cPanel logins.
With HostPapa reseller plans, customers have the option to use either WHMCS or ClientExec for billing. You also get KernelCare and Acronis server backups.
Storage: 50 – 250 GB SSD
Bandwidth: 500 GB – 2.5 TB
Client accounts: 20 – 150
Billing software: WHMCS or ClientExec available on most plans
Domain reselling: OpenSRS
Price: $29.99 – $119.99 per month
The HostPapa platform carries a good reputation for stability and security, and the team is readily available to help with site migrations and a 99.9% uptime guarantee.
Tech support is available 24/7 in four languages on chat, phone, and email. You can even book a free 30-minute, one-on-one training session with one of HostPapa's experts.
We also found the hardware configurations to be more generous than those at many competitors, so resellers' businesses will be well equipped to meet the needs of demanding CMS and ecommerce hosting.
Servers come with SSD storage in a RAID array and CacheCade. Security features include SSL certificates, server firewall, monitoring, and brute-force detection.
Reseller hosting is designed to meet the requirements of freelance web developers and independent web design companies, along with entrepreneurs looking to start their own web hosting business.
Reseller hosting providers supply the technology (server space, network connections, and related services) for business owners to sell to their customers, usually under their own branding.
More specifically, reseller hosting provides the ability to host client domains on a unified platform at reduced costs. Essentially, resellers act like a shared web hosting provider.
Resellers can invoice clients directly for domain name registrations, hosting plans, IP addresses, and SSL/TLS certificates.
Adding these services to a business model can generate revenue for an aspiring business owner. For designers, developers, and agencies, reseller hosting creates an extra stream of income and often simplifies the site management relationship.
Although the specific components may differ, business built around reseller hosting typically includes the following elements:
Web hosting automation, product management, and billing (WHMCS)
Shared web server configuration, domain name management, and customer interface (cPanel)
Backend support of cPanel administration and account management (WHM)
Domain reseller program for popular domain name extensions (Enom)
Ecommerce system with store, cart, and checkout functionality (ClientExec)
The combination of WHMCS, cPanel/WHM, ClientExec, and Enom is sufficient to run a complete web hosting company on a reseller plan, but be prepared to spend more on marketing and advertising.
Any designer or developer can use reseller hosting to add products and services to their business websites they otherwise could not offer as a web hosting provider.
The ability to provision domain names and a hosting service for client accounts enables web professionals to seamlessly retain access to backend code, performance optimizations, and security precautions.
Think about it — do you really want to trust your client to update their WordPress installation and plugins? Or would you rather be able to take care of it for all clients at once?
Take a look at our top six reasons for getting a reseller hosting account:
More oversight into clients' technology stack and accounts
Easier scalability for you and your clients
Lower costs and fewer headaches than allowing customers to manage their own hosting
The host handles all technical maintenance, enabling you to focus on your business
Additional revenue opportunity with the ability to set your own rates
Build your brand by presenting a more complete service portfolio to potential clients
Adding these reseller services doesn't have to be a major distraction from your main business, either. Some reseller web hosting business plans offer a complete storefront application that allows anyone to launch and operate their own branded services.
With a storefront app, entrepreneurs can quickly build a custom ecommerce store with domain name registration as well as offer shared, dedicated, and VPS hosting plans.
Many clients need a complete package of services that include web design, hosting, domain name registration, and a content delivery network. WHMCS plans will provide all of these products to developers for white-label rebranding.
Alternatively, you could leverage the storefront resources of a reseller platform to build a separate hosting brand and join the industry as a full-fledged service provider. However, you may find it difficult to succeed as a reseller in competition with the major brands.
At the most basic level, we recommended choosing the web host you prefer for day-to-day development for clients.
That may mean starting the search with your current hosting provider (or your clients') and comparing it with other options from competitors.
Overall quality is critically important, as you will be completely dependent on your reseller host to provide the performance, stability, and security that your customers demand. It does not make sense to skimp on service to your paying clients just to save money.
Reseller hosting plans give web developers the ability to save on hosting by combining multiple client accounts into one managed platform.
Here are a few questions to ask when making the final decision on a reseller hosting solution:
What type of hosting business do you want to run? Decide whether you will only support private design or development clients or offer a complete web hosting service to the public.
Which reseller host excels in the attributes you value most? Choose the reseller hosting company with the best environment and experience for your business specialization, such as WordPress, cPanel, Windows, or VPS hosting.
Where can you find the most value? Compare companies based on the lowest cost for the most services when considering hardware, software, customer support, and licensing in a complete package.
A reseller web hosting plan with a ready-made storefront application is the easiest way to launch a web hosting brand under white-label services.
First off, let's talk about realistic goals. It is very difficult to scale into global operations as a web hosting brand using a reseller hosting package.
These services typically work best for freelancers and independent web development companies.
Reseller hosting plans allow your company to provide clients with web hosting, domain registration, dedicated IP addresses, or SSL/TLS certificates.
You can bill clients at whatever price you determine for the products. Many small businesses utilizing platform-driven web design services can be combined on a single WordPress reseller account.
Here are some tips we've learned along the way from our own experiences as resellers:
Prepare to become an expert in WHMCS and related systems to operate a reseller hosting account with public clients.
Rely on a service plan based on cPanel and WHMCS for the best platform security, administration, and portability options.
Choose a storefront application to simplify the operation of a reseller brand. Work with WHMCS, Enom, and ClientExec to build solutions.
Use WHMCS to create subscription plans for web hosting, domain name registrations, SSL/TLS certificates, and other products that can be invoiced to clients for billing.
Operate a storefront with your company logos and brand identity to automate platform services with an ecommerce store and offer white-label web host services to clients.
Combine all of your web hosting clients on a single platform by adding their domain names, site files, and database information to your reseller account in cPanel.
A reseller company offering a storefront application for clients will need to verify payments on accounts with anti-fraud screening on credit card processing.
Additionally, Softaculous enables developers to save time when building client sites by launching 400+ open-source scripts with a one-click installation on LAMP servers.
The library may be a feature you overlook for yourself, but the applications likely will be a valuable perk to your customers.
WHMCS, Enom, and ClientExec are proven solutions for operating your own hosting provider brand under a white-label strategy. Web designers can use a reseller storefront for easy integration of hosting products and services into an ecommerce website.
Because developing a web hosting company is complicated and time-consuming, the availability of storefront applications and client management tools can be a valuable resource for web designers.
Whatever type of hosting plan you're looking for, InMotion is a solid choice no matter the scale. Our reviewer PJ Fancher recently took InMotion for a spin, and rated the popular host a 4.9 in the Reseller Hosting category out of a perfect score of 5.0. Here's what PJ had to say about InMotion:
InMotion Hosting is consistently one of the best hosting providers you'll find. You pay a bit of a premium for great support, powerful hardware, and supreme reliability, but the value of the product is market-leading. Whether you need SSD-powered VPSs or are ready to build your first site with its BoldGrid web builder, InMotion should be a top contender for your host.
Before signing up for InMotion, it's a good idea to read through PJ's full review to learn about all the features InMotion offers. You can also compare it to other web hosts to ensure you're getting the best deal possible:
If you decide InMotion is the right choice, keep in mind that it takes just minutes to deploy your InMotion server space. And at $15.99 per month, it's a bargain considering the many great features that come in any InMotion plan.
Advertiser Disclosure
HostingAdvice.com is a free online resource that offers valuable content and comparison services to users. To keep this resource 100% free, we receive compensation from many of the offers listed on the site. Along with key review factors, this compensation may impact how and where products appear across the site (including, for example, the order in which they appear). HostingAdvice.com does not include the entire universe of available offers. Editorial opinions expressed on the site are strictly our own and are not provided, endorsed, or approved by advertisers.
Our Editorial Review Policy
Our site is committed to publishing independent, accurate content guided by strict editorial guidelines. Before articles and reviews are published on our site, they undergo a thorough review process performed by a team of independent editors and subject-matter experts to ensure the content's accuracy, timeliness, and impartiality. Our editorial team is separate and independent of our site's advertisers, and the opinions they express on our site are their own. To read more about our team members and their editorial backgrounds, please visit our site's About page.