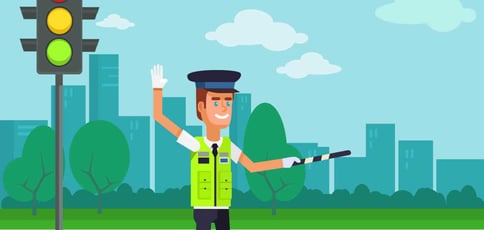 A load balancer is like a traffic cop who directs cars during rush hour. But instead of cars, a load balancer directs network traffic to available server space in your network. Without load balancing, unexpected traffic can cause your server to crash, resulting in a poor user experience and costly downtime.
A slow website often puts off potential customers. Websites owned by government agencies, banks, eCommerce sites, and social media platforms handle massive amounts of traffic, and downtime can have grim consequences.
The minimum goal and the industry standard for website uptime is 99.9%. If your website does not meet this standard, it is high time you consider hosting with a load balancing solution. Here are the best hosting with load balancing plans for your website.
The Best VPS Load Balancing Plans — Starting at $2.00
Virtual private server (VPS) load balancing is a technique that distributes server workload across several network servers or resources. VPS load balancing uses a virtual server or software to receive incoming traffic requests and directs those requests — like a traffic cop. This technique prevents a single server from being overloaded.
The VPSes below offer a nice balance between affordability and performance to help maintain your site's uptime.
Cloud VPS that's more flexible and affordable
Load balancer, firewall, and managed services
Premium Intel CPUs with 300% more power
Choose between monthly or hourly billing
Sign up today for a 30-day FREE trial
VPS
RATING 4.9 ★★★★★ Our Review
Kamatera: Our Expert's Review
Laura Bernheim (HostingAdvice.com): Backed by cutting-edge cloud computing technology, Kamatera adds instant and limitless scalability to the VPS hosting marketplace. Each cloud or virtual server is equipped with blazing-fast SSD storage and Intel Xeon Platinum CPUs. Go to full review »
| Setup Time | Disk Space | CPU | RAM |
| --- | --- | --- | --- |
| 5 minutes | 20 GB SSD – 4 TB SSD | 1 – 104 cores | 1 GB – 525 GB |
Kamatera is a leading, cloud-based VPS load balancing provider. The VPS hosting platform guarantees a 99.95% server uptime, which is higher than most competitors. Each Kamatera virtual server has ultra-fast SSD storage and power-packed Intel Xeon Platinum CPUs.
Kamatera's billing plans are both flexible and affordable. You can customize your web hosting environment by selecting the operating system version, processing power, bandwidth, memory, and disk space you need. What's more, you can add Plesk or cPanel to your hosting plan, making it simple to manage. Make sure to check out the Kamatera cloud load balancing plans as well.
$2/month with no hidden fees
Try it FREE via 30-day money-back guarantee
Full root access and API
10GB to 240GB SSD, Linux or Windows
No throttling or traffic restrictions, ever
VPS
RATING 4.9 ★★★★★ Our Review
1&1 IONOS: Our Expert's Review
Alexandra Anderson (HostingAdvice.com): For an all-star player in the game of web hosting flexibility, look no further than the low-cost options from 1&1 IONOS. The company's vServers are a powerful VPS option that includes dedicated resources and unlimited traffic. Go to full review »
| Setup Time | Disk Space | CPU | RAM |
| --- | --- | --- | --- |
| 6 minutes | 80 GB SSD – 240 GB SSD | 1 – 8 cores | 512 MB – 24 GB |
IONOS' cheap, fully virtualized VPS load balancing plans include full root access, unlimited traffic up to 1 Gbps, maximum security and reliability, a performance boost with NVMe storage, and a free Plesk Web Host Edition license. If you're on a budget and don't want to sacrifice quality, IONOS is worth your attention.
You can choose from five VPS Linux plans and customize them to your liking. Customizable web hosting plan features include the operating system, system and version management system, and backup and recovery. Select a monthly or annual contractual term and enjoy the benefits of one of the best available hosting with load balancing solutions.
Same price for Windows or Linux OS
FREE daily backups
SSD or cloud storage upgrades
Full root access
Pre-configured software firewall
VPS
RATING 4.6 ★★★★★ Our Review
AccuWebHosting: Our Expert's Review
Laura Bernheim (HostingAdvice.com): The signature service of AccuWebHosting, the company's VPS plans come in all shapes, sizes, and operating systems. Blending quality and affordability, AccuWebHosting plans start at less than $10 per month — roughly half of what you'll find elsewhere. Go to full review »
| Money Back Guarantee | Disk Space | Domain Name | Setup Time |
| --- | --- | --- | --- |
| 7 days | 40 GB – 125 GB | New or Transfer | 6 minutes |
AccuWebHosting is a next-gen VPS hosting with load balancing solution with an exciting suite of VPS hosting features. Its reasonably priced VPS hosting plans come with free control panels such as Webuzo, DirectAdmin, Plesk, and cPanel, full root access and dedicated IP, unlimited traffic with a guaranteed 99.9% uptime, and a whole host of other free add-ons. And if your website visitors are globally distributed, you will enjoy its range of 15 worldwide server locations.
You can choose from eight self-managed and fully managed VPS hosting plans (four each) and enjoy the benefits of the renowned VPS load balancing solution. With a live chat response time of just seven seconds, the hosting service also offers world-class customer service. AccuWebHosting is, without a doubt, one of the best hosting with load balancing services.
4. Vultr
Vultr's cloud-based, fully configured load balancers are ultra-easy to manage and deploy. The SSD cloud VPS hosting solution also comes with an option to automate your load balancers using its flexible API, saving you time and resources. Vultr VPS load balancers are also highly available and include automatic failover and built-in health monitoring.

Other features include SSL configuration options for secure traffic, intelligent traffic routing, and a flexible and powerful API for the automatic deployment and management of load balancer clusters. While Vultr VPS plans are on the more expensive side, the VPS load balancing service justifies its pricing plans by offering some pretty stellar web hosting features.
5. OVHcloud
OVHcloud is another cloud-based VPS hosting solution. Its plans pack a punch with unlimited traffic, anti-DDoS protection, minimal service latency, and VPS backup options for data safekeeping. There's no doubt that OVHCloud offers some appealing features.

That said, the OVHcloud STARTER pack does not include load balancing by default. This is available as an expensive add-on, making OVHcloud a high-priced alternative to the VPS load balancing solutions listed above. Features such as Additional IP and storage and backup are available as add-ons as well.
The Best Cloud Load Balancing Plans — Starting at $4.00
Cloud load balancing is a technique that evenly distributes workloads across computing resources, such as servers, containers, and virtual machines. More than 92% of organizations use cloud computing, so it's no surprise many providers are supping up their plans with load balancers for added performance. Read on to discover the best cloud load balancing plans.
Ultimate scalability with limitless customizations
Create and deploy servers in 60 seconds
Easily add load balancers and firewalls
Stellar 99.95% uptime guarantee
Sign up today for a 30-day FREE trial
CLOUD
RATING 4.9 ★★★★★ Our Review
Kamatera: Our Expert's Review
Laura Bernheim (HostingAdvice.com): Starting with more than 60 operating system images to choose from, Kamatera is a strong option for developers who know exactly what environment works best for their project. Customize your cloud server as needed and deploy in less than a minute. Go to full review »
| Setup Time | Disk Space | CPU | RAM |
| --- | --- | --- | --- |
| 5 minutes | 20 GB SSD – 4 TB SSD | 1 – 104 cores | 1 GB – 525 GB |
Kamatera's reliable cloud load balancer evenly distributes your application traffic across available servers on the network. The cloud hosting platform uses UDP, TCP, and HTTP to reroute incoming network traffic to available servers, offering maximum uptime.
It also instantly shifts your workload to live servers in case of a server failure. With a 99.95% server uptime, smart routing, and dependable pricing, Kamatera is one of the best hosting with load balancing solutions on the market today. Other features include SSL decryption and 24/7/365 customer support service with a live chat option.
Auto scaling with premium Intel processors
Customized operating systems (Linux or Windows)
Deploy Linux instances in less than 1 minute
SSD infrastrucutre optimized for your software
Transparent costs and by-the-minute billing
CLOUD
RATING 4.8 ★★★★★ Our Review
1&1 IONOS: Our Expert's Review
Alexandra Anderson (HostingAdvice.com): Boasting 99. 998% platform availability, the popular cloud hosting services from 1&1 IONOS deploy more than 2,500 virtual machines each week. Go to full review »
| Setup Time | Disk Space | CPU | RAM |
| --- | --- | --- | --- |
| 6 minutes | 80 GB SSD – 240 GB SSD | 1 – 24 cores | 512 MB.- 48 GB |
The IONOS Managed Application Load Balancer provides intelligent load distribution at the application level. The managed cloud hosting solution offers features such as individual routing rules, regular health checks, an integrated listener interface that supports numerous IP addresses, bidirectional communication channels, TLS connection relocation, and the ability to set up a warm-up phase.
The IONOS Application Load Balancer is compatible with the IONOS Network Load Balancer. Both IONOS load balancers can be deployed as part of a stack, extending load balancing and use cases. The hosting provider comes with a fairly-priced hourly model with no hidden costs and is undoubtedly one of the best hosting with load balancing solutions.
Managed cloud hosting with 24/7/365 monitoring
Choose from 5 popular cloud providers
Auto-healing cloud servers with FREE backups
3-day free trial with no credit card required
Host unlimited apps with no contract lock-in
CLOUD
RATING 4.6 ★★★★★ Our Review
Cloudways: Our Expert's Review
Alexandra Anderson (HostingAdvice.com): If you can't beat the cloud provider behemoths, offer their infrastructure as a service. Cloudways gives customers their choice of cloud platform: AWS, Google, Linode, Digital Ocean, or Vultr. Go to full review »
| Setup Time | Disk Space | CPU | RAM |
| --- | --- | --- | --- |
| 8 minutes | 20 GB SSD – 4 TB SSD | 1 – 96 cores | 1 GB – 384 GB |
Cloudways Autoscale is a fully managed WordPress hosting platform with load balancers. The managed cloud hosting platform offers exceptional performance and high availability for your WordPress site. Cloudways Autoscale takes care of cloud infrastructure and large amounts of traffic without slowing down your WordPress website or allowing it to crash.
The cloud load balancing solution is ideal for blogs, media websites, events and booking sites, eCommerce platforms, and LMS and memberships sites. Built on Kubernetes, its standout features include integrated edge caching, OCP, and enterprise DDoS and firewall protection. All said and done, Cloudways Autoscale is quite expensive and not ideal for beginners. If you have a mid to large-sized business, schedule a live demo today.
Choose your OS or application configuration
Hourly or monthly billing for convenience
Optional upgrades for cPanel, backups, and more
Managed services, SSDs, and HDDs available
Block and object storage, plus enterprise firewall
CLOUD
RATING 4.6 ★★★★★ Our Review
Hostwinds: Our Expert's Review
Laura Bernheim (HostingAdvice.com): Hostwinds provides supremely scalable and customizable options for the savvy developer or site owner. Customers can customize their cloud environment or choose pre-built configurations optimized to run apps like WordPress, Drupal, and others. Go to full review »
| Setup Time | Disk Space | CPU | RAM |
| --- | --- | --- | --- |
| 6 minutes | 30 GB SSD – 750 GB SSD | 1 – 16 cores | 1 – 96 GB |
Hostwinds Cloud Load Balancers enable you to scale your website with improved speed and reliability. The cloud hosting platform supports HTTP/2 and Proxy Protocol and is quite easy to set up.
Hostwinds Cloud Load Balancers are cheap, secure, and scalable. That said, if you are looking for a cloud load balancing plan packed with features, Hostwinds' solution is not meant for you. Hostwinds Cloud Load Balancers are ideal for beginners.
HostingAdvice fans get 75% OFF
Cloudflare CDN, DDoS protection, and backups
Performance-boosting SSDs and cloud flexibility
Rock-solid reliability with 100% uptime guarantees
24/7 Heroic Support

®

via phone, chat, and email
CLOUD
RATING 4.1 ★★★★★ Our Review
Liquid Web: Our Expert's Review
Alexandra Anderson (HostingAdvice.com): Liquid Web balances managed services and hardware power with cloud flexibility — a brilliant solution in cloud hosting. The company's packages include instant provisioning, CloudFlare CDN, built-in backups, and, of course, the reliability of the Heroic Support team. Go to full review »
| Setup Time | Disk Space | CPU | RAM |
| --- | --- | --- | --- |
| 7 minutes | 40 GB SSD – 200 GB SSD | 2 – 8 cores | 2 GB – 16 GB |
While Liquid Web has several blogs about load balancing, finding its load balancing product page was difficult. Nevertheless, Liquid Web offers solid, fully managed shared and dedicated server load balancers. Noteworthy features include SSL offloading for high performance, advanced traffic scripting options, and full redundancy configuration options.
While managed shared load balancers are more affordable than managed dedicated load balancers, both solutions are extremely expensive. If you seek an enterprise-scale, shared hosting, or dedicated hosting product, you could explore the plans Liquid Web has to offer.
11. Hetzner
Hetzner's cloud-based load balancers take advantage of dedicated root servers, can handle TCP, HTTP, HTTPS, and HTTP/2 traffic, are highly available, and offer TLS termination, health checks, fast reconfiguration, and Proxy Protocol support. That's a lot of value packed into an affordable load balancing plan.

Overall, Hetzner Cloud Load Balancers are cheap and have several amazing features. Hetzner's cloud load balancing platform is by far one of the best hosting with load balancing solutions available for users on a tighter budget.
What Is Load Balancing?
Load balancing is a web hosting technique that distributes incoming traffic across multiple servers, improving scalability, reliability, and performance. With load balancing, websites can handle a higher traffic volume without slowing down or crashing.
The benefits of load balancing include:
Consistent server health checks to ensure workloads are routed to a working server, maintaining high availability.
No website downtime, regardless of the volume of traffic at hand.
Virtual or physical servers can be added to or removed from your infrastructure at will.
Security features such as MFA, WAF, and SSL encryption are available.
According to a recent survey, 71% of companies experienced unanticipated partial and/or full website downtime. Partial downtime refers to the unavailability of a few pages or areas of a website, whereas full downtime refers to the unavailability of the entire website. The numbers are staggering. Load balancing helps avoid unwanted website downtime, and the load balancing solutions listed above should be your first step in preserving your site's availability.
Which Load Balancing Method Is Best?
Both VPS load balancing and cloud load balancing are fantastic techniques in their own right. They largely vary in how they allocate and manage resources:
A cloud server is more functional, secure, and flexible than a VPS. A VPS comes with a fixed set of resources, provisioned on a single host.
Cloud load balancing resonates with great performance.
In terms of scalability, cloud load balancing again comes on top, as it is the more flexible option. You can scale up or down quite easily.
In terms of pricing, VPS load balancing is the more affordable option.
It is easier to customize a VPS load balancing solution.
Here is a table for a better understanding:

The type of load balancing solution you choose will likely depend on what's most important to your application.
Is Cloudflare's Load Balancing Better Than AWS?
Overall, AWS Elastic Load Balancing (ELB) is better than Cloudflare's load balancing solution in terms of features and pricing. While Cloudflare's load balancing plans are cheap and packed with features, AWS ELB offers slightly better features and 750 hours of free service monthly with the AWS Free Tier between the ELB Application Load Balancer and the ELB Network Load Balancer.

Standout AWS ELB features include SSL/TLS decryption, user authentication, integrated certificate management, automatic scaling and high availability, health and performance monitoring, SLA compliance, and bottleneck removal. We recommend AWS ELB as a sound alternative to the web hosting with load balancing plans we have explored.
How Do I Choose a Hosting Plan With Load Balancers?
Based on the table above, a cloud hosting plan with load balancers seems an obvious winner, but this is not always the case. In terms of security, customization, and affordability, VPS load balancing solutions are a fantastic option for beginners and small-sized businesses. If you seek greater performance, scalability, and flexibility at a premium, take a look at cloud load balancing platforms.
Best VPS Load Balancing Plans: Kamatera, IONOS, and AccuWebHosting
Best Cloud Load Balancing Plans: IONOS, Cloudways, and Hetzner
What matters is your specific hosting needs. Study each of these hosting solutions in depth and select one that best meets your application's requirements.
Selecting the Right Hosting With Load Balancing Solution
Here are the eight steps you need to follow when selecting the best hosting with load balancing plan for your website:
Consider your business needs and draft a website blueprint.
Assess the hosting type (VPS or cloud) and projected website traffic.
Evaluate security requirements.
Seek scalability and flexibility.
Compare features and pricing plans.
Narrow down your search to the top three hosting plans.
Read authentic customer reviews.
Make a purchase decision.
By following these steps, you can choose a load balancing plan that ensures high availability, optimal performance, and a sound experience for your users.
See Our Full Review of Kamatera
Whatever type of hosting plan you're looking for, Kamatera is a solid choice no matter the scale. Our reviewer Laura Bernheim recently took Kamatera for a spin, and rated the popular host a 4.9 in the VPS Hosting category out of a perfect score of 5.0. Here's what Laura had to say about Kamatera:
Offering an astounding 30-day free trial of its cloud computing and storage hosting plans, Kamatera is a great choice for developers who value performance and scalability. Beginning site owners may be a bit overwhelmed at first, but the web host's managed cloud services and always-there support team will help you through any issues.
Before signing up for Kamatera, it's a good idea to read through Laura's full review to learn about all the features Kamatera offers. You can also compare it to other web hosts to ensure you're getting the best deal possible:
If you decide Kamatera is the right choice, keep in mind that it takes just minutes to deploy your Kamatera server space. And at $4.00 per month, it's a bargain considering the many great features that come in any Kamatera plan.
Advertiser Disclosure
HostingAdvice.com is a free online resource that offers valuable content and comparison services to users. To keep this resource 100% free, we receive compensation from many of the offers listed on the site. Along with key review factors, this compensation may impact how and where products appear across the site (including, for example, the order in which they appear). HostingAdvice.com does not include the entire universe of available offers. Editorial opinions expressed on the site are strictly our own and are not provided, endorsed, or approved by advertisers.
Our Editorial Review Policy
Our site is committed to publishing independent, accurate content guided by strict editorial guidelines. Before articles and reviews are published on our site, they undergo a thorough review process performed by a team of independent editors and subject-matter experts to ensure the content's accuracy, timeliness, and impartiality. Our editorial team is separate and independent of our site's advertisers, and the opinions they express on our site are their own. To read more about our team members and their editorial backgrounds, please visit our site's About page.