You don't have to hop into George and Jane Jetson's space car to find the best virtual machine (VM) hosting. Web service providers on Earth give developers, small businesses, and enterprises access to web hosting features that optimize their virtual machines. Server virtualization may sound like futuristic software, but it's been around for as long as the 1960s sitcom, The Jetsons.
Major companies, including General Electric and IBM, launched virtualization software in the early 1960s to allow users to interact with computer mainframes. MIT and Bell Labs were the first and only organizations to use this early software, but today virtualization is used across all industries on-premise and in the cloud.
You don't need a wealth of technical knowledge to manage your virtual machine hosting plan. High-quality web hosting providers will give you access to a user-friendly control panel or may even offer fully managed services so you can focus on your website. Our favorite web hosts include plenty of add-ons to their virtual server hosting packages for an affordable monthly price. Whether it's your first time hosting virtual machine software or you're a pro at running multiple VMs, take a peek at our recommendations.
The Best Virtual Machine Hosting for Developers
Developers often prioritize a healthy cost-for-performance tradeoff. As an individual, you may not have the resources (i.e., budget) to pay for an expensive virtual server hosting plan. But don't stress; you have several budget-friendly VM hosting plans to choose from.
You should look for a reputable provider that allows easy control panel access and provides a seamless experience. When you choose a quality provider, your website will have guaranteed resources on the virtual server — giving your site visitors a fast, frictionless experience. A virtual private server, or VPS plan, is an excellent choice for your test websites or personal projects running virtual machine software. A VPS plan tends to be more affordable while offering a robust feature set. Check out some of the best VPS hosting plans we recommend:
Turbo server & cache options for faster page loads
Well-built plans starting with 4GB RAM
FREE CDN plus auto-installs with Softaculous
Multilingual support and up to unlimited databases
Enhanced security with and daily kernel updates
VPS
RATING 4.8 ★★★★★ Our Review
A2 Hosting: Our Expert's Review
Alexandra Anderson (HostingAdvice.com): While A2 Hosting's turbocharged shared hosting platform gives site owners ample room to grow, the company's tech prowess is on full display with its portfolio of VPS options. Ranging from unmanaged, bare-metal environments to stress-free, fully managed space, A2 Hosting is sure to have the perfect option for your expanding online presence. Go to full review »
| Setup Time | Disk Space | CPU | RAM |
| --- | --- | --- | --- |
| 7 minutes | 150 GB SSD – 450 GB SSD | 1 – 8 cores | 1 GB – 32 GB |
Cloud VPS that's more flexible and affordable
Load balancer, firewall, and managed services
Premium Intel CPUs with 300% more power
Choose between monthly or hourly billing
Sign up today for a 30-day FREE trial
VPS
RATING 4.9 ★★★★★ Our Review
Kamatera: Our Expert's Review
Laura Bernheim (HostingAdvice.com): Backed by cutting-edge cloud computing technology, Kamatera adds instant and limitless scalability to the VPS hosting marketplace. Each cloud or virtual server is equipped with blazing-fast SSD storage and Intel Xeon Platinum CPUs. Go to full review »
| Setup Time | Disk Space | CPU | RAM |
| --- | --- | --- | --- |
| 5 minutes | 20 GB SSD – 4 TB SSD | 1 – 104 cores | 1 GB – 525 GB |
Cloud-based SSD storage for speed and reliability
Double your RAM with burst periods
FREE dedicated IPv4 and IPv6 addresses
Custom control panel for reboots and OS installs
HostingAdvice readers enjoy more than 50% off
VPS
RATING 4.6 ★★★★★ Our Review
Hostinger: Our Expert's Review
Laura Bernheim (HostingAdvice.com): Hostinger's laser focus on providing affordable hosting solutions shines brightest with the company's VPS packages. The company provides six different virtual server plans, including one that costs less than $5. Go to full review »
| Setup Time | Disk Space | CPU | RAM |
| --- | --- | --- | --- |
| 6 minutes | 20 GB SSD – 250 GB SSD | 1 – 8 cores | 1 GB – 16 GB |
The Best Virtual Machine Hosting for Small Businesses
A small business's online presence is essential to the company's success. If your customers can't find you online (or if they experience slow page loads), you will feel the pressure of poor site performance on your revenue. The best virtual machine hosting for your small business will provide expertly managed hosting services with premium add-ons, such as a VM backup system, to sweeten the deal.
We recommend cloud hosting for small businesses because of its low starting price and instant scalability. A cloud server may even use virtualization software to create the computing environment. The following cloud hosting providers give customers full root access and control of the operating system and software. So whether you're looking to use VMWare Workstation, IBM PowerVM, or Oracle VM, one of these hosts should do the trick.
Managed cloud hosting with 24/7/365 monitoring
Choose from 5 popular cloud providers
Auto-healing cloud servers with FREE backups
3-day free trial with no credit card required
Host unlimited apps with no contract lock-in
CLOUD
RATING 4.6 ★★★★★ Our Review
Cloudways: Our Expert's Review
Alexandra Anderson (HostingAdvice.com): If you can't beat the cloud provider behemoths, offer their infrastructure as a service. Cloudways gives customers their choice of cloud platform: AWS, Google, Linode, Digital Ocean, or Vultr. Go to full review »
| Setup Time | Disk Space | CPU | RAM |
| --- | --- | --- | --- |
| 8 minutes | 20 GB SSD – 4 TB SSD | 1 – 96 cores | 1 GB – 384 GB |
HostingAdvice fans get 75% OFF
Cloudflare CDN, DDoS protection, and backups
Performance-boosting SSDs and cloud flexibility
Rock-solid reliability with 100% uptime guarantees
24/7 Heroic Support

®

via phone, chat, and email
CLOUD
RATING 4.1 ★★★★★ Our Review
Liquid Web: Our Expert's Review
Alexandra Anderson (HostingAdvice.com): Liquid Web balances managed services and hardware power with cloud flexibility — a brilliant solution in cloud hosting. The company's packages include instant provisioning, CloudFlare CDN, built-in backups, and, of course, the reliability of the Heroic Support team. Go to full review »
| Setup Time | Disk Space | CPU | RAM |
| --- | --- | --- | --- |
| 7 minutes | 40 GB SSD – 200 GB SSD | 2 – 8 cores | 2 GB – 16 GB |
Scalable, speedy, and fully managed
FREE Cloudflare CDN and choice of 3 datacenters
Google Cloud partners for top-tier performance
cPanel/WHM, SSH access, and private DNS
24/7 VIP support and a dedicated IP
CLOUD
RATING 4.4 ★★★★★ Our Review
SiteGround: Our Expert's Review
Alexandra Anderson (HostingAdvice.com): SiteGround brings industry-leading performance and security to the cloud hosting space. The company offers supreme scalability and a fully managed support system, including an expert technical support staff and three datacenter locations for the enterprise client that demands the utmost reliability. Go to full review »
| Setup Time | Disk Space | CPU | RAM |
| --- | --- | --- | --- |
| 6 minutes | 40 GB SSD – 160 GB SSD | 4 – 16 cores | 8 – 20 GB |
The Best Virtual Machine Hosting for Enterprise Businesses
As a large organization, a VPS hosting plan may not provide the computing resources your company requires. Instead, cloud computing services from a reputable platform can give you the environment to scale your operations and speed up deployment. For greater control and performance, the following providers offer best-in-class service for your virtual machine.
7. Microsoft Azure VM: Large organizations benefit from Microsoft Azure's infrastructure to run SQL Server, Oracle software, or SAP on a choice of Linux distribution or Windows server. Customers can use Microsoft's virtual machine selector to choose a server type and plans that fit their organization's budget and goals. This hosting provider offers a range of plans to host a simple Windows app or multiple VMs.
8. Google Cloud Platform: You can create a virtual machine using the Google Cloud console, the Google Cloud CLI, or the Compute Engine API. Google's cloud computing platform offers custom and predefined machine types and up to 42% higher cost-for-performance than other multipurpose VMs. Big companies, including Spotify, Twitter, and Home Depot, use Compute Engine from the Google Cloud Platform to rapidly increase capacity and scale.
9. IBM PowerVM: Customers who choose IBM PowerVM can increase operational efficiency by eliminating scheduled downtime. Using the latest hypervisor technology, IBM helps its customers shore up security by isolating critical applications and I/O (input/output). This server virtualization environment is made for AIX®, IBM i, and Linux applications.
What Is a Virtual Machine?
Despite its name, a virtual machine is not a transformer-like hologram that appears out of thin air. Rather, it's a piece of software that runs on a physical server. Each virtual machine has its own guest operating system that runs on the machine, allowing it to run programs, store data, and carry out computing functions independently.
Using a guest operating system (or systems) creates efficiency because it eliminates the need for additional physical hardware. Plus, the sectioning allows IT departments to perform riskier functions — such as accessing virus-infected data — because the rest of the server is protected. This also means you can run many operating systems on a virtual server, including Windows OS, VMWare Fusion, or Parallels Desktop.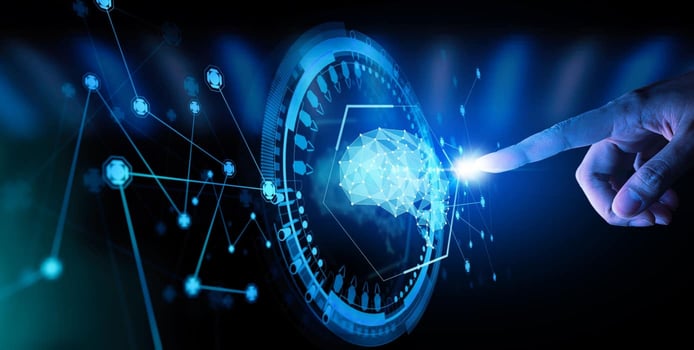 Virtualization is so common you're more likely to run across an Emperor penguin in Florida than you are to go a day without visiting a website that doesn't use virtualization in some form. Whether it's used to run a SQL server, deploy a new Windows app, or build out a virtual PC environment, teams using virtualization are increasing operational efficiency, security, and scalability.
Software such as Oracle VM, Microsoft Hyper-V, or one of the many products by VMWare (VMWare Fusion, VMWare Vsphere, VMWare WorkStation Pro, or VMWare WorkStation Player) is leading the industry because of the innovation and benefits it provides to enterprises.
What Are the Three Types of Virtualization?
Virtualization comes in three distinct flavors: full virtualization, paravirtualization, and OS-level virtualization. The flavor you choose will depend on your goals for using server virtualization software, how much flexibility you need, and how you plan to use your environment.
Full virtualization involves a specialized type of software called a hypervisor. The hypervisor, sometimes called a virtual machine, instantly creates virtual servers and tracks disk space and CPU usage. This system allocates server resources making the virtual environment flexible, portable, and instantly scalable. If you're looking for a hypervisor for full virtualization, VMWare ESXi is an excellent choice.
Paravirtualization differs in that the separate operating systems are aware of one another, unlike full virtualization, where the virtual environments operate independently. The advantage of paravirtualization is that the virtual servers share resources more readily because they know the others exist. This symbiotic relationship creates great scalability and efficiency. Microsoft Hyper-V supports paravirtualization on a Windows server if you're looking for this environment.
OS-Level Virtualization, the final type of virtualization, doesn't require a hypervisor as do the other types. Instead, the physical hardware handles the responsibilities of monitoring and allocating resources. This system requires fewer resources to implement but requires each virtual machine to run on the same operating system, which may be a drawback for some users.
What Is the Best Server Virtualization Software?
A well-selected server virtualization software may help your organization reduce the strain on resources, increase flexibility, and optimize your resources. Recently, PayPal adopted Google Cloud's virtual machines. The company's movement of its mission-critical workloads to a virtual environment allows it to deploy workloads faster than ever, reaching 300 million customers in 200 markets.
Your virtualization software can make a similar impact on your business. Of course, major players are leading the way with popular operating systems. VMWare takes the cake for popularity and variety regarding virtual machines. It offers an enormous suite of VMs, including:
VMWare WorkStation Player (and WorkStation Pro)
VMWare VSphere
VMWare ESXI
VMWare Fusion
But Microsoft offers equally impressive VMs. The company has introduced several new iterations since its original virtual machine. Now, customers looking for a Windows VM can choose from among:
Microsoft Hyper-V
Azure VM
Windows Virtual PC
While we won't list each operating system under the leading virtualization companies, we will give honorable mention to Red Hat Virtualization, Oracle VM, and Citrix before rounding out this list. As you decide which hosting provider offers the best VM hosting for you, keep our recommendations in mind. If you choose a provider from this list, your host will dutifully care for your virtual machine as George Jetson cares for R.U.D.I. the atomic supercomputer.
Further Reading: "9 Best Virtual Machine Hosting Services (Oct. 2023)"
Hopefully, our recommendation of A2 Hosting fulfills all your web hosting needs. Starting at just $2.99 per month and rated 4.8 overall, A2 Hosting gives users plenty of bang for the buck. Among our favorite features:
Turbo server & cache options for faster page loads
Well-built plans starting with 4GB RAM
FREE CDN plus auto-installs with Softaculous
Multilingual support and up to unlimited databases
Enhanced security with and daily kernel updates
If you'd like recommendations similar to A2 Hosting and others in 9 Best Virtual Machine Hosting Services (Oct. 2023), check out these popular guides. You'll find comparisons of A2 Hosting to other hosts on pricing, features, support and more:
And of course, if A2 Hosting is your top choice, you can get started now at just $2.99/month. A2 Hosting is easy to set up and scale, no matter the size of your next project.
Advertiser Disclosure
HostingAdvice.com is a free online resource that offers valuable content and comparison services to users. To keep this resource 100% free, we receive compensation from many of the offers listed on the site. Along with key review factors, this compensation may impact how and where products appear across the site (including, for example, the order in which they appear). HostingAdvice.com does not include the entire universe of available offers. Editorial opinions expressed on the site are strictly our own and are not provided, endorsed, or approved by advertisers.
Our Editorial Review Policy
Our site is committed to publishing independent, accurate content guided by strict editorial guidelines. Before articles and reviews are published on our site, they undergo a thorough review process performed by a team of independent editors and subject-matter experts to ensure the content's accuracy, timeliness, and impartiality. Our editorial team is separate and independent of our site's advertisers, and the opinions they express on our site are their own. To read more about our team members and their editorial backgrounds, please visit our site's About page.