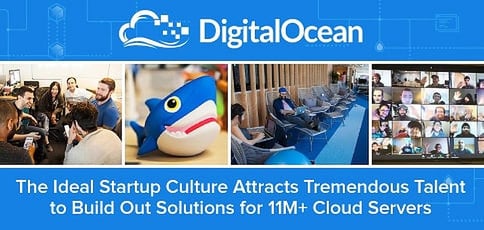 TL; DR: In 2012, Ben Uretsky had an idea: What if our $5 cloud servers were all-SSD, with best-in-class performance? From that initial spark, Ben and his team of 10 started screwing drives into servers. BAM! TRAFFIC! SO MUCH TRAFFIC! Now DigitalOcean's gargantuan growth has allowed them to create an incredible workplace — both in-office and remote — that attracts ridiculous talent to help build a virtual world that developers love. By focusing on providing compute, network, and storage solutions individually, DigitalOcean is building an ecosystem for the 28th century.
Ping-ponging from machine learning to video game breaks with your coworkers to Floating IPs to "hold on, sorry, I think my bracket just busted" — not an atypical conversation flow if you get any group of hosting nerds in a room for any length of time, and it's a good snapshot of our recent Google Hangout with the DigitalOcean (DO) team.
"When the idea for DigitalOcean first came to be, it was hard to get people to buy into it," Adam LaGreca, of DigitalOcean, told us. "We weren't supposed to be as successful as we were as quickly as we were," Sales Engineer Bryan Liles chimed in from the virtual window next to Adam. And yet, there DigitalOcean stands: three years north of the VPS idea that put them on the map and just shy of reaching the 12-millionth machine milestone.
It was a whirlwind of a Google Hangout — covering everything from SSDs to Slack automation for remote developers. Overall, "What can we do to better serve developers?" is DigitalOcean's battle cry, and it shined through in every minute of our conversation.
Why DigitalOcean Is The Startup For Startups
DigitalOcean's startup story — from a TechStars letdown to $3.2M in seed funding and beyond — is a great one. Pitching, owning, and growing a startup in an incredibly crowded cloud market is no small feat, and DigitalOcean Co-Founders Ben Uretsky, brother Moisey Uretsky, and Mitch Wainer have done it in stride. "We've been through the scaling process, so we know what startups need to scale," Adam said, calling DigitalOcean "the startup for startups."
"Our goal is actually to get out of the developer's way."
He agreed that the DigitalOcean story is impressive, but finds it even more interesting to discover what people have been able to do because of DigitalOcean. "To hear stories of what people, not even just in the United States but around the world, have been able to do now that they have access to these infrastructure resources that weren't easily available to them beforehand is awesome," he said.
They Literally Sat Around a Table Screwing SSD Servers Together
We all remember that historic Hacker News thread that announced DigitalOcean would now allow users to deploy SSD cloud servers, or "Droplets," at five bucks a pop. "Yes please, I'll take 20," was the thought that crossed just about every developer's mind as they basked in the prospect of being able to spin up an SSD cloud instance in under a minute for chump change.
On the other side of that story was the DigitalOcean team. Though they had offered a 5-dollar price point previously, nothing could have prepared them for the explosive growth that ensued after Moisey realized that the hardware of his SSD laptop could be used to impact the entire cloud environment. "I think there were maybe 10 people at the company at the time, and they were all around a table literally screwing in SSD hard drives for the servers themselves," Adam told us. "Once it took off — once TechCrunch wrote about it and once it was on Hacker News — I would guess that was the most challenging moment."
Infrastructure-wise, how the heck would a small startup handle growth of that magnitude? Luckily, this wasn't the Uretsky brothers' first time around the hosting block. They had a multi-million-dollar managed hosting company, Server Stack (since acquired by DigitalOcean), already under their belt. After founding Server Stack in 2003, Ben and Moisey knew that cloud hosting could be done better — appealing to developers with a simpler experience and a product-driven, rather than service-driven, organization. They partnered with Mitch and later used existing hardware in Server Stack's datacenter locations (e.g., Amsterdam and New York) to spin up DigitalOcean's SSD dreams into virtual reality.
They Engineered Things Like Floating IPs
Just before going into our DO Hangout, our CTO, Ryan Frankel, looked up his first support request with DigitalOcean, circa April 2013: "Hey, I have this Droplet and I want to move to a different Droplet, so how do I save my IP?" I imagine Ryan wasn't the first or the last to submit such a query, which is why the release of DigitalOcean's Floating IP feature was such a big deal in the dev community. "Our Floating IP is an interesting product; we actually created it to fulfill a few needs," Bryan said. "It allows you, either through our API or our cloud interface, to specify: 'I want an IP in this region,' and then take that one IP and point it at one of our Droplets."
"We know that developers are smart people and we want to take care of the infrastructure and make it simple and elegant and pretty and the best value possible, while being transparent in terms of what your monthly bill will be."
From there, Bryan told us that DigitalOcean quickly learned that devs are "crafty" individuals. DO allows you to install software to detect failures and move the IP automatically, which inadvertently satisfied a multitude of user needs, including load-balancing and the high-availability question. "We decided to allow our developers to create their own solutions and what we found was that people are crafty," Bryan said. Whether you just want to scale up and down knowing your IP is safe or you're trying to build load-balancers or what have you, the ease of use of the Floating IP and not having to deal with DNS is super nice.
They Attract a Phenomenal Talent Pool with an Awesome Remote Culture
Allowing team members to work remotely is an idea that's been met with resistance from plenty of companies, but DigitalOcean isn't included in that mix. They've totally embraced the remote worker concept — starting with Bryan. "When I started at DigitalOcean, there were only 30-something people in the company," Bryan said. "I was the first official remote engineer and the engineering team at that time was eight or nine people."
Bryan's Story (Becoming the First Remote Engineer for DigitalOcean)
DigitalOcean first popped up on Bryan's radar shortly after speaking at a conference in Miami, Florida back in November of 2013. He was simply filling in for a colleague, but there happened to be several DO folks in the audience, so there had to be some fate involved. "The topic was something about machine learning and DigitalOcean had a machine learning problem at the time," Bryan recalled. Next thing Bryan knew, he was being whisked away to New York to tour the office.
"I left New York with a job offer and that was two years ago, almost to the day," Bryan said. He came aboard just in time for the Heartbleed Bug to rear its ugly head, devastating all those who relied on OpenSSL for data encryption, including DigitalOcean. Bryan told us this was his first "test" with his new team: to find a workaround for that industry-wide snafu.
"The right talent is really what we care about, and if that talent is not just in New York or San Francisco, we are very open to making it work and retaining that talent."
With a background in pretty much all things computers, today Bryan splits his time between working with the newly-formed sales team to grow and sell their cloud and helping the community team by speaking at anywhere from 20 to 30 events a year on behalf of DigitalOcean. I neglected to ask when the man sleeps, but needless to say, he's very busy. Perhaps one of the coolest parts about his job description, however, is that he does almost all of it from home.
"DO's in New York; I'm in Baltimore; it's only about a two-hour train ride, and ANYTIME I say I need to go see people in the office, they say, "Come on up," and everything's taken care of," Bryan said. "I come up at least once a month and when I get there nothing's changed — the conversation from home just continues."
Perks and Drawbacks to Working Remotely for DigitalOcean (Why the Latter is Lesser)
From installing really nice cameras and flatscreen TVs so that remotes can "be there" without being there for all-hands meetings to offering out-of-office employees their choice of computer monitors for their home, DigitalOcean does a great job of taking care of remote workers.
"We put a huge focus on remote culture, and I'll tell you it's super hard to get right," Bryan shared. "I'm not saying it's perfect. There are still some detriments to not being in the office," but overall, DigitalOcean spares no expense in ensuring remote employees feel connected.
The remote team, aptly self-named the #remotees, congregates on their own Slack channel everyday. They also gather the team for Friday Google Hangout lunches, so they're always with friends, just separated by computer screens.
Everyone in the DigitalOcean office has a standing desk and their choice of monitor: from 34-inch Dells to Thunderbolt displays. Bryan told us DO mirrored that deal for remote employees by offering to buy them each a "fancy keyboard, new mouse, new monitors," and even a new chair shipped directly to their door. "Right now I'm actually looking at you through my two Dell 4ks," he said during our Hangout.
"I've never seen a company try to treat employees who work from home so well."
Adam told us that opening up to the idea of remote employees broadens the talent pool tremendously. "A lot of companies are really hesitant to do it, because it's hard to get right, but our belief is in hiring the right people," he said. "The right talent is really what we care about, and if that talent is not just in New York or San Francisco, we are very open to making it work and retaining that talent." Adam told us we may be surprised at the number of people who love working remote and wouldn't change their situation for anything, but Bryan affirmed that sentiment: "DigitalOcean keeps me… It's very rewarding."
DigitalOcean's 3 Core Cloud Components: Compute, Network, Storage
Adam told us Ben, who's not only the Co-Founder but sits as the CEO of DigitalOcean, has outlined three core components of the Cloud: Compute, Network, Storage. "Droplet was Compute, Floating IP is our Network solution — and we're going to continue to iterate on it, maybe even have some sort of load-balancer-as-a-service in the future — and we are now actively working on putting out a Storage solution into public beta," Adam said. He couldn't give us any firm dates to mark our calendars with, but he did say release dates are very much on the tip of DigitalOcean's proverbial "tongue," as it were.
The Careful Approach to Being a "Product-First" Company
DigitalOcean is often questioned about their seemingly slower release cycle (versus competitors), but Adam put the reasoning in perspective for us. First of all, they've had what most would call an overwhelming amount of growth to handle. Secondly, simplifying the complex is not as easy as it sounds (Does it really sound easy?). "We're not just shipping out 50 products a quarter and seeing what sticks, but being more thoughtful," Adam said. "We take the time to figure out the most simple solution — that packs the most technological impact — we can offer."
With DigitalOcean's thoughtful approach to product creation as they build out the Compute, Network, and Storage components of the Cloud, they naturally attract a broad client base. "I can find great examples from hobbyists all the way up to very, very high-spenders," Bryan said. The ease of use of the DigitalOcean API, coupled with the speed of spinning up compute resources or virtual machines with them, makes DigitalOcean quite competitive with large cloud providers.
This makes the company highly marketable to compute-heavy ad tech companies at the enterprise level, but the appeal reaches the small individual developer as well ($5 instances, duh). "We do have a 5-dollar product, but think about that 5-dollar product," Bryan said. "We are a virtual machine provider, so we're going to be putting all of those 5-dollar servers here," — he gestured to a central area in the air — "but at 10 dollars, by just doubling the cost, you're getting so much more value, so I tell people to start there."
Catering to a Broad Dev Demographic, From Developers to Teams of Developers
Bryan told us he actually has a lot of friends running blogs via DigitalOcean. Then there are other companies using Droplets to build staging areas and "get their feet wet," to use Bryan's words. "While we are changing our message from catering to developers to catering to teams of developers, along the way we've actually found that we are a sweet spot for quite a few different kinds of companies," Bryan said.
The bottom line is that many folks realize they don't actually need the 600-some-odd services that an AWS-type player may offer. Half the time, they're only using one main functionality, whatever that feature may be, so they're saving a ton of moolah by going with DigitalOcean.
In the End, DigitalOcean's Goal is to "Get Out of the Developer's Way"
Bryan summed up DigitalOcean's scaling in a nutshell: "Right before I started DigitalOcean, we launched our 1-millionth machine… I think we're getting ready to hit 12 now." Throughout the outlandish growth that's prevailed over the entirety of the company's existence, the company motto has remained constant: Do more for developers with less.
"We know that developers are smart people and we want to take care of the infrastructure and make it simple and elegant and pretty and the best value possible, while being transparent in terms of what your monthly bill will be," Adam said. "Our goal is actually to get out of the developer's way."
While letting developers do their developing, DigitalOcean puts out tons of community articles, most of which are provider-friendly and all of which are ultra-helpful, to cover a smorgasbord of tutorial topics. "We believe in the teach a person to fish cliché," Adam said.
In short, when you combine a new team, a saturated market, and an uphill battle for prosperity, things could end in a business belly flop or booming success — and it's not hard to pinpoint which direction DigitalOcean took. "I'll be the first person to tell you that we have definitely benefited from a lot of good karma and a lot of luck over the years and we're — well I can't speak for everybody, but I'm — really grateful," Bryan said, capturing a feeling that I'm sure is shared by the entire DigitalOcean clan.
Advertiser Disclosure
HostingAdvice.com is a free online resource that offers valuable content and comparison services to users. To keep this resource 100% free, we receive compensation from many of the offers listed on the site. Along with key review factors, this compensation may impact how and where products appear across the site (including, for example, the order in which they appear). HostingAdvice.com does not include the entire universe of available offers. Editorial opinions expressed on the site are strictly our own and are not provided, endorsed, or approved by advertisers.
Our Editorial Review Policy
Our site is committed to publishing independent, accurate content guided by strict editorial guidelines. Before articles and reviews are published on our site, they undergo a thorough review process performed by a team of independent editors and subject-matter experts to ensure the content's accuracy, timeliness, and impartiality. Our editorial team is separate and independent of our site's advertisers, and the opinions they express on our site are their own. To read more about our team members and their editorial backgrounds, please visit our site's About page.