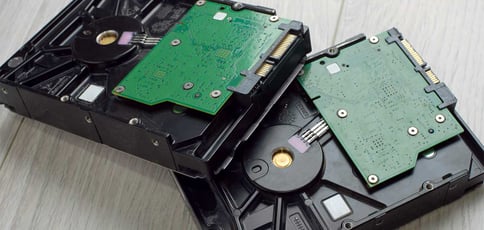 You've probably heard of disk space as far as freeing up room on your laptop or personal computer, but you may still wonder, "What is disk space in web hosting? Is it any different?"
Fortunately, disk space is probably one of the easiest concepts in web hosting to understand, thanks to its use in our day-to-day computing lives. Simply put, disk space is the storage capacity on your computer or server that enables you to house everything from backups and software to cat videos and selfies. With search engines detecting an estimated 5.3 billion pages of websites, securing and optimizing your disk space is critically important as the internet continues to expand.
Whether you're a digital hoarder or online neat freak, we're here to clear up any confusion about disk space by defining the term, highlighting the hosts with the most storage, and answering your most pressing questions.
What is Disk Space in Web Hosting?
Just like packing your suitcases for a trip or furnishing your house, disk space represents an empty area you can organize however you'd like. Often discussed in the same breath as web hosting bandwidth, disk space is a key component of your web hosting plan:
Disk space, also known as storage or web space, is the amount of room on a server available to store the content (text, images, code, databases, etc.) of your website.
In web hosting, your allocated storage space will house both the publicly viewable information, like your logo, blog posts, and images, but also the files that play an important role in how your website displays and operates, such as PHP, CSS, or JavaScript files. As you can imagine, having lots of secure and fast disk space can provide a big boost to your online success.
That being said, hosts can take surprisingly different approaches to disk space. Most providers include email messages and backups in storage allotments, while others store those separately. More robust services like VPS or dedicated server hosting specify a fixed amount of storage, but shared hosting providers often tout the concept of unlimited disk space and hosting (more on that coming up).
Best Cheap Web Hosting With Lots of Disk Space
Right up front, let's make it clear that there's no such thing as unlimited storage or bandwidth. Think of that house or suitcase we alluded to in the previous section — eventually, there's just not going to be any more room for clothes or furniture. The same goes with the server housing your website, which has finite resources.
The difference, though, is how providers regulate how shared hosting customers consume those resources. Some will define preset storage limitations, while others will market their disk space as unlimited or unmetered. The latter is more accurate, as it essentially means the host doesn't pay close attention to how much storage you consume. As long as you use your disk space reasonably and responsibly, you'll be fine. If you consume noticeably more storage space, you'll be asked to pay a fee or upgrade your plan.
Despite the luxury vibes that unlimited storage evoke, it's a relatively common feature in web hosting. Many of our all-time favorite hosting brands build their platform around unlimited disk space and other resources. Compare the best options right here:
See other top affordable hosts »
How Much Storage Do I Need for Web Hosting?
Unlike the more mysterious and less adjustable bandwidth, disk space is relatively straightforward. Most hosts will list a plan's storage capacity, usually measured in gigabytes, as one of the top stats in the pricing table. There's even a good bit of flexibility in shared hosting plans; as long as you're not misusing your web space, you'll be able to get away with hosting a good bit of files.
That being said, however, storage is not typically adjustable — what you have is what you get, unless you're on a more flexible VPS hosting plan, using scalable cloud hosting, or ready to move up to a new plan.
WP Rocket breaks down how much disk space WordPress users need, compared with stats from Kinsta. The current version of WordPress as of this writing, 5.2.2, takes up roughly 50MB of disk space; then, don't forget themes (about 25MB on average), plugins (about 100MB), uploaded content (825MB on average), and your MySQL database (about 85MB) — a grand total of just barely more than 1GB.
To be fair, that figure can fluctuate wildly depending on the website you're seeking to create. Personal websites and blogs are usually pretty small, while portfolios, agencies, and small businesses will require a bit more room to store more images and multimedia. Online stores and sites for gaming or music have to deal with a much larger reliance on high-quality images and videos, meaning they will require a lot more disk space.
All in all, you'll most likely use much less space than what you're paying for. To manage your disk space consumption efficiently, though, pay close attention to what you upload to your site. Images and videos are the big killers, but you can optimize image sizes or offload your videos to YouTube to save space on your server.
How Do I Get Server Space for My Website?
Thankfully, disk space is just one of many components included with hosting plans. You'll want to find the best web hosting provider that fits your website goals and financial requirements, of course, but shared hosting is typically the best place to start. You'll have access to your server space, along with design tools and one-click software installations, as soon as you sign up for a plan.
Because you're sharing a server with hundreds or even thousands of other customers, your disk space usage is limited. As you move into VPS or cloud hosting, however, you can add more server space without having to migrate to a new plan. Most hosts make this process pretty straightforward in your account management portal, but don't hesitate to contact the company's support teams if you get confused.
If you want to take a somewhat-dubious shortcut, you can always look into free web hosting. A surprising number of free hosting providers offer large or unlimited amounts of disk space, but be wary of security or performance concerns. Many free hosts will look for other ways to restrict you, so this option is best only for small, temporary projects that are testing out a new idea. Move onto a more permanent, reputable solution when you're ready.
How Do I Check My Website Storage?
Discovering how much disk space you've used (or have remaining) is rather simple. Even better, you can typically find the answer in more than one place if you know where to look.
For most website owners, your best bet is to head straight over to your cPanel interface, where stats on your disk space, bandwidth, domains, and email accounts are all prominently displayed. Once you get into cPanel, these numbers are on the right, under the General Information window. Click on Disk Usage (also found in the main Files area on the left) for a more specific breakdown of what all your storage space is being used for.
WordPress users have a few other options. There are plenty of plugins available, but we've enjoyed the platform's new built-in feature, Site Health. The tool is technically based around performance and security but also provides information about the size of your directories and database. Available in WordPress 5.1 and beyond, users can use the dashboard navigation on the left to go to Tools, Site Health, then Info.
Not All Storage is Equal: Learn About the Types of Disk Space
Of course, more is better when it comes to storage. But did you know that capacity isn't the only key metric you should look at when shopping for web hosting? The type of hardware storing your data can have a massive impact on how quickly it can be accessed or delivered.
Hard disk drives, or HDDs, are the traditional ways to store large amounts of data cheaply. However, a spinning disc, mechanical read/write head, and reliance on magnetism leave HDDs more susceptible to slower performance and failure.
More recently, a new option has emerged: solid-state drives, or SSDs, store information on interconnected flash-memory chips and have zero moving parts. Although SSDs are considered up to 20 times faster, the newer storage technology is typically more expensive and comes with smaller capacities.
We've often professed our love for speedy SSDs and the fastest web hosting services, particularly for those site owners using WordPress and other resource-hungry platforms, but high-performing disk space is more than just meaningless flash and status. Studies have shown that if a website takes longer than just three seconds to load, more than half of visitors will abandon the site — tanking traffic flow, conversion rates, and profits.
So, while comparing web hosting plans in terms of disk space capacity offers a great first start, be sure to dig a little deeper to learn if the slightly larger investment in high-performance storage space is a worthwhile venture.
Further Reading: "What is Disk Space in Web Hosting? 5 Key Facts & Best Hosts (Oct. 2023)"
Hopefully, our recommendation of Hostinger fulfills all your web hosting needs. Starting at just $1.99 per month and rated 4.9 overall, Hostinger gives users plenty of bang for the buck. Among our favorite features:
Unlimited everything, from storage to databases
FREE site builder & WP performance upgrades
FREE daily or weekly backups
Custom control panel and auto-installation scripts
SSH access & unlimited FREE SSL certificates
If you'd like recommendations similar to Hostinger and others in What is Disk Space in Web Hosting? 5 Key Facts & Best Hosts (Oct. 2023), check out these popular guides. You'll find comparisons of Hostinger to other hosts on pricing, features, support and more:
And of course, if Hostinger is your top choice, you can get started now at just $1.99/month. Hostinger is easy to set up and scale, no matter the size of your next project.
Advertiser Disclosure
HostingAdvice.com is a free online resource that offers valuable content and comparison services to users. To keep this resource 100% free, we receive compensation from many of the offers listed on the site. Along with key review factors, this compensation may impact how and where products appear across the site (including, for example, the order in which they appear). HostingAdvice.com does not include the entire universe of available offers. Editorial opinions expressed on the site are strictly our own and are not provided, endorsed, or approved by advertisers.
Our Editorial Review Policy
Our site is committed to publishing independent, accurate content guided by strict editorial guidelines. Before articles and reviews are published on our site, they undergo a thorough review process performed by a team of independent editors and subject-matter experts to ensure the content's accuracy, timeliness, and impartiality. Our editorial team is separate and independent of our site's advertisers, and the opinions they express on our site are their own. To read more about our team members and their editorial backgrounds, please visit our site's About page.