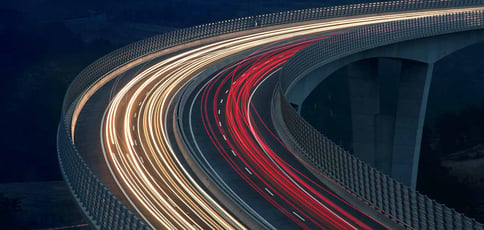 What is web hosting bandwidth, you ask? The term is typically listed after the self-explanatory storage space when comparing hosting plans, but bandwidth seems far more complex and difficult to understand.
Well, we're here to simplify things: how familiar are you with rush-hour traffic? You can think of bandwidth as you would the lanes of a highway; each car represents the web traffic coming to your site. Overcrowded roads lead to long delays and frustrated drivers, while too many lanes are exorbitantly expensive and tough to maintain. Either option can have a dramatic route on your visitors' happiness, as well as your site's overall success.
That's why it's important to understand how much bandwidth you need and where you can find it — read on to learn more about bandwidth and the top hosting providers that can help you give your visitors a fast, safe journey.
What Is Web Hosting Bandwidth?
As a politician once (somewhat infamously) said, "the Internet is a series of tubes." He was referring to net neutrality, but the same analogy can work for explaining web hosting bandwidth. Put simply:
Web hosting bandwidth is the amount of data that a website can deliver to its visitors over a certain period of time.
Think of bandwidth as the capacity or diameter of the tubes of the internet; stronger, larger connections (high bandwidth) can deliver more traffic and data, while more restricted connections or networks (low bandwidth) can cause backlogs and slower loading speeds.
Hosts typically describe the bandwidth associated with their plans by how much data can be delivered in a given period of time — usually in terms of gigabytes or terabytes per month. Naturally, you'll pay somewhat of a premium for extra bandwidth, but we've found that the vast majority of plans are well-appointed and ready to serve your content to growing audiences.
Best Cheap Hosting With Unlimited Bandwidth
When traffic grows at a steady rate, site administrators can make sure page load times stay consistent, and the website remains available. However, when there's an unexpected or major surge — take retail's Black Friday, for example — it can be hard to keep up.
That's why you want to find reasonably-priced plans with as much bandwidth as possible. While there's no such thing as truly unlimited anything in web hosting, tons of shared hosting providers remove any bandwidth restrictions on customers. As long as you're using the service in accordance with best practices and the host's terms, your website will have all the bandwidth it needs. (More on unlimited bandwidth later.)
This is perfect for professionals sending out a flood of résumés and job applications, or a small business contemplating starting an online promotion. Take a look at our favorite hosts that provide the bandwidth to help your site scale and succeed:
See other top affordable hosts »
How Much Bandwidth Do I Need?
Unlike storage space, which is relatively easy to manage, bandwidth is a less adjustable component of web hosting. That's why it's important to find a plan with just the right amount — get too much, and you're likely paying too much. Don't get enough, and your website will suffer.
Most personal or small websites don't consume enough bandwidth for you to really be concerned. However, if your online presence is more established or starting to take off, you should figure out how much computing power you'll need. Fortunately, there's a pretty simple formula for determining how much bandwidth your site consumes; bandwidth is calculated by multiplying these factors together:
Average number of visitors each day
Average size of a page on your website, in kilobytes
Average number of pages viewed by each visitor
31 days in a month
The product will be the expected bandwidth consumed for the month, in kilobytes (divide by 1,000,000 to see how many gigabytes you'll use). If you intend to allow people to download files from your site, you'll also want to multiply the average daily number of downloads and the average file size and add that number to your total. We also recommend multiplying your bandwidth estimate by roughly 1.5 to give yourself some wiggle room.
What is Unlimited Bandwidth?
Not having enough bandwidth can dramatically impact a brand's bottom line, as slow or dropped connections mean missed sales opportunities or frustrated consumers. A Scientific American article examining the demand for bandwidth pointed to how several hundred thousand U.S. fans tuning in to watch a highly anticipated episode of "Game of Thrones" sent the streaming service into a partial failure.
Global internet traffic, according to the article, is increasing by roughly 22% each year — far outpacing the ability of telecommunications and internet service providers to supply more bandwidth. With bandwidth in short supply, that supposed "unlimited bandwidth" feature associated with so many shared hosting plans seems like the deal of the century. You'll notice bandwidth is measured in firm numbers at the VPS and dedicated server levels.
Alas, unlimited (and it's cousin, unmetered) bandwidth are largely marketing terms that don't really mean what they look like. Unmetered may be a bit more accurate, though, as many hosts know the number of accounts they put on a shared hosting server won't use up all the machine's bandwidth if everyone behaves. Think of unlimited bandwidth instead as simply "undefined" bandwidth.
Popular shared hosting providers that offer unlimited bandwidth often attach a note or link explaining how exactly the company defines unlimited or unmetered bandwidth. (Bluehost is a great example.) Typically, hosts just don't define bandwidth limitations and only penalize or constrain the 0.05% of accounts that aren't following normal website operations, such as storing large multimedia files or engaging in file sharing.
Why is Bandwidth Important for a Website?
Imagine bandwidth as a pair of shoes. A world-class sprinter can't bolt down the track effectively if his spikes are three sizes too small; he would fare just as poorly with oversized clown shoes strapped to his feet. Now, imagine the runner is your website — get the point?
Bandwidth is all about delivering your website to your visitors quickly, and page load speed is one of the most important factors in sales and growing your traffic. Google includes site speed in its search rankings, and more than half of mobile visitors will leave a site if it takes longer than three seconds to load.
What's more, higher amounts of bandwidth enable businesses to develop more complex websites, featuring dynamic content sure to appeal to more (and more, and more…) visitors. Because VPS, cloud, and dedicated server plans often enable site administrators to scale bandwidth up and down in response to traffic fluctuations, the component also can help site owners manage web hosting costs.
How Do I Increase Bandwidth?
The last thing any site owner or entrepreneur wants to see is an error message preventing visitors from accessing the website. The bleak screens are an embarrassing red flag that a brand underestimated its performance and wasn't ready for success. However, unless your website is on a flexible platform like cloud hosting, bandwidth isn't often a feature you can add à la carte.
Regardless of your server environment, the best way to more or less create additional bandwidth is by actually reducing your site's bandwidth usage. Bandwidth is like water — there's only so much to go around, so conservation is key. Some ways you can accomplish that include:
Look for external sources or storage for images and videos (or optimize image files for web)
Enable compression for HTTP, CSS, and JavaScript
Implement caching and a content delivery network to store static content on servers closest to your audience
Outsource RSS feeds to third-party applications or plugins
If you're regularly running out of bandwidth, your hosting provider will probably be knocking on your door and asking you to upgrade to a bigger plan. For shared hosting customers outgrowing their allotted resources, top VPS hosting packages clearly spell out how much bandwidth is available and give you more tools to manage and measure its consumption.
Plan Ahead for Success by Having a Plan to Scale
As Jeff Atwood wrote, "popularity is a tax" in the web hosting and larger online worlds. Going viral and seeing major spikes in traffic can completely change a company's trajectory, but also wreck its budget and the sanity of developers and administrators trying to keep the overloaded bandwidth from crashing the site or network.
Jeff, the Co-Founder of StackOverflow and Discourse, is not clueless about the inner workings of a successful website. But when a post went viral, his outgoing bandwidth on a certain day nearly tripled what his site traffic averaged. He gave a transparent look into what goes into reining the resource consumption back in, and many of the pointers are featured in the list above.
While sudden fame and fortune can be hard to predict, spend the time to calculate how much bandwidth you use each month to track and predict your organization's growth. Upgrade your hosting plan well before you actually need to. Sure, there might be a little more in terms of expenses, but a few extra dollars for hosting per month is much better than the hundreds or thousands you stand to lose if the site goes down.
Projecting future website growth can understandably vary wildly depending on the maturity of the business or website in terms of reaching its audience. However, try budgeting modest gains of 10% to 20% more traffic each month. For most shared hosting customers operating personal portfolios, blogs, or small businesses, chances are you can stay put for a little while — flip on the cruise control and enjoy the wide, open highway.
Further Reading: "What Is Web Hosting Bandwidth? How Much You Need & 5 Best Hosts (Oct. 2023)"
Hopefully, our recommendation of Hostinger fulfills all your web hosting needs. Starting at just $1.99 per month and rated 4.9 overall, Hostinger gives users plenty of bang for the buck. Among our favorite features:
Unlimited everything, from storage to databases
FREE site builder & WP performance upgrades
FREE daily or weekly backups
Custom control panel and auto-installation scripts
SSH access & unlimited FREE SSL certificates
If you'd like recommendations similar to Hostinger and others in What Is Web Hosting Bandwidth? How Much You Need & 5 Best Hosts (Oct. 2023), check out these popular guides. You'll find comparisons of Hostinger to other hosts on pricing, features, support and more:
And of course, if Hostinger is your top choice, you can get started now at just $1.99/month. Hostinger is easy to set up and scale, no matter the size of your next project.
Advertiser Disclosure
HostingAdvice.com is a free online resource that offers valuable content and comparison services to users. To keep this resource 100% free, we receive compensation from many of the offers listed on the site. Along with key review factors, this compensation may impact how and where products appear across the site (including, for example, the order in which they appear). HostingAdvice.com does not include the entire universe of available offers. Editorial opinions expressed on the site are strictly our own and are not provided, endorsed, or approved by advertisers.
Our Editorial Review Policy
Our site is committed to publishing independent, accurate content guided by strict editorial guidelines. Before articles and reviews are published on our site, they undergo a thorough review process performed by a team of independent editors and subject-matter experts to ensure the content's accuracy, timeliness, and impartiality. Our editorial team is separate and independent of our site's advertisers, and the opinions they express on our site are their own. To read more about our team members and their editorial backgrounds, please visit our site's About page.