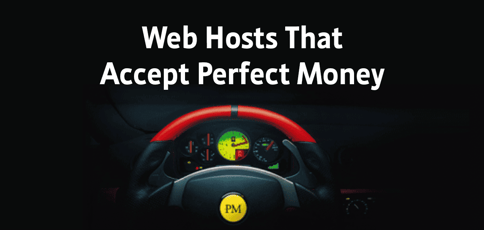 Perfect Money is leading the way in a new generation of online payments. This platform has been around since 2007 and is becoming a prominent cashless payment system worldwide. It's renowned for its security and privacy while providing smooth and efficient processes for money transfers, payments, and money management.
As a bonus, Perfect Money is one of the few systems that allows you to hold multiple forms of currency in your account, making it very convenient for international businesses and people like me who enjoy world travel but don't enjoy switching currency back and forth (don't even get me started on currency exchange fees!).
Given its growth, ease of use, and high standards for privacy and security, it's no surprise that more and more people are turning toward Perfect Money. Of course, this includes individuals and businesses with websites as well. If you're in this category, and I'm guessing you are since you're here, it gives me great pleasure to present these web hosts that accept Perfect Money.
Perfect Money Hosting Providers
Whether you're looking for a way to put your Bitcoin to work directly via an online wallet and payment platform or just want to take advantage of the "lowest fees on the market" while purchasing your web hosting plan, Perfect Money has the solution for you.
The reputable providers below recognize the value of teaming up with Perfect Money and provide options for instant transfers when setting up and maintaining your hosting account.
1. GeeksHosted
GeeksHosted is a relatively new web hosting company with only a little more than a decade on the market. Its mantra involves creating a web hosting ecosystem built "for geeks, by geeks," and it is slowly earning its place among the target niche.

It offers standard shared hosting packages with plans tailored to popular CMSes, including WordPress, Drupal, and Joomla.
2. THCServers
Check out our in-depth dive into the growth of THCServers. This article was written in 2017 and has only continued to expand over all those years!

With its recognition of the importance of catering to its users, be it through datacenter locations or payment methods, it's no surprise that THCServers is developing its brand awareness. THCServers' plans feature SSD storage, unmetered bandwidth, and 24/7 customer support.
3. Royalhost
This "next generation hosting" will leave you feeling the royal treatment. You can find shared hosting plans, VPS hosting, and even domain services delivered on a silver platter. All you have to do is open that Perfect Money wallet and sign up.

Royalhost provides web hosting and domain services for a fair price. Customers can expect a 99.9% uptime and domain names starting at roughly $13.00 annually.
4. Web4Africa
Web4Africa has been offering its services since 2002, providing affordable domain names and web hosting to clients worldwide. It has accepted Perfect Money as a payment method since 2010.

Each website has a free domain name for the first year, a free SSL certificate, daily backups, unlimited email accounts, unlimited databases, a super-fast network on enterprise-grade hardware, and 24/7 monitoring.
5. GrifHost
If you're looking for a reseller hosting plan with your Perfect Money, here's your provider! A hosting package can start at less than $10/month, and you'll receive 40GB of storage space with 400 GB of bandwidth to use with your unlimited cPanel licenses.

Don't worry; if you're looking for a shared or VPS hosting plan, GrifHost has you covered, too! Trying GrifHost is risk-free — If you're unsatisfied with your plan, take advantage of its money-back guarantee.
6. AlfainHost
Located in beautiful Switzerland, AlfainHost will have you singing when you see the sheer variety of payment methods it accepts! Do you wish to pay with Bitcoin, Credit/Debit Card, Paypal, CASHU, Web Money, Skrill, Payza, Payeer, Paysera, OKPAY, Wire Transfer, MoneyPolo, Payweb, or Litecoin? You've come to the right place!

AlfainHost offers hefty discounts for first-time customers, so if you're on a budget, you can enjoy ample cost savings.
7. MonoVM
Last but certainly not least, MonoVM prides itself on its security, stability, and quality through its use of CloudLinux. CloudLinux servers encapsulate each customer, preventing internet users from seeing each other and viewing sensitive information. That's a pretty nifty security measure.

MonoVM's robust packages are ideal for resource-intensive applications. Its VPS and dedicated server options pack a major punch.
Best Web Hosts That Accept Alternative Payment Methods
Perfect Money certainly isn't the only creative payment gateway on the market. As you've seen from providers like AlfainHost, there are many options out there, each with its own special flare.
Whether you want to pay by crypto, PayPal, or even check, we have a selection of great website hosting providers with your name on them!
Up to unlimited website domain and email hosting
1-click WordPress installs and software updates
Support for popular shopping carts with FREE SSL
Up to $200 in Microsoft and Google Ad credit
Industry-leading hardware and uptime rates
BEST OVERALL
RATING 4.9 ★★★★★ Our Review
Bluehost: Our Expert's Review
Ryan Frankel (HostingAdvice.com): Bluehost has long been a favorite of mine in the shared and WordPress hosting spaces. The company adheres to modern standards for hardware, and its customer service resources are now backed by hosting industry titan Newfold Digital. Go to full review »
| Money Back Guarantee | Disk Space | Domain Name | Setup Time |
| --- | --- | --- | --- |
| 30 days | 10 GB SSD – 100 GB SSD | FREE (1 year) | 5 minutes |
Bluehost is one of our favorite web hosting services here at HostingAdvice. Its excellent reputation comes from quality hosting plans, diverse and premium services, robust hardware, and excellent customer service.
Payment methods:
Credit/Debit/Prepaid cards: Visa, MasterCard, American Express, and Discover
eWallets: PayPal
Other: Check or Money Order
I'm not sure who is paying for digital services by checks these days, but I won't knock Bluehost for providing its customers with that option! However, if you wish to pay by check, you should know that they are allowed only for renewals.
24/7/365 ticket and live chat support
99.9% network uptime guarantee
FREE domain, site builder, backups, and SSL certificate
Unlimited bandwidth, databases, and email accounts
Speedy SSDs optimize performance
BEST OVERALL
RATING 4.8 ★★★★★ Our Review
Hostinger: Our Expert's Review
Laura Bernheim (HostingAdvice.com): Behind a mission to make life easier for website developers and their customers, Hostinger provides fast, stable, and streamlined services at a price that is very hard to beat. Founded in 2004, the bootstrapped company hit the 10 million users mark a decade later, achieving ICANN accreditation and localizing services in 39 countries. Go to full review »
| Money Back Guarantee | Disk Space | Domain Name | Setup Time |
| --- | --- | --- | --- |
| 30 days | 50 GB SSD – 200 GB SSD | FREE (1 year) | 3 minutes |
Hostinger takes alternative payments to the next level! You can undoubtedly applaud the thoroughness of the accepted payment methods by country. While certain countries, like the Netherlands, have unique payment options, such as iDeal, we'll focus on the global options here.
Payment methods:
Credit/Debit/Prepaid cards: Visa, MasterCard, American Express, Discover, JCB, DinersClub, and Maestro
eWallets: PayPal, Apple Pay, Google Pay, and AliPay
Cryptocurrencies: 76 different ones to be exact!
Put away your Bitcoin and pull out that Dogecoin! I've never seen such an extensive list of cryptocurrencies accepted as payment. Head on over to Hostinger to find the full list!
FREE domain and SSL, plus daily backups
Drag-and-drop site builder and starter kit
Gain exposure with $100-worth of ad credits
Packages cater to businesses & personal use
FREE custom SEO and marketing tools
BEST OVERALL
RATING 4.8 ★★★★★ Our Review
1&1 IONOS: Our Expert's Review
Alexandra Anderson (HostingAdvice.com): Born in 1988 — at least a decade before many competitors — 1&1 IONOS has maintained its dedication to making technology easy to understand and use. The company got its start in Europe but has since expanded to serve more than 8 million global customers and host more than 12 million domain names. Go to full review »
| Money Back Guarantee | Disk Space | Domain Name | Setup Time |
| --- | --- | --- | --- |
| 30 days | 10 GB – Unlimited | FREE (1 year) | 6 minutes |
IONOS is certainly following a hard act regarding the breadth of payment options, but that's no reason to overlook its incredible services. One of our experts personally tested IONOS and gave it stellar ratings for all its plans and services.
Payment methods:
Credit/Debit/Prepaid cards: Visa, MasterCard, American Express, and Discover
eWallets: PayPal
While there's room for improvement in the diversity of the payment options available for customers, that doesn't translate to a lack of customer service. In fact, IONOS's commitment to its customers has led it to provide a personal consultant for each user, no matter your hosting level. Now that's service.
500% faster speeds via SSDs
LiteSpeed web server performance
FREE dedicated IP address
99.999% uptime guarantee
Datacenters in Dallas and Seattle
BEST OVERALL
RATING 4.8 ★★★★★ Our Review
Hostwinds: Our Expert's Review
Laura Bernheim (HostingAdvice.com): Promising enterprise-grade hosting solutions for prices that appeal to small and medium businesses, Hostwinds delivers the full range of operating systems and server configurations to help customers build and grow an online presence. With hosting plans covering niches like vBulletin and Minecraft, Hostwinds attracts a customer base as mixed as the server configurations. Go to full review »
| Money Back Guarantee | Disk Space | Domain Name | Setup Time |
| --- | --- | --- | --- |
| 3 days | Unlimited SSD | New or Transfer | 5 minutes |
Perhaps in addition to alternative payment methods, you're also looking for a hosting provider that offers hosting for niche applications, including Prosper202, vBulletin, CPVLab, or Minecraft. If that's the case, I've got an excellent option for you here with Hostwinds.
Payment methods:
Credit/Debit/Prepaid cards: Visa, MasterCard, American Express, Discover, and Vida Electron
eWallets: PayPal and AliPay
Cryptocurrencies: 200+
Hostwinds' cryptocurrency payments are processed via NOWPayments, which processes more than 200 cryptocurrency types. If I were looking to pay with a cryptocurrency, Hostwinds would be a no-brainer. Not only for the ease of payment but also because it is an excellent web host.
What Is Perfect Money?
Perfect Money is an online financial service that provides a platform for secure and instant online payments and money transfers.
It was founded in 2007 and offers a range of financial services, including:
Digital wallet functionality where a client can hold and manage their funds in multiple currencies
Currency exchange
Online payment processing with select online retailers, service providers, and even some web hosting companies
Perfect Money places a strong emphasis on security. Users can set up two-factor authentication for added account security, and there is an account verification process to enhance security.

An important factor that draws many to Perfect Money is the level of privacy and anonymity offered to users. When you create a Perfect Money account, you are not required to provide extensive personal information, and you can hide your account from non-verified users.
Additionally, Perfect Money allows users to make anonymous payments and transfers by not revealing personal identities to recipients.
What Are the Benefits of Using Perfect Money for Hosting?
Perfect Money offers several benefits to its users. Depending on your specific needs and preferences, it may be an excellent payment option for your web hosting services.
Some potential advantages include:
Privacy and anonymity: There is no need to reveal your personal or financial information to the web hosting provider. This can enhance your privacy and security, as your sensitive data is not exposed during the transaction.
Global accessibility and currency flexibility: Perfect Money is available to users in many countries worldwide, even in areas where payment methods may be limited or restricted, and it supports a variety of currencies. This can be particularly helpful for people who travel and keep money in multiple forms or for occasions where the web hosting provider operates in a currency different from yours.
Speed and convenience: Instant payments are the name of the game, so your web hosting account can be activated or renewed promptly. Additionally, since it's designed for online transactions, Perfect Money offers a seamless and convenient payment method for web hosting.
Security features: Perfect Money offers security features such as two-factor authentication and account verification, helping to protect your account from unauthorized access and fraud.
No bank involvement: You don't need a traditional bank account to use Perfect Money, which can be helpful if you don't have access to or prefer not to use a bank for online transactions.
You may want to use alternative payment methods for many reasons, and Perfect Money offers a convenient real-world solution.
Can I Buy a Domain With Perfect Money?
Buying a domain with Perfect Money is possible, but it depends on the domain registrar or domain registration service you choose. Not all domain registrars accept Perfect Money as a payment method, so you'll need to find one that does.
Registrars that accept Perfect Money include:
QHoster
Web4Africa
HostMonsta
LovingDomains.com
Royalhost
GrifHost
When selecting your registrar, it's essential to use caution and make an informed decision. Be aware of pricing structures that may skyrocket after an introductory period, hidden fees, automatic versus manual renewal policies, transfer policies, ownership transfer and control restrictions, and privacy protection measures.
In some cases, the current options accepting Perfect Money may be unable to fulfill your needs, and you may need to select an alternative provider. Thankfully, Perfect Money payment options are growing, and soon, this may be an issue of the past.
How Do I Choose the Best Perfect Money Host?
Choosing the best Perfect Money host requires careful consideration of your specific needs and preferences. You'll want to start by defining your needs to determine the type of website you plan to host. Will it be a personal blog, business website, eCommerce site, or something else entirely? You must also consider website traffic expectations, storage requirements, and technical expertise.
Once you have a clear picture of your site, you can start researching hosting providers. In the early portion of this stage, it's important to confirm that the hosting provider accepts Perfect Money. It would be a shame to find your match only to learn it doesn't take your payment.

After you've found a web hosting provider that meets your needs in terms of disk space, bandwidth, server type, additional services, and (of course!) Perfect Money acceptance, purchase it.
Remember that the "best" hosting provider for you may not be the best for another. It all depends on your individual requirements and the needs of your site. HostingAdvice.com has tons of resources on choosing the best web host. One of my favorites is this blog.
Using Perfect Money to Find the Perfect Host
There is no denying that limiting your payment method to Perfect Money highly limits your options. It's also true that there are many payment alternatives if your primary goal is simply to avoid using a credit card.
Your own needs and the needs of your website will ultimately dictate if you should use Perfect Money to purchase your hosting.
If you come across a hosting provider that meets all your criteria and offers Perfect Money as a payment option, great! If you find yourself compromising on the features or quality of your web host to accommodate the payment method, you may want to rethink the importance of using Perfect Money. Happy hunting!
See Our Full Review of Bluehost
Whatever type of hosting plan you're looking for, Bluehost is a solid choice no matter the scale. Our reviewer Ryan Frankel recently took Bluehost for a spin, and rated the popular host a 4.9 in the Best Overall Hosting category out of a perfect score of 5.0. Here's what Ryan had to say about Bluehost:
Bluehost has a rock-solid reputation in the shared and WordPress hosting communities, and the host is a long-time favorite of mine. Today, Bluehost powers more than 2 million websites, and the team touts years of experience. With well-maintained servers, competitive pricing, and excellent customer support, Bluehost is hardly a pick you'll regret.
Before signing up for Bluehost, it's a good idea to read through Ryan's full review to learn about all the features Bluehost offers. You can also compare it to other web hosts to ensure you're getting the best deal possible:
If you decide Bluehost is the right choice, keep in mind that it takes just minutes to deploy your Bluehost server space. And at $2.95 per month, it's a bargain considering the many great features that come in any Bluehost plan.
Advertiser Disclosure
HostingAdvice.com is a free online resource that offers valuable content and comparison services to users. To keep this resource 100% free, we receive compensation from many of the offers listed on the site. Along with key review factors, this compensation may impact how and where products appear across the site (including, for example, the order in which they appear). HostingAdvice.com does not include the entire universe of available offers. Editorial opinions expressed on the site are strictly our own and are not provided, endorsed, or approved by advertisers.
Our Editorial Review Policy
Our site is committed to publishing independent, accurate content guided by strict editorial guidelines. Before articles and reviews are published on our site, they undergo a thorough review process performed by a team of independent editors and subject-matter experts to ensure the content's accuracy, timeliness, and impartiality. Our editorial team is separate and independent of our site's advertisers, and the opinions they express on our site are their own. To read more about our team members and their editorial backgrounds, please visit our site's About page.