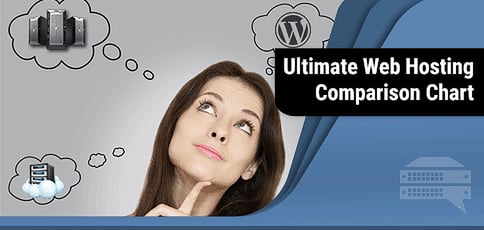 Shopping for a new hosting service can be a daunting endeavor — that's why we've put all the top providers' prices and features in helpful web hosting comparison charts. Don't clutter your browser with dozens of tabs; all the information you need is just a scroll away.
If you're not online, many people won't know you or your business exist, as 95% of consumers search for local businesses online. Business owners aren't the only ones who benefit from a powerful online presence. Creatives can share their artistry. Writers find a platform from which to be heard. And computer science majors can flex their programming muscles.
Whatever your web mission, choosing a host is the first step toward setting up a site that will attract customers, engage readers, or catch the attention of potential employers. Plans can vary, and there are different types of web hosts to choose from. Knowing the options can help you make the best decision for your online project. Let's compare, shall we?
Shared web hosting is a good option for businesses looking to keep costs down. A shared web hosting provider will host multiple sites, owned by multiple customers, on one server. The site owners share the costs of operating the server, so pricing is much lower than VPS or dedicated hosting, usually less than $10 per month. However, site owners are also sharing the server's ability to transfer data, which means your site's performance can be slow if one or more of your hosting neighbors experience a traffic spike.
Our experts have evaluated all the top hosting providers, assessing their cost, support, usability, and server reliability. Below you'll find the top recommendations for what we affectionately refer to as value hosting:
Compare more cheap web hosts »
WordPress is the platform of choice for large and notable companies, including TechCrunch, the New Yorker, and BBC America, and it has even supported powerful global movements. Now powering roughly 27% of the internet, WordPress is far and away the most popular website-building and management software. Because WordPress is such a popular choice, most, if not all, web hosts will offer integrated WordPress as a feature.
Many web hosts offer WordPress hosting and configuration services to make building and publishing a WordPress site simple even for beginners. The software is either pre-installed or can be installed using a single-click auto-installer tool provided by the host. Everything is ready for you to start building out the site from the beginning, and your WordPress site data is (typically) backed up automatically.
We're mega WordPress nerds here at HostingAdvice, and we've reviewed just about every WP-savvy host worth knowing. Check out 2023's best in the WordPress hosting biz next:
Compare more WordPress web hosts »
Website builders bring a coding-free web design experience. Rather than beating your head against the keyboard as you attempt to understand HTML and CSS, you can point your mouse and click on various areas of your website within a web browser and drag site elements, such as images and text boxes, into place. The visual you see in your editing preview window mirrors what visitors will see on the frontend of your site.
Most shared hosts offer some kind of website builder as an option, particularly to their shared hosting customers. Our favorite site builder plans to recommend to newcomers are listed below:
Compare more site builder hosts »
Investing in a virtual private server, or VPS hosting, can be a nice middle ground between shared and dedicated server hosting. As is the case with shared hosting, a VPS host hosts multiple sites per server, but fewer sites are on each server. This raises the cost, but it's still less expensive than most managed web hosting services or renting your own dedicated server.
Our favorite VPS hosting providers tout SSD speed, ultra-reliable uptime rates, and technical support you can trust. See our expert recommendations in the following reviews:
The big man on campus, dedicated hosting boasts the highest reliability, compute power, data transfer and storage potential, privacy, and security. It also carries the most technical responsibility and cost burden.
When we reviewed the top dedicated server plans, we compared price, storage and RAM, uptime rate guarantees, and network monitoring features, in addition to support and premium services. Check out our top picks:
Compare more dedicated server hosts »
Managed web hosting brings a white-glove or concierge service to the hosting experience. The term "managed" means the hosting company takes care of the hands-on IT work required to keep the server running optimally. They handle the hardware while you maintain the software and your site databases, files, and media content. This type of web hosting carries the highest price tag, but many find the peace of mind and server administration assistance worthwhile.
Many of the best hosts overall offer managed services as a part of their premium plan portfolio. The best managed hosting plans are featured below:
Compare more managed web hosts »
Hosted WordPress is often offered with a shared server setup, meaning multiple sites are run on a single server. As we covered above, managed hosting means your host handles your hardware while you handle the software and site content.
Managed WordPress hosting, however, takes things a step further by managing software updates to the WordPress Core, security patches, and bug fixes. Some hosts may even help you manage your plugins. If you're serious about WordPress hosting, give the managed services below some serious thought!
Compare more managed WordPress hosts »
Web hosting options vary broadly and businesses of all types will find something compatible with their needs. Some kinds of web hosting are ideal for small startups just getting off the ground (cheap yet reliable), while others can accommodate more established businesses (faster data transfer and managed services).
Shared Hosting
Shared servers are the entry-level hosting option. They're the cheapest and require minimal, if any, technical know-how. Multiple websites are hosted on a single server, and therefore share its resources such as data transfer and disk space. This can be the perfect option for a small- to a medium-sized site with fewer than 30,000 visitors per month.
Providers such as iPage and Bluehost offer a free domain name, ample storage and bandwidth, and unlimited email accounts – all for typically less than $10 per month. In addition to the popular "unlimited everything" perk, some of the benefits of shared hosting include comprehensive support and ease of use.
VPS / Cloud Hosting
Virtual private server (VPS) or cloud hosting can be a good middle-of-the-road option between the lowest pricing (shared servers) and highest reliability (dedicated servers). A VPS is a physical server that usually has multiple sites hosted on it. However, it's much more sophisticated than shared servers in its ability to distribute server resources – and it carries a lighter price tag than for dedicated hosting.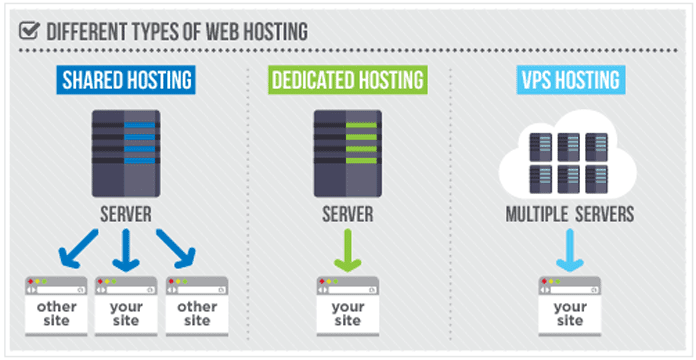 A VPS also allows for more customization and control of data transfer and storage, and thus many business owners will opt to switch to a VPS as their sites grow. Several virtual private servers can be installed on a single physical server, and customers can take as much space as they need. Many hosts even offer daily billing in which you only pay for the resources you consume. VPS hosting essentially acts in a similar way as a dedicated server without actually being one.
Dedicated hosting is the premium option. This hosting option allows customers to lease an entire server dedicated to their site only. The best option for large sites that experience heavy traffic, dedicated server hosting allows for more control over all aspects of your web hosting.
A dedicated server might be managed by the provider or by the IT team of the company that purchased it. The benefits of dedicated hosting include greater flexibility, enhanced security, and a unique IP address. However, it can be a hefty investment, so businesses should carefully review their needs before deciding to go with dedicated hosting.
There are many ways to build and manage a website – eCommerce platforms, such as Magento or PrestaShop; content management systems, such as Joomla or Drupal; and blogging software, like WordPress, being just a few examples. The web hosting market can accommodate a wide variety of platforms and methods for creating, publishing, and administering web content. Applications can be integrated directly into the web hosting environment, making it simpler to use the site management tool with a given web host.
Many major hosting providers have capitalized on the swath of web tools and licenses beloved by site owners by crafting application-specific or otherwise specialty hosting plans such as:
Use the links above to jump to the descriptions of each specialty hosting service below.
cPanel hosting: Some web hosts offer the popular web hosting control panel cPanel as part of their hosting packages, pre-installing the software for you. The control panel allows VPS and dedicated server users to more easily manage their servers, databases, and hosting settings. Shared hosting customers enjoy the intuitive interface from which they can install apps, like WordPress or PrestaShop, and manage their domains, email, and files.
Domain hosting: All websites need a domain name that must be hosted along with the actual site content. Typically, a server will host both the domain (where the site is located) and the site. The best domain hosts offer a complimentary domain name registration for at least the first year of service.
Drupal hosting: As a popular content management system, it's a no-brainer that many web hosts offer quick installation of Drupal as a feature. Rather than needing to manually install Drupal, a Drupal hosting customer can get started building their site right away.
eCommerce hosting: If you plan to have an online store, an eCommerce hosting package may be worth consideration. Website builders and web hosts offer easy tools and templates for displaying products, securely processing payments, and managing inventory online.
Email hosting: Web hosting plans typically come with email hosting services, but some plans tout exclusive email features for those who don't necessarily need an elaborate web presence so much as an email account hosted at their domain name. Premium email hosting plans include spam filtering, virus protection, and support for popular protocols such as SMTP and IMAP.
Joomla hosting: Like Drupal, Joomla is a CMS, and it's the second most popular platform for building sites behind WordPress. Built by developers, for developers, Joomla is preferred by those who have a lot of web content to manage and need to configure a complex, data-heavy website or portal.
Magento hosting: Leading online store builder Magento gives businesses the opportunity to show off their inventory and profit on the web. Providers that offer Magento hosting typically have single-click installations and free templates along with managed backups and 24/7 support.
Managed hosting: Some companies with ample IT resources may choose to manage their own VPS or dedicated servers. However, due to time or staff constraints, or simply for convenience, you can opt for a managed hosting plan. The provider offering the web hosting service will handle server administration, including security, backups, and systems management and monitoring.
Plesk hosting: Like cPanel, Plesk is a web hosting management panel. If you plan to partially of fully manage your server, you might be interested in a web host with Plesk as a built-in feature. Functions that Plesk manages include email and domain name systems, databases, file systems, and plugins.
SSD hosting: Some hosts boast SSD hosting, or solid-state drives for data storage. An SSD hosting plan is ideal for those who need ample disk space and bandwidth. Folks interested in SSD hosting should consider dedicated or virtual servers for optimal performance.
Website builder hosting: Website builders are a means of creating basic to elaborate websites with little or no coding involved. This is a popular option for businesses without their own web team. Wix, Weebly, and other website builders come standard with most shared hosting plans.
WordPress hosting: Again, the web's most popular blogging platform and website management software is featured in the portfolios of most, if not all, reputable web hosts. You can expect single-click installations for the software, or even the luxury of having WordPress pre-installed.
Some hosting plans offer more options than others, and not all applications and hosting types are available with all providers. It's important to weigh which built-in features are absolutely essential to your website-building venture before signing up for any plan.
Getting your website off the ground requires a great web hosting service. In our evaluation of web hosting providers, we looked at key features that make for a positive web hosting experience and compared the leading providers in the industry. The factors we considered included uptime, website builders, and eCommerce integration. Read on to learn more about the features you should look at when determining which provider and plan is best for you.
Uptime is the percentage of time that a server is operational. When you're running a website, you want users to be able to access it at all times. When a server experiences downtime, your site would be unavailable, but ideally, this happens rarely. An industry-wide goal for how much uptime a server should have is "the five nines" – an uptime of 99.999%, meaning the system is highly reliable. However, 99.9% uptime is pretty standard and should more than suffice for the majority of hosting users.
Website builders and WordPress let you create an online presence with little to no coding knowledge required. If this is what you need for setting up your site, make sure your web host provides integration for the site builder you want to use. Easy installations for WordPress or pre-installed website builders with ready-made templates are ideal for those who want to drag and drop elements of their site into place — where what you see is what you get (WYSIWYG).
Control panels allow site owners to manage the administrative features of a website such as domain names, email, files, databases, and plugins. Look for web hosts that offer a built-in control panel, such as Plesk or cPanel, if you want an intuitive interface for managing your servers and hosting features.
Shopping carts are a necessity for businesses offering their products for sale on their site. Joomla, Magento, and other online store platforms can be found in many web hosting plans as integrated features. Some also offer additional eCommerce tools like ZenCart or PayPal. Review your options for eCommerce integrations so you can choose the one that makes the most sense for your store.
Site statistics and web analytics tools allow you to view how many people have visited your site and its individual pages, as well as what links people who visited your site clicked on. This information is useful for optimizing your pages, link placement, and content strategy, and ultimately getting more people to spend more time and make purchases on your site. Other potentially useful insights include the number of databases and subdomains on your site and how much disk space you've used. Some web hosts provide this data for free while others require you to pay extra for certain information.
Mailboxes and email storage offered by web hosts give you professional email addresses with your website's domain name. Ideally, a web host will offer unlimited mailboxes so you can give each of your employees an individual email address and have room to grow. You'll also want ample mailbox space so you won't have to worry about needing to delete files and possibly losing important data.
Reliable technical support is essential — whether you plan to manage your own server or rely on the hosting provider to manage it. Something can always go wrong, and you want to be able to talk to someone who can answer questions and generate solutions. Consistent technical support, ideally 24/7, gives peace of mind and swift issue resolution.
These are some of the most important qualities to think about as you review web hosting options. The presence or absence of these features can make or break the success of your online presence and determine how effectively you can manage your site to your preferences.
Not all web hosts are suited for all types of businesses, blogs, or portfolios. That would be impossible.
When choosing a web host, as well as a particular plan offered by a chosen provider, read through the list of options carefully and weigh them against your specific requirements.
Most beginners, developers, and individuals will be perfectly content with a basic shared hosting plan for most projects. If you're looking to turn a profit on your website, you'll probably make the leap to cloud and VPS hosting sooner than the rest. Dedicated servers, as you may imagine, are typically reserved for large-scale projects and businesses.
Be sure you know what these requirements are so that you don't end up with features not suited for your site (too little data storage, or too slow data transfer, for example). The goal is to pay a cost-effective amount for exactly what you need. If you're unsure where to begin with web host shopping, start here.
Hopefully, our recommendation of Hostinger fulfills all your web hosting needs. Starting at just $1.99 per month and rated 4.9 overall, Hostinger gives users plenty of bang for the buck. Among our favorite features:
Unlimited everything, from storage to databases
FREE site builder & WP performance upgrades
FREE daily or weekly backups
Custom control panel and auto-installation scripts
SSH access & unlimited FREE SSL certificates
If you'd like recommendations similar to Hostinger and others in Web Hosting Comparison Chart: 21 Best Hosts & Prices (Oct. 2023), check out these popular guides. You'll find comparisons of Hostinger to other hosts on pricing, features, support and more:
And of course, if Hostinger is your top choice, you can get started now at just $1.99/month. Hostinger is easy to set up and scale, no matter the size of your next project.
Advertiser Disclosure
HostingAdvice.com is a free online resource that offers valuable content and comparison services to users. To keep this resource 100% free, we receive compensation from many of the offers listed on the site. Along with key review factors, this compensation may impact how and where products appear across the site (including, for example, the order in which they appear). HostingAdvice.com does not include the entire universe of available offers. Editorial opinions expressed on the site are strictly our own and are not provided, endorsed, or approved by advertisers.
Our Editorial Review Policy
Our site is committed to publishing independent, accurate content guided by strict editorial guidelines. Before articles and reviews are published on our site, they undergo a thorough review process performed by a team of independent editors and subject-matter experts to ensure the content's accuracy, timeliness, and impartiality. Our editorial team is separate and independent of our site's advertisers, and the opinions they express on our site are their own. To read more about our team members and their editorial backgrounds, please visit our site's About page.