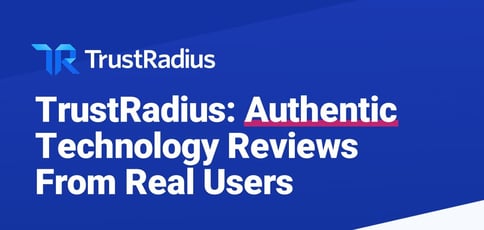 TL; DR: TrustRadius is working to bring honesty and integrity to the forefront with a software review site built to combat fraud. The company doesn't sell paid placements or allow vendors to skew results in any way. Every reviewer is vetted by humans and algorithms, and the review process is centered on depth, detail, and quality. With continuous updates to better serve buyers, vendors, and expert contributors, TrustRadius is on a mission to drive honest product dialogue online.
Trust is a hard thing to come by online, where anyone can hide behind a screen name and avatar and pretend to be someone they're not.
This is a particularly concerning phenomenon in the world of online reviews. From purchasing positive reviews to planting negative ones on competitors' products, fraudulent activity is all too common.
Even though it might take a little more effort, there's long-lasting value in earning people's trust the old fashioned way — through quality and substance, not smoke and mirrors.
TrustRadius understands this, and that's why the company has been working to raise the bar on software reviews and comparisons since 2013.
"Unlike other review sites, we validate every review and prevent vendors from gaming the system," said Russ Somers, VP Marketing at TrustRadius. "We have a team of experts validating reviews on a human level. We're also really proud of our trScore algorithm, which detects and prevents review fraud."
The idea is that marketing can be more powerful when brands allow customers to share their honest insights on topics like hosting, site-building, and security solutions, among many others. With TrustRadius, they do so in detail.
The average review on the site is up to three times longer than reviews on competitor sites, which helps enterprise companies make large software purchases with confidence. To further build trust, TrustRadius does not allow vendors to influence their placement or scores by spending time or money in any circumstance.
Instead, vendors benefit from the company's content production team, which features legitimate customer stories, comparison reports, and infographics that help drive sales.
Raising Standards for Technology Review Sites
Like many of the most successful and customer-centric companies, TrustRadius was founded to cure a real pain point.
"Vinay Bhagat, our CEO, made a costly software purchase at his last venture that ended up being a bad fit," Russ said. "He founded TrustRadius in May 2013 to create the most trusted customer review resource for B2B tech buyers — so other people could buy software with their eyes wide open."
At the time, several review sites existed on the market, including Software Advice, Capterra, and GetApp. These sites generated revenue through lead generation. Russ said TrustRadius decided to provide an alternative to such sites through a focus on transparency. The team wanted visitors to know for sure that the information provided on the site was trustworthy.
"We differentiated ourselves as the most trusted review platform. We aggressively targeted review fraud," Russ said. "We put a stop to vendors gaming the system with a rock-solid algorithm backed by extensive human validation. And we provided the highest quality and most in-depth software reviews on the market."
To this day, those qualities help TrustRadius stand out from the pack. "As you can probably tell, transparency is a core value for us," Russ said.
Rather than selling paid placements or allowing vendors to skew results, TrustRadius sought a more authentic monetization path via a customer voice platform. Today, the platform helps vendors curate content from real customer reviews and deploy the information through their own communication channels.
A Trustworthy Source of Advice for Tech Buyers
Russ said that in the early days of TrustRadius, vendors were primarily focused on analyst relations as a communications and marketing strategy. In this model, corporations work with independent research and consulting firms that conduct trend-based research to create data-driven reports. Sales teams then leverage these reports to attract customers.
In recent years, however, vendors have shifted away from analyst relations.
"Back when TrustRadius first started, vendors spent a ton of money on analyst firms like Gartner and Forrester," Russ said. "But we've seen that influence decline over the past few years. Now, only 20% of tech buyers use analyst rankings and reports — and that number shrinks even further when you ask the millennial audience."
Today, tech companies are starting to recognize the power of high-quality third-party reviews, Russ said. And they're not just working with one review site — they're partnering with multiple sites at once.
TrustRadius distinguishes itself from other sites by making it easy to sort and filter reviews written by people in similar companies and roles. "Since the reviews are in-depth, that adds a ton of value for people who are trying to figure out the right product to buy," Russ said.
TrustRadius covers software products that fall into a wide range of categories, including marketing, sales, human resources, finance, accounting, customer service, IT, and development. Topics relevant to our readers range from shared website hosting, cloud hosting, and dedicated hosting to website building and development. The company also serves three distinct audiences: tech buyers, tech vendors, and expert contributors. In that sense, Ross said user ROI takes many forms.
"Tech buyers in our community save countless dollars and end up making better purchasing decisions for their companies," Ross said. "Tech vendors leverage our content to tell their unique story, improve conversion, engage high-intent buyers, and gain invaluable customer insights. And expert users get to participate in an active and growing community that brings a lot of long-term value."
Powerful Tools to Stomp Out Fraud
Each review on TrustRadius is evaluated for depth, detail, and quality by the site's Research Team before it goes live.
"A big focus for our business is sourcing authentic customer reviews that meet our extreme quality standards," Russ said. "It's a big challenge. That's why we invest heavily in growing our community and providing value in ways that other sites can't."
One of those ways is through trScore, an algorithm that determines product scores based on a weighted average of ratings and reviews instead of a simple average. According to TrustRadius, simple averages can be misleading.
For example, older products with a large number of accumulated reviews may have high product scores based on the past, not current customer opinion. To that end, the trScore algorithm weighs more recent reviews — and more in-depth ones — as more significant than their older, single-click counterparts.
TrustRadius also leverages TrustMaps to help users compare software based on verified end-user data. These 2D charts are based purely on user data rather than analyst investigation. They are dynamically updated as new data comes in and backed by in-depth, quality review content.
Working to Serve Buyers, Vendors, and Expert Contributors
Moving forward, the TrustRadius team is anticipating continued growth and development in key areas.
"Our audience and engagement rates are growing fast — and that produces more value for vendors every day," Russ said. "Product growth will let us serve vendors better by doing things like piping intent data into their key systems and putting weaponized quotes at the fingertips of sales reps." It will also allow the company to better serve buyers as it launches capabilities to build and share lists of software.
"All of these things are big steps forward that help us serve buyers, vendors, and our expert contributors better," Russ said.