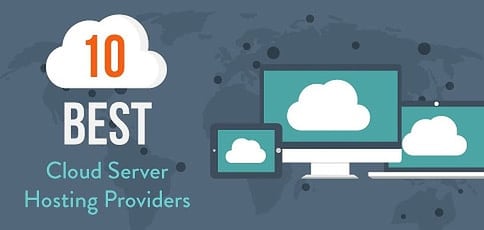 When you're talking about the best cloud server hosting, the top options provide reliable service at an affordable rate while delivering a product that performs perfectly.
Although shared, VPS, and dedicated server hosting packages rely on one physical server at a time, cloud hosting enables an unlimited number of servers to act as a unified system.
With so many resources at your disposal, the best cloud hosting solution introduces a greater level of scalability, availability, and performance.
Whether you prioritize your budget, operating system, performance, or support, we're confident that we can recommend the best cloud hosting provider for your next project.
The rapidly expanding cloud hosting industry is expected to grow nearly 20% this year to almost $250 billion in worldwide revenue, fueled largely by the proliferation of data in Internet-of-Things devices, artificial intelligence, and Software-as-a-Service business applications.
Amazon Web Services and Google Cloud represent the big players in the cloud computing industry — and our favorite host, Cloudways, helps you access their industry-leading technology without any of the hassles.
Managed cloud hosting with 24/7/365 monitoring
Choose from 5 popular cloud providers
Auto-healing cloud servers with FREE backups
3-day free trial with no credit card required
Host unlimited apps with no contract lock-in
CLOUD
RATING 4.6 ★★★★★ Our Review
Cloudways: Our Expert's Review
Alexandra Anderson (HostingAdvice.com): If you can't beat the cloud provider behemoths, offer their infrastructure as a service. Cloudways gives customers their choice of cloud platform: AWS, Google, Linode, Digital Ocean, or Vultr. Go to full review »
| Setup Time | Disk Space | CPU | RAM |
| --- | --- | --- | --- |
| 8 minutes | 20 GB SSD – 4 TB SSD | 1 – 96 cores | 1 GB – 384 GB |
Given the massive demand for cloud storage and computing, hosting providers are clamoring to offer the best services for the best prices. Competition is fierce, which bodes well for those shopping around for the best solution.
Cloudways gives web hosting customers the best of both worlds: cutting-edge hardware from Amazon Web Service (AWS), Google Cloud, Digital Ocean, Vultr, and Linode, with the comfort of managed cloud hosting experts optimizing your website's performance and security.
2. Kamatera – Best Self-Hosted Cloud Server
Graduating from shared hosting to a cloud server instance brings more flexibility when selecting the operating system or other software you'd like to use to run your website or application.
Instead of using a hosting service's one-size-fits-all configuration, a self-hosted solution from Kamatera gives developers more than a dozen operating systems to choose from and countless other ways to configure HDD or SSD storage, RAM, and processors.
If all that sounds daunting, never fear — you can start with Kamatera for FREE for 30 days.
Ultimate scalability with limitless customizations
Create and deploy servers in 60 seconds
Easily add load balancers and firewalls
Stellar 99.95% uptime guarantee
Sign up today for a 30-day FREE trial
CLOUD
RATING 4.9 ★★★★★ Our Review
Kamatera: Our Expert's Review
Laura Bernheim (HostingAdvice.com): Starting with more than 60 operating system images to choose from, Kamatera is a strong option for developers who know exactly what environment works best for their project. Customize your cloud server as needed and deploy in less than a minute. Go to full review »
| Setup Time | Disk Space | CPU | RAM |
| --- | --- | --- | --- |
| 5 minutes | 20 GB SSD – 4 TB SSD | 1 – 104 cores | 1 GB – 525 GB |
With Kamatera, site owners can manage their own cloud-based Linux or Windows server (or enlist the company's managed services team). Instances deploy in 60 seconds or less from one of 13 datacenters around the world.
Kamatera represents the most affordable cloud hosting provider on our list thanks to the fine-grained level of control customers have when crafting their plan.
3. Hostwinds – Best Cloud Server Hosting for Small Business
It only takes three letters to pique our interest in a web hosting plan. SSD, which stands for solid-state drive, gives servers a performance and reliability boost that can't be ignored.
Hostwinds supplies all SSD storage with an eye-popping 99.9999% uptime guarantee. Site owners can enjoy the cloud web hosting standards of a redundant network, instant scalability, 24/7 cloud server monitoring, and nightly backups.
Choose your OS or application configuration
Hourly or monthly billing for convenience
Optional upgrades for cPanel, backups, and more
Managed services, SSDs, and HDDs available
Block and object storage, plus enterprise firewall
CLOUD
RATING 4.6 ★★★★★ Our Review
Hostwinds: Our Expert's Review
Laura Bernheim (HostingAdvice.com): Hostwinds provides supremely scalable and customizable options for the savvy developer or site owner. Customers can customize their cloud environment or choose pre-built configurations optimized to run apps like WordPress, Drupal, and others. Go to full review »
| Setup Time | Disk Space | CPU | RAM |
| --- | --- | --- | --- |
| 6 minutes | 30 GB SSD – 750 GB SSD | 1 – 16 cores | 1 – 96 GB |
By including SSDs in its cloud services, a cloud hosting provider shows a dedication to customer success and service that matters.
Hostwinds is no different, showcasing a custom-built cloud control panel to help users manage multiple servers with ease.
Website owners can extend their cloud computing capacity by adding load balancers or volumes for object or block storage with affordable hourly or monthly billing.
Powering more than a third of the internet, WordPress provides the backend interface for more than 60 million bloggers, entrepreneurs, developers, and enterprise businesses.
Given the platform's wide range of applications, cloud hosting is a perfect fit for high-traffic websites and online stores.
InMotion Hosting, our favorite option for all things WordPress, understandably outperforms competitors in terms of optimized infrastructure, superior management, and ultimate usability.
Fault-tolerant SSD storage and up to 8GB of RAM
FREE control panel with choice of Linux OS
Full root access or managed servers available
FREE live-state or scheduled snapshots
FREE Ansible control mode for automation
CLOUD
RATING 4.5 ★★★★★ Our Review
InMotion: Our Expert's Review
PJ Fancher (HostingAdvice.com): With leading-edge cloud technology, InMotion offers free site transfer, setup, and SSD drives for the ultimate cloud solution offerings. They include free data backups and offer unmanaged or fully managed servers to help you scale your site with cloud-based hosting. Go to full review »
| Setup Time | Disk Space | CPU | RAM |
| --- | --- | --- | --- |
| 6 minutes | 90 GB SSD – 360 GB NVMe SSD | 2 – 8 cores | 4 GB – 16 GB |
InMotion Hosting boasts superior infrastructure for shared hosting and basic WordPress services, but the company's cloud hosting service drastically elevates website performance and reliability.
In addition to SSD storage and a private cloud hosting solution, InMotion Hosting customers can even explore Ansible automation or managed WordPress hosting on cloud VPS hosting or a dedicated server.
Best of the Rest: Cloud Hosting Service Providers
Cloud hosting sometimes gets confused with a virtual private server, or VPS hosting. Both configurations rely on the virtualization of physical server resources.
Although a cloud server can be called a VPS, a VPS is not a cloud server.
Some of the best VPS hosting plans power their infrastructure with cloud networks to take advantage of server resources boasting high levels of redundancy and availability.
The optimized architecture streamlines operations for the cloud provider, who in turn can choose to pass the savings onto customers. Take a look at our recommendation for affordable cloud-powered VPS:
User-friendly hosting powered by Google Cloud
Isolated resources and integrated CloudFlare
Built on CloudLinux with LVE containers
Automated, daily backups and integrated caching
Instant setup with intuitive custom control panel
CLOUD
RATING 4.4 ★★★★★ Our Review
Hostinger: Our Expert's Review
Laura Bernheim (HostingAdvice.com): Hostinger offers something for everyone. From two cloud hosting plans that leverage the company's global datacenter presence to a premium service powered by Google Cloud Platform, you're sure to find what you need. Go to full review »
| Setup Time | Disk Space | CPU | RAM |
| --- | --- | --- | --- |
| 6 minutes | 20 GB SSD – 250 GB SSD | 2 – 6 cores | 3 – 12 GB |
Setting up your systems on a new cloud hosting plan isn't for faint-hearted beginners. Many choose to avoid the virtualization complexities by opting for managed hosting services, which often include assistance for software installations and updates, security tools, and performance optimizations.
Cloud service specialists perform both the complicated and the mundane tasks required to maintain healthy infrastructure and application stacks.
Hostinger ranks as one of the most affordable and user-friendly choices on this list. The cloud provider excels at combining the scalability and performance of the cloud with shared hosting simplicity.
Choose Linux or Windows cloud hosting
Up to 16 cores and 16TB of data transfer
Plenty of RAM and redundant cloud storage
FREE control panel and several OS options
Pay $.01 the first month with HOSTINGADV coupon code
CLOUD
RATING 4.3 ★★★★★ Our Review
InterServer: Our Expert's Review
Laura Bernheim (HostingAdvice.com): InterServer's on-site datacenter and hands-on involvement with configuring and provisioning cloud servers give customers a level of flexibility not seen with many other hosting providers. InterServer rations its VPS and cloud resources through slices. Go to full review »
| Setup Time | Disk Space | CPU | RAM |
| --- | --- | --- | --- |
| 6 minutes | 30 GB SSD – 480 GB SSD | 1 – 16 CPUs | 2 – 32 GB |
Microsoft's popularity in the desktop operating system space hasn't quite equated to server installations, but the subset of users are no less passionate. The Windows operating system enables site owners the flexibility of hosting ASP.NET or PHP websites, in addition to deploying either MySQL or Microsoft SQL databases.
Because Windows licenses are more expensive than frequently open-source Linux distributions, Windows cloud hosting can be more expensive. Nevertheless, hosts such as InterServer offer premium services tailored to the strengths of the operating system — Windows or Linux.
Ultra-fast SwiftServer platform with FREE SSDs
Quick Start Cloud configures servers in minutes
Root access and on-demand server controls
Optional Cloudflare web application firewall for added speed and security
Softaculous and cPanel upgrades available
CLOUD
RATING 4.6 ★★★★★ Our Review
A2 Hosting: Our Expert's Review
Alexandra Anderson (HostingAdvice.com): Champions of blazing-fast web performance, A2 Hosting pairs its high-powered infrastructure with cloud-based redundancy and scalability. Although computing resources are a bit less than competitors, each component is fine-tuned and optimized to the nth degree. Go to full review »
| Setup Time | Disk Space | CPU | RAM |
| --- | --- | --- | --- |
| 7 minutes | 150 GB SSD – 450 GB SSD | 1 – 8 cores | 1 GB – 32 GB |
A high-powered hosting provider known for blazing-fast SSD storage configurations, A2 Hosting brings performance innovation to traditional hosting services.
Each cloud virtual server can be configured with the hosting provider's proprietary Turbo software package that helps pages load up to 20 times faster than most competitors.
HostingAdvice fans get 75% OFF
Cloudflare CDN, DDoS protection, and backups
Performance-boosting SSDs and cloud flexibility
Rock-solid reliability with 100% uptime guarantees
24/7 Heroic Support

®

via phone, chat, and email
CLOUD
RATING 4.1 ★★★★★ Our Review
Liquid Web: Our Expert's Review
Alexandra Anderson (HostingAdvice.com): Liquid Web balances managed services and hardware power with cloud flexibility — a brilliant solution in cloud hosting. The company's packages include instant provisioning, CloudFlare CDN, built-in backups, and, of course, the reliability of the Heroic Support team. Go to full review »
| Setup Time | Disk Space | CPU | RAM |
| --- | --- | --- | --- |
| 7 minutes | 40 GB SSD – 200 GB SSD | 2 – 8 cores | 2 GB – 16 GB |
A premium cloud host across the board, Liquid Web particularly excels with premium managed services and support.
Liquid Web's platform features built-in redundancy that is primed to automatically scale to handle spikes in traffic.
Add in Liquid Web's expert management of firewalls, storage capacities, databases, and DNS settings, and we have zero qualms about recommending the company's superior managed hosting plans.
Top hardware powered by OpenStack and KVM
Instant provisioning and guaranteed resources
Options for 2-4 CPU cores and up to 8GB of RAM
Quickly manage and scale resources
Dedicated IP and domain privacy available
CLOUD
RATING 4.5 ★★★★★ Our Review
Bluehost: Our Expert's Review
Ryan Frankel (HostingAdvice.com): If you've outgrown shared hosting, Bluehost's platform is a great option. The company makes the transition from its own shared plans seamless. Go to full review »
| Setup Time | Disk Space | CPU | RAM |
| --- | --- | --- | --- |
| 6 minutes | 30 GB SSD – 120 GB SSD | 2 – 4 cores | 2 GB – 8 GB |
Another premium WordPress hosting provider, Bluehost also excels with cloud computing and managed services. The company's cloud VPS hosting packages also provide the backbone for many popular websites and businesses.
When you're talking about the best cloud server hosting, the top options provide reliable service at an affordable rate, while delivering a product that performs perfectly.
Whichever web hosting service you choose, Bluehost customers can rest easy knowing they can rely on around-the-clock customer support from one of the most trusted shared hosting brands on the planet.
Have You Found the Best Cloud Hosting Provider?
Now that you've seen our reviews of the top cloud hosting configurations and services, it's time to find that one tailor who understands and appreciates how your clothes need to fit.
One of the key differences between the best cloud hosting and shared hosting plans, aside from the infrastructure configurations, is the payment model.
The automation and vast network associated with cloud hosting enables providers to offer cheaper, pay-as-you-go solutions that can be scaled up or down at a moment's notice.
Look for companies that offer a range of scalable services and support teams that will tell you how great you look. To summarize, our favorite cloud hosting providers help your sites look and function at their best.
See Our Full Review of Cloudways
Whatever type of hosting plan you're looking for, Cloudways is a solid choice no matter the scale. Our reviewer Alexandra Anderson recently took Cloudways for a spin, and rated the popular host a 4.6 in the Cloud Hosting category out of a perfect score of 5.0. Here's what Alexandra had to say about Cloudways:
Offering the best of both worlds, Cloudways pairs high-powered infrastructure with the peace of mind of managed services. Choose your application, choose your cloud provider, and customize to your heart's content. With flexible configurations, pay-as-you-go pricing, and managed support, Cloudways is a win-win-win for cloud hosting customers.
Before signing up for Cloudways, it's a good idea to read through Alexandra's full review to learn about all the features Cloudways offers. You can also compare it to other web hosts to ensure you're getting the best deal possible:
If you decide Cloudways is the right choice, keep in mind that it takes just minutes to deploy your Cloudways server space. And at $7.50 per month, it's a bargain considering the many great features that come in any Cloudways plan.
Advertiser Disclosure
HostingAdvice.com is a free online resource that offers valuable content and comparison services to users. To keep this resource 100% free, we receive compensation from many of the offers listed on the site. Along with key review factors, this compensation may impact how and where products appear across the site (including, for example, the order in which they appear). HostingAdvice.com does not include the entire universe of available offers. Editorial opinions expressed on the site are strictly our own and are not provided, endorsed, or approved by advertisers.
Our Editorial Review Policy
Our site is committed to publishing independent, accurate content guided by strict editorial guidelines. Before articles and reviews are published on our site, they undergo a thorough review process performed by a team of independent editors and subject-matter experts to ensure the content's accuracy, timeliness, and impartiality. Our editorial team is separate and independent of our site's advertisers, and the opinions they express on our site are their own. To read more about our team members and their editorial backgrounds, please visit our site's About page.