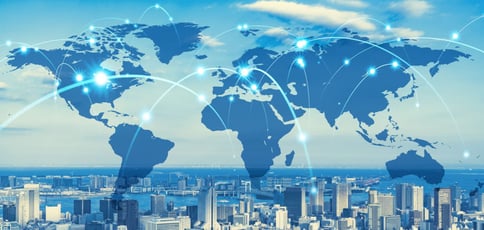 You may need to host a resource-intensive website or application away from your home country for different reasons, such as compliance, to reduce downtime, or to protect your data. Whatever the reason, a VPS will provide better performance, more control, and higher scalability.
But not every host you come across will guarantee a seamless experience. They say one man's trash is another man's treasure, and sometimes, that's how VPSes (and web hosting in general) work. Of all the years I've used VPSes, I've never heard of any that provides a one-fits-all solution. Each one is unique in its own way.
Fortunately, we've reviewed nine of the best hosting plans from the industry's top providers. These offshore VPSes are sure to offer reliable support and user-friendly features for anyone seeking the best offshore VPS hosting.
The Best Offshore Virtual Private Servers
Virtual private servers offer enhanced performance and scalability compared to entry-level shared hosting plans. They also don't cost nearly as much as dedicated servers but can power resource-intensive applications just as well. The following hosts offer the best VPSes your money can buy and have worldwide datacenters to fill all your offshore hosting needs.
Cloud VPS that's more flexible and affordable
Load balancer, firewall, and managed services
Premium Intel CPUs with 300% more power
Choose between monthly or hourly billing
Sign up today for a 30-day FREE trial
VPS
RATING 4.9 ★★★★★ Our Review
Kamatera: Our Expert's Review
Laura Bernheim (HostingAdvice.com): Backed by cutting-edge cloud computing technology, Kamatera adds instant and limitless scalability to the VPS hosting marketplace. Each cloud or virtual server is equipped with blazing-fast SSD storage and Intel Xeon Platinum CPUs. Go to full review »
| Setup Time | Disk Space | CPU | RAM |
| --- | --- | --- | --- |
| 5 minutes | 20 GB SSD – 4 TB SSD | 1 – 104 cores | 1 GB – 525 GB |
Kamatera is one of the most reputable providers of cloud hosting. That's unsurprising, given how heavily this offshore web hosting provider has invested in its infrastructure. For context, Kamatera has at least 18 datacenters located in climate-controlled environments across the following continents:
Europe: The United Kingdom, Spain, Italy, The Netherlands, Sweden, and Germany
Asia: Isreal and China
North America: The United States
But what I love the most about this offshore VPS hosting provider is that it lets you build your own hosting package from scratch. Besides choosing your preferred datacenter, you can also select the operating system of your choice and the amount of storage, RAM, processors, and IP addresses you need.
$2/month with no hidden fees
Try it FREE via 30-day money-back guarantee
Full root access and API
10GB to 240GB SSD, Linux or Windows
No throttling or traffic restrictions, ever
VPS
RATING 4.9 ★★★★★ Our Review
1&1 IONOS: Our Expert's Review
Alexandra Anderson (HostingAdvice.com): For an all-star player in the game of web hosting flexibility, look no further than the low-cost options from 1&1 IONOS. The company's vServers are a powerful VPS option that includes dedicated resources and unlimited traffic. Go to full review »
| Setup Time | Disk Space | CPU | RAM |
| --- | --- | --- | --- |
| 6 minutes | 80 GB SSD – 240 GB SSD | 1 – 8 cores | 512 MB – 24 GB |
Affordability is the first thing that comes to mind when I think of IONOS. I know I'm not the only one who gets second thoughts when they find a deal that sounds too good to be true. And in the world of web hosting, things are not so different. But that's IONOS for you. There's no catch; just a reliable and inexpensive host with datacenters in the following countries:
Europe: Germany, The United Kingdom, Spain, and France
North America: The United States
IONOS uses segmentation to keep its prices low, which is perfect since I can choose as little as 10 gigabytes of NVMe SSD storage or as much as 640 gigabytes. Of course, the more the resources, the higher the price. Even so, IONOS is far more affordable than most VPS hosting providers I've seen.
Turbo server & cache options for faster page loads
Well-built plans starting with 4GB RAM
FREE CDN plus auto-installs with Softaculous
Multilingual support and up to unlimited databases
Enhanced security with and daily kernel updates
VPS
RATING 4.8 ★★★★★ Our Review
A2 Hosting: Our Expert's Review
Alexandra Anderson (HostingAdvice.com): While A2 Hosting's turbocharged shared hosting platform gives site owners ample room to grow, the company's tech prowess is on full display with its portfolio of VPS options. Ranging from unmanaged, bare-metal environments to stress-free, fully managed space, A2 Hosting is sure to have the perfect option for your expanding online presence. Go to full review »
| Setup Time | Disk Space | CPU | RAM |
| --- | --- | --- | --- |
| 7 minutes | 150 GB SSD – 450 GB SSD | 1 – 8 cores | 1 GB – 32 GB |
A2 Hosting, one of the fastest web hosting companies I know, has datacenters across Asia, Europe, and North America. Here's a breakdown of the specific countries where you'll find its datacenters:
North America: The United States
Europe: The Netherlands and Singapore
This host offers managed and unmanaged VPS hosting services. If you need help setting up your hosting environment, the managed option should work for you. On the other hand, if you know a thing or two about the technical aspects of setting up an offshore VPS server, you'll be okay with the unmanaged option.
Managed or unmanaged, in Windows or Linux
Cloud hosting with hourly or monthly billing
Instant upgrades without downtime
FREE around-the-clock monitoring
Automatic nightly backups available
VPS
RATING 4.8 ★★★★★ Our Review
Hostwinds: Our Expert's Review
Laura Bernheim (HostingAdvice.com): Does any hosting provider have more virtual private server packages than Hostwinds. The company offers 10 configurations — and that's just for managed Linux server partitions. Go to full review »
| Setup Time | Disk Space | CPU | RAM |
| --- | --- | --- | --- |
| 6 minutes | 30 GB SSD – 750 GB SSD | 1 – 16 cores | 1 – 96 GB |
Hostwinds provides managed and unmanaged hosting plans for Windows VPS hosting and Linux. But first things first, let's check out its datacenter locations. You'll find them in the following areas:
North America: The United States
Europe: Amsterdam and The Netherlands
In addition, this host breaks down its prices into smaller packages, making it quite affordable. Whether you want a VPS for a small project running on a Windows server or something powerful for a resource-demanding website or application, you can always find the right hosting plan for your unique needs at Hostwinds.
Cloud-based SSD storage for speed and reliability
Double your RAM with burst periods
FREE dedicated IPv4 and IPv6 addresses
Custom control panel for reboots and OS installs
HostingAdvice readers enjoy more than 50% off
VPS
RATING 4.6 ★★★★★ Our Review
Hostinger: Our Expert's Review
Laura Bernheim (HostingAdvice.com): Hostinger's laser focus on providing affordable hosting solutions shines brightest with the company's VPS packages. The company provides six different virtual server plans, including one that costs less than $5. Go to full review »
| Setup Time | Disk Space | CPU | RAM |
| --- | --- | --- | --- |
| 6 minutes | 20 GB SSD – 250 GB SSD | 1 – 8 cores | 1 GB – 16 GB |
So far, I've covered VPS hosts with datacenters in Europe, North America, and Asia. Hostinger adds a new location in the picture: South America. This VPS host, known for its generous offers, has datacenters in the following locations:
North America: United States
Europe: The Netherlands and Italy
Asia: India and Singapore
South America: Brazil
The locations aside, Hostinger is one of my favorite web hosts for two reasons: affordability and generosity. When you sign up for the base VPS plan, you'll get one terabyte of bandwidth, a dedicated IP address, weekly backups, full root access, and an AI assistant.
Managed hosting services and security suite
Root-level access for customizability
NGINX Web Server Cache
Host migrations, daily backups, and server monitoring
5 FREE cPanel accounts
VPS
RATING 4.6 ★★★★★ Our Review
HostArmada: Our Expert's Review
Lynn Cadet (HostingAdvice.com): Powered by NGINX web servers, HostArmada's VPS plans deliver top-notch speed, scalability, and flexibility to power a fast-growing web presence. Unlike its other server types, HostArmada offers four VPS packages, and its Web Voyager plan is the most popular among them. Go to full review »
| Money Back Guarantee | Disk Space | Domain Name | Setup Time |
| --- | --- | --- | --- |
| 7 days | 50 GB SSD – 320 GB SSD | FREE (1 year) | 3 minutes |
We have a new datacenter and server location in our countdown, courtesy of HostAmarda. I recommend this host if you're looking for a datacenter location in the Oceania region, particularly Australia. In summary, HostArmada has datacenters in:
North America: The United States
Europe: Germany
Asia: India and Singapore
Oceania: Australia
Now, let's briefly unwrap HostAmarda's basic VPS plan. It comes with unlimited email accounts, MySQL databases, FTP accounts, websites, domains, and a free SSL certificate. Thanks to its powerful resources, this VPS is perfect for running resource-intensive websites or applications, such as gaming servers, eCommerce platforms, online courses, or anything else.
HostingAdvice readers get 67% off the first term
FREE site migrations and 2 hours of Launch Assist
2 – 3 dedicated IP address options
FREE cPanel/WHM licenses included
Highly available servers with real-time redundancy
VPS
RATING 4.6 ★★★★★ Our Review
InMotion: Our Expert's Review
PJ Fancher (HostingAdvice.com): Boasting market-leading VPS hardware, slick management software, and free SSD drives and backups, InMotion Hosting competes to win when it comes to managed VPS hosting packages. The host initiates its VPS customer relationship with free website migrations and up to two hours of launch assistance from an experienced sysadmin. Go to full review »
| Setup Time | Disk Space | CPU | RAM |
| --- | --- | --- | --- |
| 6 minutes | 90 GB SSD – 360 GB NVMe SSD | 2 – 8 cores | 4 GB – 16 GB |
InMotion Hosting packs an enormous punch with lightning-fast NVMe SSD drives. It won't give you as many datacenter locations as other offshore VPS hosts. But that's fine if you only need datacenters in Europe or North America. Below are your options:
Having limited datacenter locations doesn't mean this host is inferior. In fact, InMotion is best known for its quality and performance. Its base plan, for instance, comes with four CPU cores, four gigabytes of memory, 90 gigabytes of storage, and two dedicated IP addresses, which is quite a lot, judging by industry standards.
High-speed hosting that's faster than AWS, Rackspace, and Digital Ocean
FREE backups, CDN, and DDoS protection
Up to 16 processors with all-SSD storage
Choice between cPanel, Plesk, or InterWorx
Real-time monitoring and 100% uptime guarantee
VPS
RATING 4.5 ★★★★★ Our Review
Liquid Web: Our Expert's Review
Alexandra Anderson (HostingAdvice.com): It's no secret by now that Liquid Web is known for best-in-class technology and reliability that exceeds expectations. The company's cloud VPS environments embody that reputation to its fullest — including managed WordPress and WooCommerce products. Go to full review »
| Setup Time | Disk Space | CPU | RAM |
| --- | --- | --- | --- |
| 7 minutes | 40 GB SSD – 200 GB SSD | 2 – 8 cores | 2 GB – 16 GB |
Liquid Web's "family of brands" includes Liquid Web, Nexcess, and Stellar WP. Each brand offers value-packed hosting plans. Like InMotion, Liquid Web has datacenters in Europe and North America. These datacenters host more than 43,000 servers spread across the following countries:
North America: The United States
Europe: The Netherlands
Liquid Web is the perfect host for websites or applications with strict compliance requirements. I'm talking about PCI, ISAE, and ISO, among others. You name it, Liquid Web has it. Note that certain compliance requirements, such as the Digital Millennium Copyright Act (DMCA), only apply to websites hosted in the United States.
Fully managed cloud hosting with ultra-fast performance and scalability
FREE Cloudflare CDN and daily backups
SuperCacher, Git, and 1-click CMS installs
cPanel, SSH access, and private DNS setup
Dedicated IP address and iptables firewall
VPS
RATING 4.2 ★★★★★ Our Review
SiteGround: Our Expert's Review
Alexandra Anderson (HostingAdvice.com): When it comes to VPS hosting, SiteGround does things a little differently. Instead of managing a typical virtual private server network, the company created its very own cloud platform built from the ground up. Go to full review »
| Setup Time | Disk Space | CPU | RAM |
| --- | --- | --- | --- |
| 6 minutes | 40 GB SSD – 160 GB SSD | 4 – 16 cores | 8 – 20 GB |
SiteGround uses Google's cloud infrastructure to provide powerful VPS solutions. Widely known as a great WordPress hosting provider, this host has datacenters located on four continents:
North America: The United States
Europe: Germany, Spain, France, UK, and The Netherlands
Asia: Singapore
Oceania: Australia
On the downside, though, SiteGround costs more than most VPSes I've covered so far. But when you look at what it brings to the table, it's worth the price. For instance, its base VPS plan offers twice as much storage as your average VPS. Add that to the fact that it uses Google's cloud infrastructure for maximum performance and reliability, and everything makes sense regarding its pricing.
What Is Offshore VPS Hosting?
Offshore hosting refers to hosting your website on servers in a different country than yours. So, an offshore host could be anywhere in the world, depending on where you live.
Normally, when you sign up for a VPS (or any web hosting service), you want to choose a hosting provider with datacenters closest to your website visitors. This is because shorter distances lead to less server latency and faster website speeds.

For example, suppose I'm passionate about European soccer and want to run a forum or blog for soccer fans in Europe. In that case, it makes more sense to use European datacenters because they are closer to my intended target market.
That way, it reduces the distance data travels from the server to the website or application, boosting performance and creating a great user experience.
But there are other reasons you may need an offshore host. Some countries offer different privacy and compliance regulations than your home country. For example, datacenters in the European Union offer GDPR compliance.
Which Country Is Best for Offshore Hosting?
Ultimately, the best country will depend on your specific hosting needs. A great way to start searching is by identifying the reason you need an offshore host in the first place.
Some countries offer enhanced data protection regulations and are better for privacy, whereas others may offer better security and performance. Let's review some of the top choices below.
Switzerland: Best for Privacy
Switzerland has more than picturesque mountains and delicious cheese. Its strict data privacy laws and individual rights protections offer the perfect environment for datacenters.

Personal data is protected under the European Union's GDPR (General Data Protection Regulations). I recommend hosting your website or application in this country if you need data security and privacy for your users.
Singapore: Best Strategic Location
Located in Southeast Asia, Singapore is ideal for an offshore hosting service targeting the Asian market. Since Asia is the world's largest continent, setting up a strategically located datacenter makes it easier for hosting companies to target the entire Asian market.
Singapore also has the highest political stability score in the Asian region, which further explains why every top host would want to host its datacenters there.
Panama: Best for Tax-Friendliness
Panama is a popular offshore hosting destination and a tax haven, especially for foreign investors. This country also has some of the most privacy-friendly laws in the world, making it a perfect choice for businesses looking to combine data security and financial advantages.
The Netherlands: Best for Robust Network Infrastructure
The Netherlands is another offshore location that has popped up more than once in this review. This is the perfect datacenter location if high uptime and reliable connectivity are important to whatever website or application you intend to host.
On top of that, this country is known for following European Union data protection regulations, providing an added layer of data security for EU-focused services.
What Is the Best Country to Host a VPS?
The best country for VPS hosting will depend on the location of your target audience. You must first identify your target audience and then look for a host with datacenters closest to them.
Take, for example, a website or application that targets users in the Oceania region. In that case, an offshore web host with datacenters in Australia is the perfect choice. Remember, the primary goal is to reduce latency. Below, I'll explain more about latency and its impact on your web hosting experience.
Latency is the time it takes a packet of data to travel from its source to a particular destination. Think of how long it takes to visit the grocery store nearest your home. The longer the distance between you and the store, the more time you need to travel.
By reducing the latency, data travels faster, leading to a better user experience. Getting a VPS is a great start, but that's not all you need.

For example, when someone logs into YouTube and clicks on a video, that step triggers a reaction in the server's back end. It sends a message to the offshore server that a particular user wants to watch a video.
Remember, the server lives in the datacenter. The request to the server will travel in the form of a data packet. If the server or datacenter sits far from the user's location, the video will likely take longer to load due to the long distance between the two points.
That would lead to a bad user experience, which is also bad for business. YouTube has worldwide datacenters to support massive amounts of content, so your latency is low no matter where you live.
The best country to host a VPS isn't where the hosting company or you, the server administrator, resides. On the contrary, it's the one with datacenters in the country closest to your target market.
Which Is the Best Fully Managed VPS Hosting Plan?
You have many options, but Liquid Web comes top of the list. This host has everything you need to set up the perfect hosting environment for your application or website. It also lets you customize your management level from semi- to fully managed.
Choice of self-, semi-, or fully managed
Enterprise-grade Intel hardware
Linux or Windows operating system
RAID SSD storage for added speed
100% network uptime
MANAGED
RATING 4.9 ★★★★★ Our Review
Liquid Web: Our Expert's Review
Alexandra Anderson (HostingAdvice.com): It's no secret by now that Liquid Web is known for best-in-class technology and reliability that exceeds expectations. The company's cloud VPS environments embody that reputation to its fullest — including managed WordPress and WooCommerce products. Go to full review »
| Setup Time | Disk Space | CPU | RAM |
| --- | --- | --- | --- |
| 7 minutes | 40 GB SSD – 200 GB SSD | 2 – 8 cores | 2 GB – 16 GB |
Here's a recap:
Regarding security, Liquid Web provides DDoS protection, routine backups worth at least 50 gigabytes, ServerSecure protection, and a dedicated IP address.
Its performance card equally scores high. You'll have more than enough vCPUs, RAM, and bandwidth to tackle resource-intensive applications.
It provides great value for what you pay, with plans starting as low as $15.00 per month.
Add that to the 100% uptime guarantee, and you'll realize you have nothing to lose but so much to gain when you sign up for a VPS plan with this host.
Book Your Ticket to the Best Offshore VPS Hosting Provider
I hope you've found an offshore VPS host that checks all the right boxes for your unique requirements, such as compliance, budget, datacenter location, and performance.
Most of these hosts will get your hosting environment ready within minutes.
One more thing: you should decide whether you need unmanaged or managed hosting. The former works best if you have some technical knowledge and won't need much help setting up your VPS environment.
The latter, on the other hand, is best if you need help setting up your environment. It comes with most key features pre-installed, and all you'll need to do is plug and play or contact customer support for guidance.
Safe travels on your journey to finding the best offshore VPS host!
See Our Full Review of Kamatera
Whatever type of hosting plan you're looking for, Kamatera is a solid choice no matter the scale. Our reviewer Laura Bernheim recently took Kamatera for a spin, and rated the popular host a 4.9 in the VPS Hosting category out of a perfect score of 5.0. Here's what Laura had to say about Kamatera:
Offering an astounding 30-day free trial of its cloud computing and storage hosting plans, Kamatera is a great choice for developers who value performance and scalability. Beginning site owners may be a bit overwhelmed at first, but the web host's managed cloud services and always-there support team will help you through any issues.
Before signing up for Kamatera, it's a good idea to read through Laura's full review to learn about all the features Kamatera offers. You can also compare it to other web hosts to ensure you're getting the best deal possible:
If you decide Kamatera is the right choice, keep in mind that it takes just minutes to deploy your Kamatera server space. And at $4.00 per month, it's a bargain considering the many great features that come in any Kamatera plan.
Advertiser Disclosure
HostingAdvice.com is a free online resource that offers valuable content and comparison services to users. To keep this resource 100% free, we receive compensation from many of the offers listed on the site. Along with key review factors, this compensation may impact how and where products appear across the site (including, for example, the order in which they appear). HostingAdvice.com does not include the entire universe of available offers. Editorial opinions expressed on the site are strictly our own and are not provided, endorsed, or approved by advertisers.
Our Editorial Review Policy
Our site is committed to publishing independent, accurate content guided by strict editorial guidelines. Before articles and reviews are published on our site, they undergo a thorough review process performed by a team of independent editors and subject-matter experts to ensure the content's accuracy, timeliness, and impartiality. Our editorial team is separate and independent of our site's advertisers, and the opinions they express on our site are their own. To read more about our team members and their editorial backgrounds, please visit our site's About page.