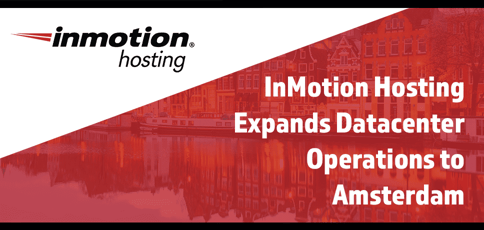 TL; DR: Web hosting and cloud services provider InMotion recently announced the opening of a new datacenter in Amsterdam, Netherlands. The expansion marks a significant milestone for InMotion, allowing the company to establish a presence in Europe and cater to a broader customer base. In a recent interview, InMotion's senior manager of sales and affiliate marketing Matt Bell provided insights into the company's journey toward the opening of the new datacenter and what is ahead.
Matt expressed to HostingAdvice that InMotion had been considering expanding its datacenter footprint for a number of years, but the final expansion decision was delayed due to the covid pandemic. However, with the pandemic behind us, coupled with the spin-out of InMotion's cloud hosting brand, OpenMetal, the time was right to begin implementing InMotion's datacenter expansion plan, starting with a new European location.
In addition, InMotion's other brand, RamNode, already had a datacenter presence in the Netherlands, and InMotion was able to negotiate a deal to combine both operations into one combined datacenter. Amsterdam was chosen as the location for the new datacenter due to its central location in the European Union (EU) and its popularity as a tech-heavy hub with excellent bandwidth connectivity.
Giving Customers More Location and Privacy Choices
A project years in the making, InMotion's Amsterdam datacenter got up and running relatively quickly once the company was ready to give it the green light.
Matt said when it came to bandwidth lines coming in and going out for a new datacenter, Amsterdam was a great hub to start in.
Amsterdam has a vibrant tech ecosystem and attracts tech professionals from all over the world. The city has a robust presence of cybersecurity companies, AI companies, and other innovations in the tech sector. Booking.com and TomTom are examples of tech companies that call Amsterdam home, putting InMotion in good company with its new facility.

"We are looking at further datacenter expansions to support our rapidly expanding global offerings. At this point, we are considering a few additional locations, but we will not make a final determination as to the next location until additional market research is completed." Matt said.
Matt continued by stating, "Amsterdam was just so popular and entrenched in the tech industry community that it was the obvious choice for the first of several international facilities to come."
Since its formation more than 21 years ago, InMotion has always been an international company, but not having an international datacenter presence meant being in compliance with GDPR in the EU was constantly a challenge.
"Without a European datacenter, we were handcuffed in offering our full product offering suite to certain organizations and individuals within the EU. This was due to their applications being required to be hosted in the EU as specified by the GDPR guidelines," Matt said. InMotion is now able to serve new organizations and consumers that require GDPR protection.
"Our goal is to provide our clients with the best possible hosting experience. This expansion will allow us to do that," said John Joseph, Director of Customer Success at InMotion, in a press release statement.
Lower Latency and Enhanced User Privacy
InMotion already has more than 170,000 customers worldwide, so the opportunity to better serve them and add new customers in those locations is huge.
Now that the long-awaited European expansion has come to fruition and more international expansions are in the pipeline, Matt said InMotion's customers will really benefit.
"Because we have customers all over the world, we'll start offering locations closer to them. Of course, datacenters and servers closer to a customer's home base means better performance and speed.
InMotion has many Middle Eastern customers who can also benefit from the new European datacenter. "Even though it is not specifically in their region, it will still improve their speed and latency," stated Matt.
Latency is the time it takes for requested data to travel from a server to the user's device, so as you can imagine, the closer a user is to the server in the datacenter, the better performance their website or application has.
The other important component of all of InMotion's datacenters, not just the new one in Amsterdam, is security.
According to InMotion's website, its datacenters include armed guards, hand scanners, and locked vaults "like sci-fi movies." InMotion takes the security of its datacenter and the privacy of its users very seriously.
Unique Features and Future Expansion
The new InMotion facility in Amsterdam gives European customers access to unique features like NVMe hardware, 99.99% uptime and security monitoring, refined UltraStack server configurations, and free SSL certificates that give customers premium malware and hack protection.
NVMe stands for non-volatile memory express, which is basically a faster way for your computer to store information, but it doesn't erase the data when your machine reboots. NVMe doesn't use the same drives as other hardware, so you can have faster performance.
"We are proud to be one of the only hosting providers to offer NVMe drives in our datacenters," John Joseph said in the press release. "Cutting-edge backup solutions and complete control over data privacy are also standards in our web hosting plans. We're committed to giving our clients the most reliable and innovative hosting services. Our state-of-the-art EU datacenter is one example of how we are fulfilling that commitment."
On top of all that, InMotion gives a money-back guarantee, and customers have access to its service and support teams that have won awards for their reliability and reputation.
In late 2022, InMotion announced it had updated its server infrastructure, including upgrading SSD storage, backup storage, and bandwidth across its packages for new and existing customers.
At that time, the company also added the Aspire dedicated server plan to its product line, which provides customers with a more affordable option for dedicated server hosting.
Apart from the new datacenter in Amsterdam and future international expansions, Matt said the company is still working on the rollout of Minecraft server hosting in the third quarter of 2023.
According to the InMotion website, Minecraft server hosting will include quick and easy setup, unlimited player slots, unlimited plugins and modification packs, and 24/7 server support.
In closing, Matt stated, "InMotion continues to roll out refreshes and updates to their products in order to provide all customers the best possible hosting experience."