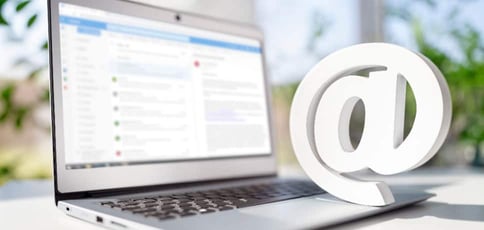 One of my biggest pet peeves with email marketing is when a 'marketing agency' sends an email using a free service provider like Gmail, Yahoo, and the like. We all start from somewhere, but that shouldn't be an excuse to overlook the importance of making an excellent first impression.
Countless studies have shown that one of the key things readers will look at before responding to an email is whether they can trust the sender. No reader will trust a marketing agency, or any business for that matter, that uses a free email service to find leads in this age of marketing. That's because anyone can open a free email account and send an email.
But it takes a serious business — one that cares about its overall image — to create a custom domain email. That alone builds trust between the sender and the recipient of the email. And what's better in the world of business than creating trust? That's the only way users will feel comfortable interacting with you in the first place.
So without further ado, I'll take you through some of the best custom domain email hosts.
FREE software for webmail, newsletters, contact forms, list management, and spam filtering
Unlimited inboxes, forwarding, and autoresponders
Secure POP3, IMAP, and SMTP messaging
Unlimited storage and transfer with FREE SSL
Get more than 75% off today (was $7.99/month)
EMAIL
RATING 4.9 ★★★★★ Our Review
A2 Hosting: Our Expert's Review
Alexandra Anderson (HostingAdvice.com): Combining the internet's most popular and secure email technologies with high-speed and reliable infrastructure, A2 Hosting ensures your messages are delivered on time. As a recipient, you'll appreciate the company's multiple spam filtering programs, along with autoresponders and forwarding. Go to full review »
| Money Back Guarantee | Disk Space | Domain Name | Setup Time |
| --- | --- | --- | --- |
| 30 days | 100 GB SSD – Unlimited SSD | New or Transfer | 4 minutes |
A2 Hosting has two professional email plans to boost your image: Professional and Pro Plus. The professional plan is best for individual use, while the Pro Plus plan works best for businesses.
No matter the plan you choose, A2 Hosting has some of the best security features in the world of email hosting. And if you choose to host your website with this host, you'll get free unlimited email accounts. Yes, you read that right!
Easily import contacts, messages, and calendars
FREE domain name with annual plan
1-click integrations with 50+ productivity tools
Collaborate with polls, shared to-do lists
Less than $1 per mailbox per month!
Get started on Hostinger now.
EMAIL
RATING 4.8 ★★★★★ Our Review
Hostinger: Our Expert's Review
Laura Bernheim (HostingAdvice.com): Showing major value, Hostinger email plans come complete with all the collaboration and productivity tools you'd expect from higher-priced hosts. We especially love the easy integrations with platforms like Twitter, Google Drive, and others. Go to full review »
| Money Back Guarantee | Disk Space | Domain Name | Setup Time |
| --- | --- | --- | --- |
| 30 days | 50 GB SSD – 200 GB SSD | FREE (1 year) | 3 minutes |
This is a perfect example of what a reliable but affordable email hosting service provider should be. Like A2 Hosting, Hostinger provides email hosting solutions for individuals and businesses.
This cheap email host even goes the extra mile to offer built-in calendar and contact functionalities. It's ideal if you're always on the go. Its compatibility with iOS and Android allows you to send and receive emails directly from your mobile device.
FREE domain and unlimited emails
Secure email with 3 webmail solutions
$200 in advertising credits with Google and Bing
Google app integration available
FREE Office 365 mailbox for your first 30 days
EMAIL
RATING 4.8 ★★★★★ Our Review
Bluehost: Our Expert's Review
Ryan Frankel (HostingAdvice.com): For email hosting with security and tons of available features, Bluehost is one of our favorites. The company includes a free domain name for a year, POP3 and IMAP security for unlimited emails, plus email forwarding and three web-based email solutions. Go to full review »
| Money Back Guarantee | Disk Space | Domain Name | Setup Time |
| --- | --- | --- | --- |
| 30 days | 10 GB SSD – 100 GB SSD | FREE (1 year) | 5 minutes |
Bluehost has a mouth-watering welcome package for new users. Among other things, it comes with a free custom domain you can use to set up unlimited professional email accounts.
Bluehost is also compatible with Google Workspace, formerly known as G Suite, giving you the best of both worlds: an affordable email hosting service and a host of tools you can use to collaborate with your team, manage your files, and boost productivity.
Business email with a personal consultant
Choice of IONOS mail, Microsoft 365, or Google Workspace mailboxes
FREE domain or transfer included
Create up to 500 email accounts
Premium tools for email marketing available
EMAIL
RATING 4.6 ★★★★★ Our Review
1&1 IONOS: Our Expert's Review
Alexandra Anderson (HostingAdvice.com): If the budget factor is on your mind when searching for a web host, rest easy. 1&1 IONOS has a wide range of packages, including reduced rates for the first few months (or year) and starter plans for all of their web hosting and website building services. Go to full review »
| Money Back Guarantee | Disk Space | Domain Name | Setup Time |
| --- | --- | --- | --- |
| 30 days | 10 GB – Unlimited | FREE (1 year) | 4 minutes |
1&1 IONOS is perfect for email integration thanks to its suite of email hosting tools and features. I like how it provides users with different options to choose from, given that each user has unique email hosting needs.
For example, the Mail Basic 1 plan best suits individuals who want a free domain with a professional email and limited storage space (two gigabytes). You can also integrate your email account with Microsoft Office 365 or Google Workspace, whichever works best for you, at a small fee.
FREE domain registration or no-downtime transfer
Unlimited SPAM Safe™ email with IMAP
1-click app installer and FREE marketing tools
Business-class hardware and eCommerce-ready
SSD storage plus FREE backups and SSL security
EMAIL
RATING 4.5 ★★★★★ Our Review
InMotion: Our Expert's Review
PJ Fancher (HostingAdvice.com): For business-class email hosting, look no further than InMotion Hosting. They offer a free domain name, SSD drive, and secure IMAP email, plus Google app integration with a three-step wizard. Go to full review »
| Money Back Guarantee | Disk Space | Domain Name | Setup Time |
| --- | --- | --- | --- |
| 90 days | 100 GB SSD – Unlimited | FREE (1 year) | 5 minutes |
InMotion Hosting has some great deals for new users but needs a little bit of digging around to discover the gem it really is. For context, the basic shared hosting plan (Core) does not come with a free domain but offers 10 free email addresses. If you upgrade to the Launch plan, you'll receive a free domain, which you can use to create unlimited emails.
The same applies to its reseller hosting package. This would work best if you're an agency looking for a great reseller host. You'll get unlimited email accounts to resell to your customers. If you want to learn more about reseller hosting and the best picks, our web hosting expert Laura Bernheim has covered everything in this article.
Unlimited email accounts and storage
FREE migration, domain, and SSL certificate
Webmail access via Horde and Roundcube
FREE SpamAssassin and weekly backups
Seamless G Suite upgrade for more productivity
EMAIL
RATING 4.4 ★★★★★ Our Review
HostGator: Our Expert's Review
Ryan Frankel (HostingAdvice.com): Woven into HostGator's well-appointed web hosting plans is all the email power you'll ever need. Unlimited addresses and storage, coupled with ready-to-go Horde and Roundcube webmail clients, combine with the host's high-class infrastructure to provide reliable and secure sending environments. Go to full review »
| Money Back Guarantee | Disk Space | Domain Name | Setup Time |
| --- | --- | --- | --- |
| 30 days | Unlimited | FREE (1 year) | 4 minutes |
HostGator is similar to InMotion Hosting when creating a custom domain email. When you sign up for its shared hosting plan, you'll get a free domain for the first year and unlimited emails.
My favorite thing about HostGator is its compatibility with many email clients. Whether you want to manage your emails from Thunderbird, Outlook, Eudora, iPhone, iPad, Mac, or even an Android device, HostGator is the master key that unlocks them all.
Unlimited email hosting at your domain
Compatible with multiple webmail and email clients
Secure email protocols and anti-spam solutions
Easy oversight via cPanel and FREE site builder
Ideal for business email hosting with 99.9% uptime
EMAIL
RATING 4.4 ★★★★★ Our Review
SiteGround: Our Expert's Review
Alexandra Anderson (HostingAdvice.com): SiteGround offers excellent email hosting services — compatible with all major webmail and email clients, including RoundCube and Outlook. Email hosting customers get unlimited email accounts at their domain, secure email protocols, and SPAM filters. Go to full review »
| Money Back Guarantee | Disk Space | Domain Name | Setup Time |
| --- | --- | --- | --- |
| 30 days | 10 GB SSD – 40 GB SSD | New or Transfer | 6 minutes |
You can take advantage of the free domain name SiteGround offers to new users to create unlimited email accounts. But there's more that awaits you at SiteGround.
Its most basic plan comes with 10 gigabytes of storage space, a free CDN, free SSL, and unmetered traffic. It is also compatible with some popular email clients, including Mac Mail, Mozilla Thunderbird, and Microsoft Outlook.
What Is Email Hosting?
Email hosting is a type of email service that allows you to create and manage professional email accounts using your own domain name, such as "yourname@yourdomain.com," rather than relying on generic email services like Gmail or Yahoo. This service comes equipped with email server infrastructure, storage space, and various email management tools by a hosting provider.
What Is a Custom Email Domain?
When you choose a personalized domain name, such as "YourBusinessName.com," you can use that domain also for your emails, such as Support@YourBusinessName.com. That's what a custom email domain is all about. In other words, it refers to creating a professional email address that matches your domain name.
What Is the Difference Between a Domain and an Email?
A domain isn't the same as your email. On one hand, the web address, also known as the URL, identifies a specific website or a network of computers on the internet. This would be something like "www.YourBusinessName.com" as the web address and "YourBusinessName.com" which represents the domain.

An email, on the other hand, is a way of sending and receiving electronic messages over the internet. A typical email address has two sections: the local part (before the "@" symbol) and the domain part (after the "@" symbol).
The local part is what you use to identify yourself or the purpose of the email. For example, "Sales@" followed by the domain. Using the domain example above, such an email would read: "Sales@YourBusinessName.com."
Should I Use a Custom Domain for My Email?
A custom domain has many benefits, no doubt about that. But before you choose one, ask yourself: Do you really need it?
The truth is, not everyone needs a custom domain for their emails. So, how do you tell if you do or do not need it?
You Don't Need a Custom Domain Email to Communicate With Friends
If you want to create an email you can use to communicate with friends and family, a custom domain email is an overkill. The same applies if you need an email account to sign up for Netflix, Hulu, Amazon, or any online service that asks for your email address. But if you want to create an email for professional reasons, a custom email domain is what you need to make you or your business seem legitimate and establishes your brand identity in the eyes of whoever reads the email.
You Want to Make Readers Recognize and Remember Your Brand
A custom domain email can communicate on behalf of your brand. It creates consistency across your website, email, and other communication channels, which in turn builds trust and puts your brand on the map.
You Want More Control Over Your Email Addresses and Accounts
The 'username is already taken' message you often see when creating a free email account should be a problem of the past with a custom domain email. That's because it is unlikely that someone else will use a domain that bears your brand's identity to create their own email address (unless it's an inside job, which you should be able to see from your admin dashboard).

Here's what control does. Let's say you're a business owner. You can create specific email accounts for different purposes or departments, such as sales@yourdomain.com or support@yourdomain.com. That makes it easier to sort and route your emails to the most appropriate inbox. As a result, you won't have to sort through your marketing emails hidden within a stack of job applications and important internal emails.
Believe it or not, hackers also target email accounts because they know there's so much information they can potentially harvest by getting access to your email. Custom email domains often provide better security features, including advanced spam filtering, encryption options, and secure email access protocols, to protect your sensitive information and ensure the privacy of your communication with your contacts.
You're Thinking About the Future
Scalability is another reason you should consider getting a custom domain for your email. To give you some perspective, I recently received an email from Gmail (the free version) informing me that I had reached my storage limit.
Google gave me two options: upgrade to a paid version to increase my storage or delete some of my files (including emails) to create extra storage space. In the end, I switched to SiteGround, one of the best domain email service providers I know.
Now I can create unlimited email accounts and spread everything into different email addresses with unique local identities (e.g., sales, jobs, contact). That way, I won't have to worry about my inbox filling up too fast and having to delete important files or upgrade my hosting plan.
How Much Does Email Hosting Cost?
Email hosting doesn't come with a standard price. Factors such as the hosting provider and the features and resources included will ultimately determine the cost. That said, you should expect to spend between $2 to $50 per user per month.
Let's take a quick look at some factors that can influence how much you'll pay for email hosting.
Shared email hosting is usually the most affordable option. As the name implies, this is when multiple users share the same server resources that host the email accounts.
Besides sharing the same server and resources, they also share the costs involved. It's like renting a huge house and sharing the mortgage costs by inviting roommates to rent different rooms within the house. This type of hosting works best for individuals, small businesses, or organizations with basic email needs.
Some hosting providers also offer business hosting plans curated for businesses or organizations that require advanced features and more robust email management capabilities. These emails typically come with larger storage capacities. For example, A2 Hosting offers at least 30 gigabytes worth of storage space. Google Workspace offers one terabyte of storage.

These emails also come with advanced security features, collaboration tools (such as Google Workspace and Office 365), and integration options with other business software. That explains why a Hostinger email integrates with different email providers, such as Microsoft Exchange and Zoho Mail, but some free email hosting providers won't.
If you opt for more resources, such as those offered by dedicated email hosting, you'll end up paying more for your custom domain email. That's because dedicated hosting commits its server resources exclusively to your email services. Although you'll have to dig deeper into your pockets, this option offers greater control, performance, and security.
Dedicated email hosting is quite common in industries that require high levels of email security. I'm talking about government agencies, healthcare providers, and the like.
The good thing about custom domain email hosting is that you can choose what works best for your specific needs at that particular moment and then scale up as your email needs grow. But to find the best plan for your needs and budget, you must carefully review the features, storage limits, security measures, customer support, and scalability options included in each plan.
What Are POP3 and IMAP?
Post Office Protocol 3 (POP3) and Internet Message Access Protocol (IMAP) are two of the most common email retrieval protocols that define how email clients communicate with email servers to retrieve and manage email messages.
POP3 works in a more simplistic manner compared to IMAP. Here's an overview of the email exchange process using POP3.
When an email client uses POP3 to retrieve emails, it connects to the email server and downloads the messages to the client's device. This email protocol downloads emails from the server by default and deletes them from the server after downloading.

SIDE NOTE: Due to changes in email technology, some email clients will allow you to leave a copy of the messages on the server in case you want to refer back to them sometime in the future.
Because POP3 downloads email into the user's device, it works best for offline access to emails.
IMAP, on the other hand, keeps the messages on the server and synchronizes the client with the server. As a result, you can view and organize your emails on multiple devices while keeping them stored on the server.
Think of a free Gmail account as an example. As long as you have access to the internet, you can read your emails from different devices. That's because IMAP stores your email on the cloud (server) and grants access anywhere, any time, and on any device as long as you have the correct login credentials.
How Much Email Storage Do I Need?
Regarding the amount of email storage you need, the first thing you should do is check your individual usage patterns. How many emails do you intend to receive and send on a daily, weekly, or monthly basis?
Also, what is the average size of attachments you typically handle within that time frame? If you regularly receive emails with large attachments, such as images or documents, you will need more storage to accommodate these files.
The reason for needing an email account can help determine the amount of storage required. A business account will require more storage due to increased email traffic and the need to retain important communications for longer periods. On the other hand, a personal email account can do without huge storage space. In most cases, 10 gigabytes of storage is more than enough.

Think about your plans for the future. Do you anticipate potential growth in your email storage needs? For example, say you intend to market a certain product or service to a large number of potential customers and will need them to communicate with you via email. That's a good reason to invest in a significant amount of storage to avoid any inconvenience in the future.
What Are Some Good Features To Look For in a Custom Domain Email Host?
I'm usually very selective when choosing a custom domain email host. That's because I've had some bad experiences with a few hosts, and I wouldn't want you to experience the same. Here's how to go about shopping for the right email host.
Its Reputation Sums Up Everything You Need to Know
You should only choose an email host with a reputation for high uptime and reliable performance. For example, A2 Hosting has a 99.9% uptime commitment thanks to its Turbo Servers optimized for speed and performance. As a result, you'll sleep peacefully knowing that you won't miss important emails simply because your email service provider couldn't stay up.
Think About the Amount of Storage You Need
I covered this earlier, but there's no harm in mentioning it once again. For the umpteenth time, having sufficient storage ensures you can store all your email messages, attachments, and other data without limitations. Make sure you understand your usage levels and use that as inspiration to choose the best storage.
Don't Compromise Your Email's Security
Email security is also one of the things I take seriously, especially with the rising cases of phishing over the past few months. Don't hesitate to swipe left if the email host does not provide security features such as encryption, spam filtering, virus scanning, and protection against phishing attacks.
Consider Your Plans for the Future (Again)
One thing you need to know about email storage is that it is never constant. The more you receive emails and other files, the faster your storage fills up. So you shouldn't lean back and relax thinking you've found the perfect storage space — it will fill up sooner than later.

This doesn't mean you should invest in tons of storage space, especially if you don't need it at that particular moment. Instead, find out whether the email host can accommodate your future needs. A good host should offer scalable plans or options to easily upgrade your storage and user limits.
It's Not Worth Your Time If It's Not User-Friendly
You shouldn't have to navigate tons of features to send and receive emails. That's why it is important to choose an email provider that offers an intuitive and user-friendly email interface. Regarding user-friendliness, SiteGround takes home the top prize. This email host makes it easier to manage and organize emails thanks to its clean and responsive webmail interface.
Don't Get Carried Away – Remember Your Teammates
Think about the team you work with (if any) and the collaboration tools they use. Email hosts that support features such as shared calendars, address books, task management, and file sharing are perfect for teamwork. They help boost productivity and streamline communication within your organization. That's one of the reasons I recommended Hostinger earlier if you're looking for an email host for your team.
Mobile Access Comes First Followed By Your Personal Computer
More than 80% of users access the internet through their mobile devices. A mobile-enabled email host means you can read and respond to your emails from anywhere within seconds as long as you have a good internet connection. Again, Hostinger scoops the top prize here — its email service works with both Android and iOS.
Opt for Data Protection and Security
From my experience with email hosting, I'd rather be safe than sorry. I don't like stressing over the possibility of losing all my emails if someone presses the wrong button.

And I advise you to do the same. Check if the email host offers automatic backups of your email data or allows you to do so manually to protect your data from accidental deletion or loss.
'Excellent' Should Be the Bare Minimum Rating for Customer Service
Lastly, the quality of customer service matters. You're probably wondering: What could possibly go wrong with an email account? Everything could.
From an influx of those annoying spam emails to low delivery rates, a bad day in the office can test your patience. I'm not saying there is any perfect email host out there that is completely immune to technical problems of any kind.
But it is totally up to you to settle for a host that responds to your needs 24 hours a day, 7 days a week. That alone could be the difference between closing an important deal with a potential client or getting a negative review.
What Is the Difference Between an Email Host and Email Client?
An email host is what is popularly known as an email server or mail server. This is a computer or a system that stores, sends, and receives email messages. It handles the storage and delivery of emails between different email addresses. Popular examples include Gmail, Microsoft Exchange, and Zoho Mail.

On the other hand, an email client, commonly known as a mail client or email application, is the software you use to send, receive, read, and manage your email messages. You'll find this software on your mobile device or computer. It offers the interface you need to interact with your email account hosted on an email server.
Remember when I discussed POP3 or IMAP? Those are some of the protocols the email client uses to communicate with the host when receiving or sending messages. With an email client, you can compose emails, organize messages into folders or labels, manage contacts, set up filters, and more. Some examples of popular email clients include AOL Mail, Gmail, ProtonMail, Microsoft Outlook, Yahoo Mail, and Mozilla Thunderbird, Apple Mail.
Take Control of Your Email With the Right Domain Email Host
Custom domain email hosts have revolutionized the world of email communication. Now is your time to create the right impression when communicating via email, especially if you are a small business owner trying to reach out to potential clients. Having a professional email coupled with the best email hosting service can knock down doors you never thought possible.
Further Reading: "7 Best: Custom Domain Email Hosts (Oct. 2023)"
Hopefully, our recommendation of A2 Hosting fulfills all your web hosting needs. Starting at just $2.99 per month and rated 4.9 overall, A2 Hosting gives users plenty of bang for the buck. Among our favorite features:
FREE software for webmail, newsletters, contact forms, list management, and spam filtering
Unlimited inboxes, forwarding, and autoresponders
Secure POP3, IMAP, and SMTP messaging
Unlimited storage and transfer with FREE SSL
Get more than 75% off today (was $7.99/month)
If you'd like recommendations similar to A2 Hosting and others in 7 Best: Custom Domain Email Hosts (Oct. 2023), check out these popular guides. You'll find comparisons of A2 Hosting to other hosts on pricing, features, support and more:
And of course, if A2 Hosting is your top choice, you can get started now at just $2.99/month. A2 Hosting is easy to set up and scale, no matter the size of your next project.
Advertiser Disclosure
HostingAdvice.com is a free online resource that offers valuable content and comparison services to users. To keep this resource 100% free, we receive compensation from many of the offers listed on the site. Along with key review factors, this compensation may impact how and where products appear across the site (including, for example, the order in which they appear). HostingAdvice.com does not include the entire universe of available offers. Editorial opinions expressed on the site are strictly our own and are not provided, endorsed, or approved by advertisers.
Our Editorial Review Policy
Our site is committed to publishing independent, accurate content guided by strict editorial guidelines. Before articles and reviews are published on our site, they undergo a thorough review process performed by a team of independent editors and subject-matter experts to ensure the content's accuracy, timeliness, and impartiality. Our editorial team is separate and independent of our site's advertisers, and the opinions they express on our site are their own. To read more about our team members and their editorial backgrounds, please visit our site's About page.