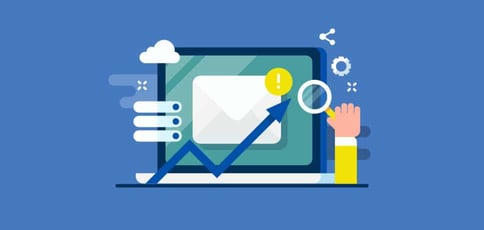 Email may seem like an ancient relic compared to today's more modern communication and collaboration channels, such as Slack and Microsoft Teams. But it remains one of the most effective ways to communicate for internal and external stakeholders, which is probably why a phaseout of its usage won't happen anytime soon.
Unsurprisingly, email continues to be a driving force in office workplace communication. It is ubiquitous, transparent, and organized, providing an efficient and accessible way for everyone to share thoughts and files and streamline collaboration. Companies can use it to market to customers, keep tabs on employee projects, and speak to external sources. That is why many small businesses prioritize email hosting packages for their employees and workflows.
Email hosting is an excellent option for users to run their email operations, especially for small businesses. It's comprehensive and fully loaded with features to help users personalize their email communications and branding output. Different email providers offer various feature sets and include an array of performance metrics and account layouts.
Understanding what you need from an email package can help you make a better choice for your company or brand. Small businesses will probably need multiple accounts and expansive storage to accommodate their growing workplace and operations. Below, we will discuss the best email hosting for small businesses and which features can help you determine whether a plan will lead you to accomplish your unique brand goals.
Bluehost: Best Overall
Bluehost is a fantastic starter host for users of all kinds. If WordPress is your go-to resource for website building, Bluehost can provide you with the tools to not only leverage the CMS efficiently but also grow your business. Its platform is easy to use, comprehensive, and functionally designed, making navigation a breeze. Whether you need domain registration, blogging, or email hosting, Bluehost can give you everything you need to set up a business-based website.
As for email hosting, users can choose from two options: Google Workspace or a webmail solution. The Google Workspace application can be seamlessly integrated into the Bluehost control panel for easy navigation with Meet conferencing, Docs, and other essential Google features included. Bluehost also offers two webmail solutions, which are Roundcube and Horde.
FREE domain and unlimited emails
Secure email with 3 webmail solutions
$200 in advertising credits with Google and Bing
Google app integration available
FREE Office 365 mailbox for your first 30 days
EMAIL
RATING 4.8 ★★★★★ Our Review
Bluehost: Our Expert's Review
Ryan Frankel (HostingAdvice.com): For email hosting with security and tons of available features, Bluehost is one of our favorites. The company includes a free domain name for a year, POP3 and IMAP security for unlimited emails, plus email forwarding and three web-based email solutions. Go to full review »
| Money Back Guarantee | Disk Space | Domain Name | Setup Time |
| --- | --- | --- | --- |
| 30 days | 10 GB SSD – 100 GB SSD | FREE (1 year) | 5 minutes |
With Bluehost email hosting, businesses can create email addresses that match their domain names and deliver ample resources and storage for each employee they onboard. And its plans are affordable and can fit almost any budget, making it ideal for a small business' annual spending limit.
A2 Hosting: Best Performance
A2 Hosting can make an excellent fit for users in search of top-notch performance for their web and email hosting needs. Known for its Turbo servers, A2 Hosting specializes in fast-paced hosting solutions that deliver up to 20 times faster loading speeds and seamless web experiences for end users. Similar to Bluehost, A2 Hosting also provides a holistic email solution fitted with essential marketing and security tools.
FREE software for webmail, newsletters, contact forms, list management, and spam filtering
Unlimited inboxes, forwarding, and autoresponders
Secure POP3, IMAP, and SMTP messaging
Unlimited storage and transfer with FREE SSL
Get more than 75% off today (was $7.99/month)
EMAIL
RATING 4.9 ★★★★★ Our Review
A2 Hosting: Our Expert's Review
Alexandra Anderson (HostingAdvice.com): Combining the internet's most popular and secure email technologies with high-speed and reliable infrastructure, A2 Hosting ensures your messages are delivered on time. As a recipient, you'll appreciate the company's multiple spam filtering programs, along with autoresponders and forwarding. Go to full review »
| Money Back Guarantee | Disk Space | Domain Name | Setup Time |
| --- | --- | --- | --- |
| 30 days | 100 GB SSD – Unlimited SSD | New or Transfer | 4 minutes |
A2 Hosting offers webmail solutions and email packages powered by Titan. With both options, users receive 24/7/365 Guru Crew Support from A2 Hosting and a hassle-free money-back guarantee. A2 Hosting supports IMAP, POP, and SSL protocols, giving users a flexible and secure email experience. Speaking of security, its professional email hosting service also comes with advanced spam and virus protection that filters all inbound emails to reduce exposure to malware and junk mail.
Users can create unlimited email addresses and receive 10 GB of storage space per account. A2 Hosting also allows users to enjoy a host of features, including email backups, contacts and calendars, mobile access, and read receipts.
1&1 IONOS: Best Premium Features
IONOS is a popular budget host that provides reliable and performant hosting. Users looking for scalable resources and a platform to grow with can leverage IONOS to find what they need to run their business and web-based needs. Most of its plans offer free domain registration, SSL encryption, and professional email to help customers hit the ground running to build their brands. For email services, IONOS has email-focused and collaboration-based plans.
Business email with a personal consultant
Choice of IONOS mail, Microsoft 365, or Google Workspace mailboxes
FREE domain or transfer included
Create up to 500 email accounts
Premium tools for email marketing available
EMAIL
RATING 4.6 ★★★★★ Our Review
1&1 IONOS: Our Expert's Review
Alexandra Anderson (HostingAdvice.com): If the budget factor is on your mind when searching for a web host, rest easy. 1&1 IONOS has a wide range of packages, including reduced rates for the first few months (or year) and starter plans for all of their web hosting and website building services. Go to full review »
| Money Back Guarantee | Disk Space | Domain Name | Setup Time |
| --- | --- | --- | --- |
| 30 days | 10 GB – Unlimited | FREE (1 year) | 4 minutes |
IONOS partners with leading email provider Microsoft to offer two plans, including packages from hosted Microsoft Exchange and Microsoft Office. Users can also have remote access to Microsoft Outlook and enjoy secure hosting with a georedundant architecture enabling fast failover times.
Its professional business email plans are also effective and have premium features, including spam filters, email marketing, and personal consultation. Users can scale easily between plans to meet their needs on their own time.
InMotion Hosting: Most Secure
Anyone who uses email as a primary communication tool understands the importance of email security. Unwanted junk mail and phishing scams can seriously hurt your business by flooding it with spam and putting sensitive information at risk. Fortunately, InMotion Hosting prioritizes secure, business-class hardware that offers reliable hosting and an email service backed by advanced security features.
FREE domain registration or no-downtime transfer
Unlimited SPAM Safe™ email with IMAP
1-click app installer and FREE marketing tools
Business-class hardware and eCommerce-ready
SSD storage plus FREE backups and SSL security
EMAIL
RATING 4.5 ★★★★★ Our Review
InMotion: Our Expert's Review
PJ Fancher (HostingAdvice.com): For business-class email hosting, look no further than InMotion Hosting. They offer a free domain name, SSD drive, and secure IMAP email, plus Google app integration with a three-step wizard. Go to full review »
| Money Back Guarantee | Disk Space | Domain Name | Setup Time |
| --- | --- | --- | --- |
| 90 days | 100 GB SSD – Unlimited | FREE (1 year) | 5 minutes |
InMotion Hosting offers cPanel with hosting plans that enable you to create unlimited email accounts and track your webmail management. Its business email hosting service has secure IMAP support and allows users to make email addresses that match their domain names. Emails are also synced across devices, making them readily available at all times.
InMotion Hosting provides Unlimited SPAM Safe™ protection with every email solution for the best mailbox experience. Users also have the choice to opt for Google Workspace as their primary email software at checkout.
Hostinger: Most User-Friendly
Hostinger offers fantastic value for its price. Businesses don't have to spend much to leverage its high-performing and secure hosting environment, which makes it accessible for various users. But pricing is not the only aspect that highlights its commitment to accessibility.
Its platform is simply designed and easy to operate, regardless of your technical background. Hostinger has its own control panel, hPanel, that makes managing everything from domains to email accounts hassle-free.
Easily import contacts, messages, and calendars
FREE domain name with annual plan
1-click integrations with 50+ productivity tools
Collaborate with polls, shared to-do lists
Less than $1 per mailbox per month!
Get started on Hostinger now.
EMAIL
RATING 4.8 ★★★★★ Our Review
Hostinger: Our Expert's Review
Laura Bernheim (HostingAdvice.com): Showing major value, Hostinger email plans come complete with all the collaboration and productivity tools you'd expect from higher-priced hosts. We especially love the easy integrations with platforms like Twitter, Google Drive, and others. Go to full review »
| Money Back Guarantee | Disk Space | Domain Name | Setup Time |
| --- | --- | --- | --- |
| 30 days | 50 GB SSD – 200 GB SSD | FREE (1 year) | 3 minutes |
Users can choose from webmail, Google, or Titan email solutions. Hostinger does a great job at making its email hosting comprehensive, with plans decked with marketing tools, advanced security, and productivity applications.
Hostinger also includes free email accounts in its hosting plans. The number of available accounts varies per plan, but scaling is easy with Hostinger, enabling businesses to grow over time.
Other Email Hosting Providers
ScalaHosting: ScalaHosting has one of the best email hosting services out there. Its comprehensive email hosting packages all users need to set up and manage an efficient email stream, including a free domain and advanced spam protection. Starting with its hardware, ScalaHosting's interconnected email servers offer automatic backups and multidevice support and ensure improved inbox delivery with frequent optimization checks.
Leaning on its expertise as a reliable web hosting company, ScalaHosting also does a fantastic job of providing expert support to aid its customers through their user journey. Its customer support team is available around the clock to help with email inquiries. They also migrate customer emails to their new inbox free of charge with no downtime.
1-click install for WordPress, Drupal and 400 others
Unlimited email accounts, databases & bandwidth
24/7 tech support for beginners and pros alike
12-month or 36-month plan at $2.95/month
Anytime unconditional money-back guarantee
EMAIL
RATING 4.7 ★★★★★ Our Review
ScalaHosting: Our Expert's Review
Laura Bernheim (HostingAdvice.com): It's tough to argue with a shared hosting service that comes with all-SSD storage and unlimited bandwidth, databases, and email accounts. ScalaHosting provides all the above and several other premium features for a very affordable price. Go to full review »
| Money Back Guarantee | Disk Space | Domain Name | Setup Time |
| --- | --- | --- | --- |
| 30 days | 10 GB SSD – 2 TB SSD | FREE (1 year) | 6 minutes |
Zoho Mail is a popular email provider that prides itself on delivering secure and privacy-guaranteed email services. Businesses can appreciate its email interface, which prioritizes email security while remaining user-friendly and professional. Zoho Mail's datacenters have built-in security and surveillance to ensure 99.9% uptime, and its email hosting supports end-to-end encryption for data protection.
On its extensive control panel, Zoho Mail allows customers to navigate multiple tasks and manage customizations and configurations. Users can also create custom domain-based email addresses for their accounts.
If you're looking for a business-class experience, Rackspace Email will surely be one of your best bets. Rackspace specializes in creating email experiences for small businesses and offers a suite of solutions to help facilitate communication and collaboration for an affordable price. Every email hosting plan comes with 25GB mailboxes, 24/7/365 support, free migrations, a 100% uptime guarantee, and premium spam and virus protection.
Rackspace built its email service to enable users to scale as they grow their businesses. Users can add what they need and scale whenever they want because Rackspace doesn't require long-term contracts. Rackspace is a flexible solution that allows users to manage their mailboxes from anywhere and at any time.
What is an Email Server?
An email server, also known as a mail server, is a computer that sends and receives email messages. Mail servers are the backbone of email hosting and drive the process behind the email experience. Although this process is blazing fast, email messages go through multiple mail servers before arriving at their final destination.
For an email host to operate a mail server, it must install mail server software on its computer to turn it into a mail server. This software is crucial because it allows email hosts to make and manage email accounts for any domain hosted on its servers. That is also why users can create email addresses with their custom domain names attached.

Two types of mail servers exist: mail transfer agents and mail delivery agents. Mail transfer agents handle outgoing mail, while mail delivery agents receive incoming messages. These servers are the primary operators of the email transfer process.
But mail clients also play a role. A mail client is a program that receives and stores emails and serves as the mediator. Examples of mail clients include Microsoft Outlook and Gmail. Mail servers and mail clients work in tandem to facilitate a messaging system.
The messaging system starts with a sender's mail client forwarding a message to a mail transfer agent (MTA), which retrieves the outgoing mail and delivers it to a mail delivery agent (MDA). The MDA temporarily stores the message and then transfers it to the recipient's mail client.
What are Email Protocols?
Mail servers also use another tool called email protocols to send messages between mail clients. These protocols enable the messaging system by communicating to servers how to process incoming requests, the forwarding location, and how to transfer them to the recipient's mail client. Below, we'll go more in-depth on each protocol and the role each plays in processing messages.
The first protocol we will discuss is Simple Mail Transfer Protocol (SMTP), which allows mail servers to move messages from one mail client to another. The mail transfer agent uses it to facilitate the outgoing mail process before sending an email to the recipient's mail client.

SMTP checks the sender's email envelope, which includes the sender's and recipient's email addresses and data, to determine where to send the email message. To complete this action, SMTP uses the Domain Name System to translate the recipient's domain into an IP address.
After that, it queries mail exchange records to find the mail delivery agent and how to route the message to its final destination.
The other two protocols come into play once the mail exchange records provide the correct location. They allow the mail delivery agent to retrieve the email message from the outgoing mail server and transfer it to the appropriate mail client.
These two incoming protocols are Post Office Protocol (POP) and Internet Message Access Protocol (IMAP):
POP is used when a user needs to retrieve and download messages from a mail server to a local computer. Once the local computer stores the emails, they are no longer accessible from the email service. That means users can only see those downloaded messages from their computers.
IMAP allows users to access their email wherever they are because the email service facilitates the download and storing process. Since the messages remain stored on the mail server, IMAP can download them whenever someone clicks them. It also enables messages to sync across devices.
Email hosting companies usually offer support for both protocols. Determining which will work best for your small business will be up to you and is a crucial step to the outlook of your email communication.
What's the Difference Between Webmail Accounts and Email Apps?
Choosing an email hosting provider comes with a lot of questions and options. A popular choice that most hosts pose is the choice between a webmail account or an email application. These two options offer different email experiences, and knowing the difference between the two will help you determine which is best for your business operations.
Let's start with webmail. Webmail has a fitting name as it means exactly what it sounds like. It refers to web-based email clients that offer their email hosting services over the internet for users to access. Most webmail providers are free and accessible anywhere since it is browser-based.
Webmail is extremely popular, and most people have a webmail account, even if it's for individual use. Examples of webmail accounts include Gmail and Yahoo. Hotmail, which launched in 1996, is among the earliest versions of webmail.

Email applications, on the other hand, are not web-based and instead are installed on a computer desktop. These apps are programs used to store and manage email inboxes on a device. They typically interact with an email service to receive and send messages. That also means users can add any email account to the app. As examples, Microsoft Outlook and Apple Mail are two of the most prevalent email applications today.
Although webmail is free and accessible from anywhere, email apps do have a leg up on it in some areas. Since email providers offer free webmail accounts, they list advertisements on their platform for profit. Most email apps require paid licenses for access, which removes the possibility of ads. Email applications are also built for better integration with other productivity applications, making them ideal for many companies.
Why Should Businesses Leverage a Custom Domain Email?
Branding is everything for businesses. It is a company's namesake and reputation and how customers can distinguish it from its competitors. Good branding helps drive company value, develop trust, inspire employees, and generate new leads. So why not have your brand be a part of your email as well?
Users can add their brand to their email communications by leveraging a custom domain-based email address. Custom domain email matches your business website's domain name to your email address extension.
So instead of yourname@gmail.com, your email address would be yourname@yourbusinessname.com. When you subscribe to an email hosting plan, your hosting provider will automatically allow you to create email addresses with your domain name.
Custom domain-based email addresses help boost the email experience in many ways that traditional addresses can't. Official business communication needs to show credibility and trust, which a custom domain can offer.
A custom domain address looks more professional and markets your brand each time you send a correspondence. It also adds a level of personalization that a traditional email can't deliver.

If you have a small business with multiple employees, having an email hosting service with a custom domain option also allows you to keep employee email communications organized under one management system and anchored to one name.
Setting up a custom email domain is also a simple process. All you need to do is choose a domain name for your website and go to the control panel of your hosting provider to add email accounts. Many hosting companies also offer email migration services to help users move over existing messages from another account.
When making a custom domain-based email address, try to keep it simple and professional. You want to look authentic and stand out with credibility. So we recommend creating an address with your name or generic team name combined with your domain name tailing as the extension.
What Should I Look for in an Email Hosting Plan?
Email communication is an integral part of company operations. Poor communication is the culprit of many workplace errors, and companies can lose valuable time and money if they don't have adequate tools to streamline workflows and collaboration. That is why having the proper collaboration tools is essential to a successful business.
Traditional email providers, such as Gmail and Yahoo, are great for personal use but they lack the specialized features businesses need for their email operations. Mainstream providers are also less secure. They can be popular targets for threats because of their massive user base.
They also have advertisements to make their services free.
Purchasing a business email hosting plan can help users receive better support and more professional-related features and consolidate their hosting needs under one management. Hosting providers usually offer email hosting as a free add-on in their paid plans.

They can store and manage email data on the same server as your website data or on an exclusive mail server space. So finding a web hosting company with a trusted and reliable hosting service can point you in the right direction for support and performance for your own business.
Professional email hosting plans also offer ample storage space for business mailboxes, individual access for multiple users, fast server performance, guaranteed uptime, and advanced security features. Users should settle on a host that offers all of those features and the support for the email protocols they need.
If budgeting is a factor, you may want a web host that offers free domain registration for your custom email domain and has low plan prices but with good value. Email providers also deliver a suite of additional tools such as email forwarding, autoresponders, calendars, aliases, and file sharing. These features vary by email service.
Also, make sure your plan comes with multiple accounts if you have more than one employee.
How Do I Secure My Email Accounts?
Cyberattacks have been on the rise for years as we mature further into this digital age. And they seem to infiltrate every digital activity. Unfortunately, owning an email account also comes with the dangers of hacking attempts and privacy breaches.
But surfing your email doesn't have to be a worrisome experience. Users can take a proactive approach to secure their email activity, protect their data from prying eyes and threat actors, and defeat annoying junk mail.

The first step business owners can take is to purchase a hosting plan that prioritizes email security and data protection. Many services provide spam protection, email aliases, ad-free experiences, and encrypted blockers to keep unwanted messages out. Users can even leverage a privacy-based email provider, such as Proton Mail, to protect their data from being seen and tracked with end-to-end encryption and tracking protection.
Another way users can protect themselves is by being cautious of phishing scams and other threats. Fortunately, it is pretty simple to gauge the validity of a suspicious email. You can check for errors in spelling and see if the sender's email address is unofficial. Many email providers also do a great job of alerting users of scams with warning banners. Users can also block senders and set passwords for their high-importance emails.
Email accounts house important, sensitive information, including your contacts, work interests, and other personal receipts. Maintaining caution and choosing a host with security measures will be essential to the email security of your small business.
Which is the Best Email Hosting Provider?
Every small business has its own email marketing and communication strategies. Although creating these strategies may seem like the most complicated step, choosing an efficient email provider also takes work. A business's choice of email provider can affect the performance of its email experience and how effectively employees can streamline communication.
When choosing an email hosting provider, users should look for a comprehensive package that meets their needs.
If a host doesn't have everything you're looking for, prioritize the features you need the most. Every host excels in at least one aspect, whether that's customer support, pricing, or performance. So finding a provider with the tools you need would be best.

Overall, the best email hosting service will have the features to complete your business goals. You may need unlimited email accounts for a large workplace or advanced security features to combat evasive threats.
Whether you prioritize speedy performance or not, one thing is sure: Every small business needs reliable service to keep its operations running smoothly. So choose a host that fits your needs because every business is unique.
See Our Full Review of Bluehost
Whatever type of hosting plan you're looking for, Bluehost is a solid choice no matter the scale. Our reviewer Ryan Frankel recently took Bluehost for a spin, and rated the popular host a 4.8 in the Email Hosting category out of a perfect score of 5.0. Here's what Ryan had to say about Bluehost:
Bluehost has a rock-solid reputation in the shared and WordPress hosting communities, and the host is a long-time favorite of mine. Today, Bluehost powers more than 2 million websites, and the team touts years of experience. With well-maintained servers, competitive pricing, and excellent customer support, Bluehost is hardly a pick you'll regret.
Before signing up for Bluehost, it's a good idea to read through Ryan's full review to learn about all the features Bluehost offers. You can also compare it to other web hosts to ensure you're getting the best deal possible:
If you decide Bluehost is the right choice, keep in mind that it takes just minutes to deploy your Bluehost server space. And at $2.95 per month, it's a bargain considering the many great features that come in any Bluehost plan.
Advertiser Disclosure
HostingAdvice.com is a free online resource that offers valuable content and comparison services to users. To keep this resource 100% free, we receive compensation from many of the offers listed on the site. Along with key review factors, this compensation may impact how and where products appear across the site (including, for example, the order in which they appear). HostingAdvice.com does not include the entire universe of available offers. Editorial opinions expressed on the site are strictly our own and are not provided, endorsed, or approved by advertisers.
Our Editorial Review Policy
Our site is committed to publishing independent, accurate content guided by strict editorial guidelines. Before articles and reviews are published on our site, they undergo a thorough review process performed by a team of independent editors and subject-matter experts to ensure the content's accuracy, timeliness, and impartiality. Our editorial team is separate and independent of our site's advertisers, and the opinions they express on our site are their own. To read more about our team members and their editorial backgrounds, please visit our site's About page.