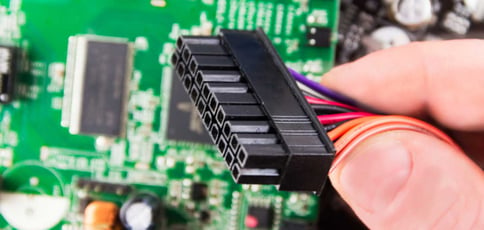 Buying web hosting with instant setup and activation is like wearing that ultra-flattering new clothing purchase right out of the store. Instant gratification is a powerful motivator, leading many consumers to bypass a large future benefit for the sake of immediately experiencing a slightly lesser prize.
Why spend a frustrating hour or two assembling furniture when you could have it delivered all ready to go? When it comes to getting started with the best web hosting services, the same forces are at play. Virtualization and automation have undoubtedly sped up server setup, but clicking the buy button doesn't guarantee you can immediately start building your site.
Read on as we explore the various hosting options that boast the shortest paths to success, whether you're looking for a simple and affordable shared hosting space or a complex virtual or dedicated server to power your online business presence.
Best "Cheap" Web Hosting With Instant Setup & Activation
The availability of instant web hosting plans is roughly tied to the amount and complexity of computing resources. Shared hosting, for instance, is the simplest and smallest type of hosting — and comes with instant account activation practically by default. Servers' storage, bandwidth, and memory are already partitioned into hundreds or even thousands of hosting environments on standby for the rush of customers.
As the most affordable and beginner-friendly type of hosting plan, shared hosting comes with a ton of readily accessible features right out of the box. Many plans, including the ones we recommend below, come in a variety of flavors automatically outfitted with free perks like easy-to-use cPanel hosting and one-click installations of popular software programs like WordPress.
Amazingly, just about any cheap web hosting service worth signing up for will be ready to go the second you complete the purchase. Whether you're comparing free vs. paid hosting plans or seeking out the processing prowess of unlimited storage and bandwidth, these hosts will make sure your site will be ready to publish as fast as you can build it.
Known for high performance at a low price
Endorsed by WordPress.org team
FREE Weebly site builder and CloudFlare CDN
FREE domain and unlimited storage
Get 63% off today (was $7.99/month)
Bluehost: Our Expert's Review
Setup time: 4 minutes
Go to full review

»
If you're looking for an affordable host, Bluehost is a solid, reputable choice; The company's low costs, coupled with its supremacy in the shared hosting arena, is what makes this provider such a valuable deal. The Bluehost name is listed toward the top of...
| Money Back Guarantee | Disk Space | Domain Name | Cheap Hosting Plans |
| --- | --- | --- | --- |
| 30 days | 50 GB - Unlimited | FREE (1 year) | www.bluehost.com/shared |
Unlimited everything, from bandwidth to databases
FREE site builder & WordPress performance upgrades
FREE daily or weekly backups
90+ auto-installation scripts and custom control panel
SSH access & SSL certificates
Hostinger: Our Expert's Review
Setup time: 3 minutes
Go to full review

»
As the shared hosting market becomes increasingly saturated, unlimited storage, bandwidth, and email accounts have become surprisingly average. Hostinger, however, extends the routine, expected metrics to greater lengths — the number of websites, databases,...
| Money Back Guarantee | Disk Space | Domain Name | Cheap Hosting Plans |
| --- | --- | --- | --- |
| 30 days | 10 GB SSD - 30 GB SSD | FREE (1 year) | www.hostinger.com/shared |
$0.01 for the first month, then $5 monthly after
NO annual contracts and NO sudden price increases
Unlimited storage space, data transfers, and email
New domain is $11 with 1-month plan ($1.99 otherwise)
99.9% uptime and price-lock guarantee
InterServer: Our Expert's Review
Setup time: 4 minutes
Go to full review

»
It's hard to argue with a shared hosting plan that includes unlimited storage, bandwidth, websites, and email — but shared hosting is a crowded industry that turns on name recognition, reputation, and bargain-basement prices. InterServer outperforms some of...
See other top affordable hosts »
Best "VPS" Web Hosting With Instant Setup & Activation
Taking the next step up the hosting ladder, VPS hosting represents the midway point between shared hosting and dedicated servers. You'll still be sharing a physical server with a handful of other site owners, but resources are completely separated and focused on each project.
That extra computing oomph, however, comes with more setup processes and configuration requirements to ensure your hosting environment perfectly matches the needs you have. This VPS setup tutorial will give you a sense of the work that needs to happen to have a website-ready server space, such as installing an operating system or adding SSL certificates.
Fortunately, many hosts will offer pre-configured VPS plans that use industry-standard specifications meant to appeal to the widest range of customers. You may sacrifice a bit of flexibility, but instantly available VPS hosting is well worth avoiding the lengthy time spent in the command line interface. Take a look at our favorite hosts below:
Managed or unmanaged virtual servers available in Windows or Linux
Cloud hosting instances with hourly or monthly billing
Instant upgrades without downtime
FREE around-the-clock monitoring
Automatic nightly backups available
Hostwinds: Our Expert's Review
Setup time: 6 minutes
Go to full review

»
Does any hosting provider have more virtual private server packages than Hostwinds? The company offers 10 configurations — and that's just for managed Linux server partitions. Hostwinds provides 10 additional plans each for managed Windows VPS and unmanaged...
| Money Back Guarantee | Disk Space | Domain Name | VPS Hosting Plans |
| --- | --- | --- | --- |
| N/A | 30 GB - 750 GB SSD | New or Transfer | www.hostwinds.com/vps |
$0.01 for the first month using code HOSTINGADV
Then $6 monthly with no contracts, no price changes
Latest versions of PHP, MySQL, Perl, Python, and Ruby
7 operating system options for Linux or Windows users
Full root access and choice of datacenter included
InterServer: Our Expert's Review
Setup time: 6 minutes
Go to full review

»
InterServer's on-site datacenter and hands-on involvement with configuring and provisioning virtual private servers give customers a level of flexibility not seen with many other hosting providers. InterServer rations VPS and cloud resources through slices....
| Money Back Guarantee | Disk Space | Domain Name | VPS Hosting Plans |
| --- | --- | --- | --- |
| N/A | 30 GB SSD - 480 GB SSD | New or Transfer | www.interserver.net/vps |
High-speed hosting that's faster than AWS, Rackspace, and Digital Ocean
FREE backups, CDN, root access, and DDoS protection
Up to 16 processors with all-SSD storage
Choice between cPanel or Plesk Onyx control panel
Real-time monitoring and 100% uptime guarantee
Liquid Web: Our Expert's Review
Setup time: 7 minutes
Go to full review

»
It's no secret by now that Liquid Web is known for best-in-class technology and reliability that exceeds expectations. The company's cloud VPS environments embody that reputation to its fullest — including managed WordPress and WooCommerce products.Liquid...
| Money Back Guarantee | Disk Space | Domain Name | VPS Hosting Plans |
| --- | --- | --- | --- |
| N/A | 30 GB SSD - 150 GB SSD | New or Transfer | www.liquidweb.com/vps |
Best "Cloud" Web Hosting With Instant Setup & Activation
Truth be told, instant setup and activation is one of cloud hosting's most common — and appealing — traits. A network of connected servers all share the workload in hosting and delivering your site to visitors, providing high levels of stability and scalability as your project grows.
Computing resources can be instantly scaled up or down to meet traffic demands, so there shouldn't be much surprise that your cloud hosting account will be completely ready to go the minute you've signed up.
Cloud hosting comes with many benefits, ranging from hardware and cost efficiency to enhanced security and control. While you can fine-tune and tweak your cloud environment in many of the same ways as VPS hosting, you likely won't want to mess with that. Instead, seek out hosts like the ones coming up that will spin up your cloud instance in an instant.
Ranked #1 for cloud VPS hosting
Fault-tolerant SSD storage and up to 8GB of RAM
FREE control panel with choice of Linux OS
Full root access or managed servers available
FREE live-state or scheduled snapshots
InMotion: Our Expert's Review
Setup time: 6 minutes
Go to full review

»
With leading-edge cloud technology, InMotion offers free site transfer, setup, and SSD drives for the ultimate cloud solution offerings. They include free data backups and offer unmanaged or fully managed servers to help you scale your site with...
| Money Back Guarantee | Disk Space | Domain Name | Cloud Hosting Plans |
| --- | --- | --- | --- |
| 90 days | 75 GB SSD - 260 GB SSD | FREE (1 year) | www.inmotion.com/cloud |
Twice as fast and four times the computing resources
Tons of storage with the scalability of the cloud
Low-density servers and multiple caching layers
Unlimited domains and MySQL databases
Upgrades available for security, backups, productivity, and domain privacy
HostGator: Our Expert's Review
Setup time: 7 minutes
Go to full review

»
For those ready to expand beyond shared hosting, HostGator offers a fully featured step into the cloud. With scalable, high-powered resources, customers can easily monitor resources and caching from an intuitive dashboard. Rest easy knowing your site is...
| Money Back Guarantee | Disk Space | Domain Name | Cloud Hosting Plans |
| --- | --- | --- | --- |
| 45 days | 120 GB - 240 GB | New or Transfer | www.hostgator.com/cloud |
Choose your OS or optimized application configuration
Hourly or monthly billing for convenience
Optional upgrades for cPanel, backups, and monitoring
Managed services, SSDs, and HDDs available
Block and object storage, plus enterprise-grade firewall
Hostwinds: Our Expert's Review
Setup time: 6 minutes
Go to full review

»
Hostwinds provides supremely scalable and customizable options for the savvy developer or site owner. Customers can customize their cloud environment or choose pre-built configurations optimized to run apps like WordPress, Drupal, and others. With an emphasis...
| Money Back Guarantee | Disk Space | Domain Name | Cloud Hosting Plans |
| --- | --- | --- | --- |
| N/A | 30 GB - 750 GB SSD | New or Transfer | www.hostwinds.com/cloud |
Best "Dedicated Server" Web Hosting With Instant Setup & Activation
With great power comes great responsibility — and usually a wait of at least a few hours. Since each customer has complete control over an entire server, there are many variables and configurations that must be exactly right. Often, the hosting company's sales team must communicate your desired specs to the engineers and system administrators responsible for building your machine. The odds of having your exact server configuration in a rack and all ready to go are extremely long.
Instant dedicated servers are pretty rare and sometimes require you to stretch the exact definition of an instant. A handful of top hosts for dedicated servers, like InterServer and Hostwinds, will deploy standard, pre-built servers within 15 minutes or less. That's obviously much less time than the standard 24- to 48-hour span most companies allot to set up and spin up your server. But customers lose a great deal of flexibility when it comes to the various programs and ways to tailor their server.
Of the few providers that do promise instant access to dedicated servers, most concentrate on looking for user-friendly ways to save customers time and stress. By choosing the nitty-gritty details like operating system, firewalls, and other technical aspects of server setup, hosts can assure you'll have a stable, well-supported environment on which to expand your online business presence.
At the other end of the spectrum, however, are the experts at Liquid Web. Instead of taking the easy way out, the Michigan-based company created an entirely different product. Cloud dedicated servers introduce the scalability and immediacy of cloud hosting without the constraints of shared resources. The host's on-demand servers are always available and provisioned instantly, providing a promising option for advanced users and businesses. Take a look at our reviews below to compare Liquid Web's cloud dedicated servers with the more standard options of A2 Hosting and Bluehost:
100% network and power uptime guarantees
Custom configurations, SSDs, and instant provisioning
Auto-migrations, backups, and real-time monitoring
Block/object storage and load balancer add-ons
Windows or Linux servers with 100% uptime guarantee
Liquid Web: Our Expert's Review
Setup time: 8 minutes
Go to full review

»
Liquid Web's strong suit is managed dedicated server hosting. The company owns and operates five state-of-the-art datacenters in the US and Europe works tirelessly to build and maintain custom solutions for added performance and security.Liquid Web offers...
Root access available with 3 levels of server management
Expertly-tuned managed servers deployed instantly
Choose from 4 datacenters spread across 3 continents
FREE redundant SSD storage in RAID-1 arrays
Choice of 13 Linux operating systems
A2 Hosting: Our Expert's Review
Setup time: 7 minutes
Go to full review

»
Whether you're looking for managed or self-managed hosting, A2 Hosting offers three extremely reliable dedicated server plans to meet your needs, depending on your levels of comfort and experience.With A2 Hosting's Unmanaged Flex Dedicated Server plan, users...
| Money Back Guarantee | Disk Space | Domain Name | Dedicated Hosting Plans |
| --- | --- | --- | --- |
| 30 days | 256 GB SSD - 14 TB HDD | New or Transfer | www.a2hosting.com/dedicated |
RAID 1 mirrored storage
Minimum 3 IP addresses per plan
Modern hardware, built and maintained in house
24/7 expedited support from a dedicated team
Sign up today to save at least 27% on your first term
Bluehost: Our Expert's Review
Setup time: 6 minutes
Go to full review

»
Built on modern technology, with a minimum of four cores per server, Bluehost offers reliable and flexible dedicated hosting options at an extremely reasonable price. We continually praise the company's shared hosting options for having fantastic hardware and...
| Money Back Guarantee | Disk Space | Domain Name | Dedicated Hosting Plans |
| --- | --- | --- | --- |
| 30 days | 500 GB - 1 TB | FREE (1 year) | www.bluehost.com/dedicated |
See other top dedicated server hosts »
How Do I Choose a Host?
Unlike shopping for clothes or shoes, you can't really try on most web hosting before you buy. Month-to-month hosting plans and services with lengthy money-back guarantees get the closest to limiting your upfront expenses, but you'll want to take your time researching and evaluating hosting providers before you choose a host and commit to a long-term plan.
Before you get to that phase, though, take stock of what exactly you need in a hosting partner. Small blogs and portfolio sites won't need a full dedicated server, just like a rapidly growing business won't want to squeeze itself into a cheap shared hosting plan. Set a budget and prioritize the importance of factors like the amount of storage, accessibility of customer support, and specific hardware or software options.
Once your parameters are set, start comparing the available options. Read reviews (we've got plenty) to learn about the personal experiences of customers and expert site owners while keeping an eye out for distinguishing features that particularly resonate with your exact needs. Every plan will cover the basics, but seemingly little differentiators like SSDs or cPanel can have a massive effect on your hosting happiness and give your website an edge.
Which is the Fastest Web Hosting Provider?
Whether it's account activation and server setup or page load speed and support response times, speed is one of the most important factors to consider when evaluating web hosting companies. Shortening your time to market can have a tremendous impact on your business success, well before your website or application goes live.
Once you've published, the speed at which your host can deliver your website to visitors and potential customers is absolutely critical. Google has publicly stated that performance, of both desktop and mobile sites, is part of the search engine's ranking algorithm. If your site takes three seconds or more to load, you stand a good chance of losing more than half of your audience.
When shopping for high-speed hosting, instant setup and activation are certainly a good sign the provider places a special emphasis on protecting your time. From there, take a look at the type of storage available. Modern solid-state drives, or SSDs, operate up to 20 times faster than traditional hard disk drives. The plans may be slightly more expensive and come with a little less capacity, but the investment is rather minimal for the performance boost you can expect to receive.
Another common feature to improve your site performance is including a content delivery network, or CDN. CDN hosting, through services like Cloudflare, distributes your data across a global network of servers and puts it as close to visitors as possible. Take a look at our research into the fastest web hosts that specialize in certain forms of services:
What Does It Cost to Host a Website?
As you can see from our reviews earlier in the article, web hosting prices can vary wildly depending on the type of server space you're looking for. Here's a rough guide to the types of hosting and the prices you can expect to pay. Keep in mind that these are monthly prices; hosts commonly ask you to sign up for at least a year to get the best deals.
| Type of Hosting | Estimated Price | Best for: |
| --- | --- | --- |
| Shared | $2-$5 per month | Beginners, bloggers, new businesses |
| Cloud | $5-20 per month | Small businesses and developers |
| VPS | $10-$50 per month | Medium businesses, app developers |
| Dedicated | $80-$120 per month | Large companies |
From free-for-life to hundreds of dollars a month, hosting plans only account for a fraction of the expenses associated with running a professional-grade website or application. Here are some other costs to keep in mind:
Domain name: With many plans, a one-year domain registration is included for free. While the most expensive domain names can cost billions of dollars, you'll most likely spend between $10 and $20 per year.
Design and development: Sure, there are countless website builders and open-source programs to help beginners create their first site, but do you want to deal with all the time and stress? You can create a basic site for zero to little investment, or you may want to consider hiring a professional. Those services can cost hundreds or thousands of dollars.
Content: Similar to the look and feel of your site, what about all the words and images you're looking to display? Are you planning on creating it all yourself, or will you need to outsource the work? Hiring a writer or designer may also mean you'll have to purchase stock photos.
Add-on services: As your site grows, what other tools can help you maximize your reach? You may want to add email hosting, a CDN, domain privacy, more computing resources, marketing programs, or productivity software like G Suite or Microsoft Office 365.
Depending on the hosting provider, some of those last services may be included with your plan for free or available for a slight upcharge. Once you figure out which upgrades are important to your online success and how much you can feasibly spend, the path will narrow into a select few choices and a more manageable decision.
Instant Web Hosting With No Setup Fees Saves Time and Money
The world of online business can turn in an instant. Being able to instantly launch a new brand, product, or marketing campaign online is a valuable boost to that project's success. While the steps to launching a new website can still take quite a bit of time, the right web hosting plan can give you a boost of immediacy and urgency.
Perhaps surprisingly, you typically won't even have to pay extra for the head start — especially with the hosts we've recommended in this article. As some of the most innovative companies in the industry, these hosting providers look for ways to automate time-consuming configuration processes and skip the setup or activation fees.
Your business or project will already be pulling you in hundreds of different directions. Consider simplifying your operations by signing up for managed hosting plans that further ease the stress of technical jargon and high-stakes security. The upgraded service may come with a slightly steeper price tag, but our bet is the added revenues and growing traffic will quickly offset those costs.
After all, with all the attention paid to website performance and page loading times, why not apply the same standards to your hosting plan?
Advertiser Disclosure
HostingAdvice.com is a free online resource that offers valuable content and comparison services to users. To keep this resource 100% free, we receive compensation from many of the offers listed on the site. Along with key review factors, this compensation may impact how and where products appear across the site (including, for example, the order in which they appear). HostingAdvice.com does not include the entire universe of available offers. Editorial opinions expressed on the site are strictly our own and are not provided, endorsed, or approved by advertisers.
Our Editorial Review Policy
Our site is committed to publishing independent, accurate content guided by strict editorial guidelines. Before articles and reviews are published on our site, they undergo a thorough review process performed by a team of independent editors and subject-matter experts to ensure the content's accuracy, timeliness, and impartiality. Our editorial team is separate and independent of our site's advertisers, and the opinions they express on our site are their own. To read more about our team members and their editorial backgrounds, please visit our site's About page.